NYFW Spring/Summer 2017 Collection Reviews Part 2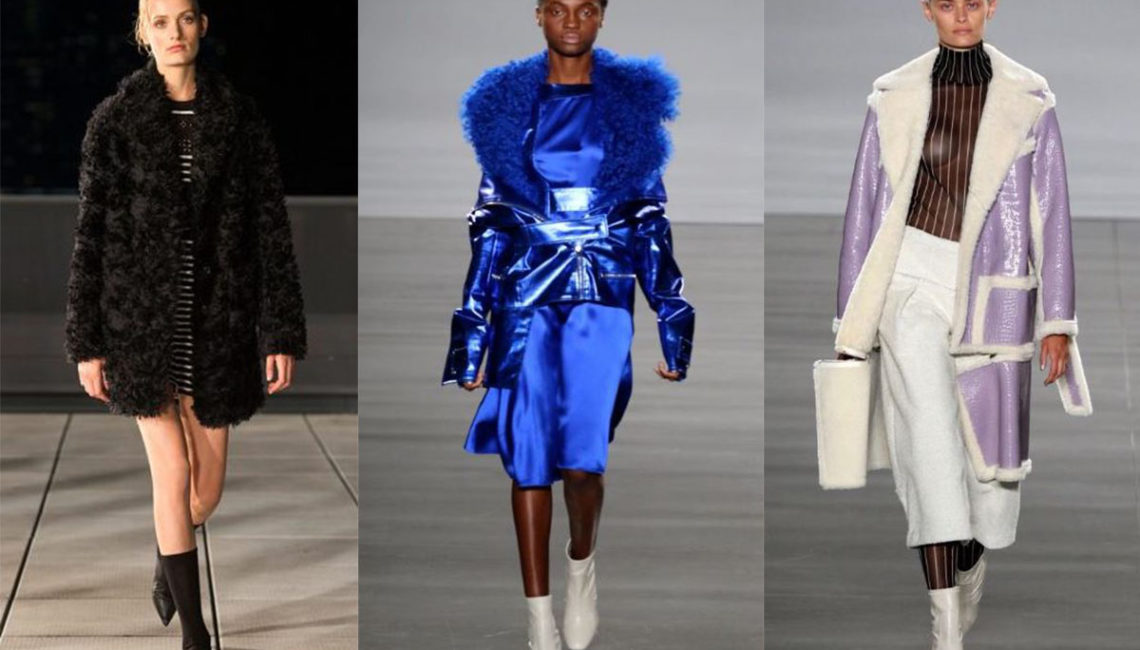 Let's face it.  It is tough to keep your look intact when you're running around in blazing heat and humidity, but the NYFW crowds are certainly making a valiant attempt.  After all, as they say, it's not how you feel, it's how you look…..and you've got to look marvelous!  But it is hard to imagine much interest in the somber tones, heavy fabrics and layering common to fall/winter dressing  in these conditions.  How will this impact the success of new direct-to-consumer shows?  We'll know more as the week unfolds.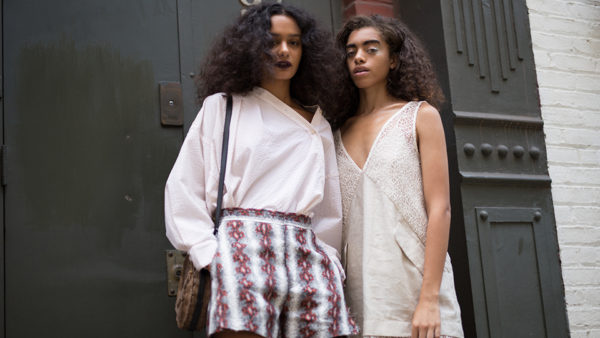 DANIEL SILVERSTAIN
Winner of the Gen Arts Incubator Award last fall, Daniel Silverstain is a relative newcomer to fashion week and oh how nice it is! With fresh talent comes fresh ideas and Silverstain offers plenty. For SS 2017 he juxtaposes silhouettes and deconstructs the suit coat, piecing together artistic creations thrilling to the eye. Plenty of topper and car coats finish the collection in crinkled patent leather and Mongolian lamb trim.  Our favorite?  A crinkled lilac leather shearling.  Another adaptor of the direct-to-consumer fashion presentation, Silverstain arrives  at a pivotal time to take full advantage of the changes in the fashion industry.
THAKOON
There wasn't much that wasn't AWESOME in the collection presented by Thakoon Panichgul this week.  An exciting presentation of rich fabrics in earth tones, there was no mistaking that fall 2016 was on display here.  And indeed many of these looks were already stocked in his flagship store and available online.   There were plenty of great separates in this collection that will make for solid building blocks for any fall wardrobe.  Great knits, strong shirts and jackets were layered over skirts, pants, dresses and jeans to create easy, wearable stylings that reflected his trademark utilitarian aesthetic.  This was sportswear with a bit of street cred at its best. A key piece that stood out for its versatility and wearability was an olive shearling baseball bomber jacket.
JASON WU
Beautifully tailored and delicately crafted, Jason Wu's SS17 collection had a spring theme with floral appliqués and fine gauge, dusty colored lace dresses. But the pieces also had a nice transitional feel with merino pants and long sleeves. His sheer tops and dresses were sexy and sophisticated.  Soft draping, architectural cuts and skilled tailoring gave his dresses a thoroughly modern feel with many of the options so striking that you'd hardly be able to wear them twice without people noticing. We've seen hints of neon colors among the designers at NYFW and Wu uses these color to great effect with Orange and hot pink piping outlining some of his silhouettes.
REBECCA TAYLOR
Rebecca Taylor's SS17 collection was redolent of Laura Ashley, resplendent with lace and ruffles in antique hues. A collection of wistful, romantic clothes, she effortlessly mixes old and new to create looks that are very "of the moment."  Jean shorts paired with a Victorian long sleeve blouse was a lil' bit country, lil' bit rock and roll.  From modern and edgy to feminine and frilly, Taylor does a brilliant job offering mix and match pieces that traverse so many lines and times.
KAREN WALKER
Karen Walker's spring 2017 collection was edgy, fun and retro.  Bits of bling were very Gucci-esque but we're big fans of the look, so bring it on! Gold loafers, tassel earrings, patterned silk chiffon blouses and ruffled denim delivered head-to-toe pure style domination. But she didn't stop there…..from Walker's baby doll dresses to her slim-fit menswear suits, there was plenty of variety that we can totally get into!
CUSHNIE ET OCHS
Design dream team Michelle Ochs and Carly Cushnie of Cushnie et Ochs gave us black and white and right all over and oh so much more. In their spring 2017 RTW collection, they created sleek and sexy body hugging dresses and jump suits – a not-so-gentle reminder that if we pack on the winter weight; it's going to have to come off in spring. Lots of color blocking and modern geometry created slimming silhouettes and dramatic entrances. Their monochromatic power suits spoke to their clients who mean serious business.
Related articles