NYFW Spring/Summer 2017 Collection Reviews Part 1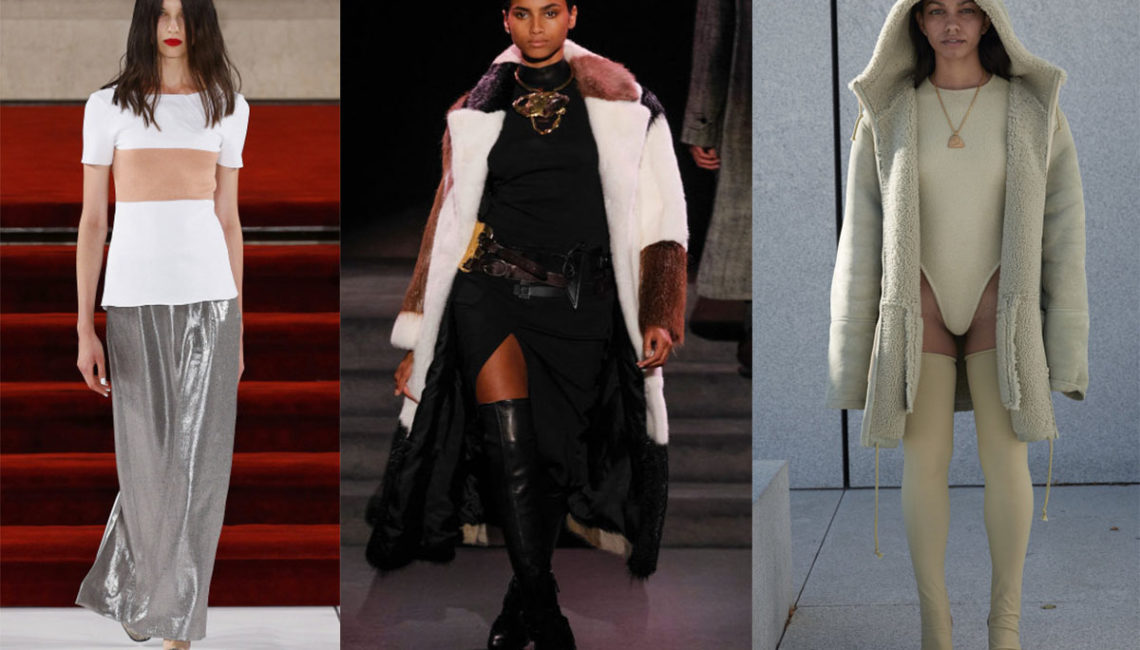 The NYFW Spring/Summer 2017 Fashion Week cycle has left the starting block and it looks to be a four city tour full of surprises.  This season designers have thrown out the rule books as they experiment with new formats, try out new production techniques and venture into new venues.  For some, the adaptation of the "See Now, Buy Now" strategy means they will be showing Fall 2016 within this cycle, furthering the unpredictability of this round of collections.  Anything goes in this new environment as brands struggle to stand out among the audience of editors, retailers and consumers.  Anticipation runs as high for the showmanship as it does for the clothes themselves.
Buckle your seat belts….we're in for quite a ride!
RACHEL COMEY
Taking fashion to the streets quite literately was what the Rachel Comey SS2017 RTW show was all about. Set amid sidewalks, scaffolding, and street workers, the audience sat in chairs that lined the street as models -and the general public- meandered about. The clothes cooperated with an everyday ease and wearability that looked just how you'd imagine passersby going about their day. Tribal prints, paper bag wrinkled material, and chain link trims all gave deference to today's demand for casual chic.
CREATURES OF THE WIND
Back in February we noted that Creatures of the Wind seemed to have lost their way a bit with their AW 2016 collection that was "lacking in theme or cohesiveness".  For Spring 2017 they seem to have found their footing again with a collection of casual walking coats, two tiered over-the-knee skirts and varsity sweaters that were beautifully tailored and styled.  This time around they had a clear vision of their client in mind.   They furthered the offerings with palazzo pants and a column dress in liquid silver fabric. This was a true day-to-evening assortment that was approachable luxury for the woman who wants quality fashion for everyday.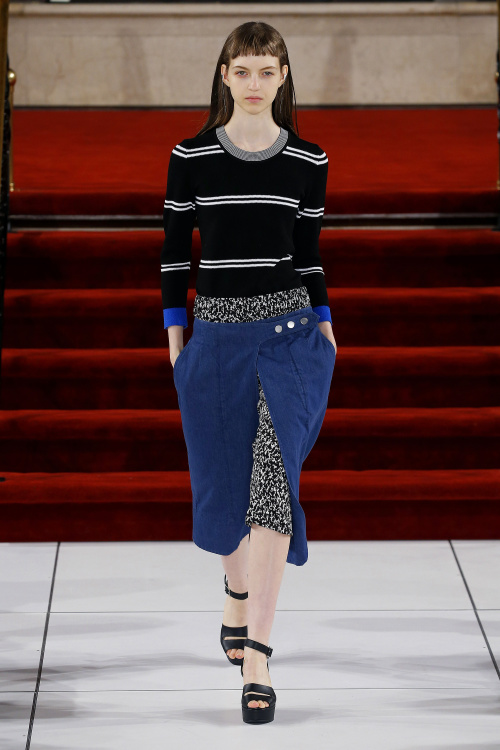 TOM FORD
Tom Ford presented a collection that was anything but "spring-y" as this King of Fashion swapped the old fashion show business model for today's "buy now, wear now" concept.   He delivered a fall/winter collection of patchwork leathers, color-blocked intarsia furs, tweeds, and velvets perfect for cool weather element dressing. Menswear rounded out the collection giving buyers and customers alike access to what you've got to have NOW. Not just a fashion show, but a true entertainment event worthy of Hollywood recognition this show was original.  It was luxe.  It was sexy, sizzling and glamorous.  If you are going to spend big $$ on clothes, he gave you good reason.
YEEZY
"The best laid plans of mice and men often go awry."  Such was the case with the Kanye West's Yeezy show.  Guests were shuttled out to Roosevelt Island for the event held on the lawn of the Franklin D. Roosevelt Four Freedoms Park and once there had to endure the heat and humidity and long delays as models fainted on the lawn.  But at least some redemption was at hand as he presented a collection strong on great basic pieces for SS17.  Clearly using his wife Kim K as his muse, styles included tight fitted sweater dresses in ivory and easy, cool tech hoodies.  Thigh-high boots in clear plastic were paired with just about everything for a young, edgy vibe.   Clean, modern luxe came in the form of a series of hooded shearling jackets that are certain to blast off at retail.
MARISSA WEBB
All girls unite and shout "thanks be to the fashion gods" for giving us Marissa Webb. Classic, girly, and powerful, Webb highlights the feminine form draping ruffles, chiffon, and merino wool to elevate her looks for SS 2017.  Silky sunshine yellow blouses and dresses were great foundation pieces that mixed well with her signature black and white gingham checks, plaids, and polka dots. Black leather cropped pants with a paper bag closure were a MUST HAVE IT NOW passion piece. A style note: the green flak jacket. While a bit of a throw-back, we predict the army jacket to become a trend again.
Related articles