New York Fashion Week Spring-Summer 2015 – Day 4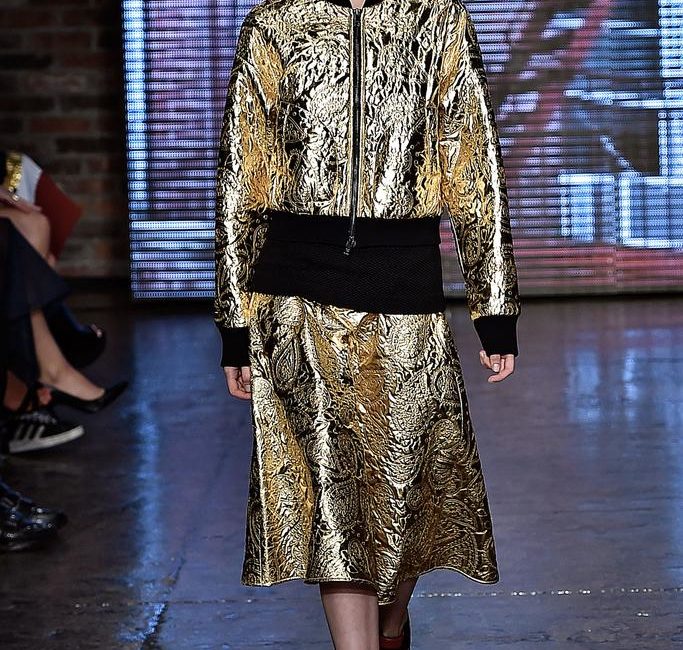 We are now midway through the New York Fashion Week Spring-Summer 2015 collections and any directional clues are as confusing as they are optimistic. On a high note, there is an overall formality affecting and influencing the collections.
Yet, there is also a fun 1960s vibe with mini-skirt lengths and some tennis dress shapes. We are also witnessing an unorthodox layering of colors and textures and combinations of garment types that wouldn't otherwise be styled together, all adding a frisson of surprise.
A square shape is making its presence throughout the collections giving many cuts a strong silhouette and, in the case of jackets, a somewhat authoritarian flair, if not a generic utilitarian nod. This square or rectilinear affinity is a surprising edge given the current mood for glamorous gowns bellowing in light silks.
Prints are also turning heads again this season. Even though prints are taking a back seat this time around, the few adaptations are worth noting, especially the ones that play with busy graphics. There are also a few simpler, bolder designs but it is those graffiti-like executions that are most exciting and different.
Historical references always have their place in design and this season there are many looks recalling 1990s designs and more than few others referencing the late 1970s as well as a few nods to the 1960s (as we have already noted).
In addition to the expected casual sportswear looks, long gowns with wrap closures are really making a run for it. Some reference a modern Tuxedo, whereas others read more flirtatious and some play with sculptural planes. We really appreciate this new wardrobe statement and hope the trend will stick around a little while longer.
Again, New York is having a love affair with knee and below-the-knee lengths, which were considered such a fashion No-No just a decade ago. Fashion is so fickle when it comes to trends. Of course, the new generation of fashion up-and-comers need to play and, lucky for them, many of these looks are great.
More on New York soon…
Related articles