New York Fashion Week Spring-Summer 2015 – Day 2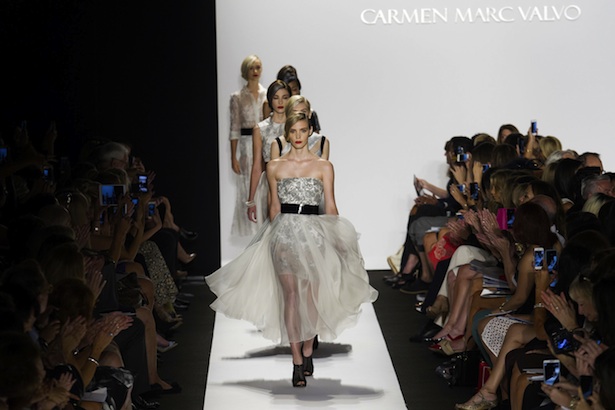 New York Fashion Week Spring-Summer 2015 is gradually establishing a "dressier" image for the season, though as it is only Day 2 of the collections, the terrain is still hard to read. We are glad to see that a burst of colors are starting to enter the field, even if many may not be your expected sunny colors as New York embraces a more autumnal palette.
A sophisticated sportiness is referencing retro summer looks. These transitional outfits are peppering the line-ups, but it will take a few more days to determine if this becomes a bigger deal. As of yet, nothing concrete has been established.
Prints are starting to slowly manifest, yet the undeniably tamer designs versus past seasons are smaller scale prints, mostly floral (or fruits) and introducing geometric abstractions to the mix.
Of course, when color and geometry collide, expect stripes and bold resort references. We like the energy in some of these current applications. You really can't go wrong with this classic combo.
Where things take an unexpected turn are the conventional looks made directional via the most basic garment ever! Yes, the white cotton shirt is experiencing a design renaissance and turning up in a wide variety of looks. From Cropped to sleeveless to bow-tied, there is a little white shirt for every personality this season.
Of course, as we mentioned in our earlier review, the tailored, sinuous skirt is back. We really see this one as a Spring-Summer 2015 favorite going well into other fashion cycles. It is such a great look for day to evening.
Following this elegant adaptability, designers are introducing satin and, more specifically, satin trousers that are converting viewers with each show. The great thing about these statement pants (often part of a suit ensemble) is that they are inherently dressy and can effortlessly veer from Day to Evening. Worn with a crisp white shirt these are pure modern elegance.
Material luster is embodied more accurately with eveningwear creations, which are adopting sheer luminosity into treatments. More than a few looks utilize lace and embroidery as well, giving the optic display even more depth. This is conventional glamour getting a little help – and the end result is lovely! Who can't appreciate such finish?
We are just beginning the week, so sit tight and wait for more fashion week highlights…
Related articles