New York Fashion Week Spring-Summer 2015 – Day 1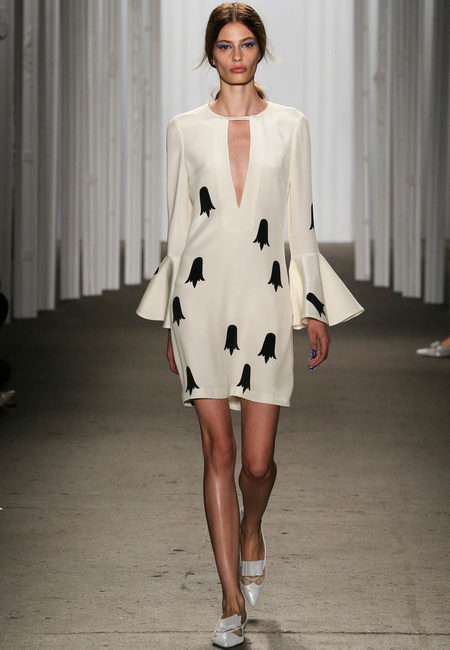 Welcome to Mercedes-Benz Fashion Week New York Spring-Summer 2015! The collections are currently being presented with great enthusiasm and professionalism to awe editors and buyers alike. Which looks will make it to the stores early next spring? Who knows at this point, but let's get a good look at what trends are starting to unveil themselves.
Prints, which were a huge global trend for the past 2 to 3 years now, do not seem to be overwhelming the line-ups as of yet. The applications so far this season are abstracted and rather discreet compared to past seasons. We'll find out soon enough if photo-print is returning at all this season or if it is on its way out for a while.
What is new are high-waisted skirts, many tailored to hug the body, that create a lovely, sinuous silhouette that echoes the 1950's "pencil" variations. We love that look, it is not only elegant, but such a great investment that works regardless of the season. Picture these skirts with a short fur… heaven!
The dark suit jacket is making the run for both sexes. Dress Down Friday is a thing of the past, jeans at work are commonplace, and thus, the jacket is the polite tying element. A good jacket finishes any look and always offers a polished feel. The fashion factor comes into play with layering and the various garment choices for pairing.
Unexpected layering seems to be on the menu. The surprises come in luxurious materials like silk satins that foil conventional standards of what is formal dressing or even daywear. It's a little peculiar, but has its charm.
When things take on a more eveningwear turn, the looks channel couture quality favoring classic materials and applications. The overall approach looks formal, yet practical in fit and movement, which can read somewhat sportswear. We love this relaxed, chic concept and hope it continues throughout the week. This is special!
Of course, there are more than a few trends already in the making but with so much more to go, who can predict? More shows unraveling soon…
Related articles