NEW YORK Fashion Week Fall 2018 DAY 6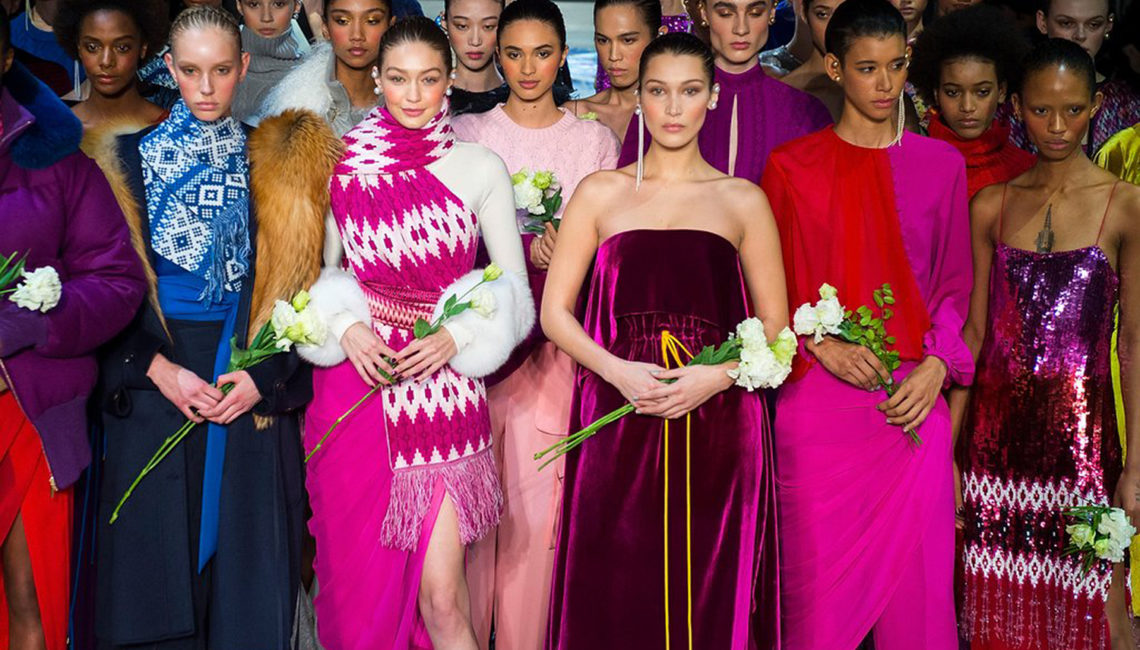 A key trend emerging from the NYFW runways for fall 2018 seems to be a blending of utilitarian elements with soft, feminine twists and plenty of rich luxurious touches.  We see it, for example, in the pop of fox patches on a trenchcoat  and the juxtaposition of a rubber catsuit under a plush fur coat. We have heard it said that fashion exists where beauty meets utility and designers so far this season are proving that this approach to fashion can have broad appeal.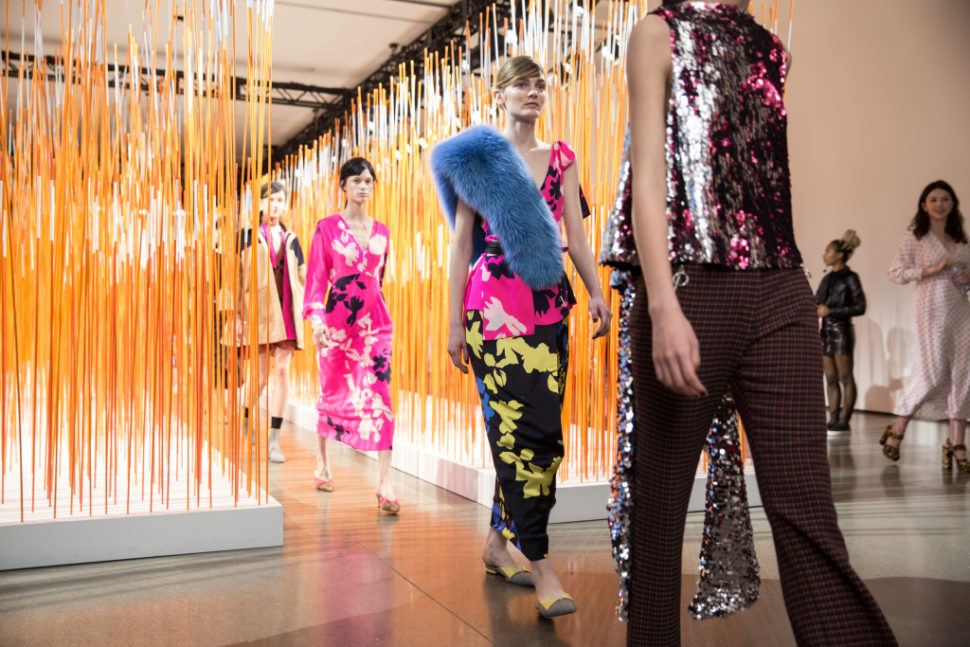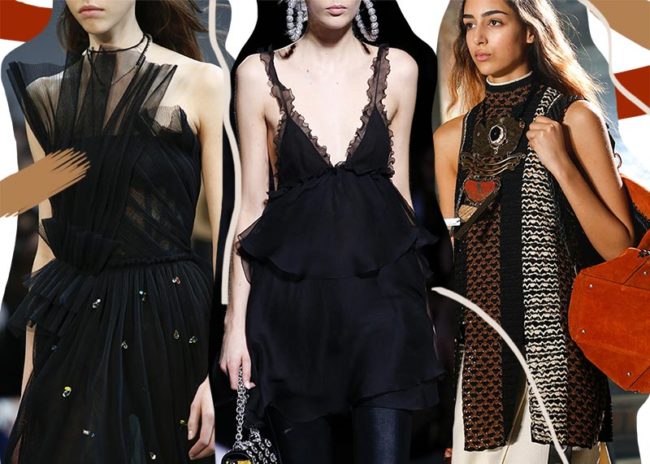 Color is Queen at New York Fashion Week
Props go out to any designer who has the chutzpah to take a risk and bend the rules in fashion….even if the final product doesn't translate quite right. Romeo Hunte, in his fall 2018 RTW collection, showered us with great fur coats, too many to pick a favorite. Bold, belted patchwork fox coats for him and her, a fox patched trench coat, and long shearling coats were among the options. A bright yellow fox jacket, denim jacket with fox and shearling patches, and an elongated silver fox vest were some favorites. A mouthwatering purple shearling coat stole the show. But where Hunte threw us off a bit with styling that didn't quite work were the rubber wetsuits underneath his strong outerwear looks.  It was a cold shower kind of buzz kill.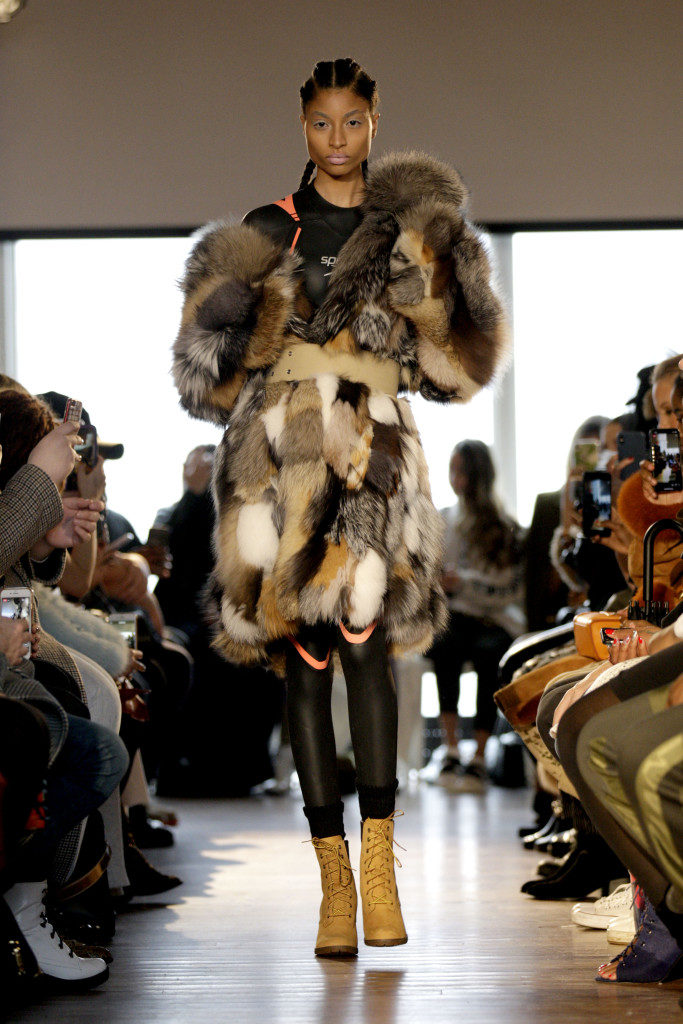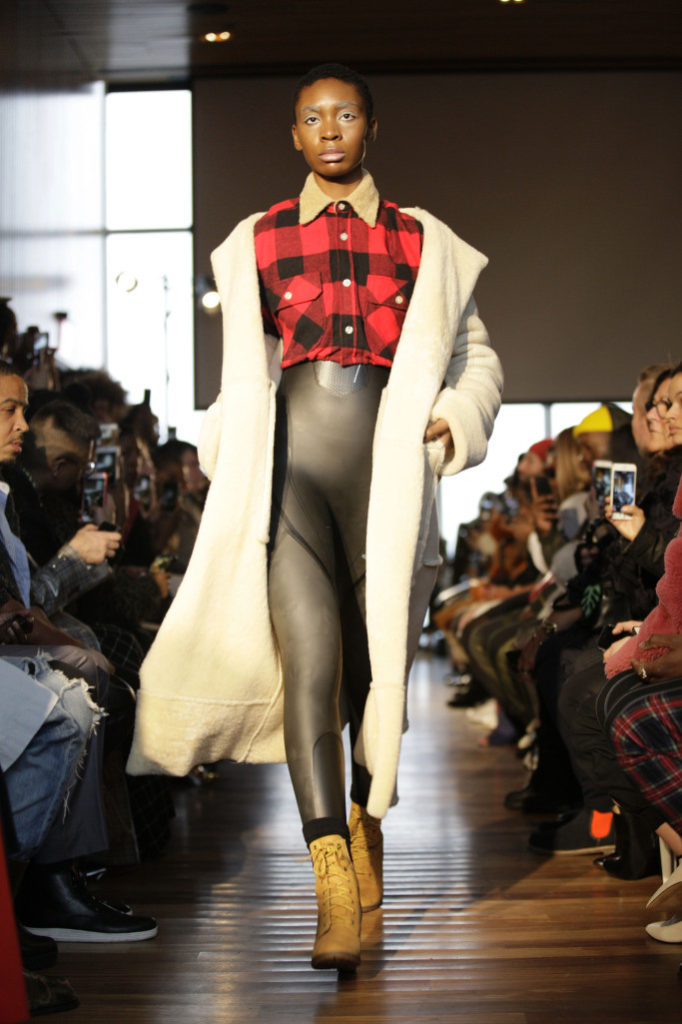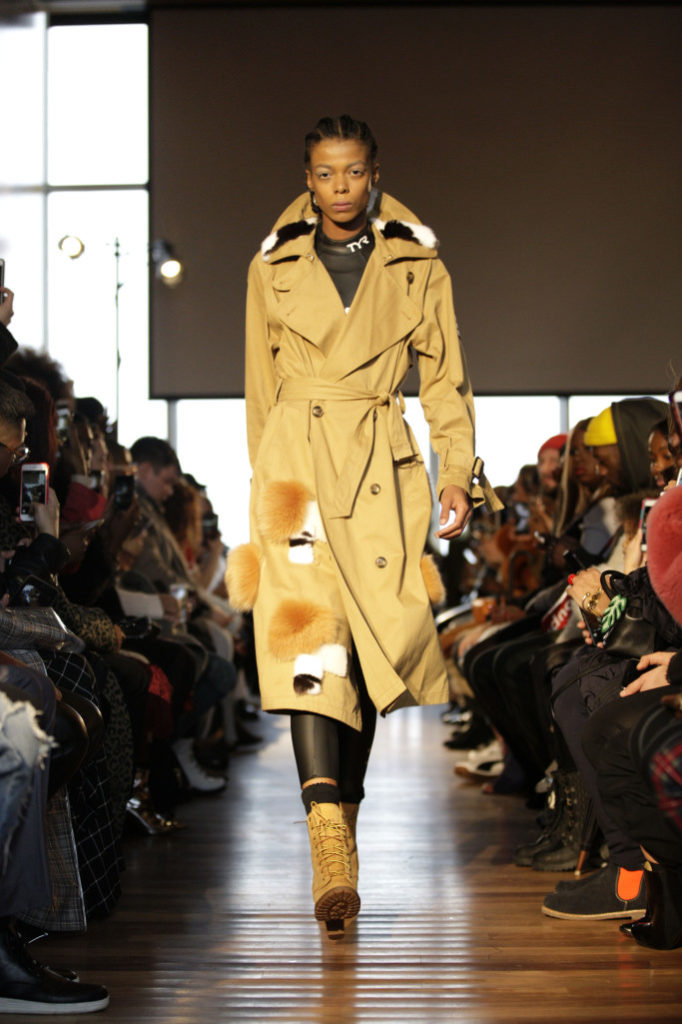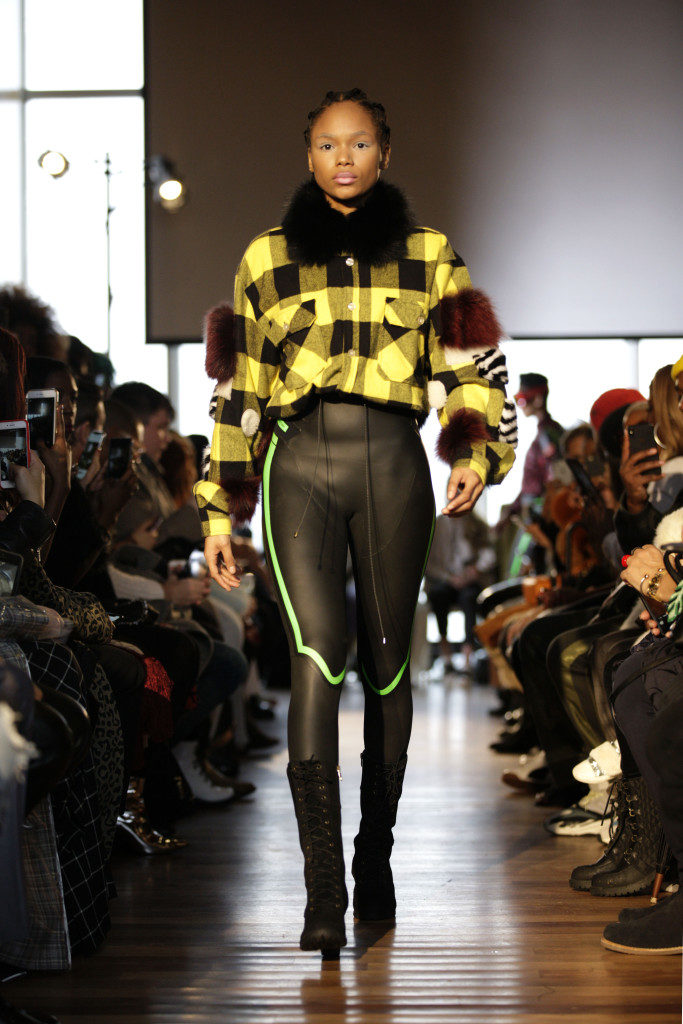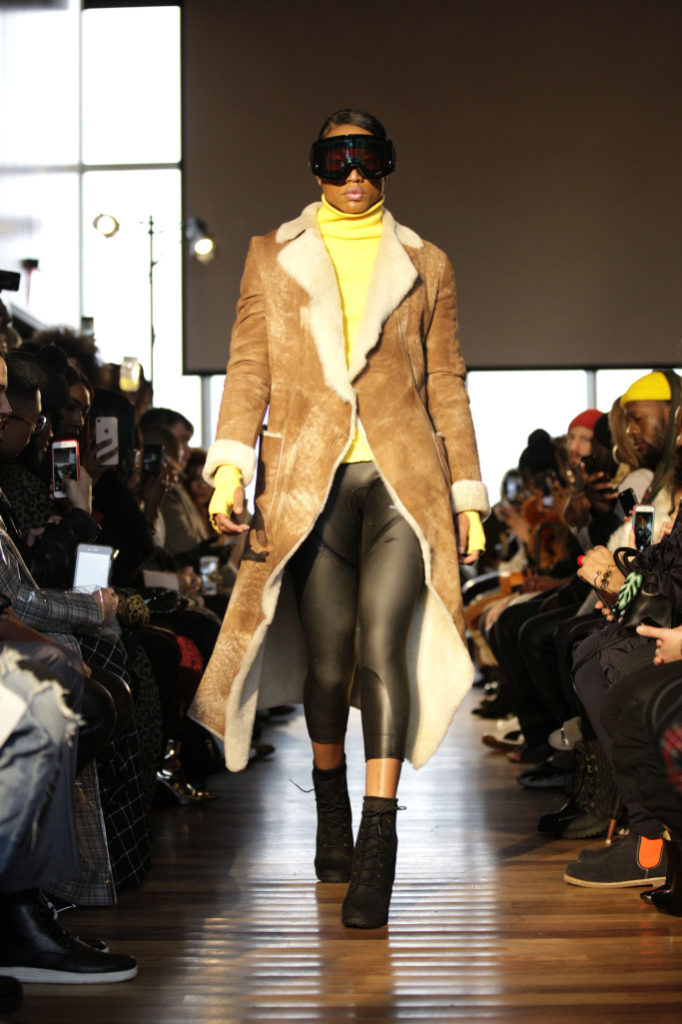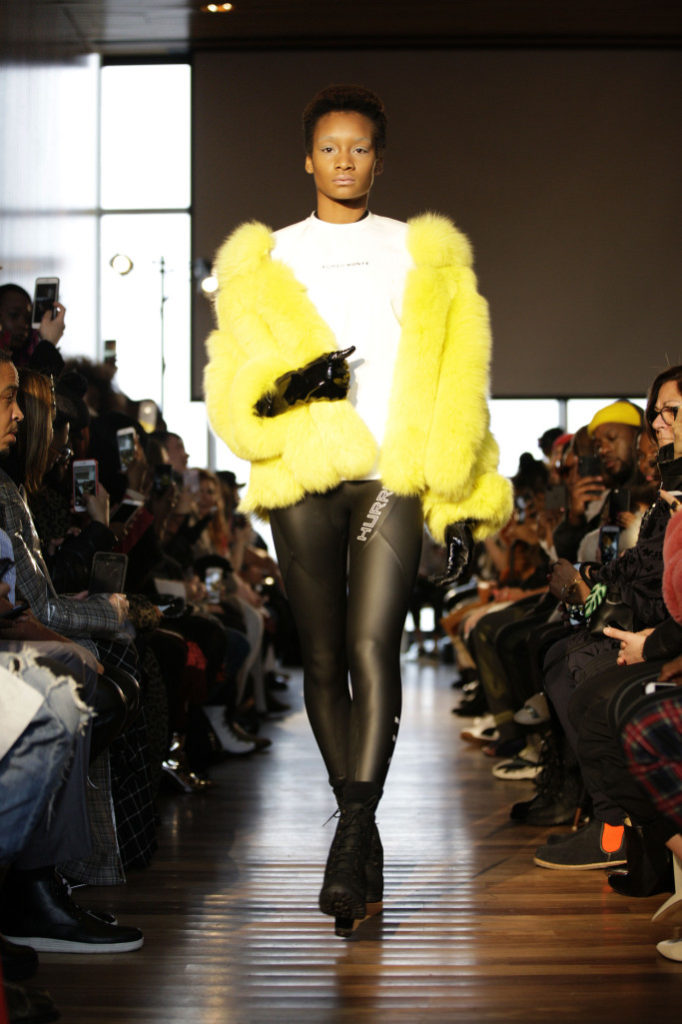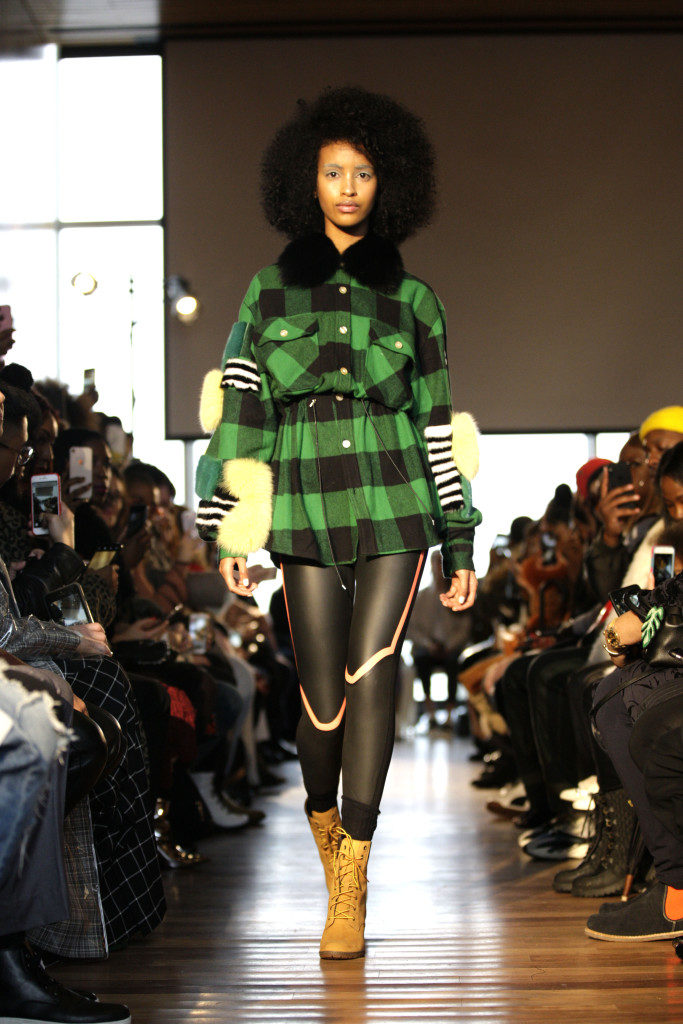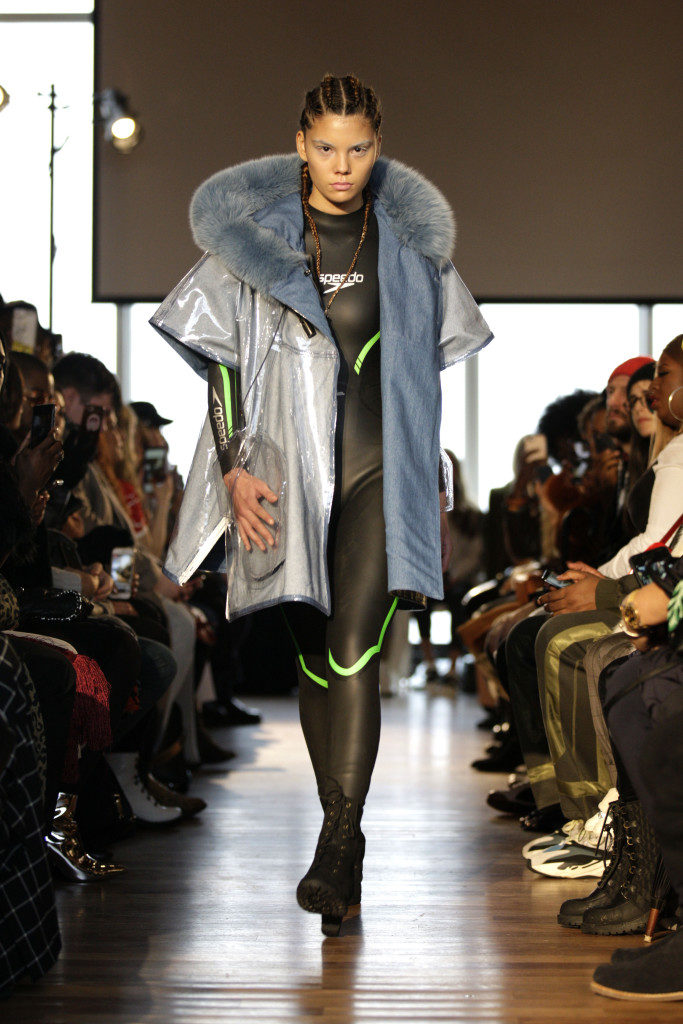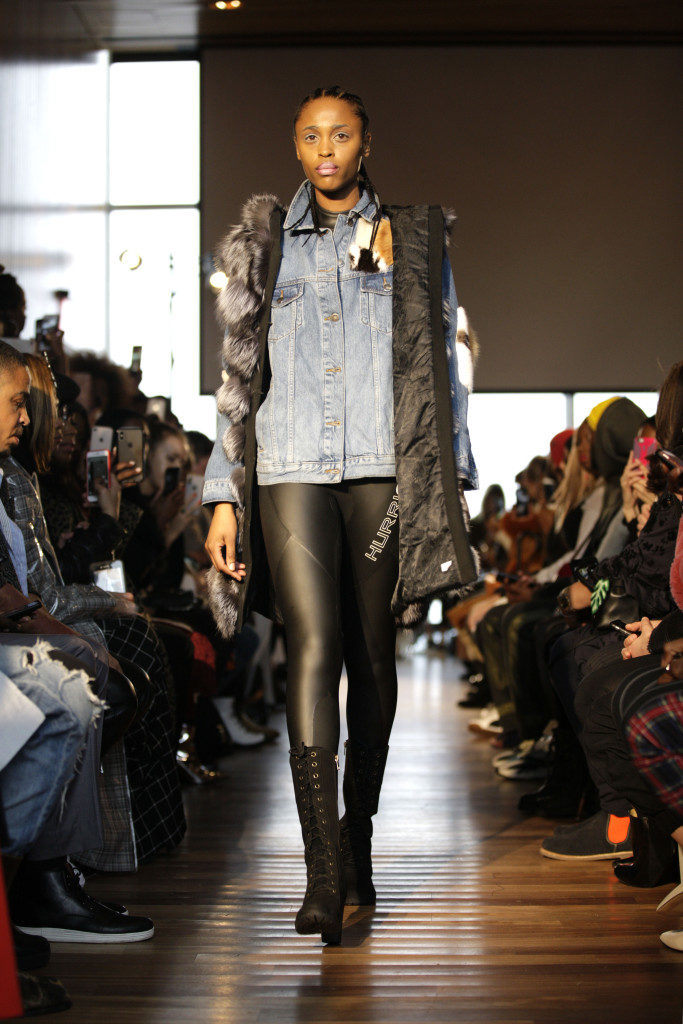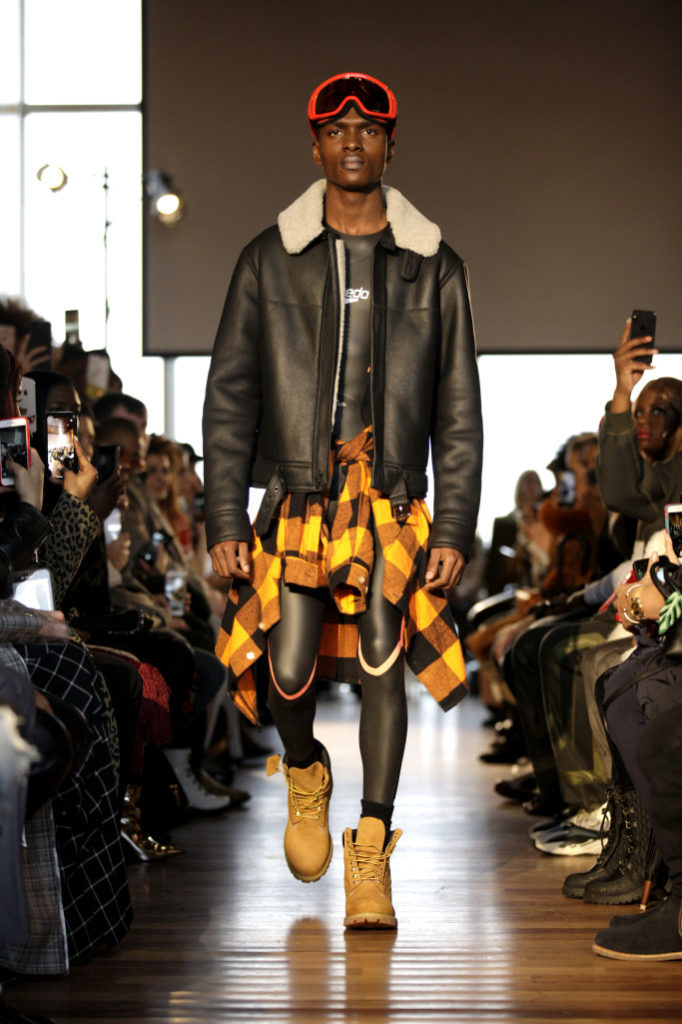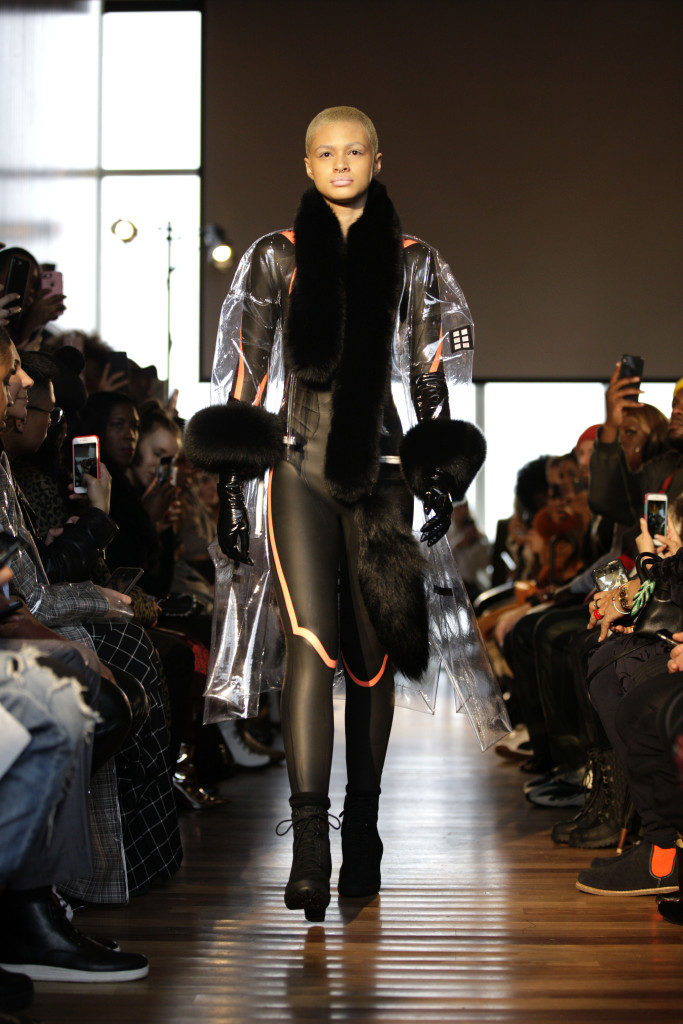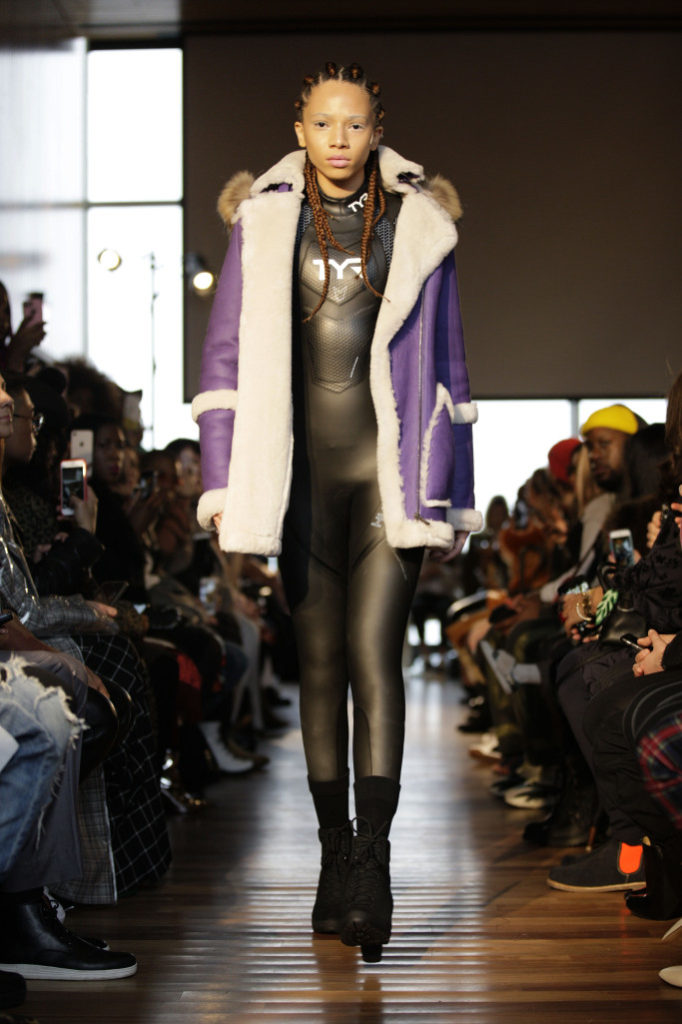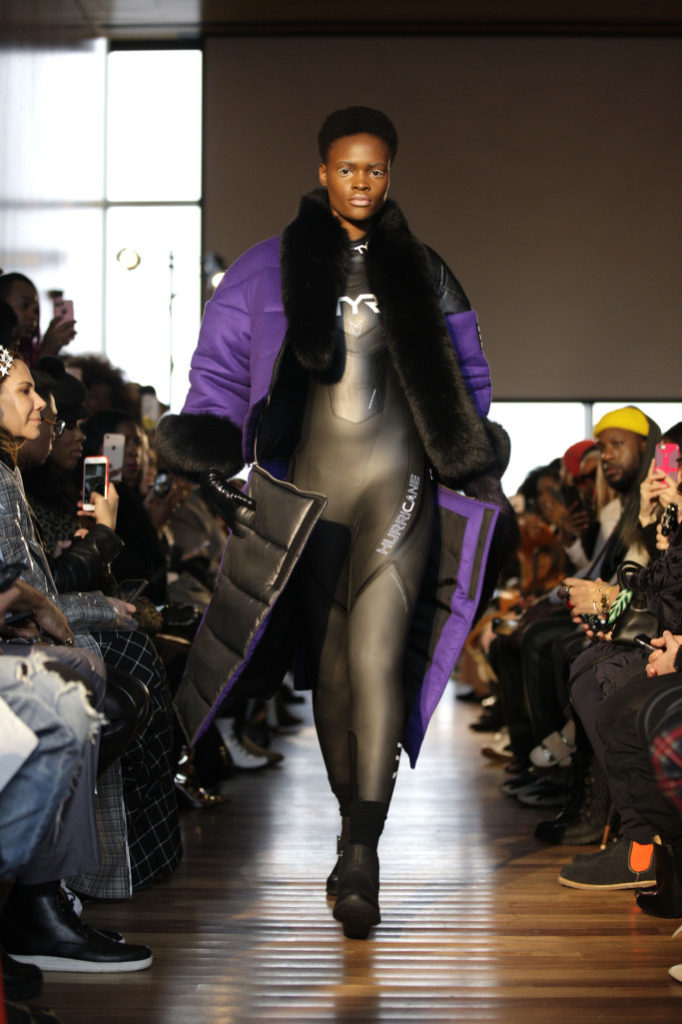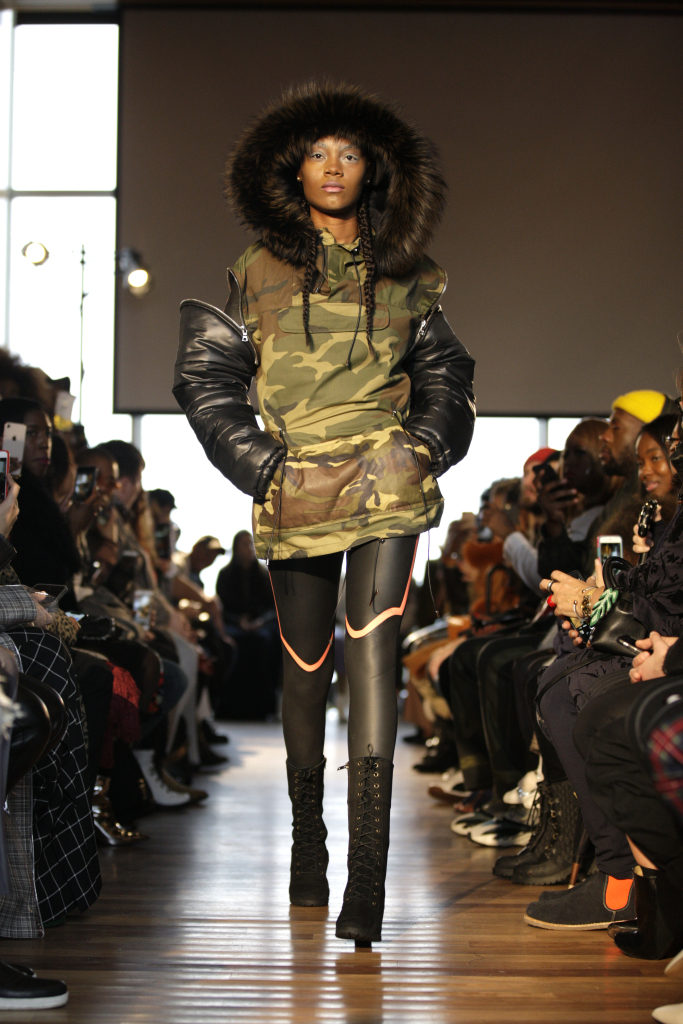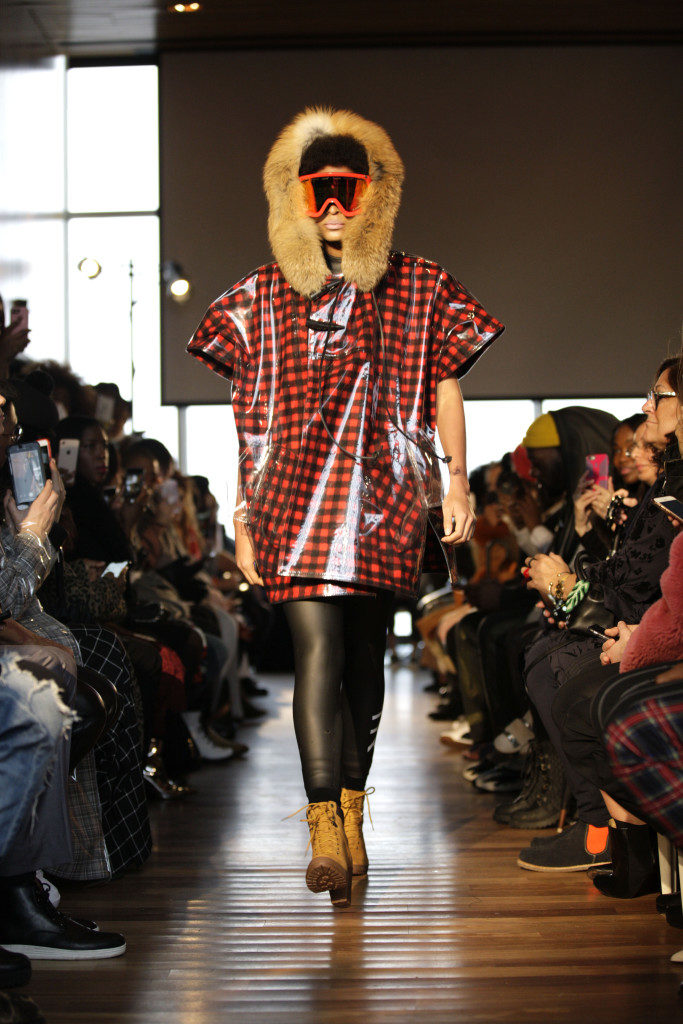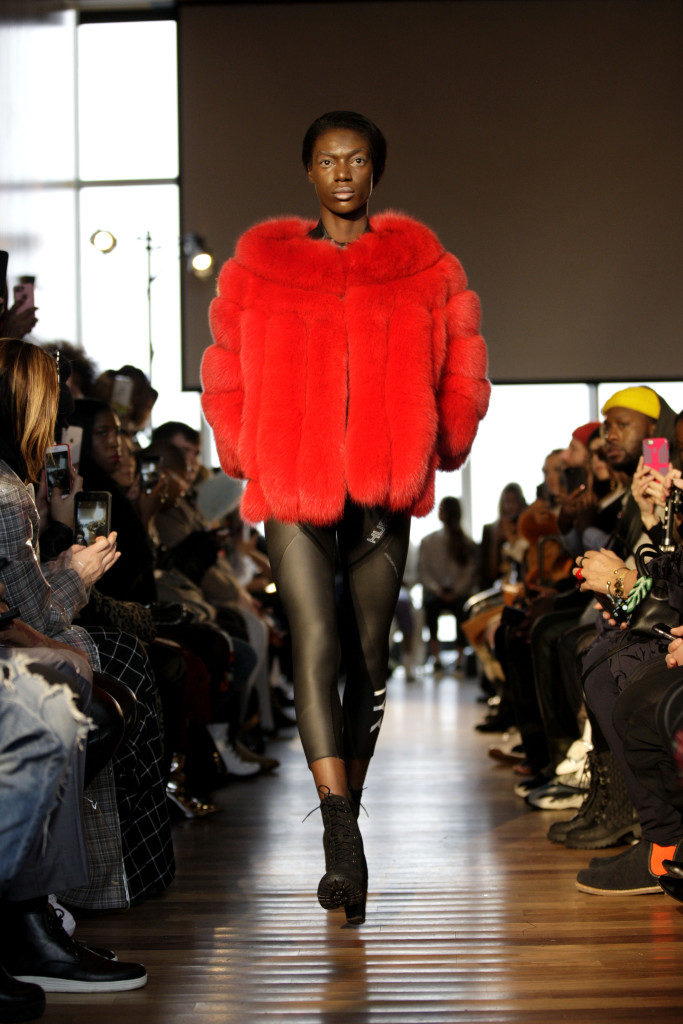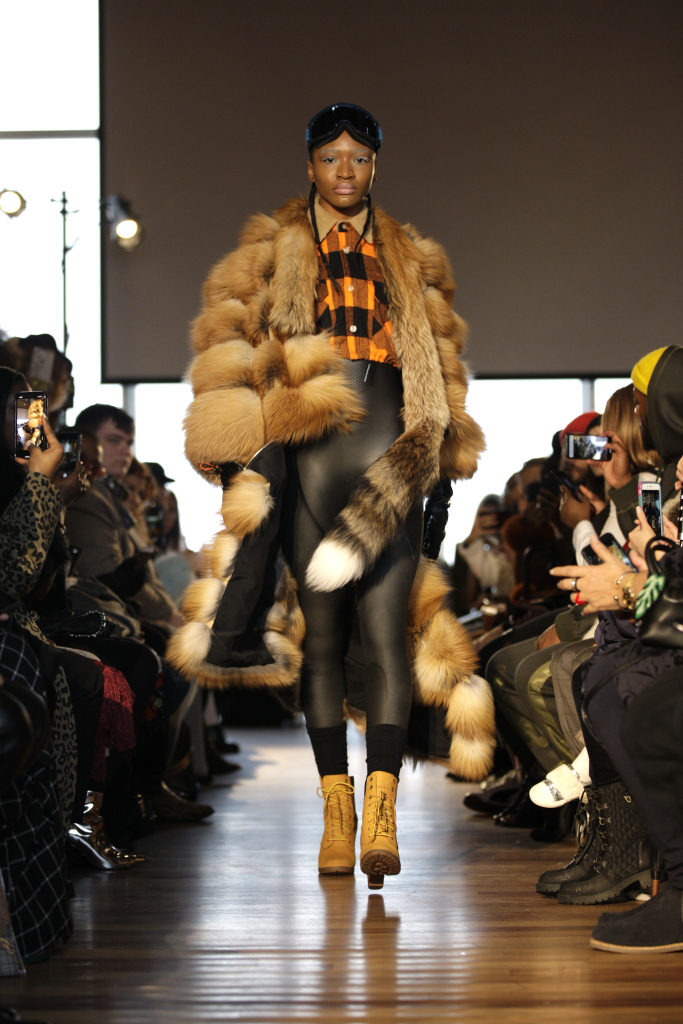 Ombré color fading took center stage at the Sies Marjan fall 2018 RTW show. Principal designer, Sander Lak elaborated on his use of colors saying, "dégradé colors, like one color bleeding into another, make me really happy and every time there's a hard corner I felt, like, nauseous." Well, no nausea here. This collection was so subtle  it put us in a kind of dream state. It was obvious, looking at the carefully died ombré mink scarf and bucket hat, that this was luxury redefined. Furthering that theme, Lak had a one- of-a-kind ombré mink patchwork walking coat that elevated the senses.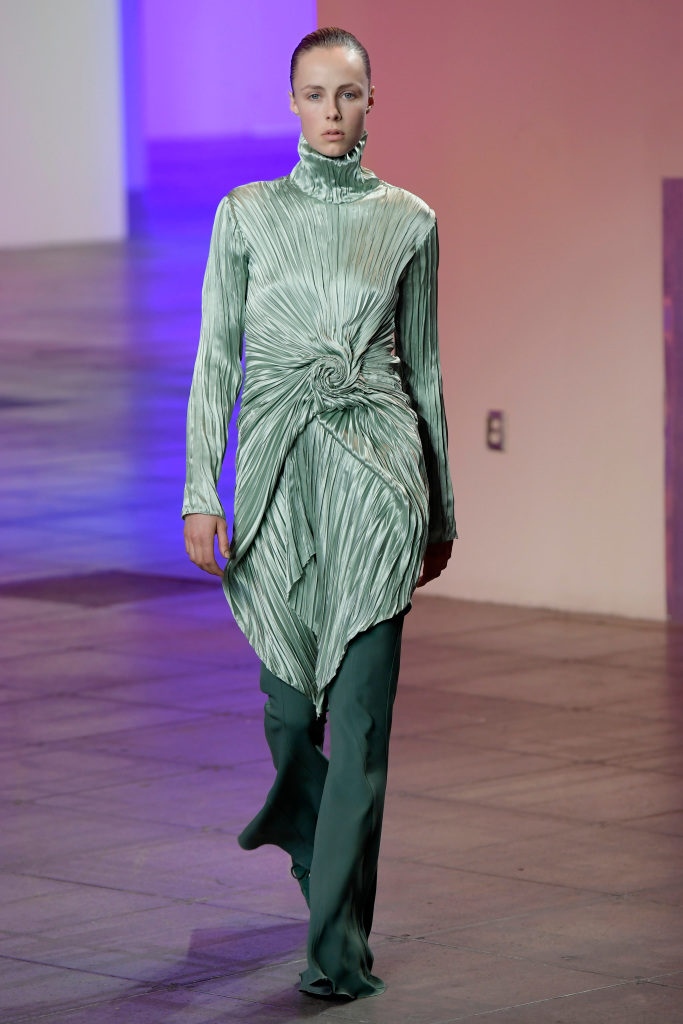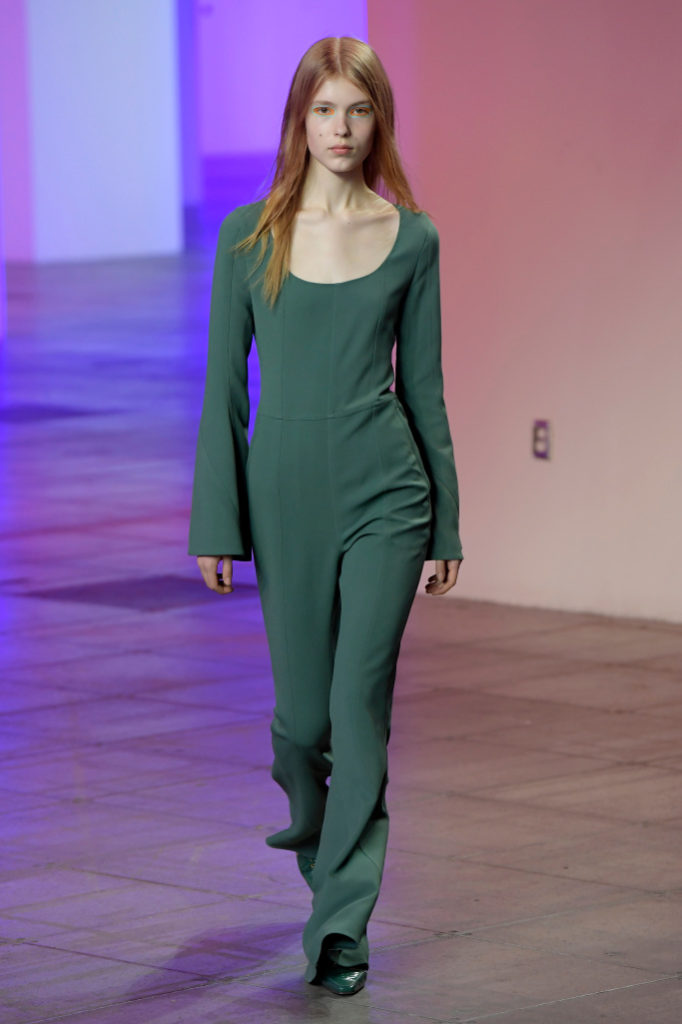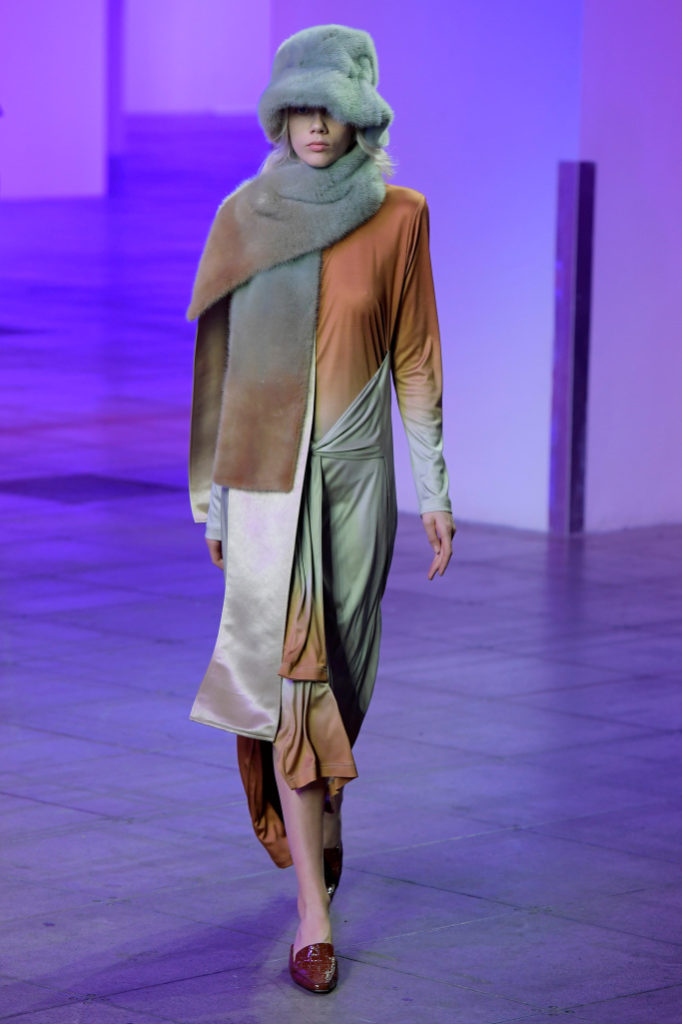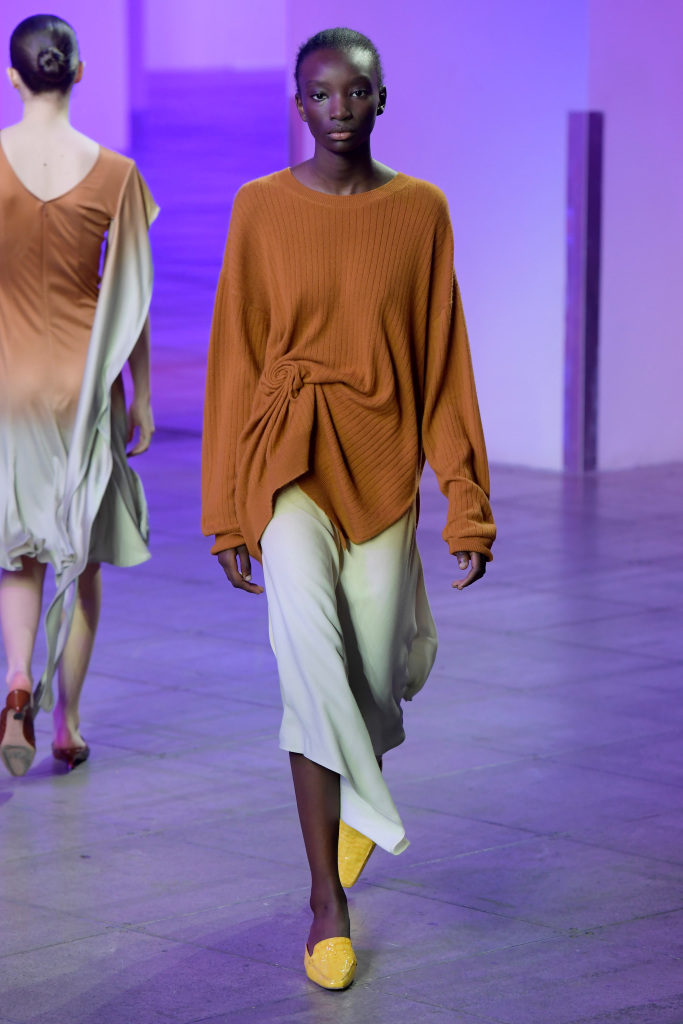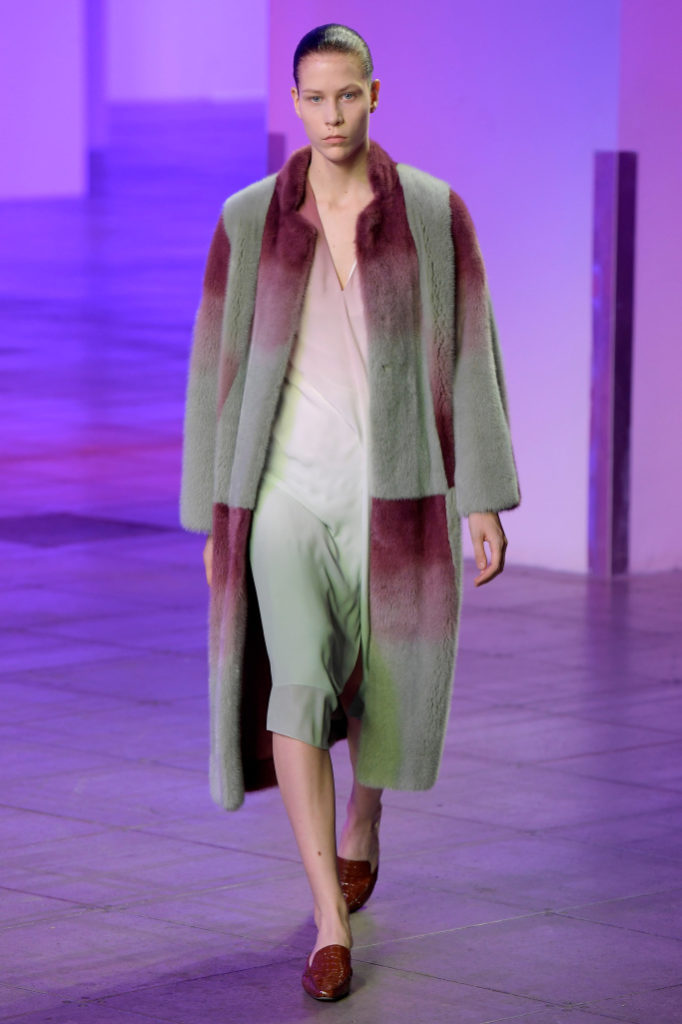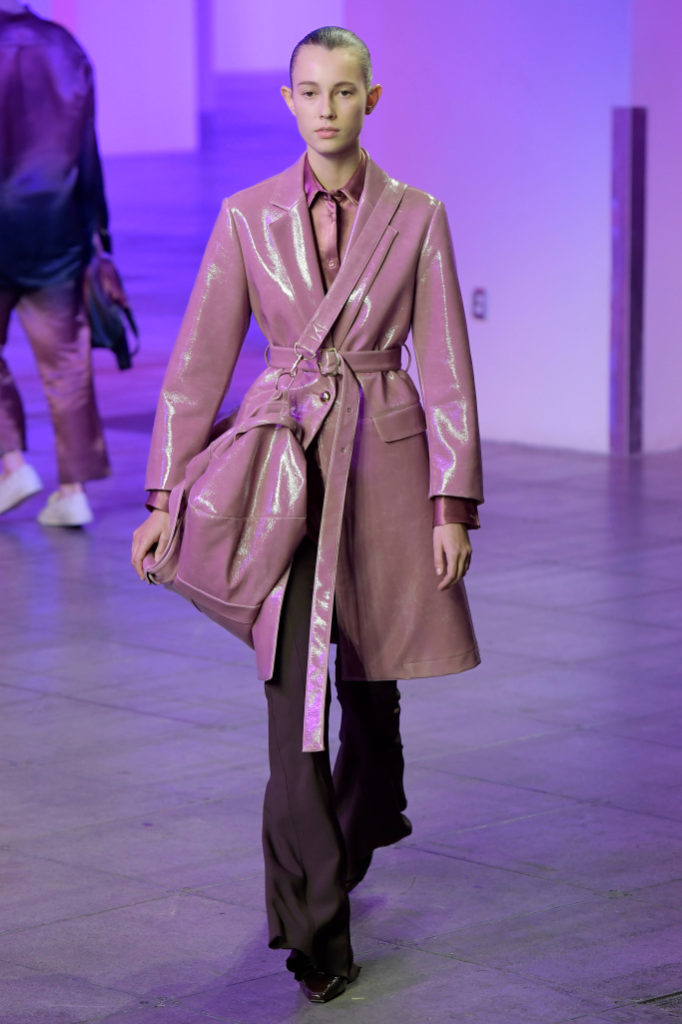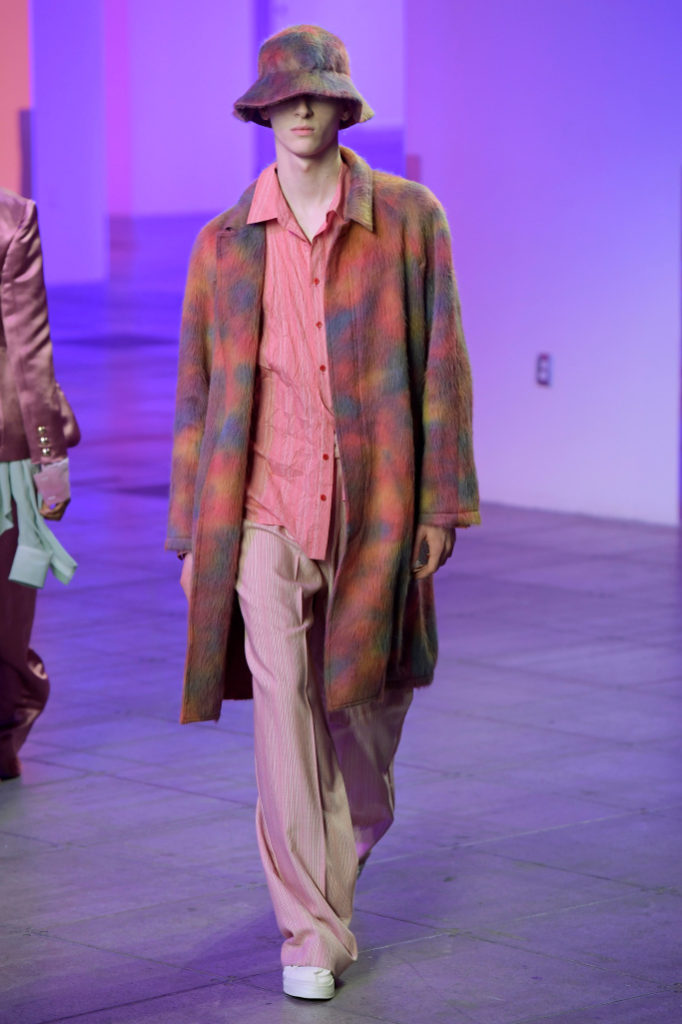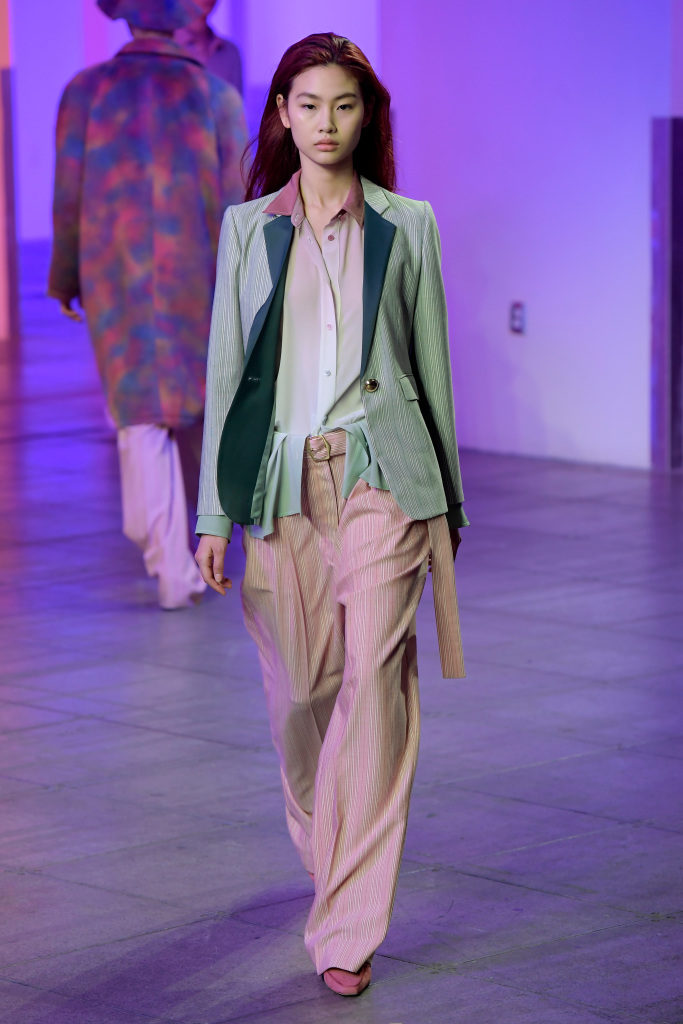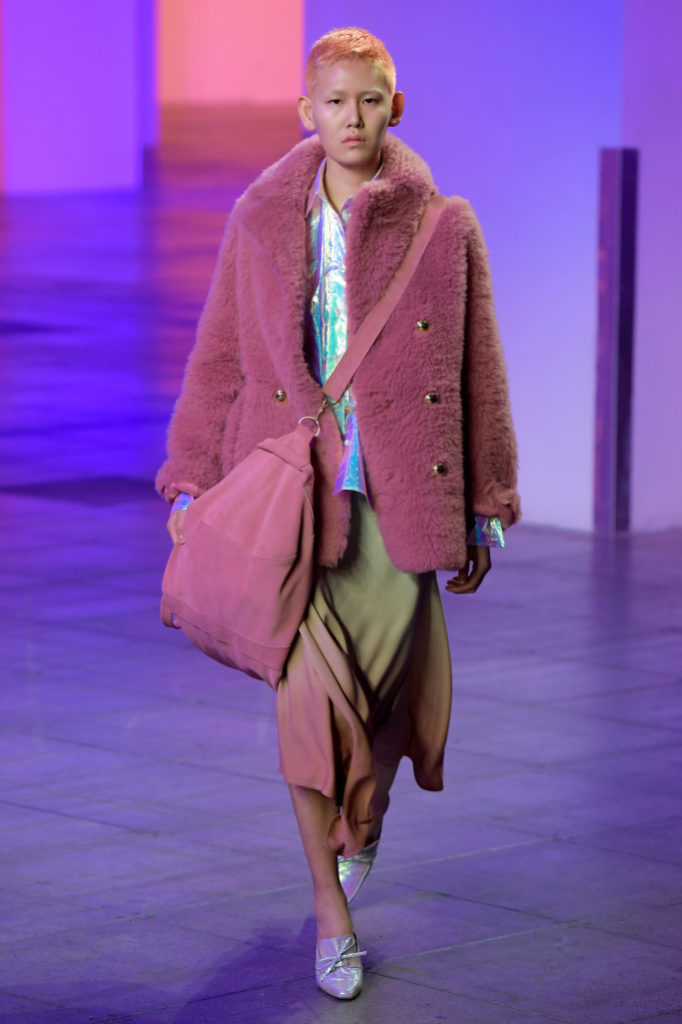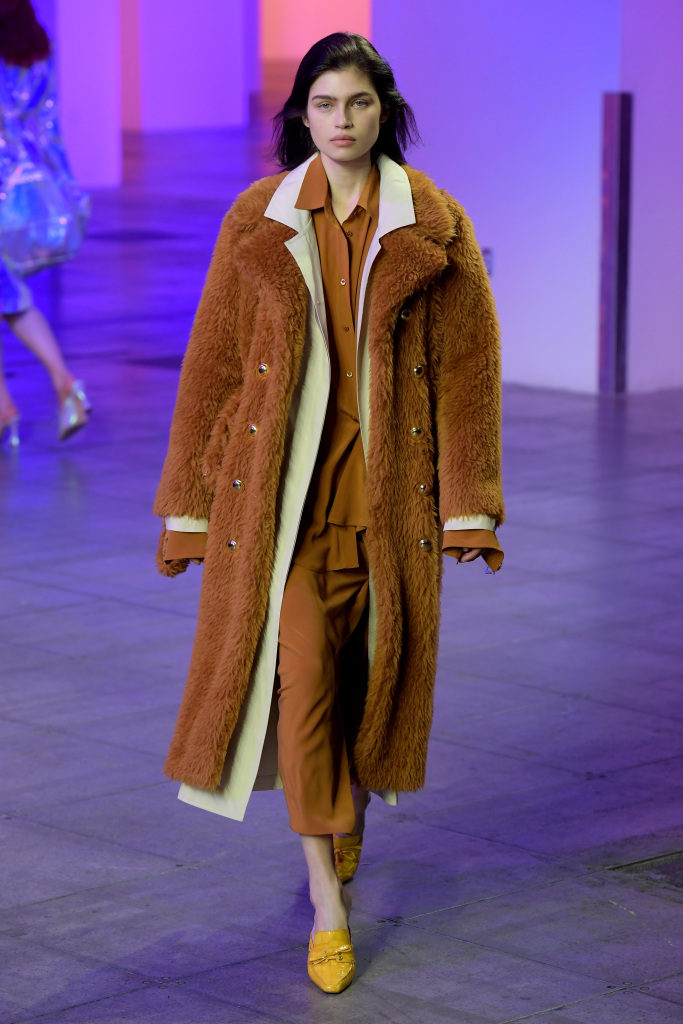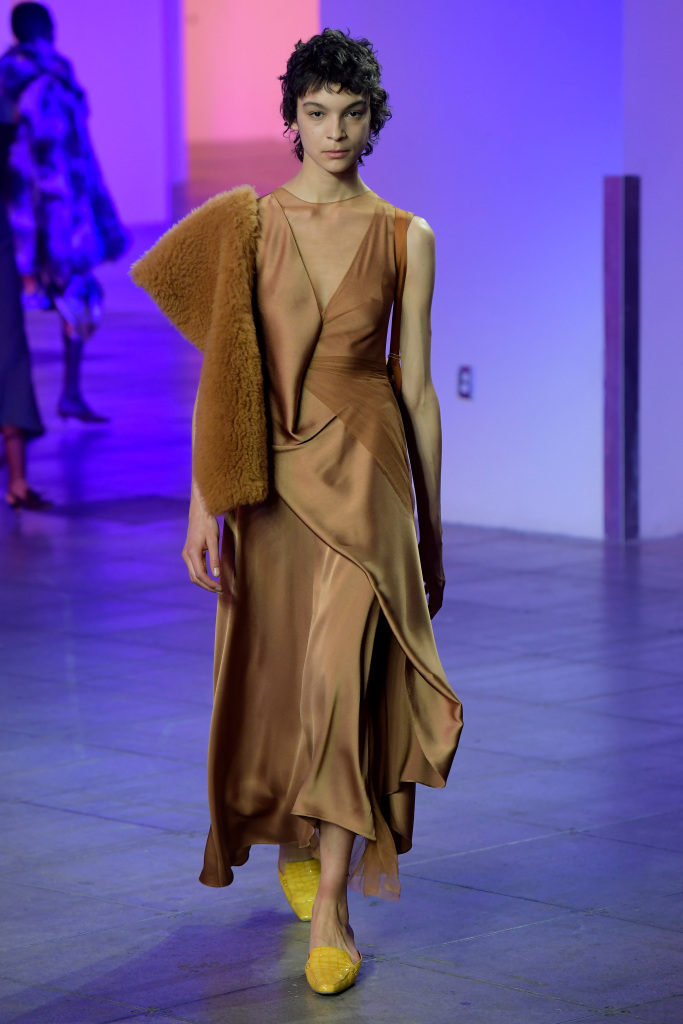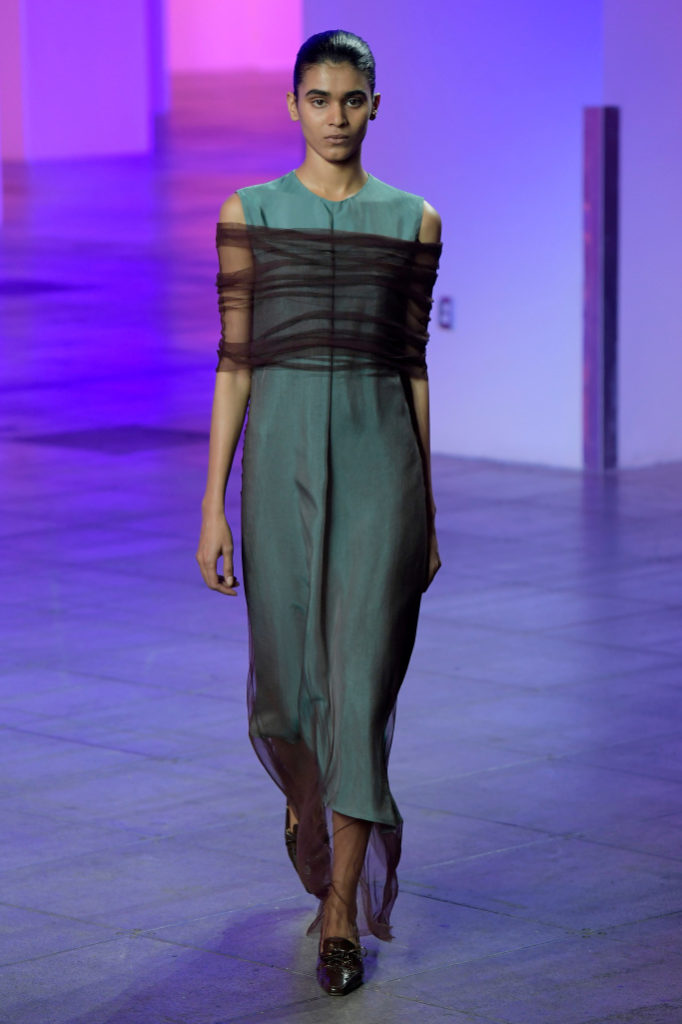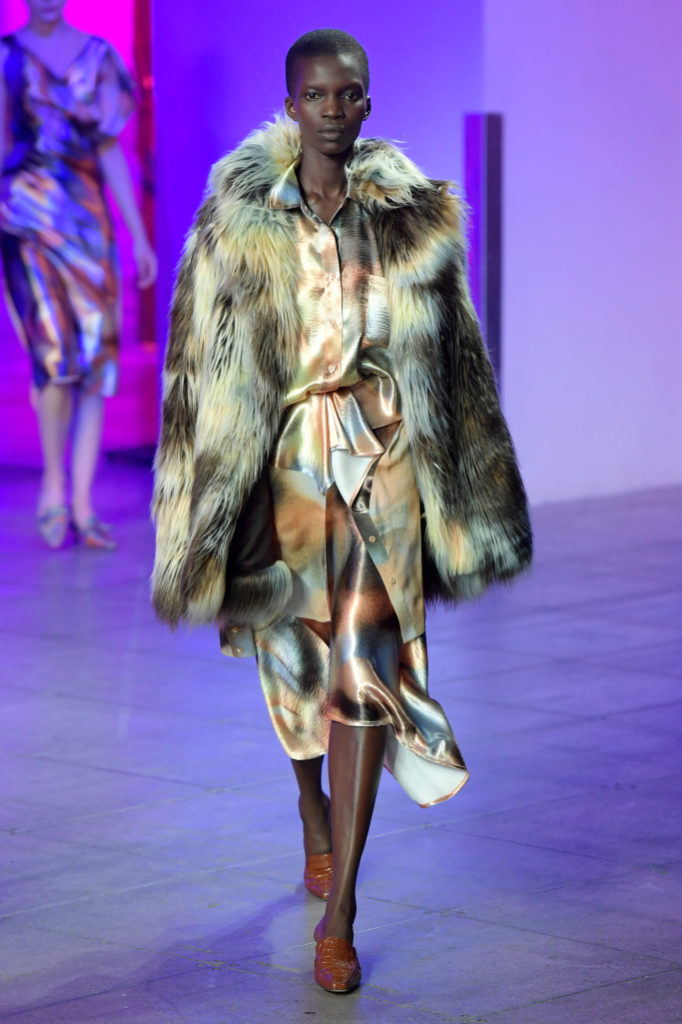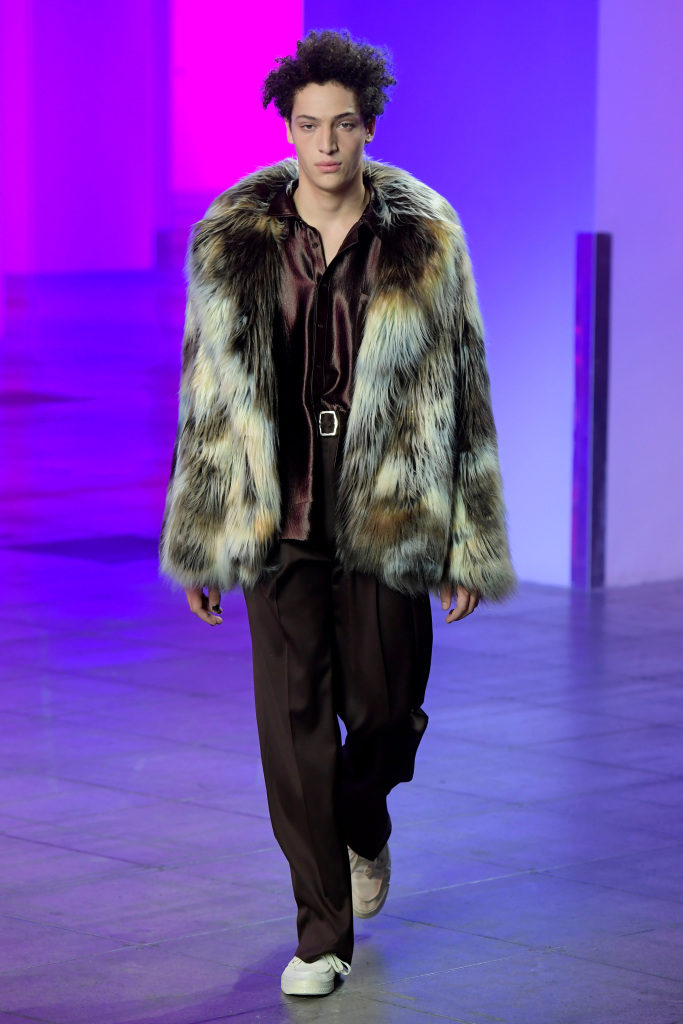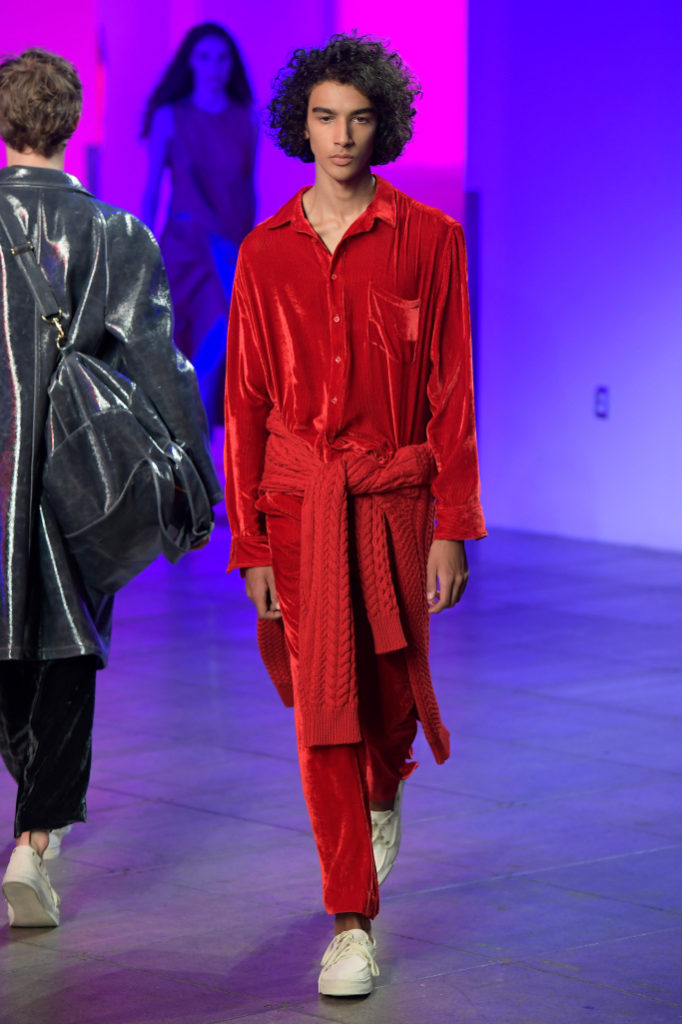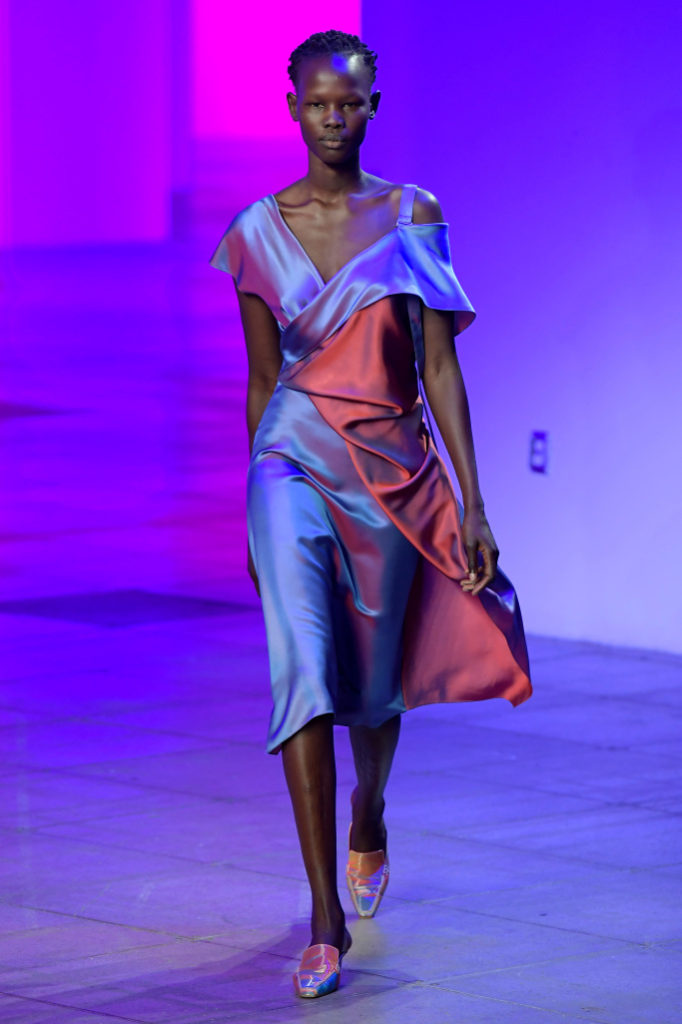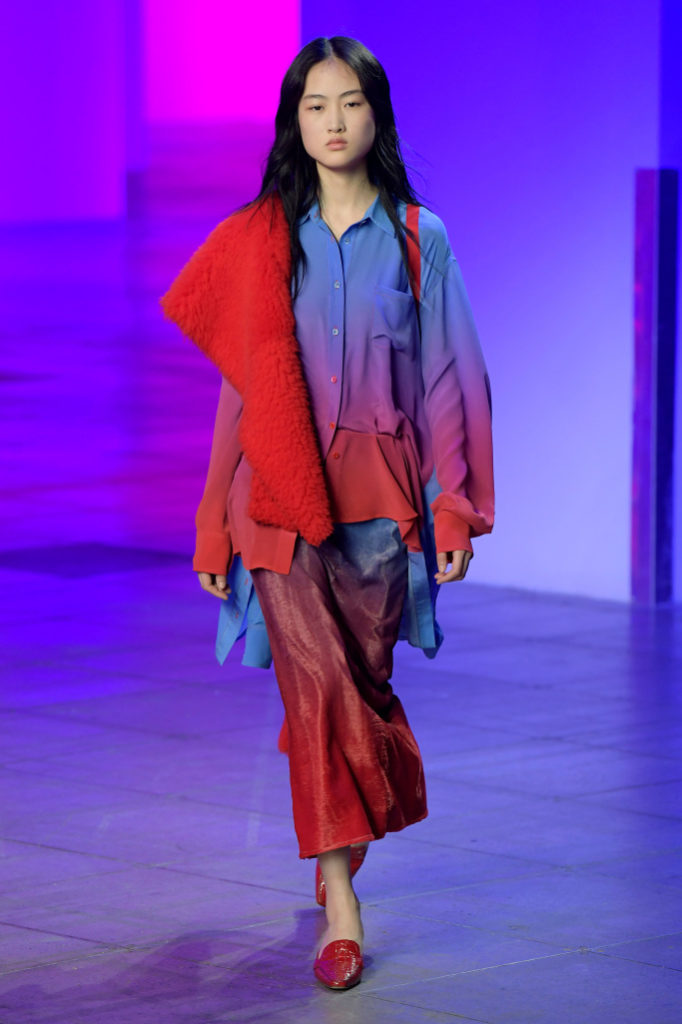 Kerby Jean-Raymond speaks volumes in his fall 2018 RTW collection for Pyer Moss. His stand out silhouette came by way of wide leg trousers with a cowboy chaps kind of feel. These pants were roomy, billowing, and caught the air down the runway.  Paired with crisp, tailored shirts to match, this was a his- and-hers collection with wide appeal.  Jean-Raymond has a deft hand at shearlings and a western inspired corduroy shearling jacket was a clear trail blazer. Another key piece not to be missed was a polished ivory shearling moto jacket that helped ride the brand into the sunset.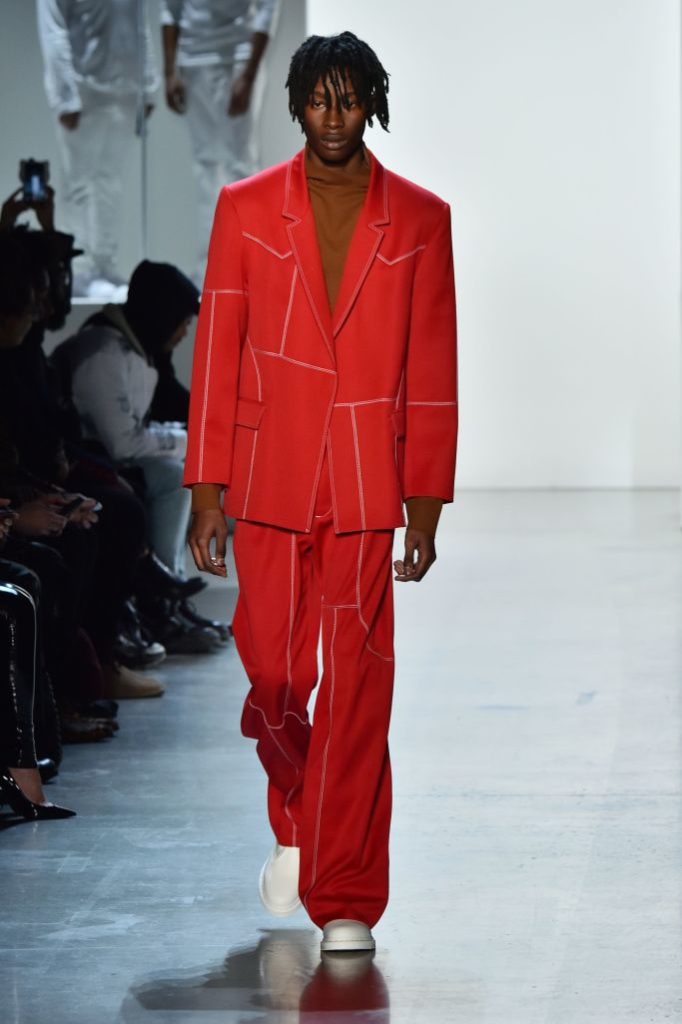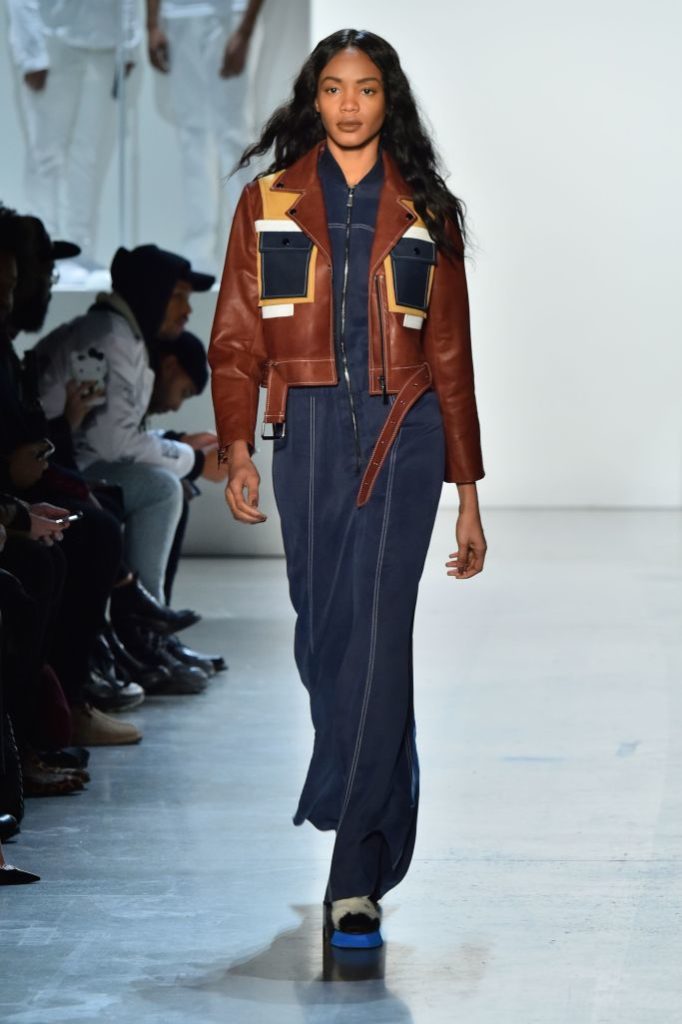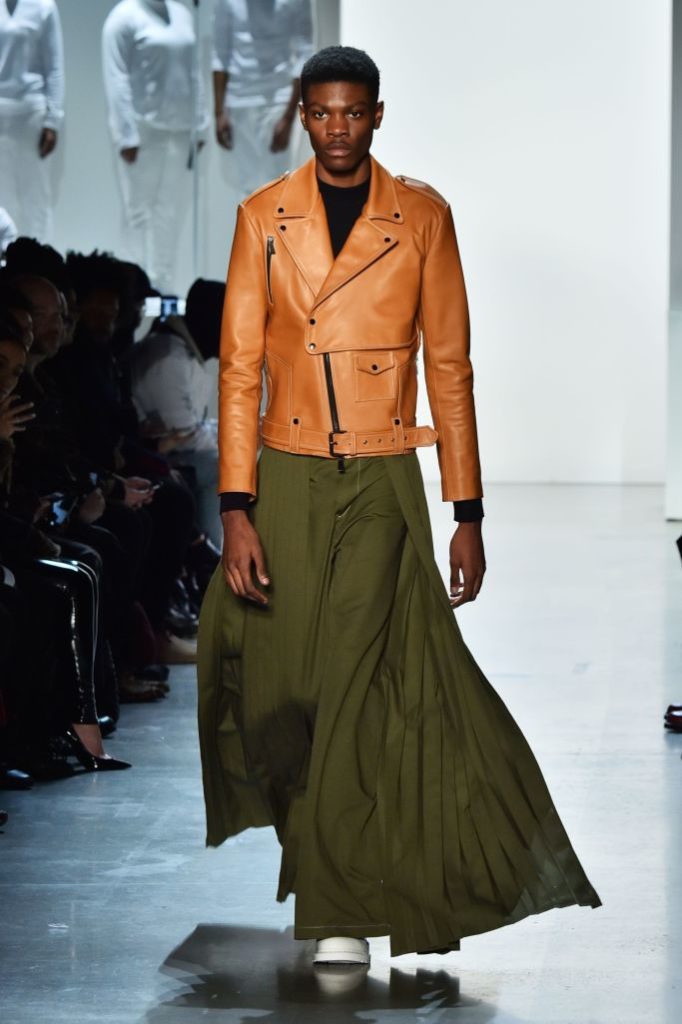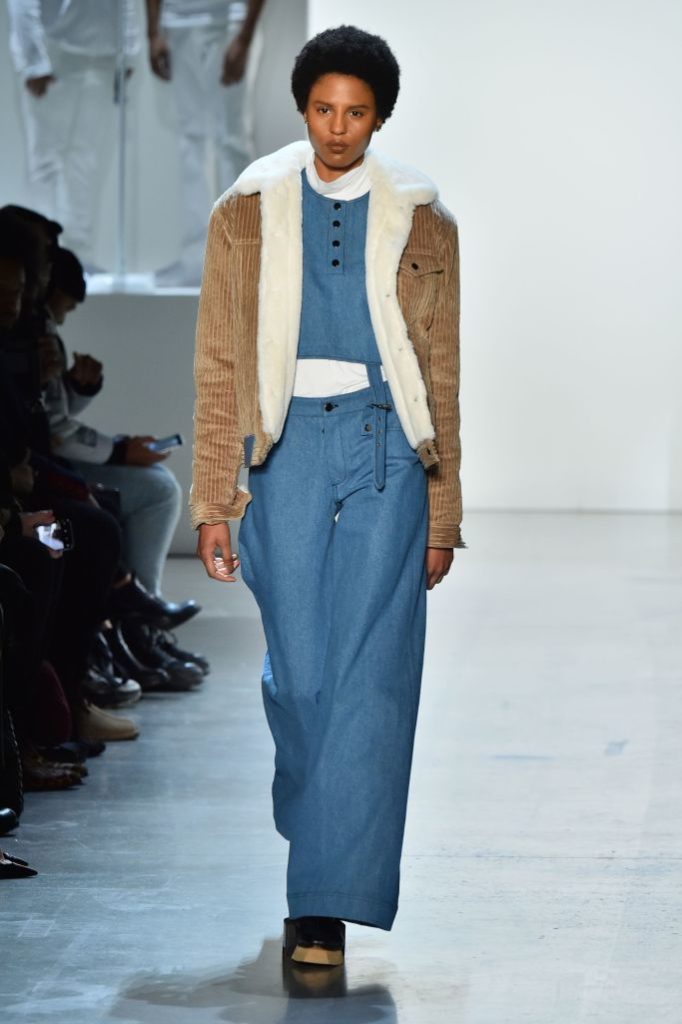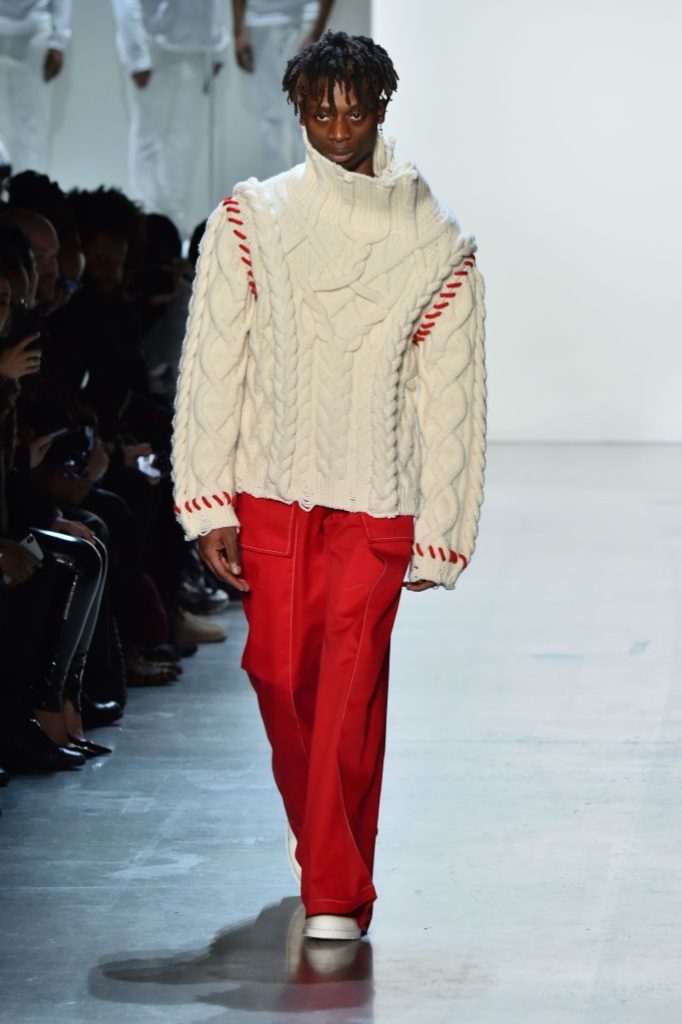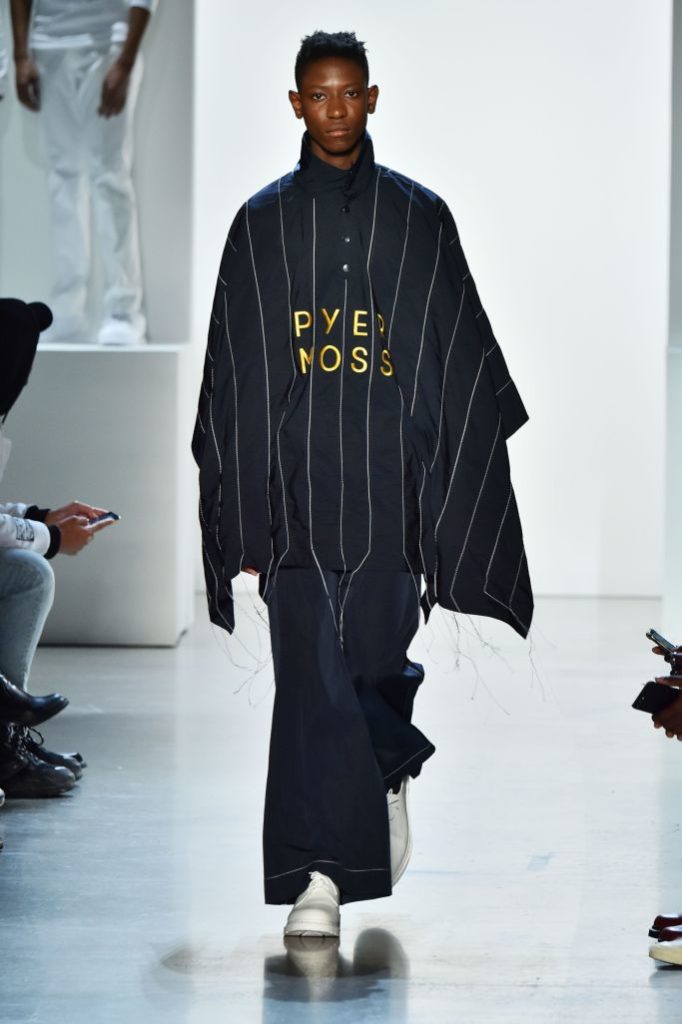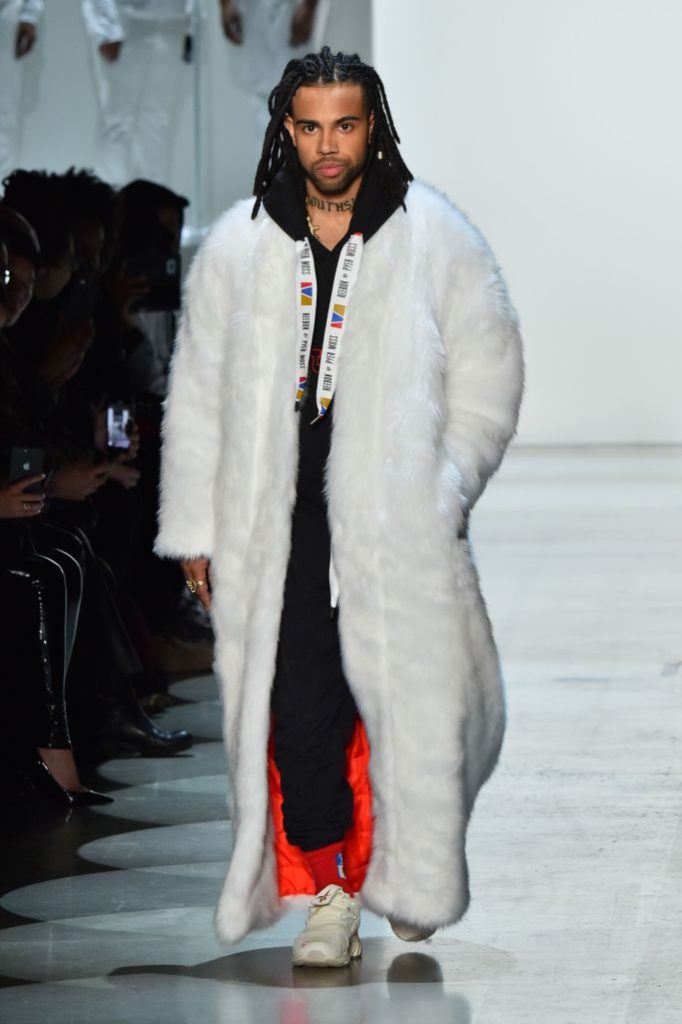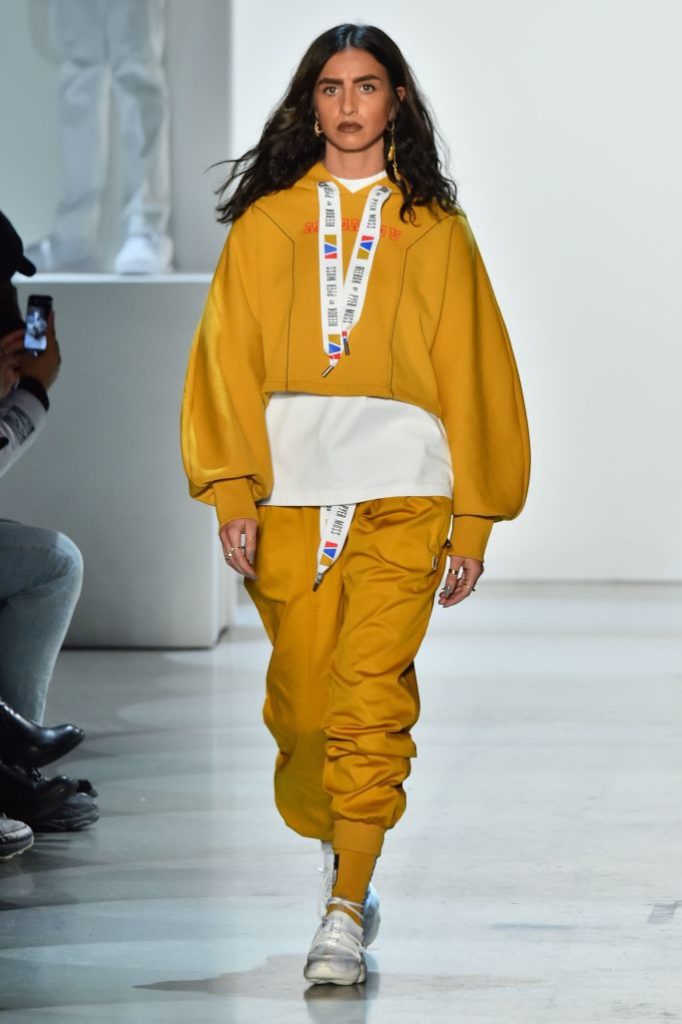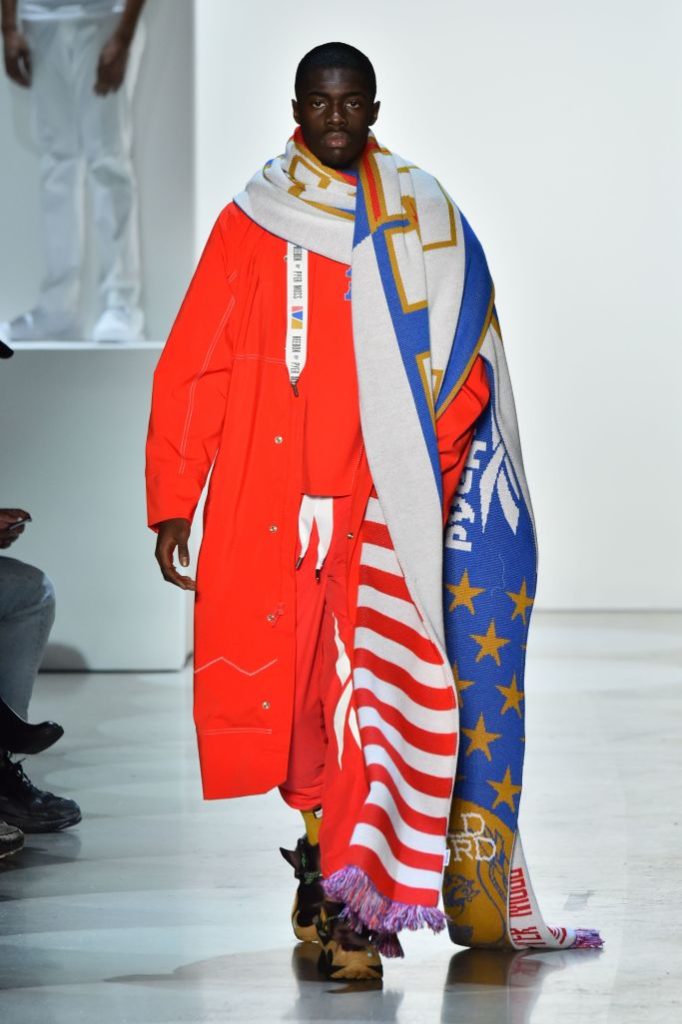 Mongolian lamb and shearling were the stars of Claudia Li's fall 2018 RTW show. An elongated Mongolian lamb vest in fresh, icy white was a key piece that would translate across many looks. Li's unmatched talent for creating unique and important shearling jackets was on full display. Choices ranged from a forest green leather moto with black shearling trim to a black wool coat with toffee colored shearling hem and collar. A stand out accessory was a sharp red leather bag with oatmeal shearling finishes.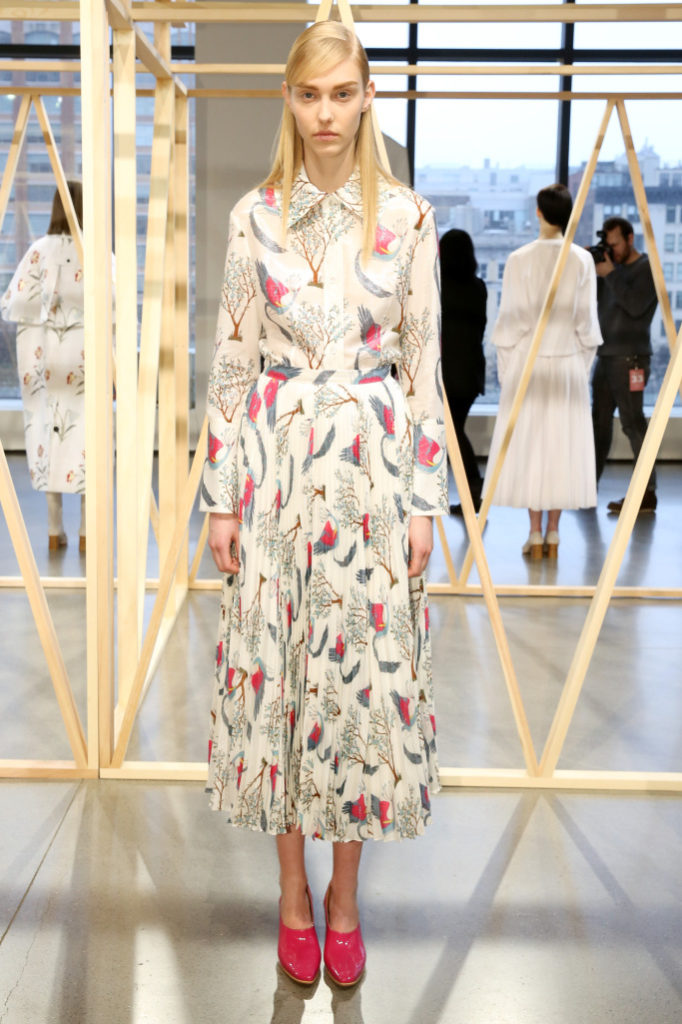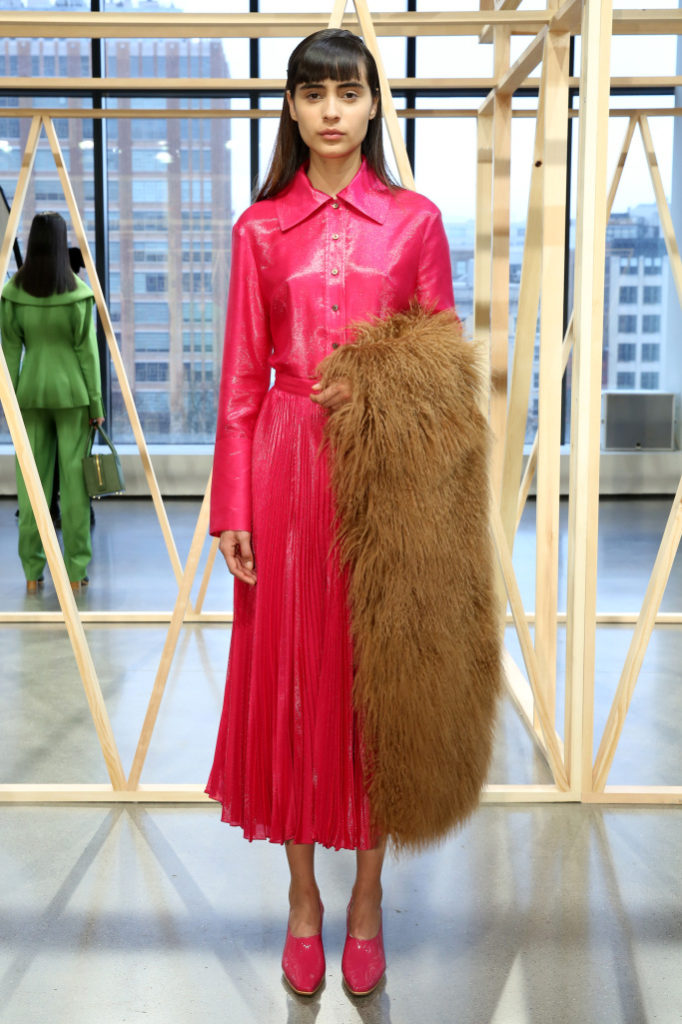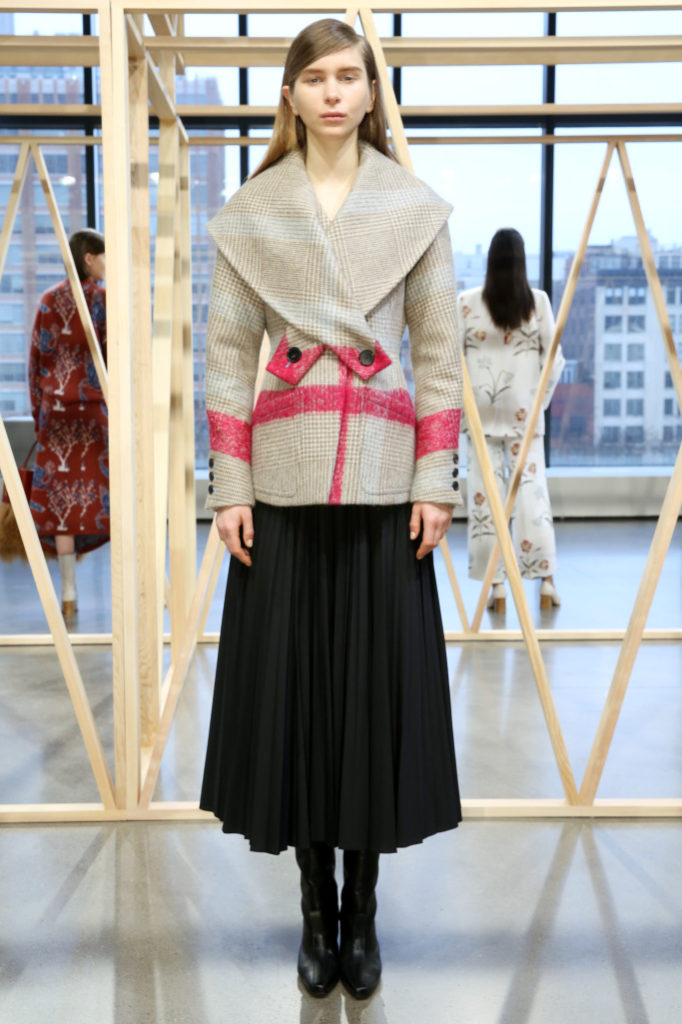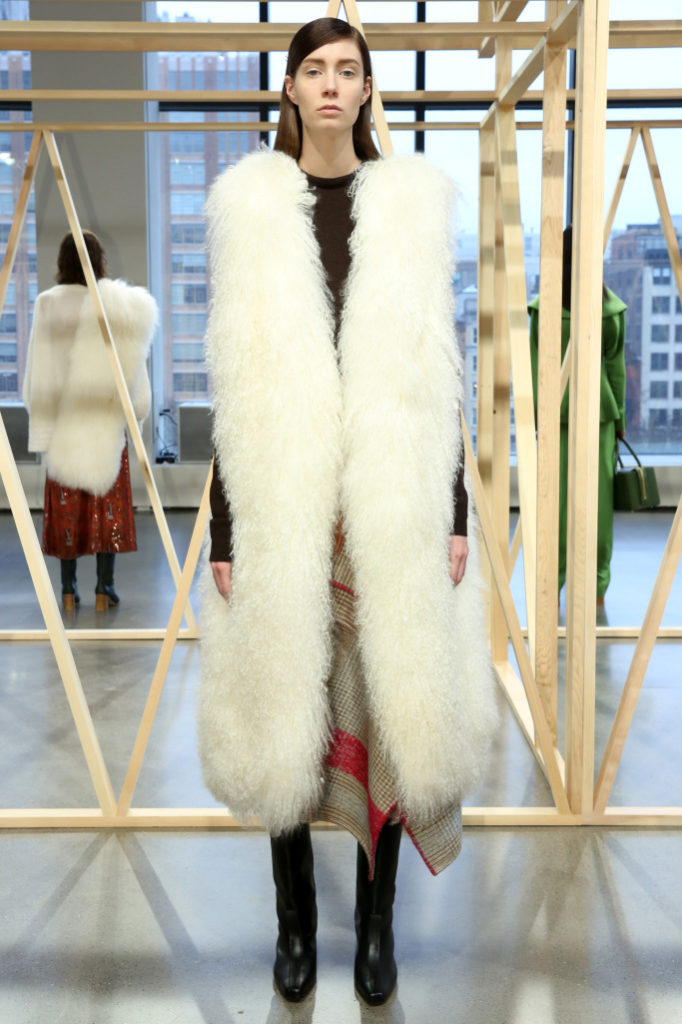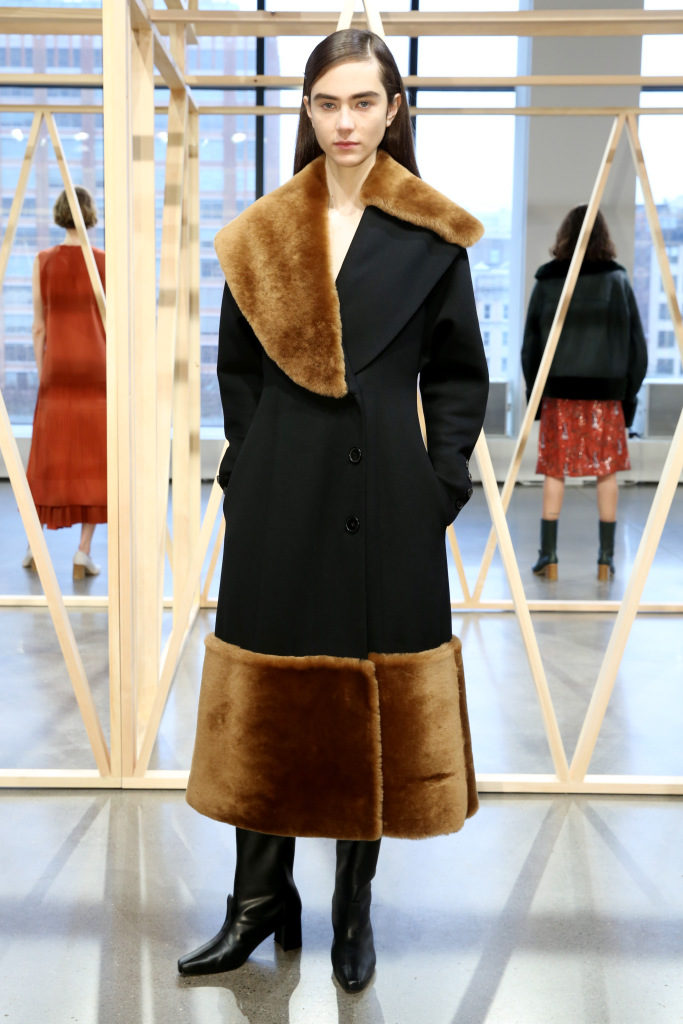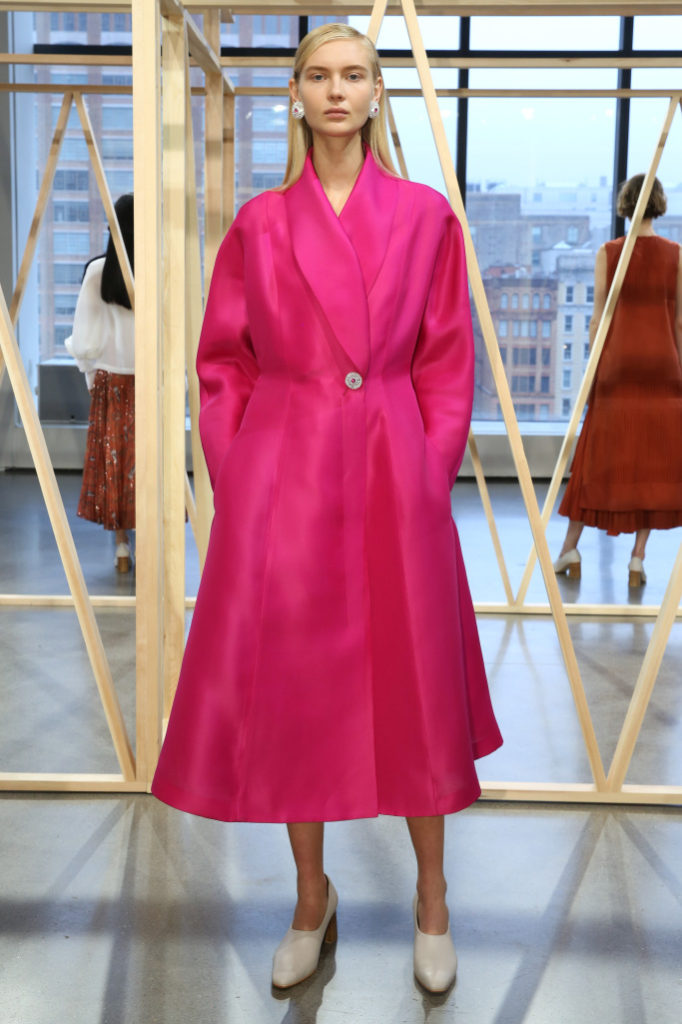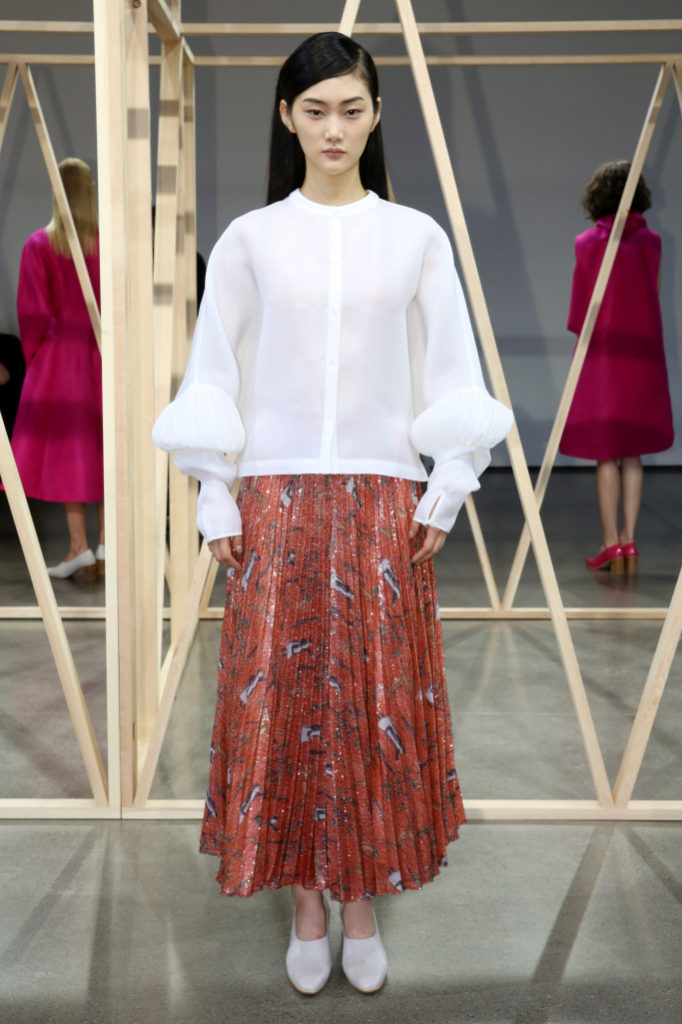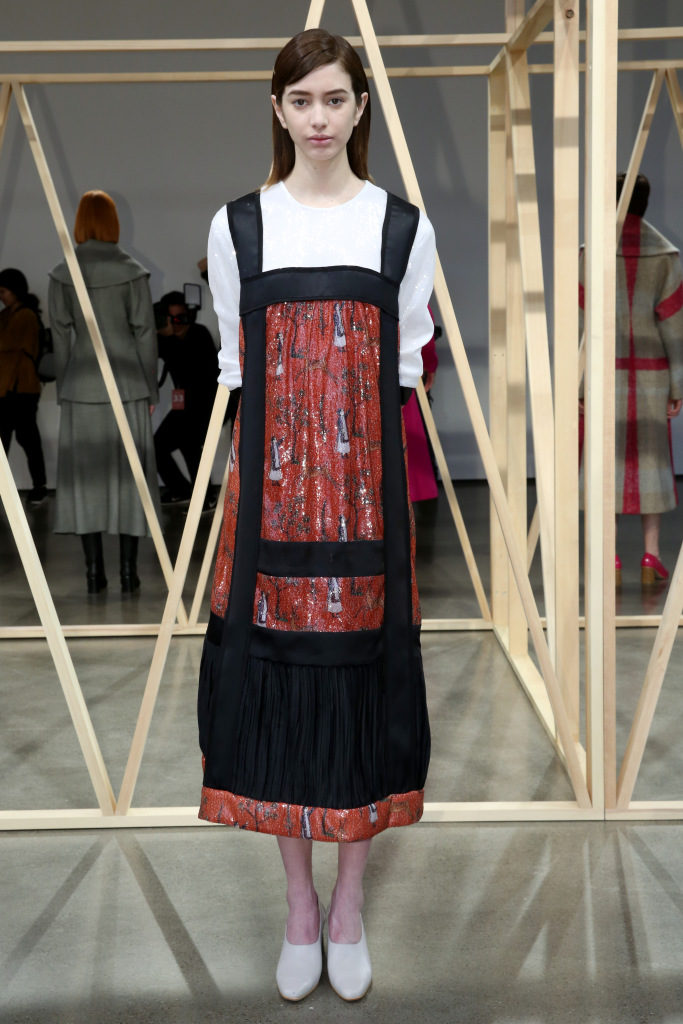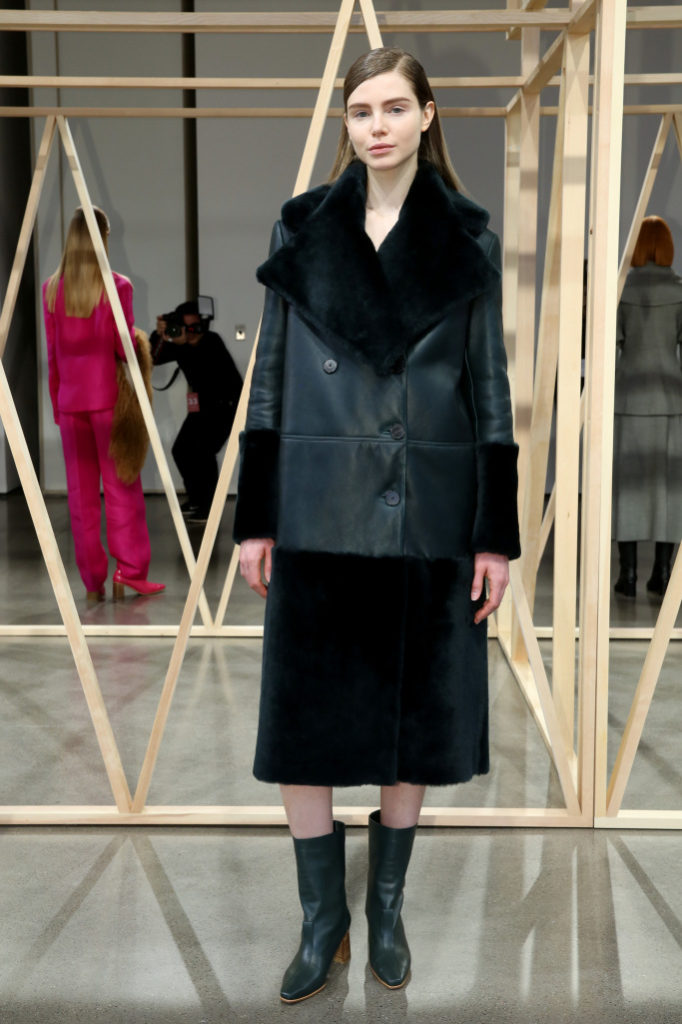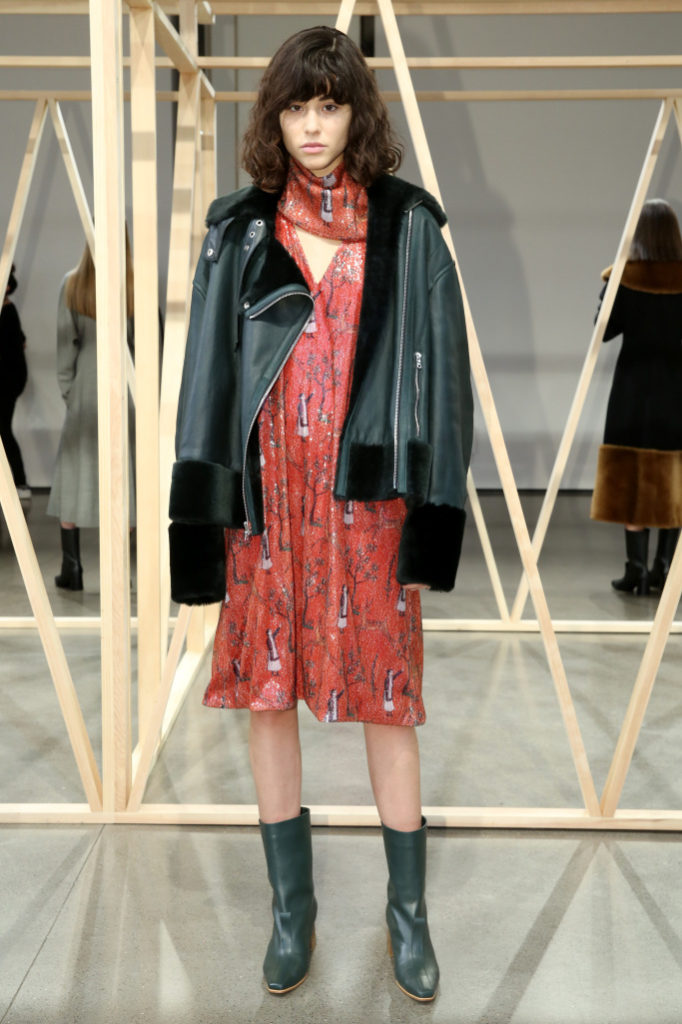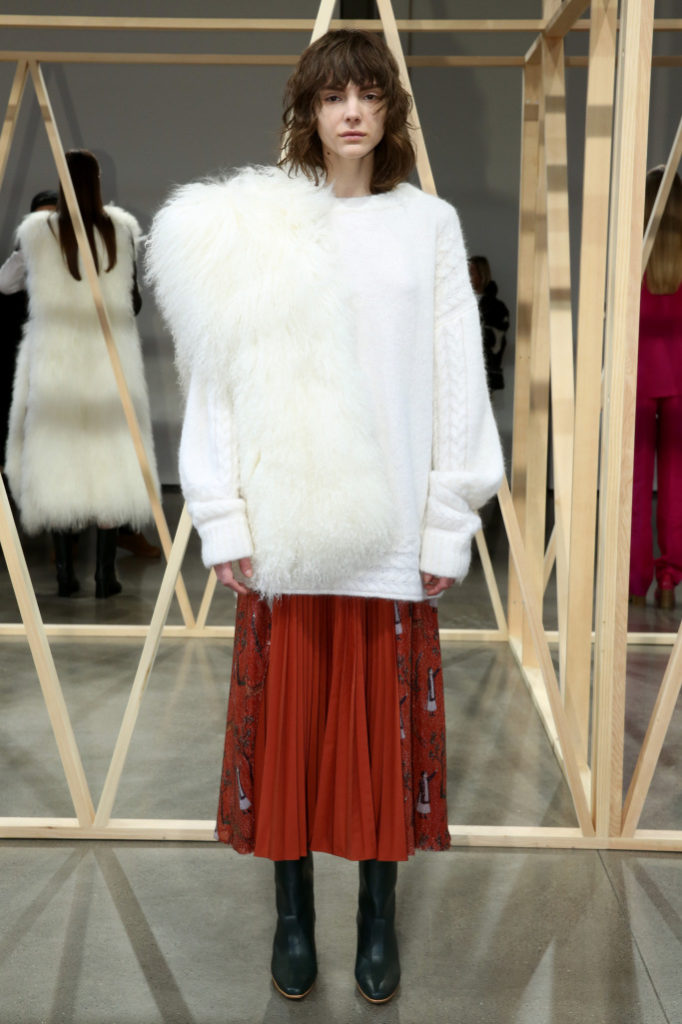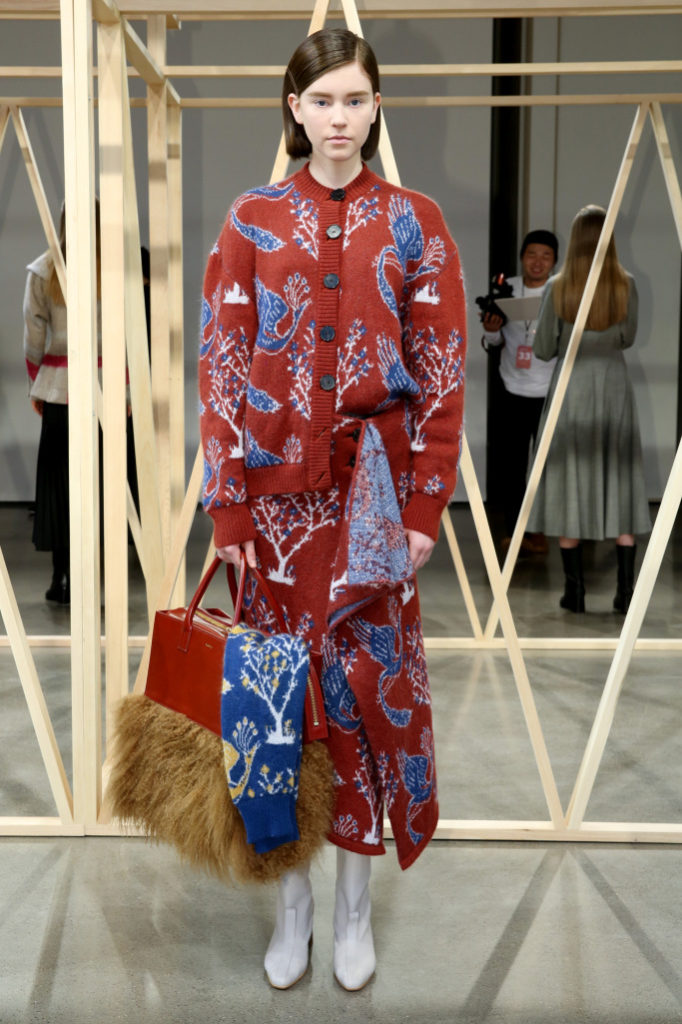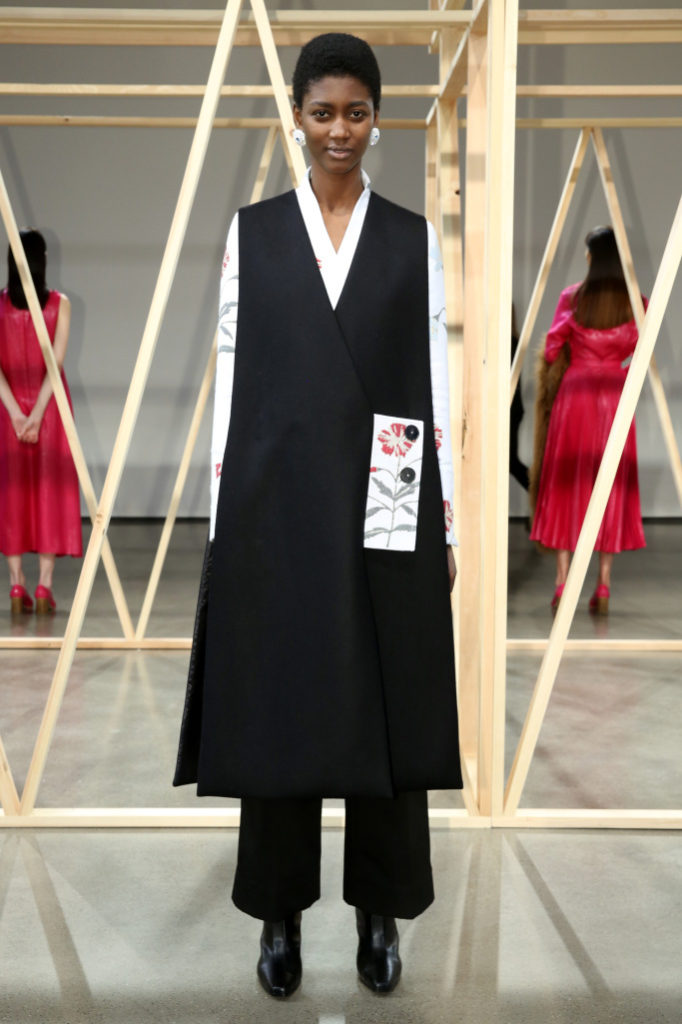 Brandon Maxwell reflected on his 2018 fall RTW collection saying that his customers go many places besides black tie events and that they do "many things during the day." From satin bow belts, sequined white tee shirts, and denim jackets with fur collars, the message was clear that if Maxwell's customers spend much time grocery shopping or pumping gas during the day they take on these tasks in high style.   Take his red shearling varsity jacket as another example, while casual in nature, he paired it with a long red crystal beaded skirt, which is just the right kind of chic his customer wants.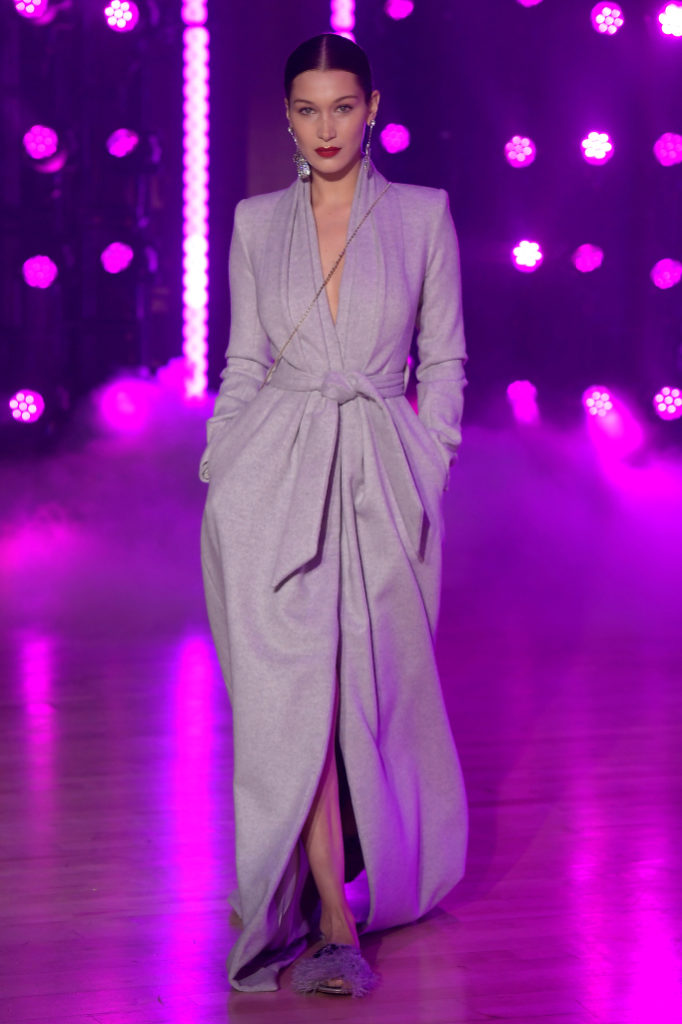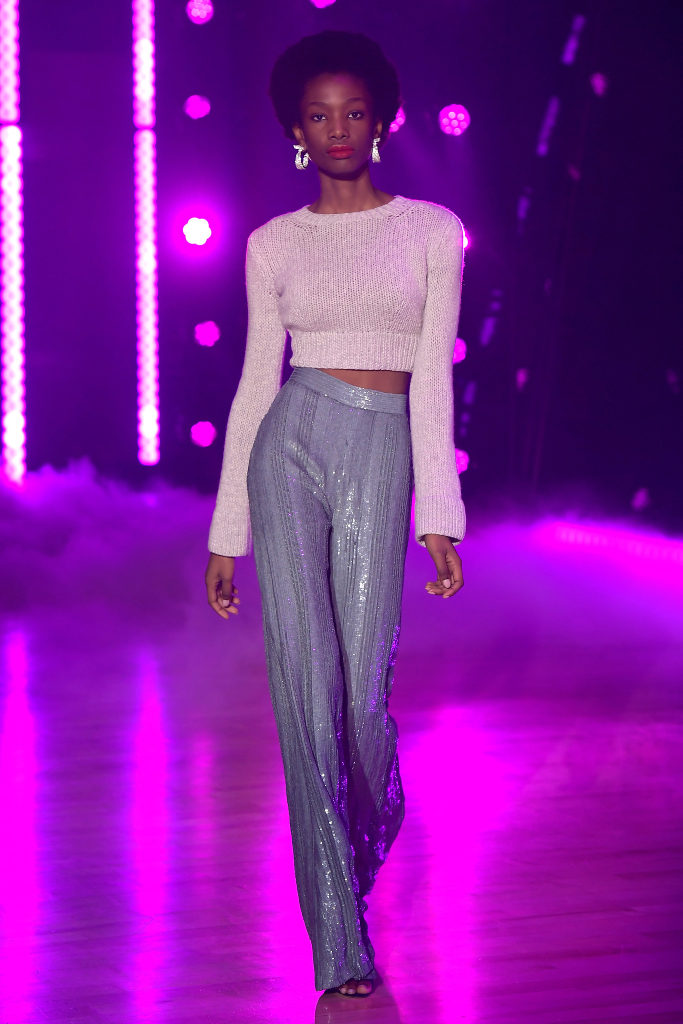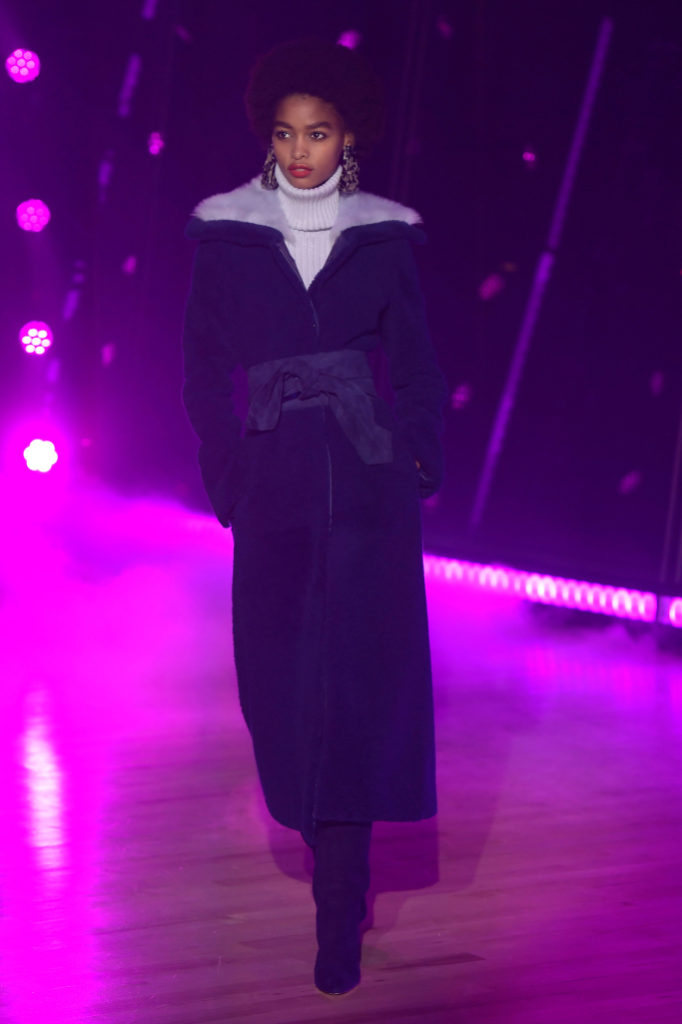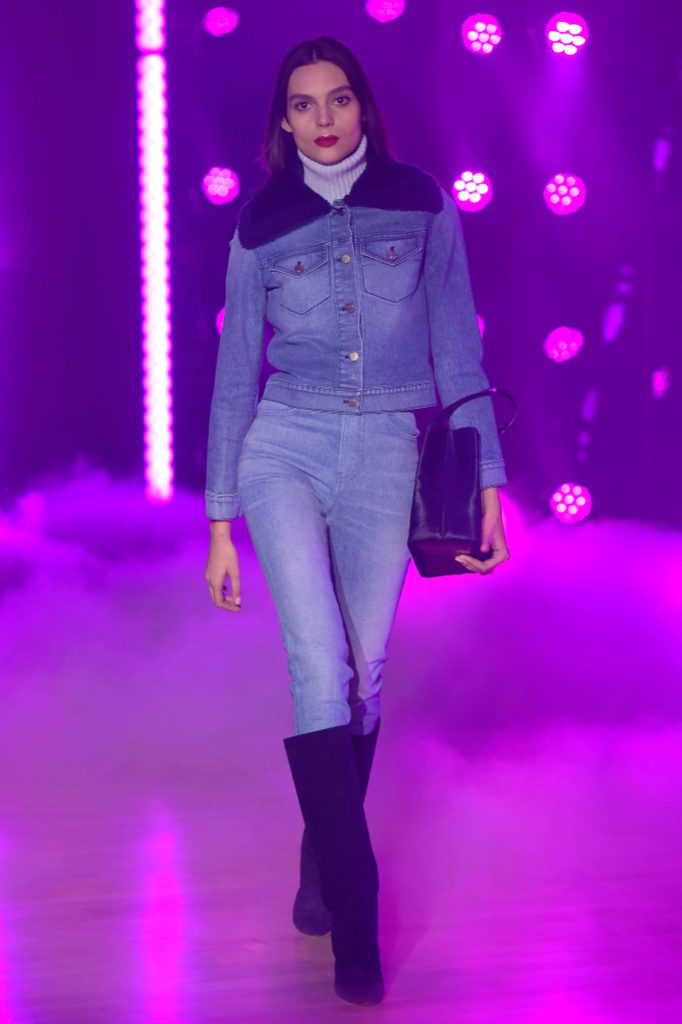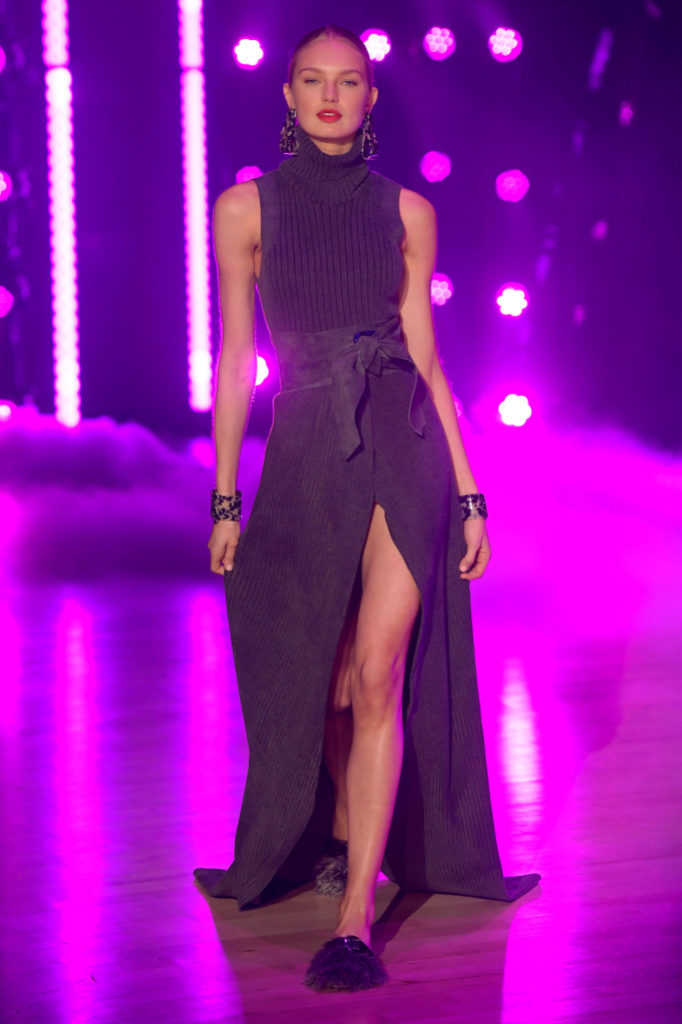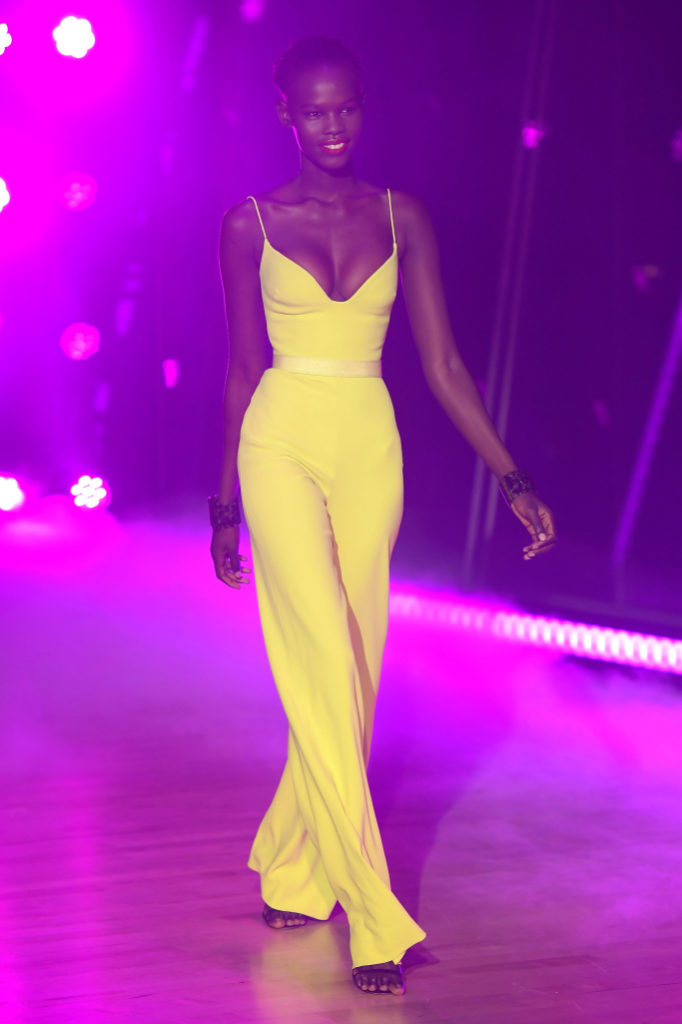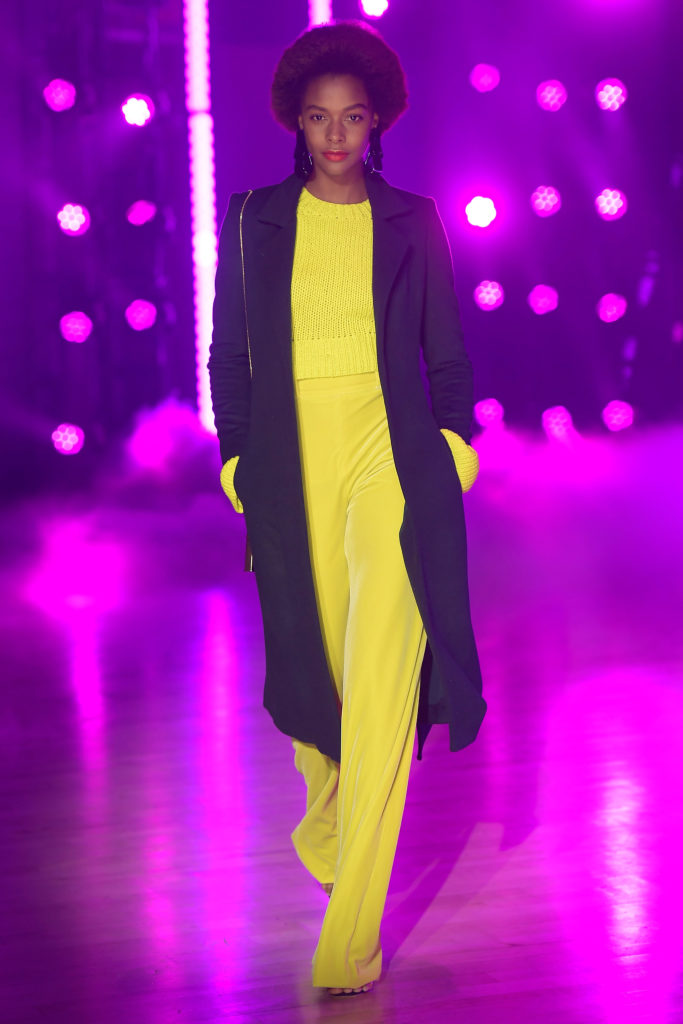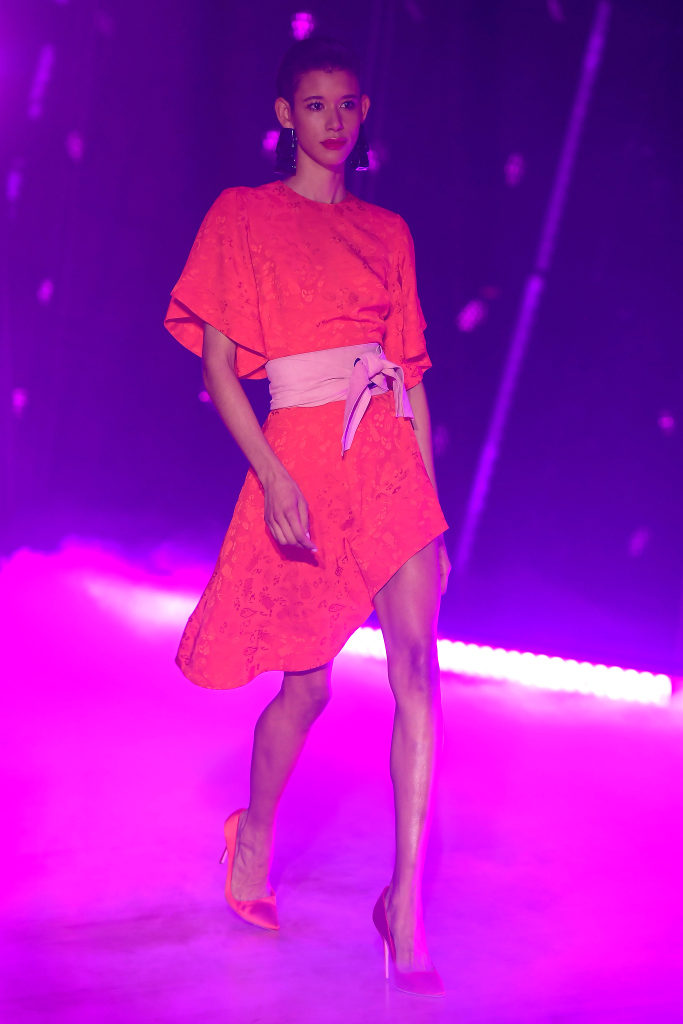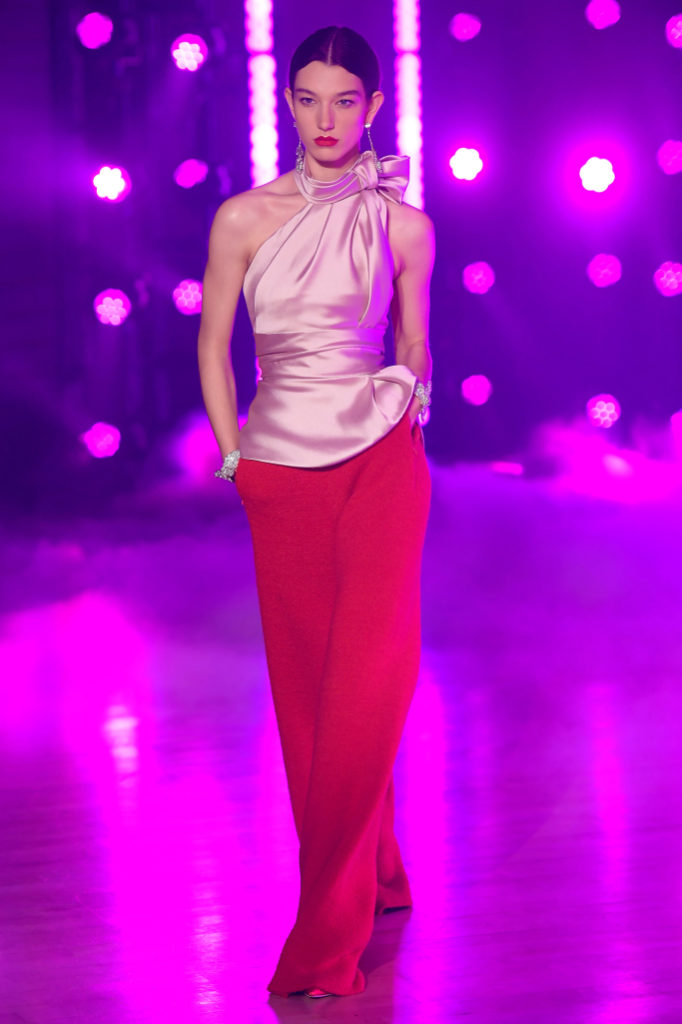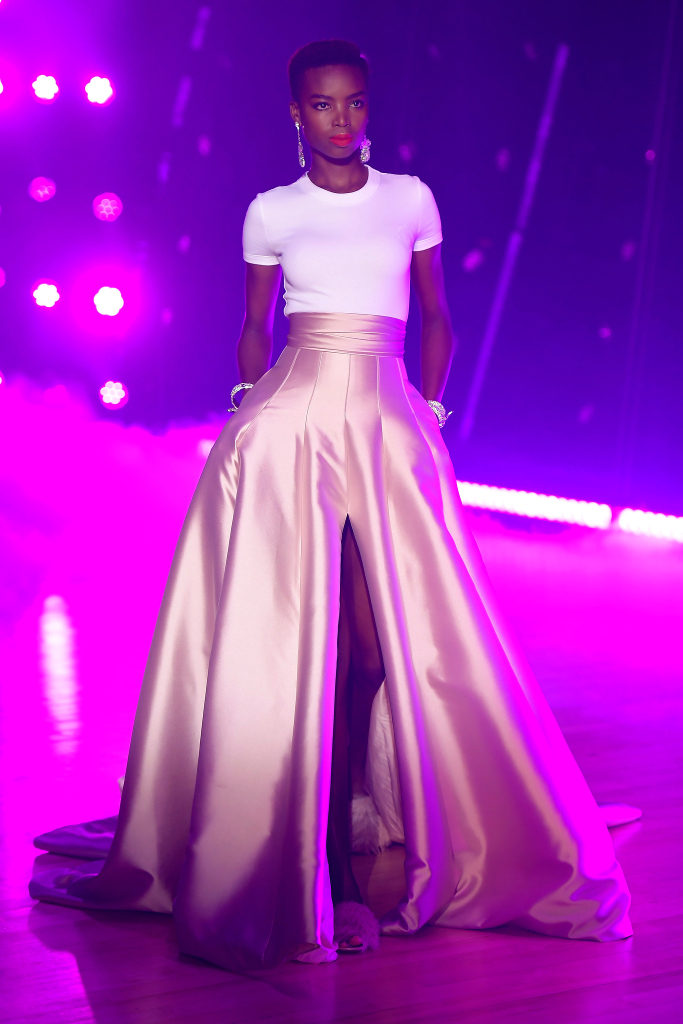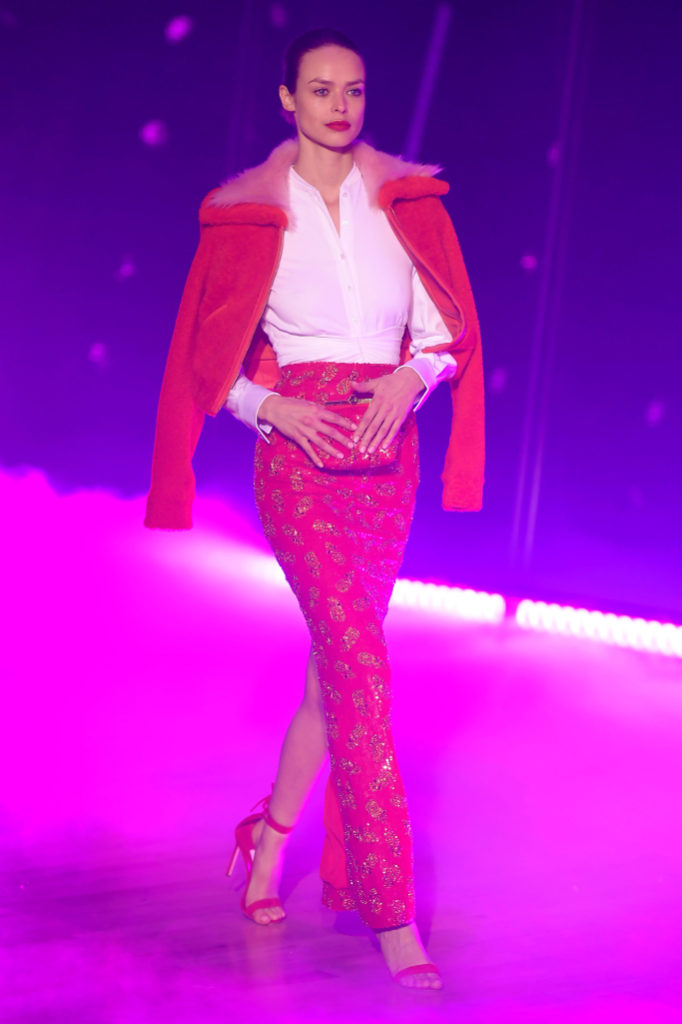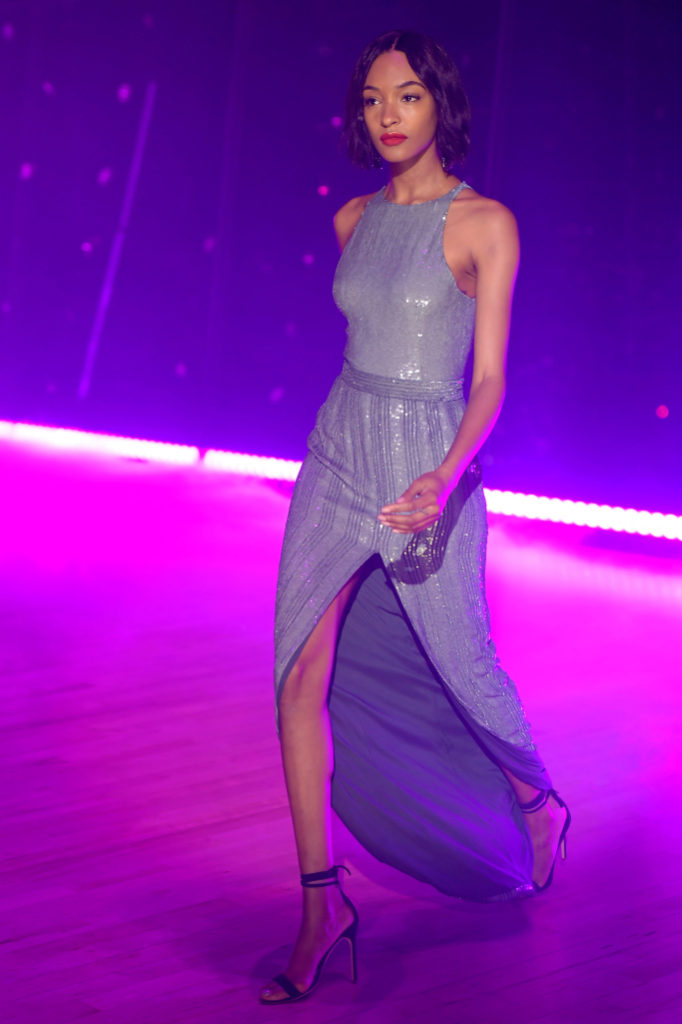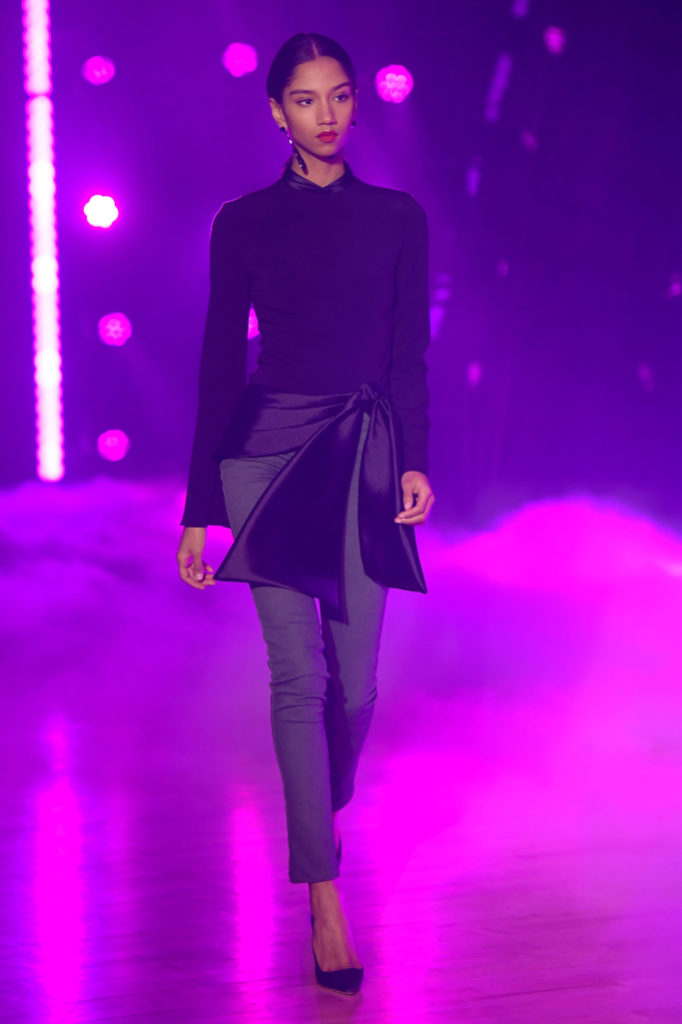 Prabal Gurung's fall 2018 RTW collection was like a journey around the world in 44 looks. Himalayan patterned knits, Japanese silk patterned fabrics,  NY city slicker puffy coats, and London tartan plaids gave the collection a global perspective with palpable energy. Mongolian lamb accented vests, coats, muffs, and shoes. Oversized plush lamb cuffs on a white turtleneck sweater delivered a rich and cozy look. Gurung added drama with bold, jewel tone colors. A contrasting navy blue fur collar on a purple puffer coat would make a terrific travel companion.