New York Fashion Week Fall 2017 Collections Reviews PART 7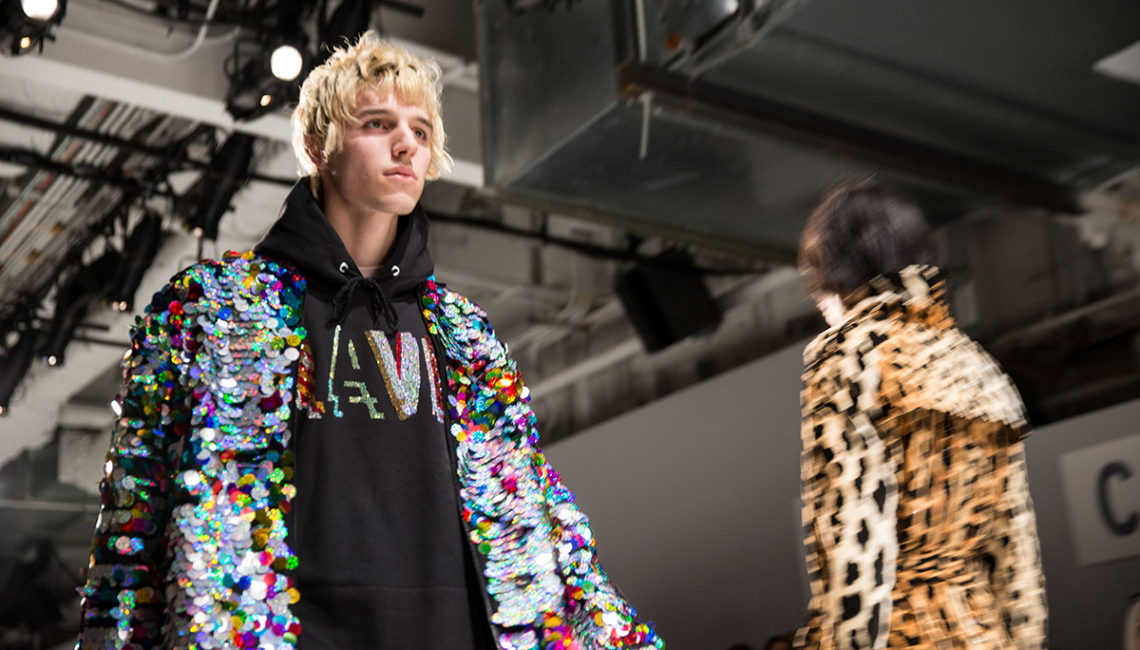 From lookbooks to lunches, runways to reveals, the presentations of the New York Fashion Week Fall 2017 collections are running the gamut.  Designers and their backers are re-examining the traditional show formats, playing with the numbers and looking for ways to generate maximum buzz with minimal investment.  Just how much does the spectacle of the event impact the takeaway of the collection itself?  It is tough to tell.  But this season, more so than in previous years, it will be interesting to look back and evaluate how format can affect media coverage and buyer interest.  In the meantime, we're taking it all in, no matter how it's delivered for the New York Fashion Week Fall 2017 collections.
The Sun Is Beginning To Go Down On the New York Fashion Week Fall 2017 Collections
Tulips and Peter Pan collars were recurring themes in Lela Rose's fall 2017 RTW collection. During these times of feminism, women's independence and the recent marches this may seem a bit out of step.  Or was it?  Perhaps pretty and sweet is the perfect antidote for the times.   Classic silhouettes, flounces and tea length hem lines suggested a 1950's revival. Rose used mink in the sweetest way. On Peter Pan collars the softness of mink framed the face beautifully.  Mink floral appliques created a signature coat.  Tiny pink fox pom-poms  adorned a mini skirt which was more on trend for the women of today.
The  Zimmermann fall 2017 RTW show was a study in contrasts.  Frilly, boho looks with ruffles and lace and fringe were offset by strong pin-stripe suits and tailored jackets with a masculine edge.  Crisp color contrasts in creamy ivory and lapis gave an old world elegance. Mannish shearlings, even in pink, added a tougher edge to the collection and were pure fashion armor. Nicky Zimmerman broke some rules here…and it worked.
It's always a party at Libertine!  The Libertine label has become iconic in the world of fashion for presenting wearable works of art, always with a message.   Johnson Hartig's talent is limitless. The bright colors, wild prints and bold embellishments may come across as a bit over-the-top, but looking more closely, there are plenty of great separates to add a pop to any wardrobe.  From sweetly colored mink collars to fox trimmed kimonos to a bright Mongolian lamb chubby, fur played a major role in this collection.  His bold, graphic intarsia mink coat is a true collector's item. Odd ball mystic art symbols, hands, and Seeing Eye's were ever present to remind you of the super natural that is "Libertine."
Designers Jack McCollough and Lazaro Hernandez of Proenza Schouler are emboldened and ready for a new frontier. The team, who graduated from Parsons over a decade again and were an integral part of the explosion of talent that expanded New York's role in fashion, have announced that they are moving to Paris to present during the haute couture shows.  Their sendoff NYFW 2017 RTW collection was emblematic of their gutsy departure. Architectural silhouettes, cut-outs and lacquered leathers dominated the collection.  But the focus here was on outerwear.  Oversized statement pieces included glossy leather shearlings that left their audience, like anxious parents, a tad wistful and wishing their children well on their new adventure.
Like so many here at NYFW we were anxiously awaiting the presentation of the Monse fall 2017 RTW collection.  Laura Kim and her partner, Fernando Garcia, have been the darlings of the fashion press of late and we couldn't wait to see their vision for the season unfold.  And what a vision it was!  Streetwear was elevated to new heights with luxurious fabrics, skilled tailoring and brilliant pairings. A snow white cigarette pant was paired with a matching shearling bomber with oversized Mongolian lamb collar and black grommeted leather trim to beautifully illustrate their message.  Stand up and cheer Gotham, there's a new dynamic duo in town!
Listen, we get it, it's really next to impossible to take the place of a legend. Think about all the Elvis impersonators who have crashed and failed. Legends loom large and their fans are devoted.  Laura Kim and Fernando Garcia had big shoes to fill as they stepped in to take the reins at ODLR.  And while their  fall RTW 2017 collection hit some high notes, there were some misses too.  It's clear that they set out to honor the label's DNA with the strapless, old glam party dresses that Mr. de la Renta was known for.   There were gowns and tailored suitings for the label's PYT's as well.  But ill-fitting peaked bodices were forced and off-putting and volume just didn't work well here.  Perfectly tailored coats in Russian broadtail and ermine showed pure, polished sophistication.  But the bold black and white fox jacket and skirt showed that the ODLR girl can have fun too.
As we've been saying, this is the season of the shearling, and Zadig & Voltaire showcased some classic looks for Fall 2017 with just the right twists.
We couldn't help but take special note of Mary Alice Haney's lookbook.  Her presentation of Haney for Fall 2017 took us back to the golden age of the Bond Girls where glamour and sex appeal reigned supreme.  Fox played a central role, adding the perfect touch of drama and sensuality.
Related articles