New York Fashion Week Fall 2017 Collection Reviews PART 8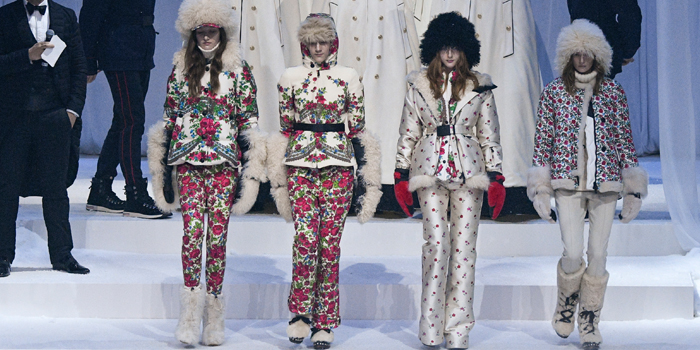 Yesterday someone asked me which of the shows from the New York Fashion Week Fall 2017 collections was my favorite.  I thought and thought…and I couldn't give her an answer.  Though I've seen some pretty amazing things so far this season, I cannot define my favorites by collection.  It is more about specific achievement in creative design and innovation.  Nowhere is this more apparent this season than with shearling.  From jackets and coats to trims and accessories and even RTW, designers have pushed the envelope to expand the possibilities of shearling throughout these New York Fashion Week Fall 2017  presentations.   And just when I think I've seen the best, another unexpected and unbelievable adaptation of shearling comes along.  I can't wait to see what the rest of the week will bring!
Fashion Design and Ingenuity On Full Display Throughout the New York Fashion Week Fall 2017 Collections
Zero + Maria Cornejo provided her client with plenty of fashion armor for fall 2017. Heavy wool blanket skirts with asymmetrical hemlines, shearlings, lush velvets and rich leathers all promised to wrap the wearer in a protective, yet  luxurious cocoon.  But Cornejo takes it one step further, committing to protect the environment, too, with sustainable practices including the use of vegetable dyes and the selection of environmentally friendly textiles that leave as limited a carbon footprint as possible.   If volume was part of her story, it regrettably isn't working well here.  Many of her separates simply looked like they were two sizes too big. Tighter tailoring would have been nicer.
A masculine kind of causal came out of the Yigal Azrouel fall 2017 RTW collection. Pajama pant bottoms and boxy tops were the foundational pieces. Done in rich velvets and heavy silks, they raised the bar for casual dressing.   Mr. Azrouel is known for his outerwear and this season he didn't disappoint.  He took an innovative approach with shearling, creating a bold intarsia design.   A black and tan cape of shearling and mink was a "notice me" piece.
Veronica Beard has you covered head to toe for fall 2017.  A collection of strong separates was layered just right to communicate the versatility and flexibility of the line.  Perfectly styled with hats and boots, these looks are a template for cool, easy chic.  A cashmere jacket with leather trim and buckle was an absolute must have! It wasn't hard to imagine the butter colored shearling with oversized white collar and black leather trim finding a spot in the closet either.
Adrienne Landau is a bit of a legend.  She is one of the original designers who showcased the integration of fur into fashion and RTW looks.  Now celebrating the 40th anniversary of her label, she continues to celebrate the versatility, accessibility and fun of fur.  For Fall 2017 her theme was "Landauland" and if this dynamic display of colorful and exciting fur coats, jackets and stoles is any indication, it's a place we want to be!
Even to those steeped in fashion, the presentation of the  Moncler Grenoble fall 2017 RTW collection could be a bit overwhelming.  There were so many directions in florals, solids, and plaids, tech driven looks and après ski wear, padded puffer coats, woolens and fur.  From breakfast in the village to an afternoon on the slopes to evenings out on the town, Moncler has you covered.  Bright, high gloss nylon puffer coats in neon yellow, lipstick red, cobalt blue and evergreen are sure to get you noticed.  But it is  Moncler's extraordinary creativity in shearling that will let them know you've arrived.  Case in point, the shearling fair-isle sweatshirt.
GOR….geous!! Sally La Pointe's fall 2017, 32 piece collection was a winner in every way. Showcasing crisp tailoring, simplistic styling, and a feel for the future, La Pointe channeled luxury through neutral colors of camel, grey, olive, black and fine finishing touches of fur and silver! Chevron patterned fox that coordinated with a cheetah print was city chic. Her tough girl leather jackets were an instant confidence builder. A grey hoodie with fox sleeves said "I'm worth it." Now, if we just have a great occasion to wear it!
You get a bad case of wanderlust looking over the Alice and Olivia fall RTW 2017 collection. Creator Stacey Bendet was inspired to produce an opulent collection from a book titled "The Enchantress of Florence". Tapestry prints, heavy velvets, and high neck lace blouses all played into the spice trade theme. But it was the playful patterned fur coats that were most ambrosial. Bendet outdid herself this season with these vibrant colors and rich patterns.
Related articles