New York Fashion Week Fall 2017 Collection Reviews PART 6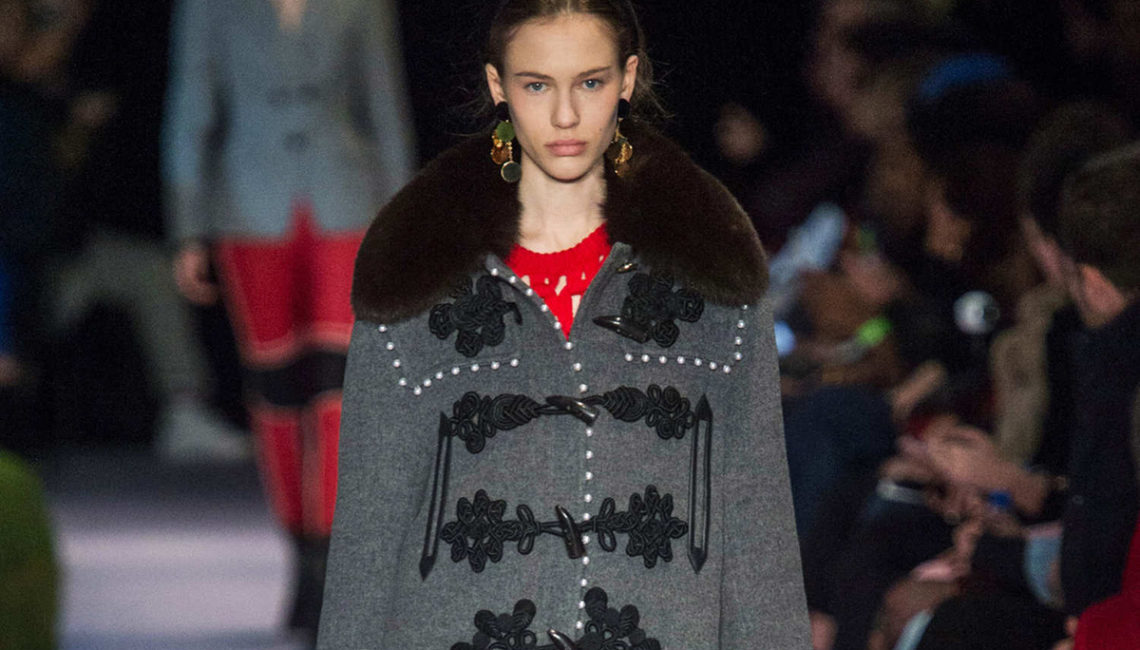 What a week!  The New York Fashion Week Fall 2017 collection schedule is filled with the big names we've come to love, exciting emerging designers who have already gained a healthy following and some new names who are showing exceptional promise.  It is all so fun to see!  And as more and more designers shake up the old show/presentation models, there is always something exciting and unexpected happening.  It's a wild ride, full of luxury, creativity…and lots of fur!  To the naysayers who suggested that New York might be losing its relevance, these New York Fashion Week Fall 2017 collections tell a very different story.
Glamour & Innovation Abound at the New York Fashion Week Fall 2017
Asa Ganot has proven he's the real deal with his fall 2017 RTW collection. The former pro basketball player, turned self-taught designer, put forth a full array of men and women's fashion that was on trend and on target. The focus was on outerwear with leathers, shearlings and suedes that put a modern edge on classic silhouettes.  Case in point, his metallic silver shearling moto jackets for him and her.  Combine his pro-ball fan base with his strong, clean designs and you've got the recipe for retail success!
For Fall 2017 Georgine Ratelband gave us another Georgine collection full of the glitz and glam that says "I'm ready to party!"  This time around her muse was a bit more sophisticated, perhaps heading out to an underground jazz club, with a vibe of dark mystery and mood created by the muted olive tones and aubergine shades that contrasted with black.  Metallic fabrics and fur added drama and heightened the luxe appeal.  Her cropped jackets made of chinchilla or fox were pure genius.   Worn alone they perfectly complemented the RTW in the collection.  Over leather trench coats they created glamourous, statement outerwear looks.  Now that's how to create an investment piece.
It used to be that you could identify a DVF piece without fail, but in his second collection for the label Jonathan Saunders is rewriting the rules. Though the iconic warp dress is still on the menu, he has reimagined the silhouette with longer hem lines and more fluidity.  The focus this season is on his fabrics with bold colors, rich textures and graphic patterns that will give clients plenty of options to mix and match.  Outerwear looks in both real and faux fur were the exclamation point of the story, expanding the vocabulary of his relaxed daywear looks.
Joseph Altuzarra channeled an old world, Shakespearean theme with pearl headbands, corset bodices, and dramatic wool capes in his fall 2017 collection for his eponymous label, Altuzarra.   An opulent collection with rich velvets, embroideries and jacquards, pearls, bows, lavish collars, and sumptuous fur, very little restraint was used to push total luxury. Pearl tear drop charms sewn into a mink stroller was executed with precision and reflected his creative genius.  A deer print collarless A-line mink coat showed that statement looks could be clean and effortless.
Now what would lead you to think that success in investment banking wouldn't translate to fashion design?  Think about the complex, creative investment instruments that have created so many mega-millionaires.  For anyone who bet against Vivienne Hu when she pulled a hard right and moved from investment banking into fashion design, you underestimated the flexibility of the creative mind.   With a clear sense for RTW and a strong understanding of solid separates and their value at retail she has created a collection that offers the kind of easy chic that will make her clothes wearable and saleable.  Her outwear hit the mark with standouts including a cool puffer coat with fox trim and wool toppers with dramatic, oversized fox pockets, sleeves and collars.
Sandy Liang's fall 2017 RTW collection was tightly edited to 12 looks but what a set of looks it was! Solid statement outwear from puffy coats to mink car coats and colored curly lamb trimmed pieces had a "gotta' have it now" sense of urgency. Youthful and fresh, Liang's style had an ageless beauty and will play well across generations.
This is what a collection looks like when a designer has hit his stride. Prabal Gurung's fall 2017 RTW show was a mix of day-to-evening separates and outerwear that will fill a lot of holes in even the most invested fashionista's closet. The fabrics were lush and textural, conveying elegance and coziness.  A mink and fox intarsia coat with a rich floral pattern showcased the creative possibilities of fur in a master's hands.
Julianna Bass showed a deft hand at integrating fur into RTW with her chunky knit sweater with fox trim and a slender wool /cashmere coat given a modern edge with goat sleeves.  Rosetta Getty channeled a touch of 70's boho vibe with a bell-sleeved sweater made of multi-color fox sections.  A mink zipper coat with banded cuffs and collar from Michael Ostertag evoked that same easy feeling of your favorite cardigan.
Time to grab a cup of coffee and take a breath…then we'll be back with more….
Related articles