New York Fashion Week Fall 2017 Collection Reviews PART 5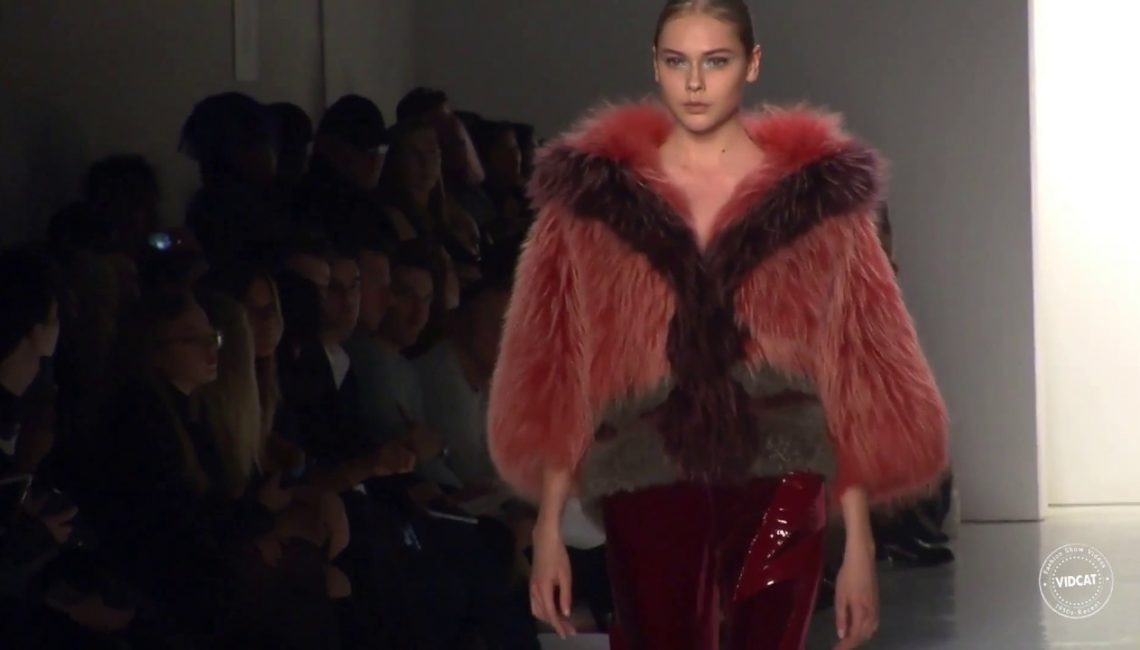 Let's be honest.  By the time we reached midweek at the New York Fashion Week Fall 2017 collections things did start to get a bit muddled.  You do begin to feel as if you've seen something before.  In some collections things may seem derivative.  But that is, by definition, what trends are all about.  As the New York Fashion Week Fall 2017 collections continued there was still plenty that was fresh, new and unexpected, but common themes began to emerge.  This is the stuff that will define the trends as we move forward.
New York Fashion Week Fall 2017 Collections
The tailoring and fabric choices were simply remarkable at the Calvin Klein fall 2017 show. But would you expect less from Raf Simons?  Calvin Klein has long been synonymous with the "American look" and Mr. Simon's honored the label's strong heritage.  For his first collection at the brand's helm, he stayed true to solid suiting with lots of double breasted jackets of bespoke craftsmanship. Double placket breast pocket shirts in all kinds of colors were another staple. Adding black leather, marabou feathers, and clear plastic over fabric were a hint at the edginess that he will bring to the brand to give it the  renewed relevance that has been so sorely needed.
Ryan Roche's fall 2017 RTW will appeal to girls who consider themselves traditionalist. Clean lines with classic luxury made for easy elegance. Ivory, taupe, red, white, and black were the basic color elements. Sumptuous silks, soft cashmeres, supple suede, and fur all heightened the elegance of the collection. A cherry red, floor length suede coat was a key piece and would coordinate beautifully with every other piece in the line-up.
Boxy and deconstructed, Romeo Hunte's fall 2017 RTW was a rag-tag showing of casual separates and strong outwear looks.  Reflecting the gender-neutral trend of the season, Hunte crafted shearling jackets for him and her that will appeal to his fan base. Buffalo plaids, another trend for both menswear and womenswear this season have also become a trademark look for Hunte. Mini dresses and blouses made for key wardrobe building blocks and added to the urban edge.  A blue on white shearling coat with a dramatic white fox collar put the exclamation point in statement outerwear.
With a futuristic feel, rigid lines, and bold color blocking, the Dion Lee fall RTW 2017 collection might well be forward-thinking enough to be suited for Star Trek's next uniforms. Fine merino wools coordinated with smooth leathers and suited ensembles dominated the theme. Bright, curly lamb coats broke up the otherwise stark looks and were fresh and fun. Lee added some galvanized chain which further advanced the military feel. A few nylon track suits will appeal to the younger crowd who look to keep their street style current.  Is orange the new black?  Mr. Lee certainly seems to think so!
There was a special movement in the pieces at CG's New York Fashion Week Fall 2017 show. Fine fringe fabric danced in the breeze and gave life to the clothes. Deep midnight navy and black added a rich contrast that also gave a visual 3D effect. A two-toned brown shearling stroller was also delight. CG managed to deliver a solid RTW collection with a little something for everyone to enjoy.
There was no shortage of drama and opulence in Son Jung Wan's fall 2017 RTW collection. Ivory and gold brocade outfits paired with white curly lamb chubby coats were rock star chic in every way. Jung Wan is proving herself to be a master at fur design. She used the plushness of fur to add to her luxe quotient. Multicolored fox fur was stitched in long strips that added depth and versatility.  Bravo Son Jung Wan…you are quickly becoming one of our favorites!!!
Johnathan Simkhai's New York Fashion Week Fall 2017 collection is best appreciated up close and in person. The tiny details in cutouts, grommets, and embroidery referenced fine art and old world craftsmanship. Mr. Simkhai provided us with the dreamy, romantic imagery of the Spanish conquistador, allowing us a bit of escapism from the turbulence of our political climate.  This was manifested in his tiered ruffles and lace. The drama and depth of fox brought a bold luxury touch to his collection in stoles and jackets.
Related articles