New York Fashion Week Fall 2017 Collection Reviews PART 4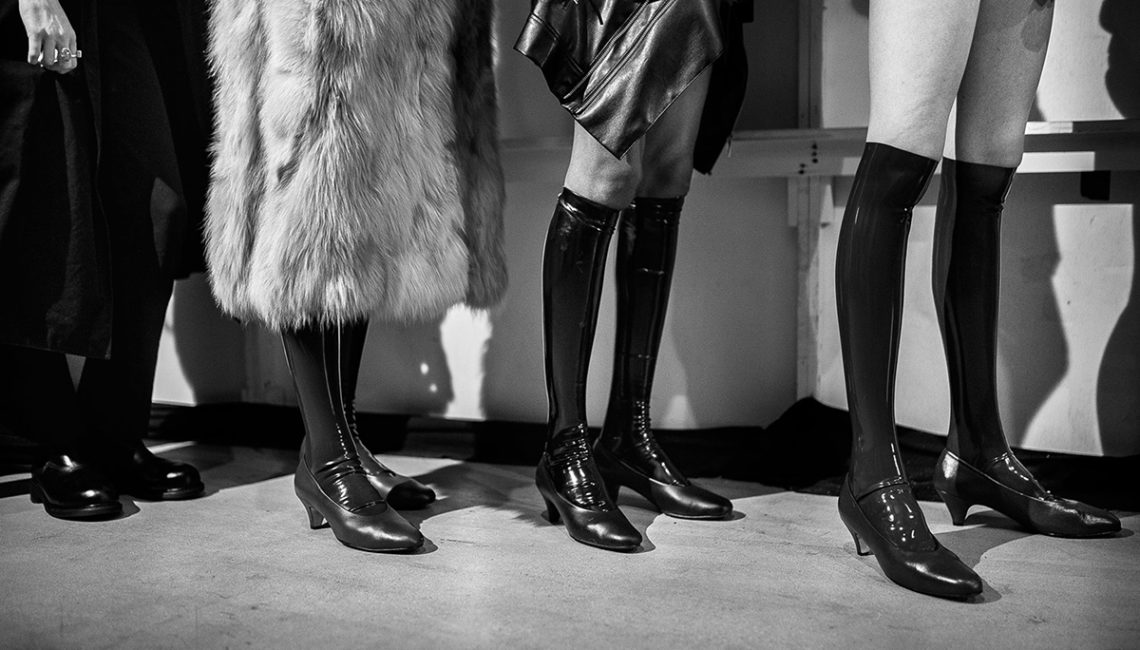 Midway through the New York Fashion Week Fall 2017 collections the use of bold color is emerging as a key trend.  It is a bit of fun, a statement of power and resilience reflecting the attitudes on the streets in this post-election era.  Fur, too, has taken its place once again as a key trend, with innovative fur and shearling treatments adapted to outerwear to create those key statement pieces that help to define a collection. We admit, we have a bit of a bias, but we are loving these trends as the parade of fashion for the  New York Fashion Week Fall 2017 collections marches on.
Full Fur, Trim, Statement, & Classic Furs; There's A Fur For Everyone At New York Fashion Week Fall 2017!
Strong separates, accessories, and fur laid the foundation for the Linder fall 2017 RTW show which showcased their first dedicated women's collection.  Expertly handcrafted tailoring and denims with top stitching and metal button closures confirmed the 80's retro vibe. A mink top coat in baby deer markings was strikingly unique. Ostrich patterned leather purses were contemporary, casual add-ons. Of course their trademark clean, modern menswear looks were on display too. Over all, although the boys of Linder, Kirk Millar and Sam Linder, intentionally kept the theme vague, the message was powerful.
There is no question that Pamella Roland knows her market. Appealing to the woman who likes to dress up for breakfast, lunch, and dinner, she time and again turns out the most elegant and luxurious RTW and formal gowns.  Rolland never cuts corners on fabrics, fur, or folly, and her fall 2017 collection hit the mark. She proved her fur artistry with an intarsia mink coat with an ombré stripe pattern.  Rich colors in amethyst, sapphire, or ruby, and a fur piece to coordinate with every outfit….this was 100% killer style.
Rebecca Taylor certainly has her finger on the pulse of fashion. Taylor consistently sells out of her key pieces, creating a frenzy among her fans and making collector's items of some for the most discerning of fashionistas. Her fall 2017 collection was no exception. Capitalizing on her popular staples, she included day to evening dresses in mixed media patterns. She upped  the ante by adding ruffled sleeve blouses that will pair well with everything. Lavender colored rabbit fur linings were simply genius.
Eric Schlosberg's fall 2017 RTW collection straddled the line between costume and fashion.  We say this with the utmost deference and respect to a creative force who isn't afraid to break barriers.  His approach to fall 2017 RTW was an Alice through the Looking Glass carnival feel. Fresh, creative, and unexpected, these pieces are not for everyone…but it is definitely the stuff that keeps fashion moving forward. From satin striped suits and dresses to cheap gold sequin dresses paired with purple stockings, this is fashion that's gonna' leave a mark.
Some hits and some misses came out of the Tanya Taylor fall 2017 RTW collection. Prints in wonderful midnight blues and cornflower yellows might be equally at home on the pages of Architectural Digest, but they made for nice options for adding visual depth to a range of looks.  Bohemian style dresses were nothing new but an across- the-body shoulder ruffle provided an "of the moment" appeal. Her use of fur was special and fresh, particularly when she played with color that made her fox collars and coats worthy of a second look.
With the crush of competition in the fashion world today, Nicole Miller has managed to stay as relevant and as remarkable as any designer. Appealing to the young, twenty-somethings, fresh out of college with her first job underway and money in her pocket, Miller's fall 2017 RTW collection had just the perfect downtown-meets-uptown vibe.  Playing with proportion and volume added to the modern feel of the collection and was on-trend for what we've been seeing this season.  Oversized collars in fox or shearling and a light-as-air tiered fox coat delivered casual luxe perfectly.
Just as the name of their label suggests, Creatures of the Wind's fall RTW 2017 collection is enigmatic and hard to tame. Design duo Shane Gabier and Christopher Peters said of the show, "We started looking at places of belonging, commune living and, I guess, cults, too. Not, like the negative aspect, but the idealistic." Ridged edges, sharp color tones, heavy leathers and wools stand up to fall in the strongest way. A black cross mink coat with black leather belt and trim was a fresh departure for the brand and a welcome look at things to come.
Related articles