New York Fashion Week Fall 2017 Collection Reviews PART 3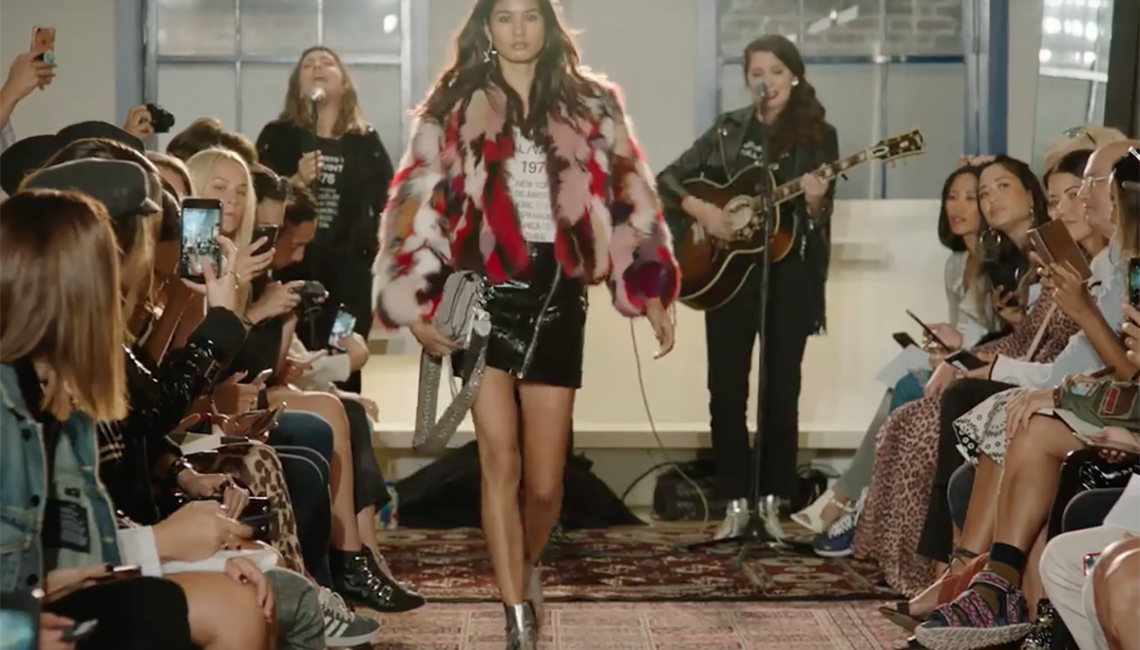 As designers showing at New York Fashion Week Fall 2017 struggle to address the zeitgeist that has followed our election season the responses run the gamut.  For some, they are staying close to their trademark looks opting for the safety of the known.  For others it is about rebellion and self-expression.  Still others are focusing on the need for comfort with soft, lush fabrics and enveloping volume.  And then there are those who are throwing it all to the wind and having fun.  Divergent approaches are what fashion is all about.  We're so lucky to have a seat to watch it all unfold here at New York Fashion Week Fall 2017 .
The New York Fashion Week Fall 2017 Collections Heat Up!
Flouncy skirts and blouses, asymmetrical ruffles over one shoulder, and high/low hem lines made up the vast majority of the Adeam fall RTW collection for 2017. It was tough to pin-point the theme here, but perhaps that was the intent.  Muted, somber colors in black, olive, and wine gave a moody feel while supple fur and shearling softened the edge. A cossack style jacket with plush lamb sleeves added an old world drama that pulled the dark theme together.
Usually one of our favorite designers, Tadashi Shoji missed the mark for fall 2017.  Though his show notes suggest this collection was all about self-expression, the long Bride of Frankenstein dresses in heavy velvets and old lace were not sexy, not interesting, and not at all what we were looking to add to our fall 2017 RTW wardrobe.   Pink fox lightened things up a bit and added a girly pop as a contrasting collar or an easy statement coat.   A few damask pant suits added to the underwhelming excitement.
We love when the fashion and art worlds collide and Jonathan Cohen's fall RTW 2017 collection was a perfect balance of that. Black and white orchid patterned dresses in silk were ladylike and very modern. But his fur pieces that sent this show into the wild abyss of imagination. Papaya colored mink jackets were unlike any color we've seen. And white car coats with multi-color mink "paint splashes" were like art hanging in a museum. Fun, interesting, wearable, and original. Well done.
Oday Shankar brought lady-like, elegance to the runway in his fall 2017 RTW collection. Rich silks, languid chiffons, and plush fur gave a visual appeal you'd like to touch. A taupe and ivory chevron mink stroller was a 1920's revival of art deco but brought up to speed for today's leading lady. Sapphire colored fox added to a cashmere coat was so regal when paired with a navy cocktail dress but we'd love to pair it with jeans for casual drama too.
Cushnie et Ochs does it again, and again and again turning out solid, sexy, salable RTW that any woman would aspire to have an occasion to wear. With their trademark simplicity in their craftsmanship, the design duo Carly Cushnie and Michelle Ochs are simply unstoppable. A speckled black rabbit walking coat was paired with a black jumpsuit with cut outs to make the "girls" look just right. It was absolutely, hands down our favorite piece YTD. A few calfskin jackets and blazers in black lacquer were just as powerful.
Honorable Mentions at New York Fashion Week Fall 2017
Though Rebecca Minkoff, an adherent of the see now-buy-now concept, plans to show her fall collection in September she gave a sneak peek this week and her 1970's inspired multi-color patchwork fox jacket was quite the tease!  Over at Michael Costello there was plenty of glitz and sex-appeal, but his belted black Mongolian lamb coat dress was all glam.  Haus Alkire made his outerwear statement with trims of chevron fox that added just the right edge.
Related Articles