New York Fashion Week Fall 2017 Collection Reviews PART 10 Farewell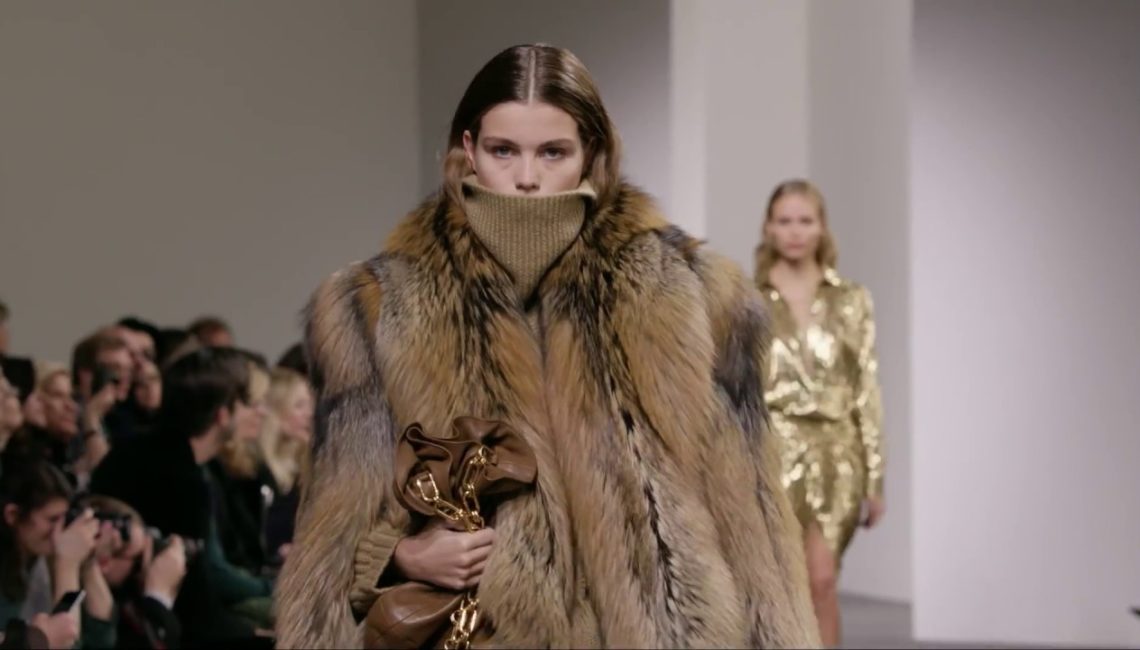 We Say Farewell To Our New York Fashion Week Fall 2017 Coverage
Michael Kors is a master magician who makes basic fashion look anything but basic. Each season he introduces fresh, new takes on classic silhouettes to create easy, chic wardrobe separates. His New York Fashion Week Fall 2017 collection, from his cozy, luxurious knits to his crisply tailored suits to some dramatic evening dresses is unflinchingly clean, unfussy and polished, reflected the attitudes that have come to define the American aesthetic.  His fall 2017 RTW collection was replete with the usual camel, black and grey color combinations that always make for a smart appearance. But here's where he goes into genius mode-a camel hybrid coat that doubled as a cape! He then took the same look and raised it up a level higher by crafting it in merlot fox. A short detour from the basics, Kors put forth a raspberry mink intarsia fur that showed his imagination.  If you're looking for effortless style, you've got it here!
Bibhu Mohapatra's fall RTW 2017 had a special sense of occasion. Rich, textural fabric combinations in silk, velvet, beads, feathers and accents of fur made up gowns and dresses. Jewel tones in ruby and emerald added to the luxe feeling.  When it came to furs, Mohapatra's usual bells and whistles were nowhere to be found this season.  Instead he opted for simpler, cleaner looks, creating luxurious fur outerwear that complimented his RTW and added a luxurious overlay. A speckled black and white rabbit fur walking coat with green taffeta ruffled shoulders was a dramatic entrance making piece for day or evening. Not one to shy away from the decadent, Mohapatra generously used sable to create coats that remind us the versatility of fur.
An artful tapestry of prints and patterns made up Anna Sui's fall 2017 RTW presentation. Vibrant colors in teal, magenta, and jade swirled about like a mood ring poised on the finger of a mysterious gypsy. Mesmerizing. A mash up of rich textures, jacquards, and velvets added to the deep creativity that is Sui. An intarsia striped mink and a patchwork fox were two jacket options that brought a bit of calm.
Love, love, looooovvee the outerwear put forth by designer Ji Youn Lee of Jarret. A South Korean native, Lee imbued her fall 2017 RTW collection with a fresh, modern vibe. There were plenty of strong, wearable separates in this collection but it was her vision in jackets that left a stunning impression. Soft violet wool with coordinating fox was whisper soft. An ankle-length sienna colored coat with aubergine lining and fox trim was as powerful and creative as it gets. There were plenty of other fox combinations in fresh, exciting colors that will make picking a favorite difficult.
Derek Lam's fall 2017 RTW collection was a safe bet on mainstream fashion. He introduced an unfussy wardrobe of staples for his "busy, busy" clients that is sure to be a success at retail. Adding embellishments of silver studs, embroideries and fur gave these "staples" a distinct edge.   Mr. Lam is a practical designer.  Silhouettes including high-waisted pants, tunics and circle skirts were expertly tailored to make his clothes easy to wear.  His leathers stood out as solid fashion statements.  A purple leather skirt paired with a red turtleneck was striking.  A chic shearling sweater was an unexpected delight.   His signature trench took a new form this season in a beautiful jacquard with a plush fox collar Lam also made the most magical window pane mink. It was just the right amount of causal luxe that keeps his fans loyal.
There are the fashion shows and designers headlining NYFW and then there is the spectacle and creative genius that is Thom Browne. For his fall 2017 RTW collection he stayed to true to rigid menswear suiting but added twists of causal luxe with puffer jackets and pants. His focus was on fabric and he applied his expert craftsmanship to deliver combinations that oozed luxury.  The precision and care that Browne pours into every design is awe inspiring. A grey plaid top coat with multi patch fur trim was a beauty to behold. The discipline and rigor he put into a mink and broadtail intarsia coat with a farm motif was an unexpected delight.
Marc Jacobs always seems to be at the apex of what's trending.  With VH-1's new Hip-Hop drama series "The Breaks" debuting this month, the timing for his fall 2017 collection couldn't have been more on point.  He pulled from the early days of hip-hop when preppy plaids and even argyles earned a hard street edge when properly paired with the requisite bling.  Of course that bling came in many forms including shiny fabrics, chunky jewelry and, of course, fur.  Plush fox sleeves on a chevron belted jacket and a pale fox sections jacket  evoked the early Hip-Hop stylings, before the "more is better" attitude towards bling set in.  Mr. Jacobs mixed in faux-fur offerings that offered a more hard-scrabble feeling.  Do these Hip-Hop looks reflect the vibe of youth culture today?  We're betting on Marc Jacobs.
The Best of the Furs…
The Rest of the Furs
Related articles