More Pre-Fall 2017 Collection Surprises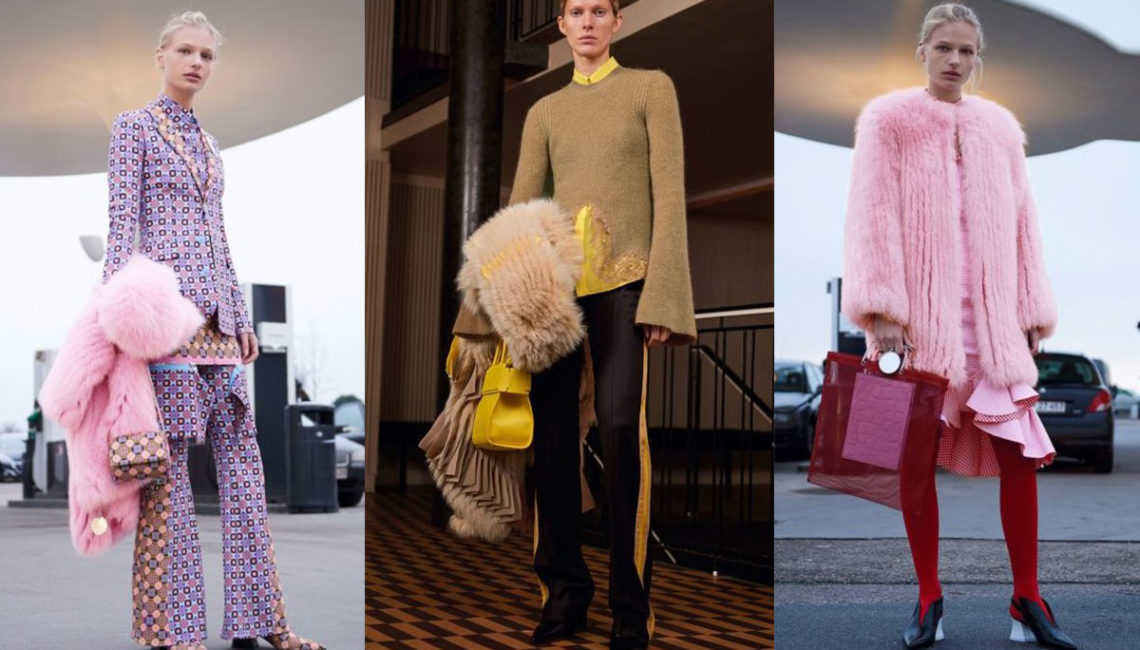 The month before the debut of the fall collections is a busy one.  Some designers are still showcasing their pre-fall 2017 designs while others are marching their fall menswear looks down the runways.  And all are in crunch mode getting their fall 20917 collections ready.  So, excuse our little back-and-forth here but in an effort to bring you the fashion highlights as they hit we're going to take a break from menswear and take you to the latest pre-fall presentations.  If pre-fall does, in fact, indicate what the fall collections will bring these extraordinary showings have us busting at the seams in anticipation of the February runways.
The Continuation of the Pre-Fall 2017 Collections
The Giambattista Valli girl knows how to make an entrance. Dramatic style and plenty of glamour are on her menu and Mr. Valli didn't disappoint with his pre-fall collection.  Full of feminine, romantic appeal, he seems to have also recognized that his girl is growing up.  Accordingly, he offered some strong, tailored double breasted looks perfect for workplace dressing as well as some sophisticated evening looks.  Still, there were plenty of cool, girlish looks replete with lace, bows, floral prints and Victorian  touches.  For sure-fire statement pieces he offered two extraordinary leopard print striped mink pieces.  A soft pink mink coat with lace insets showed his softer side of glamor.
In her first pre-fall collection for Dior, Maria Grazia Chiuri managed to cross the generational divide presenting an exciting collection of separates that will make for strong wardrobe building blocks for the brand's more sophisticated clientele as well as their daughters.    It appears that Ms. Chiuri is still establishing her roots at Dior and for this transitional season she looked to the heritage of the brand, reimagining it in fresh and modern ways.  And it worked!!  Strong Dior references including houndstooth, herringbone and equestrian looks were mixed with ladylike elements of lace, tassled hems, plisse pleats and embroidered diaphanous fabrics.  Grecian-inspired dresses were magical.  They were just one of the diverse ethnic influences seen throughout the collection that contributed to the free-style bohemian flare and the endless possibilities for individual style.  Her embroidered shearlings were works of (very) wearable art.
Riccardo Tisci combined menswear and womenswear in his Givenchy pre-fall 2017 collection with an impressive blast of exciting creativity.  Carrying over some of the bold colors and graphic themes of his spring collections he infused the transitional season with fun and energy.  Given these looks will hit the stores in summer months, he is right on target.  With a range of looks from the more classic themes to streetwear styles to sportswear looks that were pure fun he appealed to the many sides of his women.  For the sophisticates it was tailored suits or ladylike ruffled matching skirts and tops.  Sexy came in the form of delicate lace pants,  tight leather pants and  thigh-high boots.  For the young and fun there were star-studded overalls and cool new denim looks.  And oh those furs.  From banded fur trim on shoes to brightly colored, light-as-air vertical striped fox coats in bright yellow or pink that are perfect for the season, fur added the perfect dose of luxe and glamour.  His cutaway shearling coat was a standout.
Valentino is synonymous with luxury fashion.  They understand what it takes to create fashion for the fortunate women who have the taste, the style and the means.  Fine silks, delicate lace, soft leathers and lush furs were on the menu for pre-fall 2017.  But fabrics are only part of their luxury story.  Skilled tailoring takes classic silhouettes to new heights.  Elegant crocheted knits, beading, lace inserts and floral prints and appliques were just some of the ladylike details that gave this collection a polished, refined edge.  Styled with flat over-the-knee boots, Pierpaolo Piccioli gave the proper nod to a younger generation.  A black and white intarsia mink coat imitating the print of the silk pajamas underneath reflected the artistry and attention to detail that establishes Valentino's exclusivity.
For Ellery, themes of volume and proportion carried from earlier seasons to their pre-fall 2017 collection.  Whether it is an oversized jacket, a widely flared pant or an elongated sweater, the volume story creates drama.  But taking this route can easily result in unflattering clothing.  Not so with Ellery.  Kym Ellery adds masterful tailoring to create "must-have" looks like her rust velvet suit with cropped bell-bottom pants.  In someone else's hands the bell sleeve top with wide-legged black pants might have simply been overwhelming, but here it has a soft, feminine appeal.  A multi-patterned check coat with fox trim reflects her penchant for creating interesting, alluring looks for the woman who is sure of herself.
The fashion parade marches on…..
Related articles