MILAN Spring Summer 2018 Collection Reviews PART 6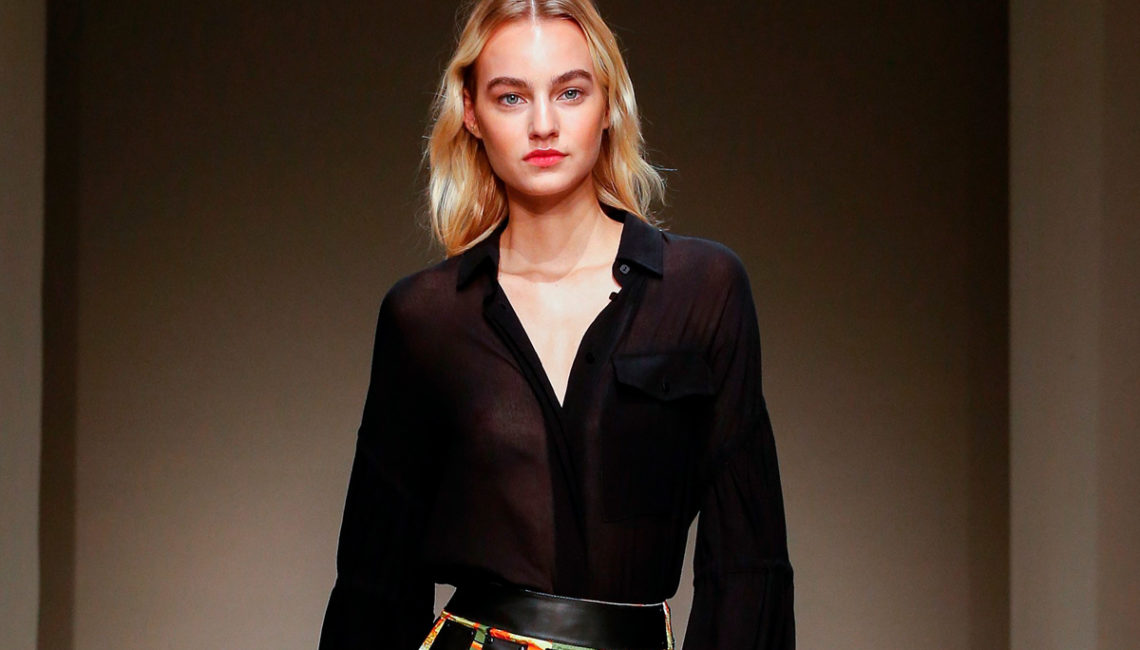 When it comes to luxury fashion, Italy sets the trends.  Designers here grow up in a culture where craftsmanship matters, luxury is measured in the finest fabrics and skilled tailoring and design is inspired by the spectacular art and architecture that surround them.  And for the men and women on the street here, fashion matters.  They take dressing very seriously.   They don't seek to blend in, nor do they strive to stand out.  Rather, their fashion choices allow them to create an individual style statement that defines their place in the world.  Perhaps as a result, we expect more out of Milan, and for spring summer 2018 we were not disappointed.
MILAN's Spring Summer 2018 Finale
Gaia Trussardi has fashion in her blood. As a direct descendant of the Trussardi family, she leads the charge for the Milanese brand. In her spring/summer 2018 RTW collection she stayed within the Trussardi gospel of luxury above all else. Known for their leathers, Gaia kicked it up a notch. She used ribbons of leather atop fabric to create a textural euphoria. Traditional leather top coats for him and her came in muted colors but were key layering pieces. The suede jumpsuit is becoming a trend on the runways, but Trussardi raised the bar higher with a light sand version with a plunging neckline.   This was a collection of chic, modern, sexy clothing that stayed true to the label's luxury heritage.  Bravo!
With lace and bows, soft floral prints and duchess satins, Ermanno Scervino delivered a romantic, ladylike collection for spring/summer 2018.  But somehow the styling seemed overwrought.  We are all in favor of mixing fashion up, pushing boundaries, breaking rules, and daring to be different.  Juxtaposing casual and dressy looks is one way to do it and no one made that more evident than Sharon Stone when she wore a Gap tee shirt to the academy awards.  But shiny leathers paired with delicate lace skirts, puffy jackets with lingerie dresses… they just didn't work for us.  Men's shirt styles paired with lacy underpinnings were another confusing play on styles. A varsity jacket with white rabbit collar seemed a departure from the rest of the collection, but its versatility and wearability should make it a strong wardrobe staple.
The house of MSGM has a new sheriff at the helm and his name is Massimo Giorgetti. In his debut spring/summer 2018 RTW collection he gave us 911 alarming style. With a heavy concentration on colorful casual looks Giorgetti brought the fun back to fashion.  Tie-dyes, bright plaids and shiny crinkled leathers made us eager for spring to come.  Tie dyed waffle sweats in crop tops and skirts gave a fresh, modern edge to casual dressing.  Sharp trench coats in a rainbow of colors paired well with everything and should generate some solid sales.
There's one thing we really respect about the Bally brand – they absolutely don't cut corners with the quality of their leather, fur, and wool textiles. In their spring/summer 2018 RTW collection, there was a solid showing of what they are known for, their top coats and purses. A black leather moto with white shearling collar, in theory, was nothing new, but when Bally puts their name on it, it oozes with luxury. Boxy, structured purses, again were nothing too new, but nobody does handbags and luggage better than Bally. A few vintage plaid wool coats with colored fox collars were a departure from the brand's conservative DNA, but we say we want more!
Maurizio Pecoraro had fun with his spring/summer 2018 collection.  Patterns of dominoes, chess pieces and harlequin checks brought a playful tone to solid silhouettes.  Other designs were embellished with military medallions.  Long necklaces and tassel belts confirmed a casual, boho feel.   Overall, this was a collection of easy silhouettes with colorful prints on white backgrounds for effortless spring dressing.  Silver metallic sandals with black curly lamb straps were a welcome surprise and a winning move.
On to Paris!
Related articles