MILAN Spring Summer 2018 Collection Reviews PART 5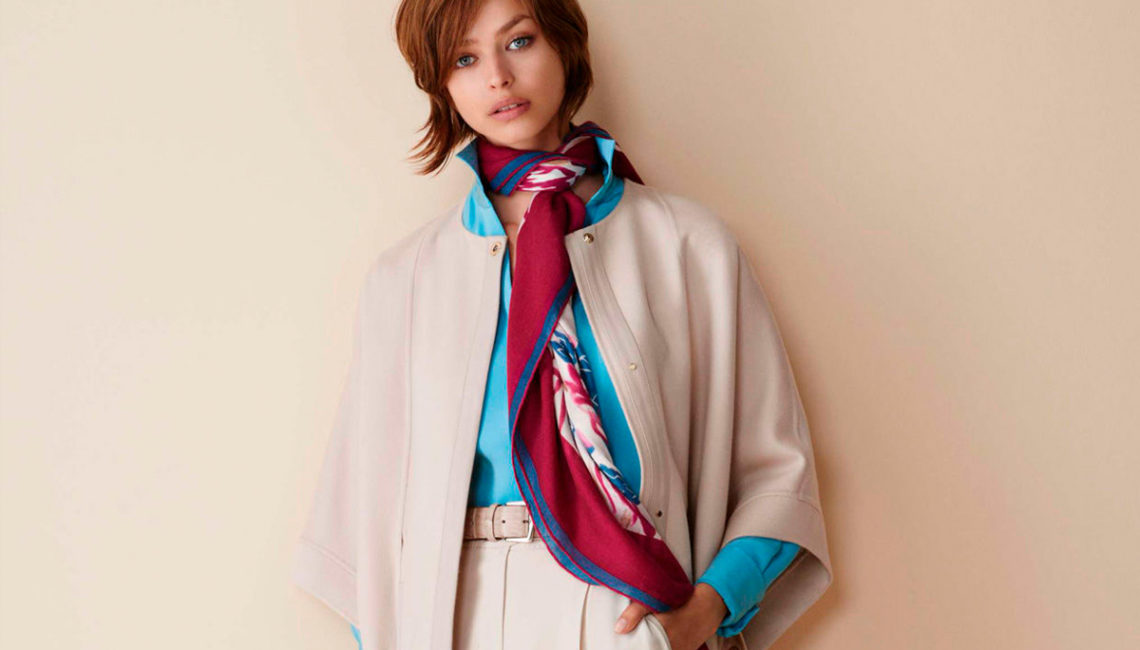 Milan is giving us plenty of reasons to believe in investing in luxury fashions with their spring summer 2018 collections.  With rich fabrics, skilled tailoring, innovative techniques and enough embellishment to add just the right amount of drama, designers here are creating the kind of wardrobe must-haves that should get those retail registers ringing.
Spring Summer 2018 Collections to Cherish
If there ever was a collection that demands to be felt almost as much as it demands to be seen, it's Loro Piana. Known for their soft cashmere, supple leathers and suedes, lightweight linen and an extraordinarily fine wool they call "The Gift of Kings", Loro Piana has built their reputation on their exclusive fabrics.  But design is a strong suit too, and for spring/summer 2018 they delivered an impressive collection of polished, sophisticated pieces.   Styles for him and for her were predictably conservative and beautifully tailored reflecting an elevated sartorial sense.  A special surprise came in the form of a white sheared mink and chinchilla vest. Lined with organza, it was the perfect layering piece to add to this already textile rich collection.
The men's wear at Missoni's spring/summer 2018 show absolutely upstaged the women's RTW. Why? Men generally get shortchanged on great daywear but Angela Missoni gave them accessible, understandable fashion options that were just the right balance between manly and modern. Sexy knit shirts and muted patterns and prints paired with trim shorts and flat front pants were among the strong offerings. For women, a parade of breezy, sheer dresses gave way to light textured knits and then the richer knit cardigans that are the core of the Missoni brand ID.  We missed the bolder, more distinctive patterns and colors that we've come to love at Missoni.  But with such a broad range of women's offerings Missoni should find more opportunities to make its way into women's closets this season.
It's a season of firsts for Lucie and Luke Meier!  For spring/summer 2018, they collaborated together for the first time AND they created their first show for the behemoth house of Jil Sander. What was not a first was the overall look of the brand. Basic colors of black and white, plenty of outerwear, and lots of suited styles reflected the modern, clean aesthetic that has become a trademark of the label. As they say, if it ain't broken, don't fix it!    There were a few crochet knits that concluded the collection. Colorful and soft, they played well against the stark RTW and may find a larger role in future collections.
Gabriele Colangelo had one launching point for spring/summer 2018. "I started from manipulating textures; I had fabrics pleated by hand, dyed with the Japanese shibori technique, and then coated to achieve a leather-like finish with an organic vibe," he said backstage. His focus, discipline, and direction were sharp and clear. Long-waisted coats and belted dresses all said 'this was not business as usual'. While a full closet of these looks would run together, pulling one key piece will pop your wardrobe.
Paul Andrew is at the helm of legendary brand Salvatore Ferragamo and in his spring/summer 2018 RTW show he hit high notes in daywear, formal gowns, and, of course, shoes. Snakeskin was a popular theme with eye-popping prints on skirts and dresses and bold snakeskins bags, belts and shoes.  Andrew also counter-punched with liquid smooth silks for tops, shorts, and dresses.  The intricate laser cuts on a white dress and skirt and a green zippered coat dress had a lacy, light feel.  A teal green suede jumpsuit was maybe the most striking of the RTW offerings. Pairing his looks with a variety of chunky heels with wrap around ankle fronts delivered the sophisticated vibe that befits Ferragamo's  well-heeled client.
Cividini's design team of Piero and Miriam Cividini gave a quiet elegance to their spring/summer RTW collection for 2018. Working with linen in muted color tones of taupe, dusty pink, and bone, their clothes reflected an easy, effortless style.  Lots of layering pieces in crochet knits and tunic tops added interest and depth and expanded the versatility of the collection.  If you're looking for casual chic with a grab-and-go sensibility, Cividini is your answer for spring/summer 2018.
A shout out to Piazza Sempione!  Their pony-hair Birkenstocks may be this season's take-over for the Gucci Kangaroo slide.  For spring/summer 2018 they gave us more of what we expect and love from the label.  Trim lines, clean patterns, and just the right delicate scarf to tie it all together delivered the Italian street chic looks that make any girl feel oh so cool.  Striking pantsuits included a white wide leg look with plunging neckline that was absolute perfection.
Related articles