MILAN Spring Summer 2018 Collection Reviews PART 4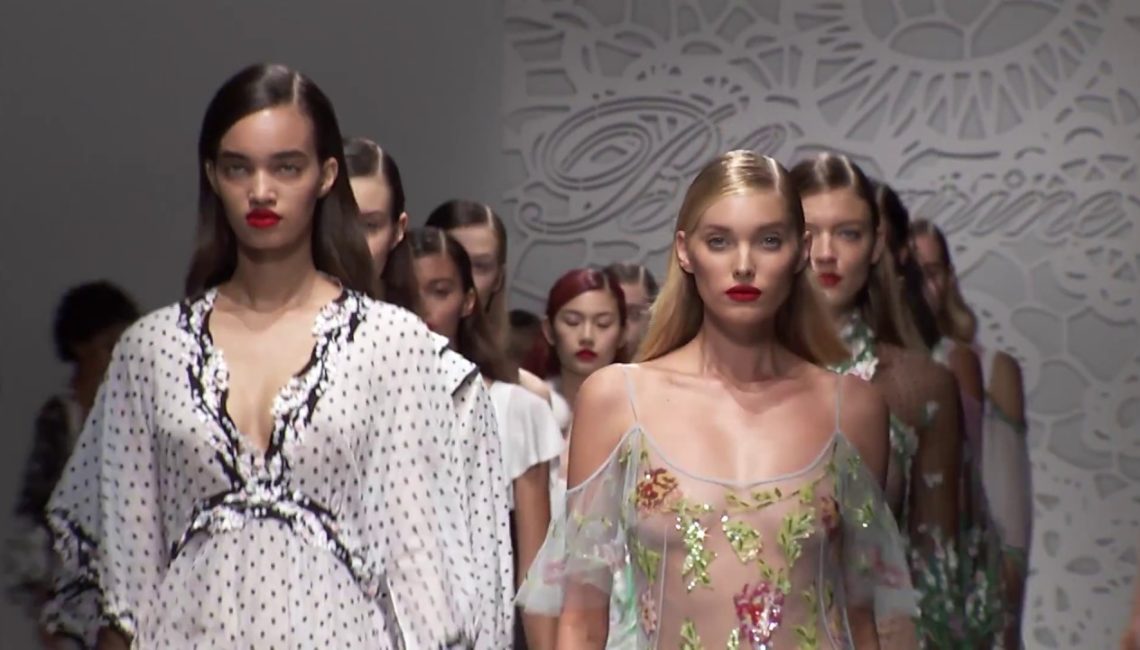 Lacking the eccentricities of London but certainly more innovative than New York, the Milan spring summer 2018 collections continued their march down the runways.
Milan Spring Summer 2018 Unfolds
Athena, the fabled Greek goddess herself, might be just as blown away as we were with the RTW from Vionnet for spring/summer 2018. Ethereal silhouettes floated down the runway in whisper soft chiffons and silks. Exquisite draping and floor length hemlines added to the drama. Goga Ashkenazi, the hand behind the brand, continues to deliver clothes that are fit for a deity. While the rest of us commoners might not have an occasion for the pieces, we sure can appreciate the fantasy life they promise.
If you're a mom staring 40 in the face or a 20 something who is rounding out the decade, you might have a sense of panic that Father Time is not on our your side. He's relentless and you will get older BUT you don't have to give up your sense of youthful style. That where the brand Tod's is the elixir. When we think of Tod's we think of edgy, urban prep with just the right marriage of cool and conservative. For their spring/summer 2018 RTW show, they delivered the expected refined, tailored cottons that they are known for, but added snake skin and leather to toughen it up. Take a cow hide moto jacket, for example. It was crisp, on trend, tailored, and cool. Hey, Father Time, take that!
Suede was the real star of the show at Bottega Veneta. Tomas Maier continued to lead the legendary house to fertile, new territory. Heavy on outwear, the spring/summer 2018 RTW collection lightened the mood with soft dusty pastels of lavender, blush, and desert rose. Helping to modernize the looks, lots of hardware punctuated the pieces. Grommets were a-plenty on evening dresses and daytime separates alike. While the cuts were a bit boxy and oversized, this collection  had a European flair that is sure to find a following.
Blumarine is resting squarely on its laurels of being a fashion house of girlish charm and gentleness. Wispy, delicate dresses are what they do best and the spring/summer 2018 RTW collection was all that and more. Gentle colors, touches of ruffles and pin dot tulle were all stitched together to reveal a little leg and a touch of décolleté. While largely a boudoir feel, it was a great collection for a woman of high style and leisure. A white mink jacket trimmed in a floral jacquard was the perfect finishing touch.
Arm yourself with some powerful UV sunglasses before taking in the Philosophy di Lorenzo Serafini spring/summer RTW for 2018. This, by far, has been the most vibrant, moving choice in color stories for Milan Fashion Week. The richest, ripest red, blues that ooze drama, and greens that would make fertilizer weep danced down the runway with total excitement. How about a pair of spearmint green leather overalls with a paper bag waist and cropped, cuffed hems? Yeah, we're down with that.
There was a certain desperate urge that emanated from Antonio Maras in his spring/summer RTW collection for 2018. While we loved the 1940's vibe reflected in ladylike dresses, cloche hats, and smart pocketbooks, the clothes also had the feeling of poverty lying beneath. Sepia color tones and layers slightly askew gavethe feeling that these women were working with the best they had from the attic's cedar chest. Men's wear was mixed in and had a more structured, clean look. A patchwork trench with oversized dyed mouton lamb collar was thrift shop chic.
If you're anything like us, you love and are very comfortable wearing black on black with black. Well Agnona and its creative director Simon Holloway challenged us to think outside the box and embrace color with their spring/summer 2018 RTW show. Bursting with brights in tangerine, Caribbean blue, canary yellow, and strawberry, these pieces had nothing but fun on the mind. Wide sleeves, broad collars and layered fabrics made for interesting architectural outerwear.
Related articles