MILAN Spring Summer 2018 Collection Reviews PART 3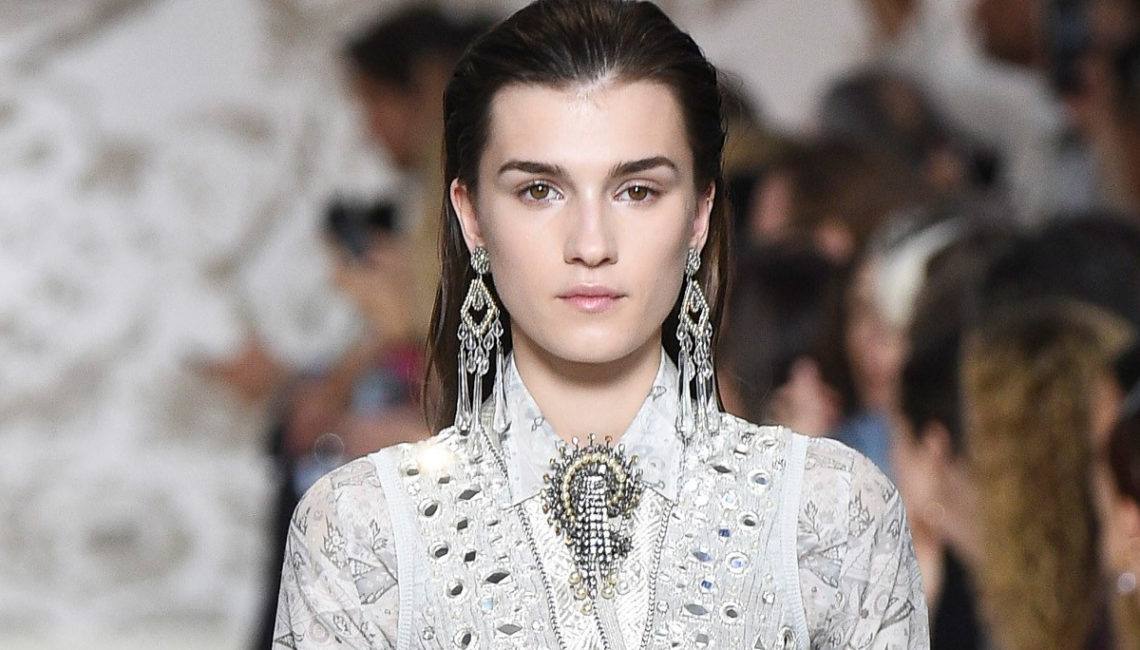 The Milan Spring Summer 2018 Ready-to-Wear collections promise a season filled with romantic ensembles, bold patterns and color combinations for coloring outside the lines of traditional fashion.
The Bella's of the Ball at Milan Spring Summer 2018
Brother and Sister Kean and Veronica Etro made it a family affair for their spring/summer 2018 RTW collection marking the label's 50th anniversary.  With Kean concentrating on the men's wear and Veronica in charge of the women's line, the show was a solid representation for both the guys and the gals.  While Etro is best known for their free-wheeling pattern mixing, this season the focus was on embellishments to deliver the rich detailing that created the vocabulary of the collection.   Mirrored discs, multicolored beads, silver paillettes, and intricate embroidery were just a few of the textural details that gave these clothes life.  India has long been a reference point for Etro, manifested this season in rich paisley prints, Sari-inspired dresses, Mandarin collared shirts, high-waisted sashes, and jeweled velvet robes that would make even a Maharaja melt.
A breathless O.M.G. followed the opening look at Jeremy Scott's Moschino spring/summer RTW show for 2018. A dusty pink sheer dress adorned in cartoon appliqués with tufted fur and rhinestone chokers reminded us just how much fun fashion can be.  Scott is a master of excess, a theme that was repeated throughout this collection.  And we have to admit, often times it works!   While the Moschino brand can lean to the kitsch, Scott dialed back the puerile and gave us more sexy, sophisticated looks.  Intertwined in the show were some men's wear looks that were more Rhinestone Cowboy than Marlboro man. Scott showed a skilled hand at leather design with a range of coats in various cuts that made us want to giddy up and get out there!
Mink epaulettes….YES, YES, YES….why didn't we think of this before? Well thank goodness Mr. and Mrs. Italy included this look along with a few other solid standouts in their spring/summer 2018 capsule collection. Distressed military green bombers with generous fox trim were wearable, collectible pieces.  Even though the show was small, the multiple offerings of hooded parkas and denim jackets will find their way into many closets.
Paul Surridge currently has the dubious honor of being the man behind Roberto Cavalli and for his spring/summer 2018 RTW debut; he made it clear that he has his own point of view.   Zebra prints have been a trademark of Cavalli and Surridge paid homage to this signature look with more sophisticated takes on the look. Zebra print trench coats in calfskin, for example, had an easy, polished chic. He also toned down the sexy/slinky vibe that has dominated the label with a more tailored and demure approach.  Muted color tones of beige rust, navy, and bone furthered the more mature feel.  Pointy toe calfskin slippers tied it all together and gave the Italian woman and those that want to emulate their style plenty of daywear to dream about.
Marco De Vincenzo knows how to make his women happy.  In his spring/summer 2018 RTW collection, there was something for everyone, and then some.  A broad range of solid wardrobe building options provided the right answer for any mood and any occasion.  Capri pants, circle skirts and low rise menswear slacks came in raw silk fabrics in a kaleidoscope of tie dyed colors.  This was easy style,  graceful and breezy.  Delicate knit tops in metallic thread upped the glam quotient with just a little pop of bling.  Butterfly appliqufloral embroideries and ruffles lent a soft, romantic air.  Cartoon graphics on t-shirts and jackets kept the mood  light.  No matter your fickle tastes, there's something here for everyone.
Headline: A madman savagely guns down an innocent victim- sound familiar? Well in1997 it was Gianni Versace who was indiscriminately wiped out. His creative genius forever gone. Or maybe not….sister Donatella has done an incredible job molding the line over the decades that have followed but for spring summer 2018 she took a page from her brother's history and returned to the "golden years' of the label.   The iconic prints and pieces from 1991-1995 played a major role in this collection. Recognizable lurex leggings, lots of gold chains and medallions, and artist renditions of Andy Warhol were all present and accounted for. She even hired Carla Bruni, Cindy Crawford, Claudia Schiffer, Naomi Campbell and Helena Christensen to close the show. What a moment!!!   Ahhh those were the 90's and we love Donatella's homage to her beloved brother who created some of the best the fashion world has ever experienced.
After reviewing hundreds of shows over the many years, we appreciate how hard it is for creative talents to generate new ideas and spark excitement season after season.  Yet the great designers manage to do it time and again. That's where John Richmond falls short. For spring/summer 2018 Richmond did very little that was new, if, in fact, he did anything new at all. Colorful embroidered denim with skulls and flowers, leather moto jackets, neon satin blouses…sound familiar? It was and it is. While we like all these looks, for sure, there's just nothing fresh here.