Milan Fashion Week Spring-Summer 2015 – Day 4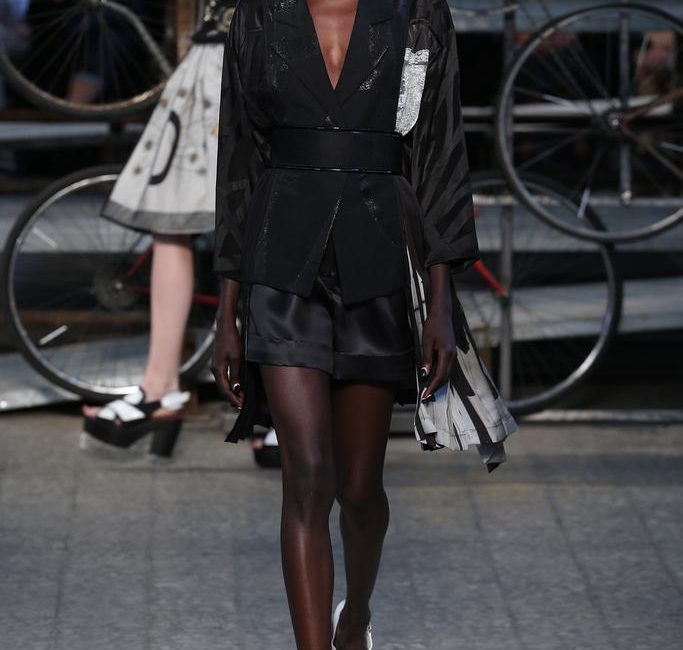 Among the wide array of looks presented on the runway since Milan began, out of the varying degrees of dress and formality, an effort to deliver looks that will move at retail is very much present. Great ensembles are being delivered daily showcasing classic tailoring and masterful draping to lend a couture feel and elegance. The more conservative variations still maintain a modernity that is key for a contemporary eye and mindset.
One of the surprises of Milan Fashion Week Spring-Summer 2015 is the referencing of early 1990's minimalist looks favoring dual hues or variant monochromatic palettes that equally embrace layering and juxtapositions of materials. This seemingly simple application is back – though like a lone wolf – and reads best when adapted to daywear.
Another influence that is becoming more pronounced is a menswear application that reintroduces the chic 1970's pants suit. The twist with this trend is that is effortlessly slides from day to evening and can embrace a discotheque feel or a more collegiate vibe. This modern Garçonne is very much in charge of her femininity and looks very comfortable, sexy and confident. We love that!
In contrast to the more somber tones of New York, Milan continues to tell a color story. What is different in these Spring-Summer 2015 collections is the use of wide-ranging color prints and treatments that embrace a more artistic approach, if not retro at times. There is a definite historicism going on, but without any specific decade as guide.
We've seen a few animal prints since the start of the week here but the trend seems to be toned down from previous seasons. When it comes to prints, a few abstracted designs loosely echo crocodile/alligator, leopard, even giraffe. Clever abstractions are giving an optic play that, via adept geometries, mirrors these animal designs when viewed from a distance while looking completely original up close. This is an exciting new creative twist that hopefully will continue to evolve in collections to come.
Milan last day next…
Related articles