MILAN Fashion Week: Menswear Fall 2018 PART 1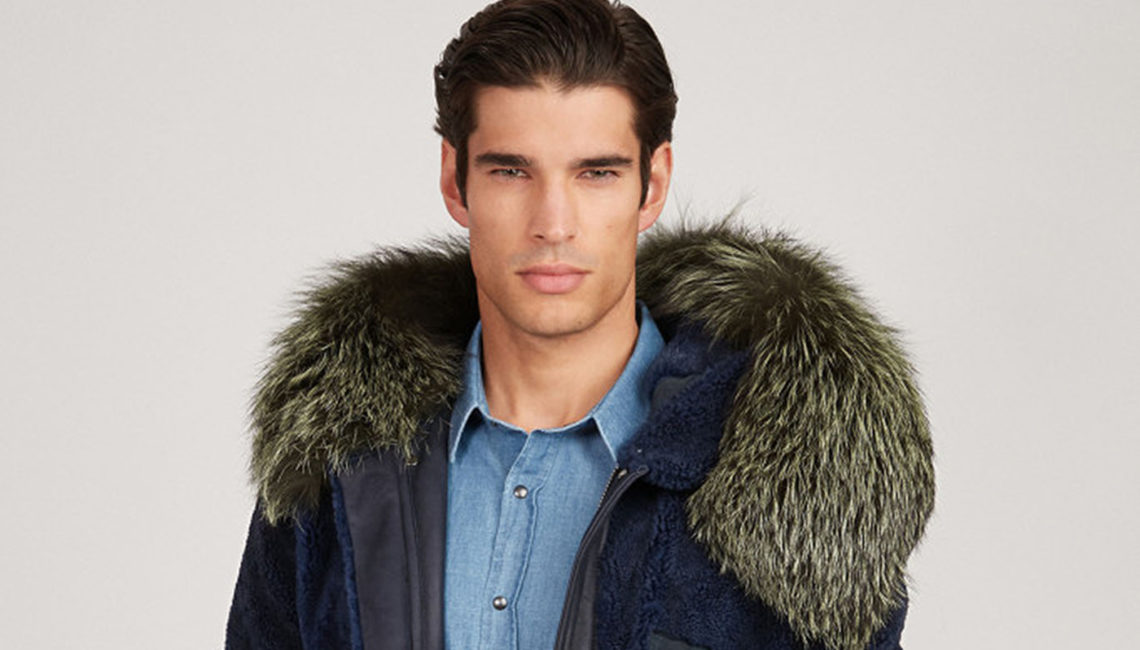 For Italian men dressing is a serious business.  Luxurious fabrics and skilled tailoring create high quality garments that boost the wearer's best attributes. They are not driven by trends, rather the focus is on fit and construction.   How they look matters and their fashion choices must reflect that they are, indeed, living La Dolce Vita.  It is this sensibility that drives designers in Milan and it guided their creative decisions as they prepared their menswear fall 2018 collections.
Milan's Finest: Menswear Fall 2018 Collections
For Mr and Mrs Italy it is all about the parka for menswear fall 2018.  And given the extremely cold temperatures that have hit across most of the US the past few weeks, the timing couldn't have been better.  Functional and timeless, these parkas feature twists and embellishments that give them just the right fashion edge.  Plush fox trims not only serve to ward off the cold, but bump these parkas into the luxe category.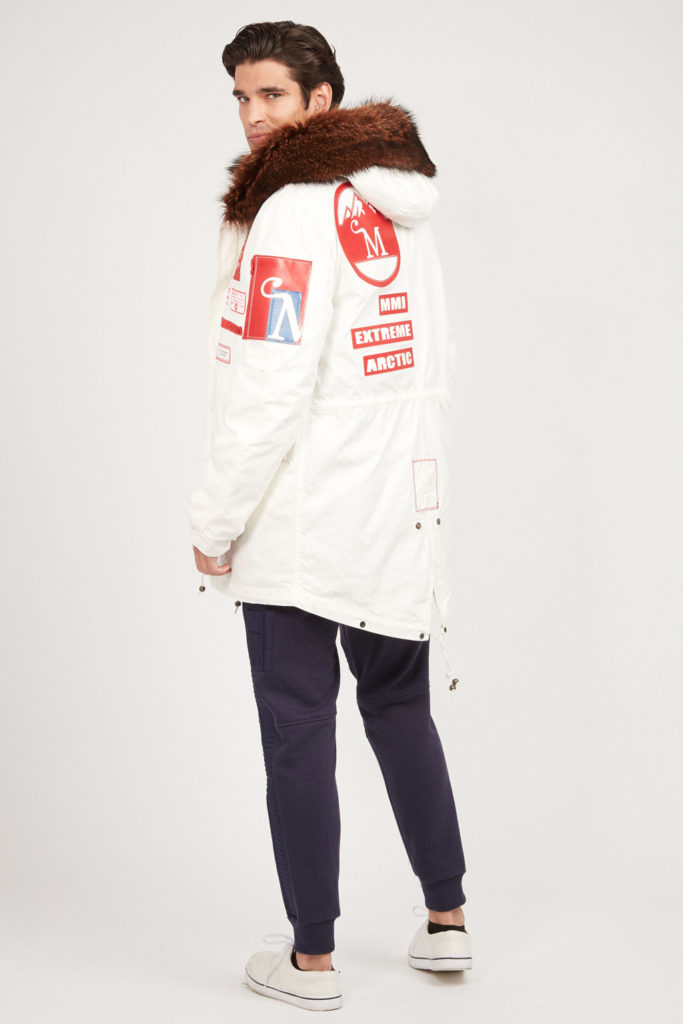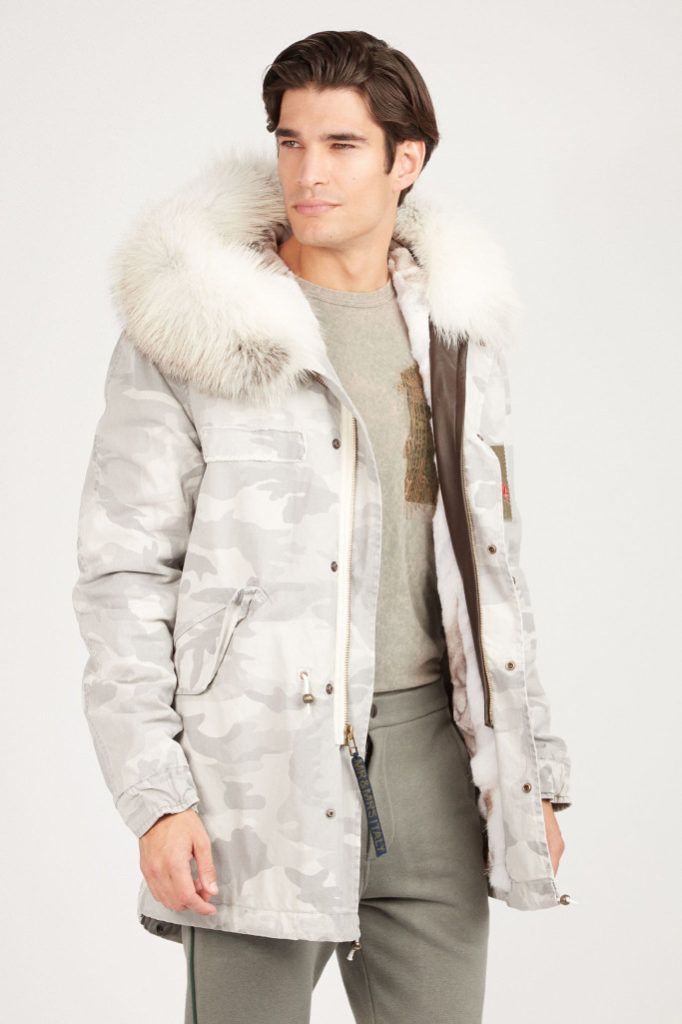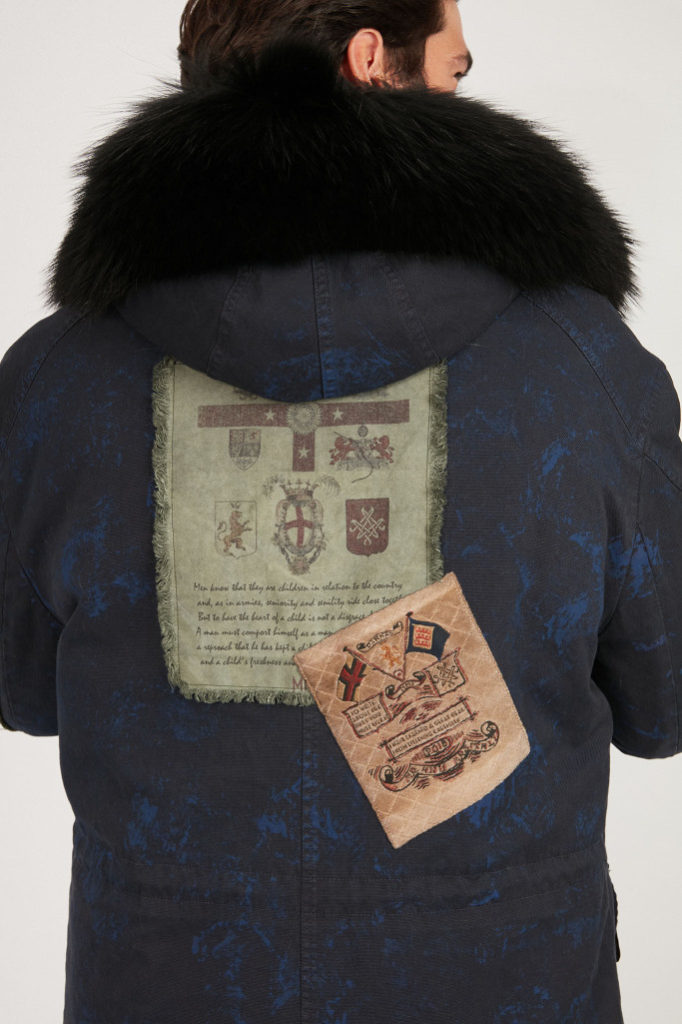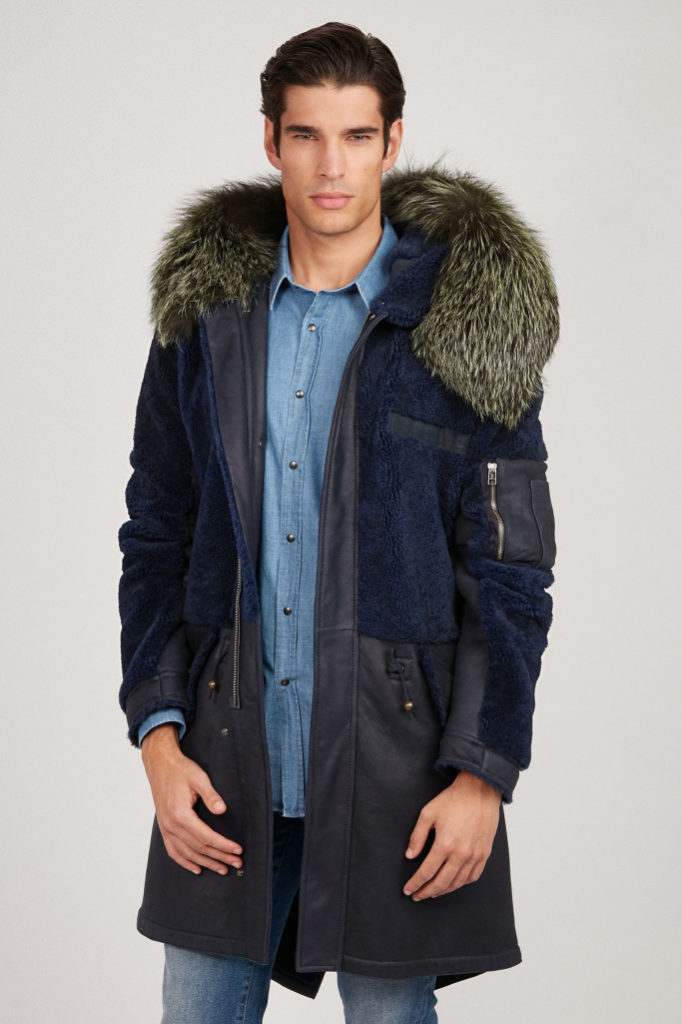 As one of the leading forces in Italian menswear Ermengildo Zegna sets the key trends for men's style season after season.  And thank goodness for that!  With an eye to the classics he is not afraid to innovate, creating fresh silhouettes, introducing new techniques and adding surprising new detail.  The result is a collection that is neither too out there for the solid business types, nor too staid for the more artsy types, but always modern and full of ideas that come to define the season.   Such was the case with his fall 2018 collection, a compilation of looks from office chic to weekend wear that is sure to cut a wide swath at retail.  Suits were lean with a single button closure and reflected a polished sophistication with a bit of an edge.  The one-and-a-half breasted construction on the single button jacket of a blue corduroy suit was pure genius – crisp and lean when open but with the more powerful punch of a fitted double breasted jacket when closed.  For the weekend warriors there were plenty of extraordinary options from the super cool black shearling blouson paired with a lean, cuffed pant to delicious chunky knits and sleek tailored leather pants.  Outerwear  was another strong suit for Zegna this season.  Showing their hand at innovation they took shearling to new levels with a manly black shearling anorak.  Sporty leather bombers were trimmed in plush fox.  A pull-over black puffer was too.  Beautifully tailored topcoats defined modern elegance.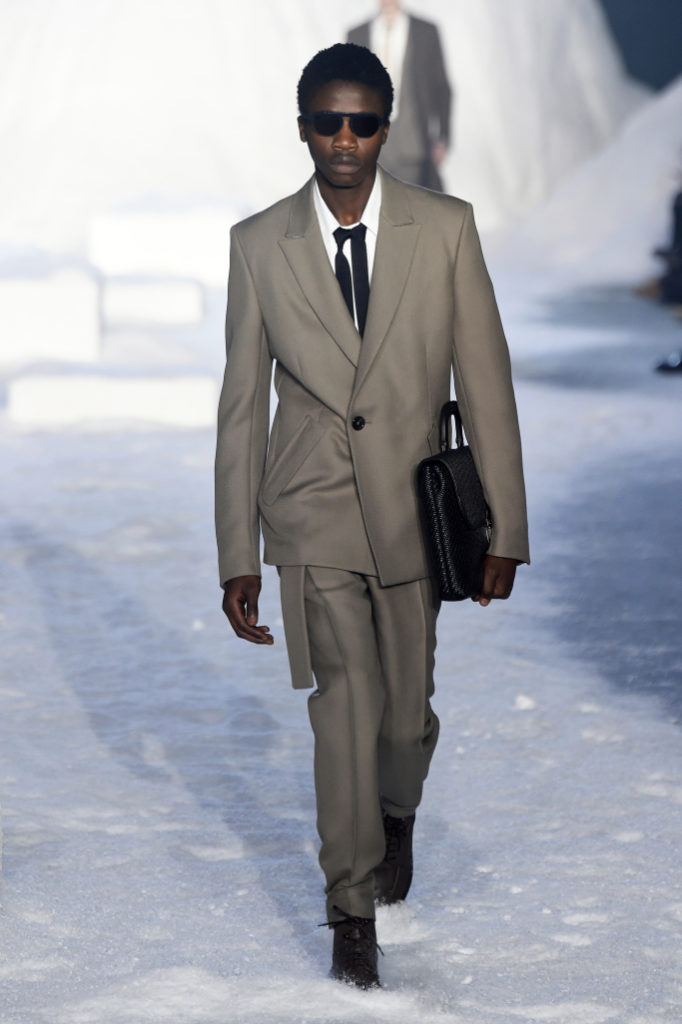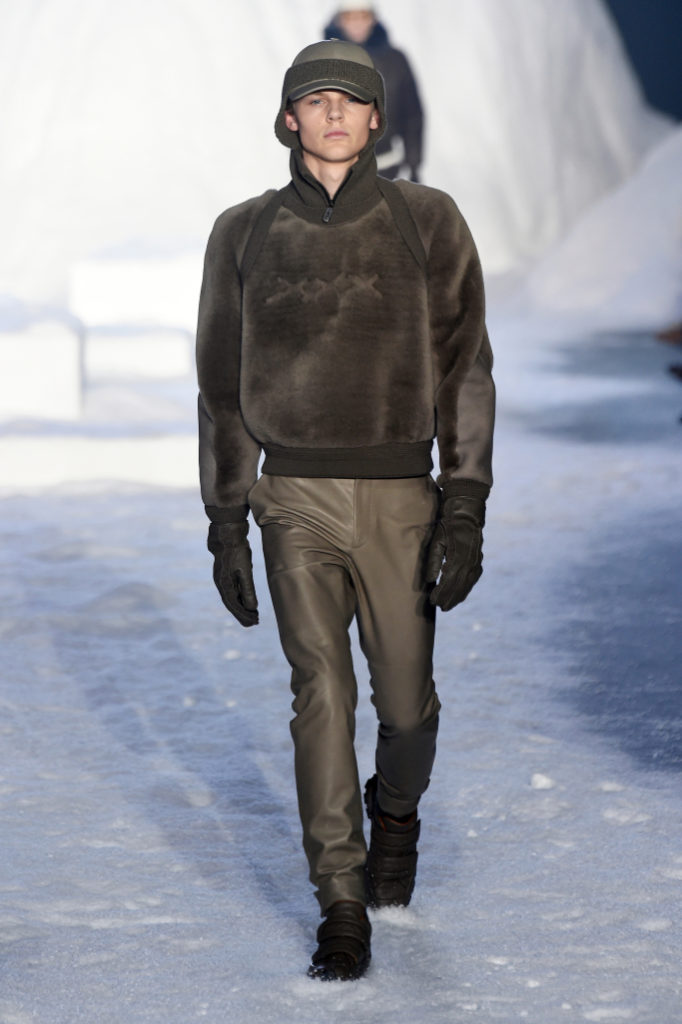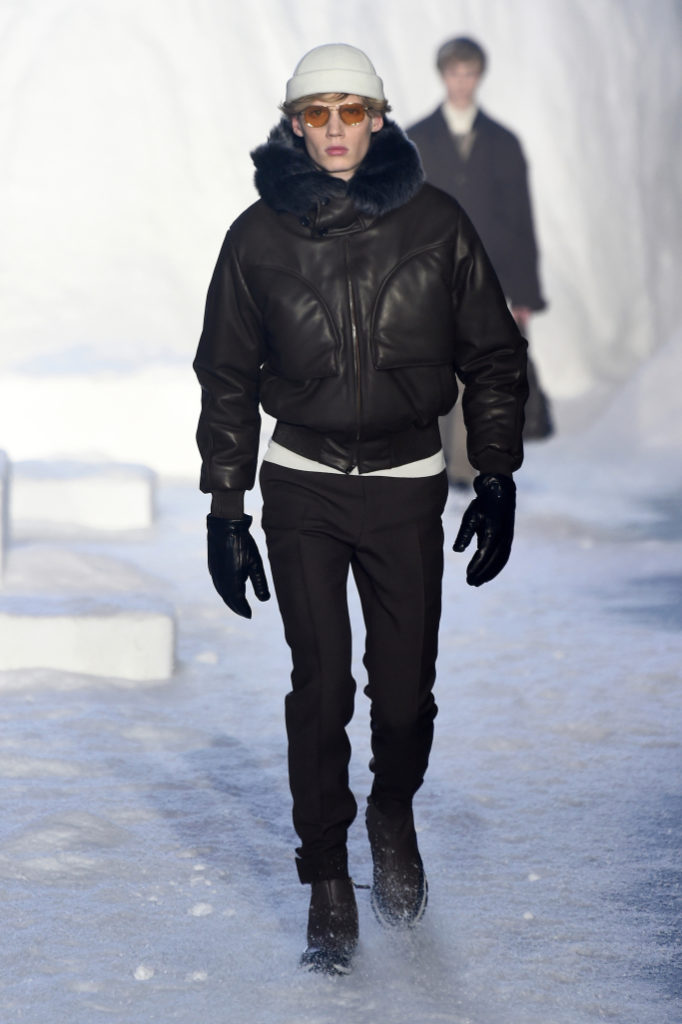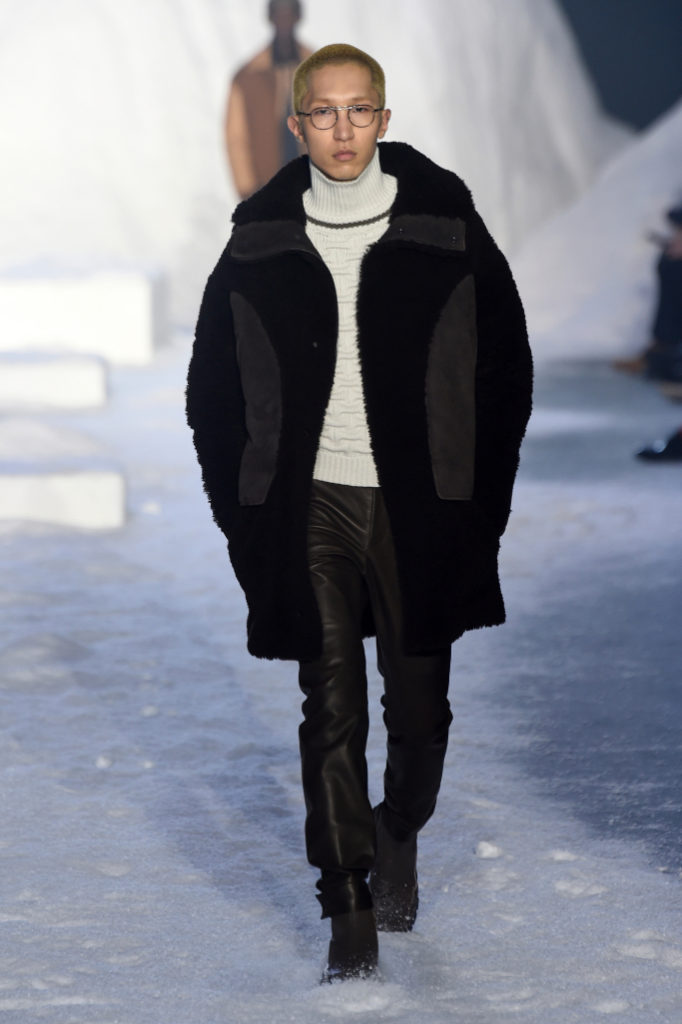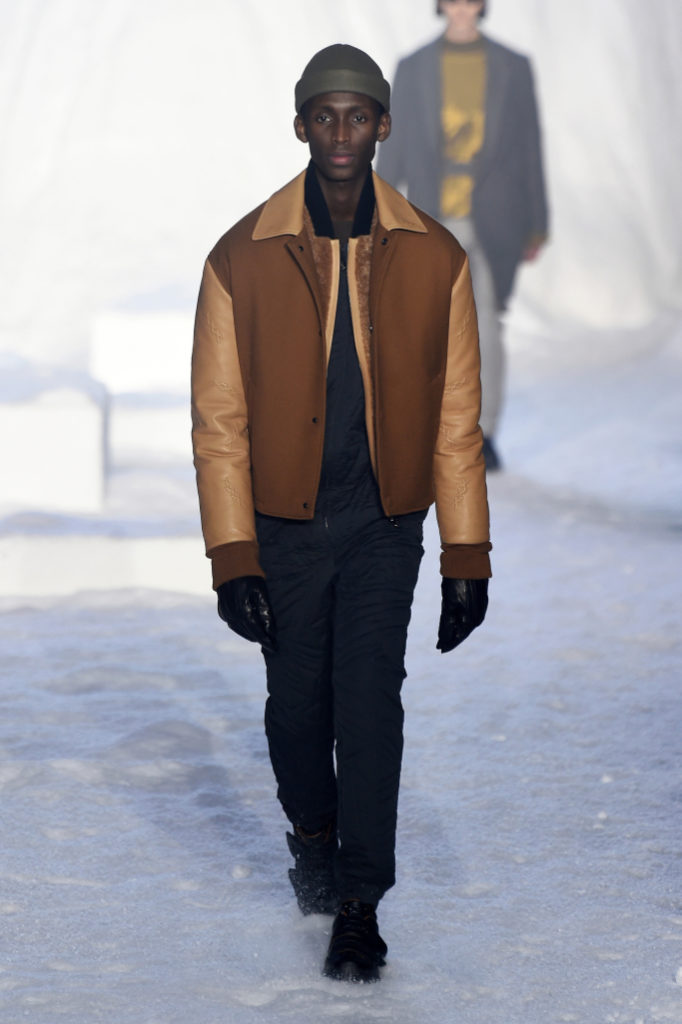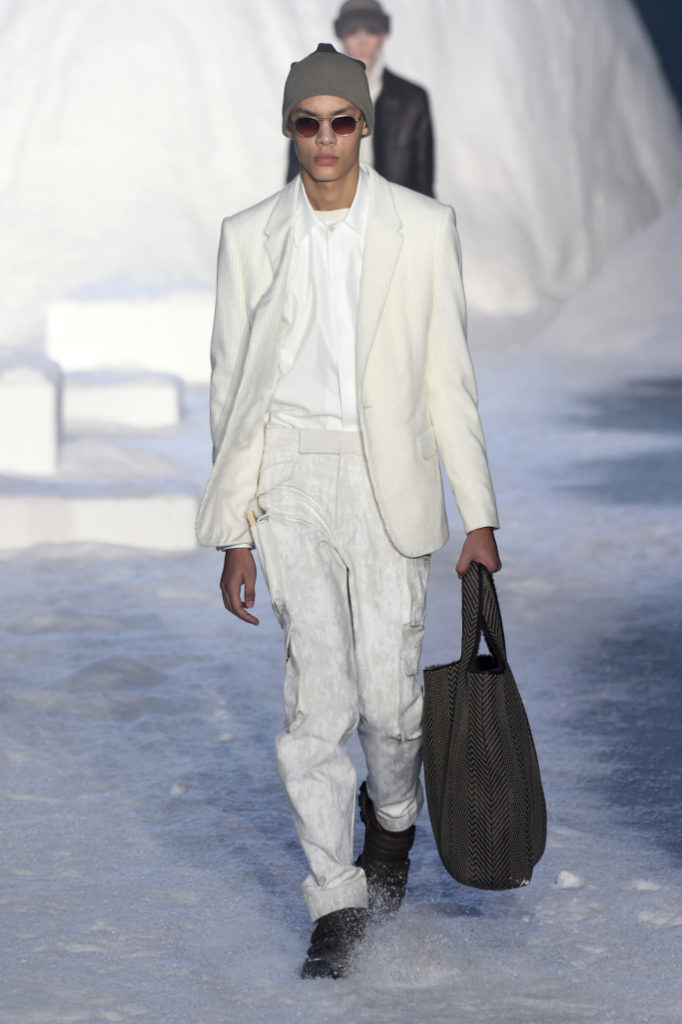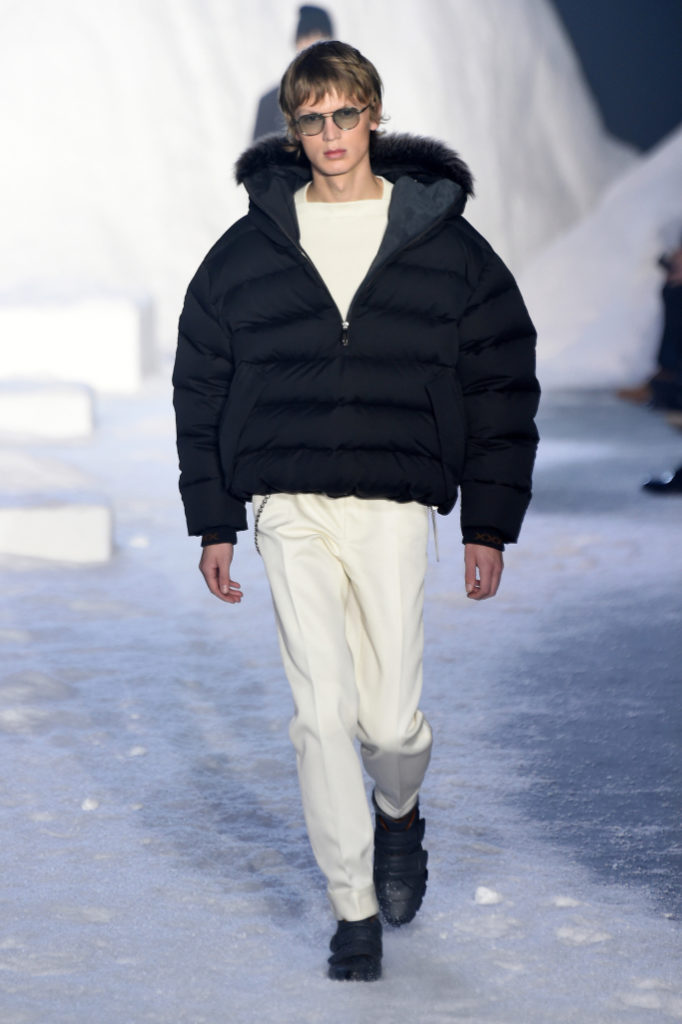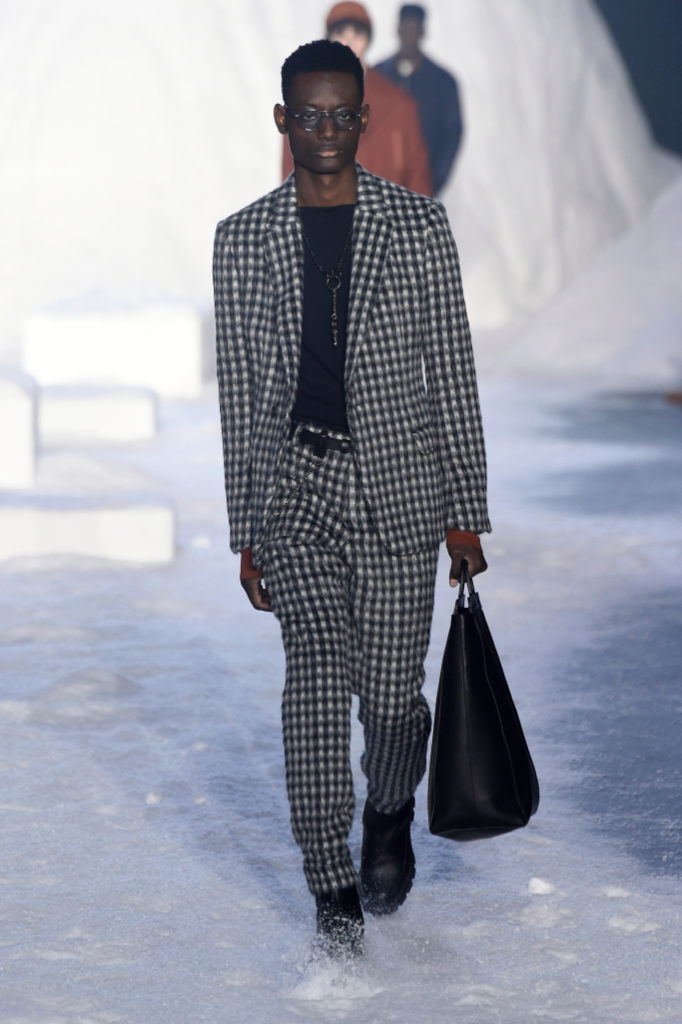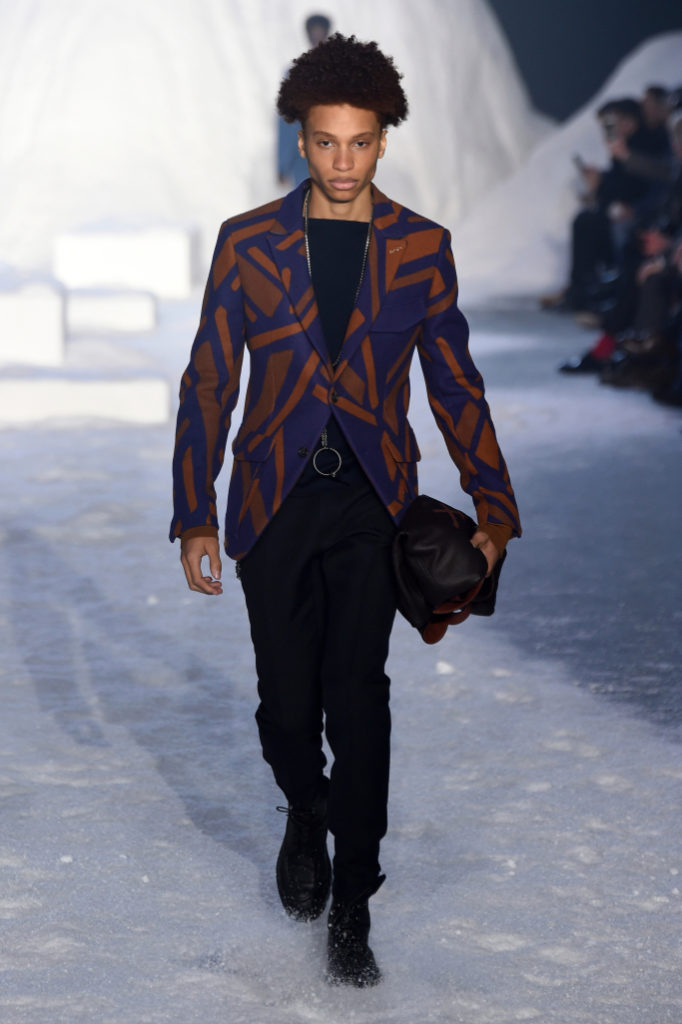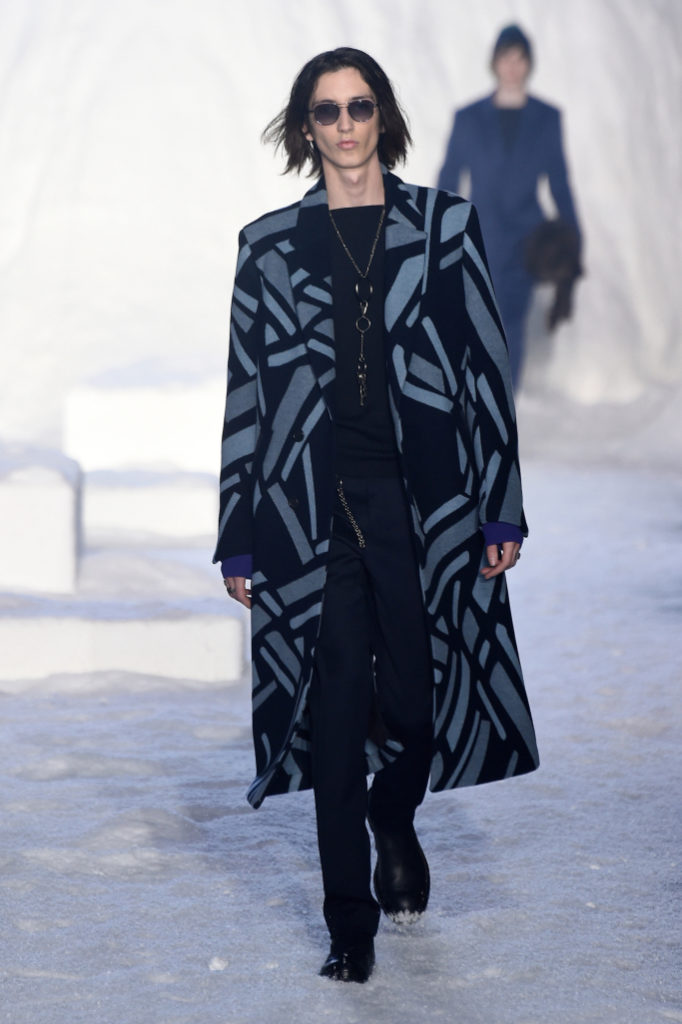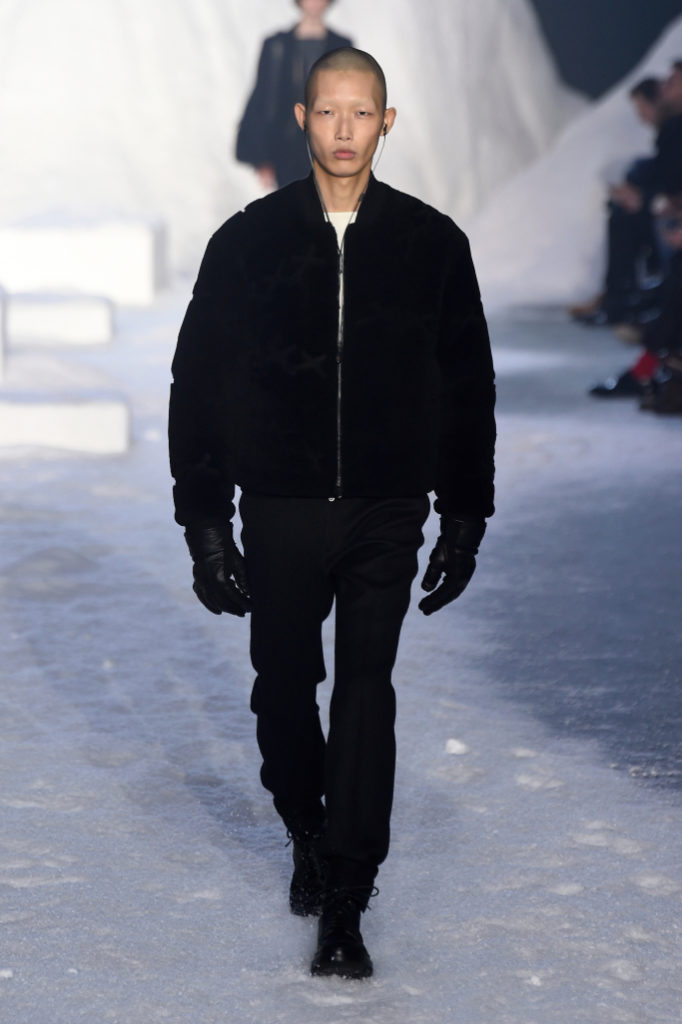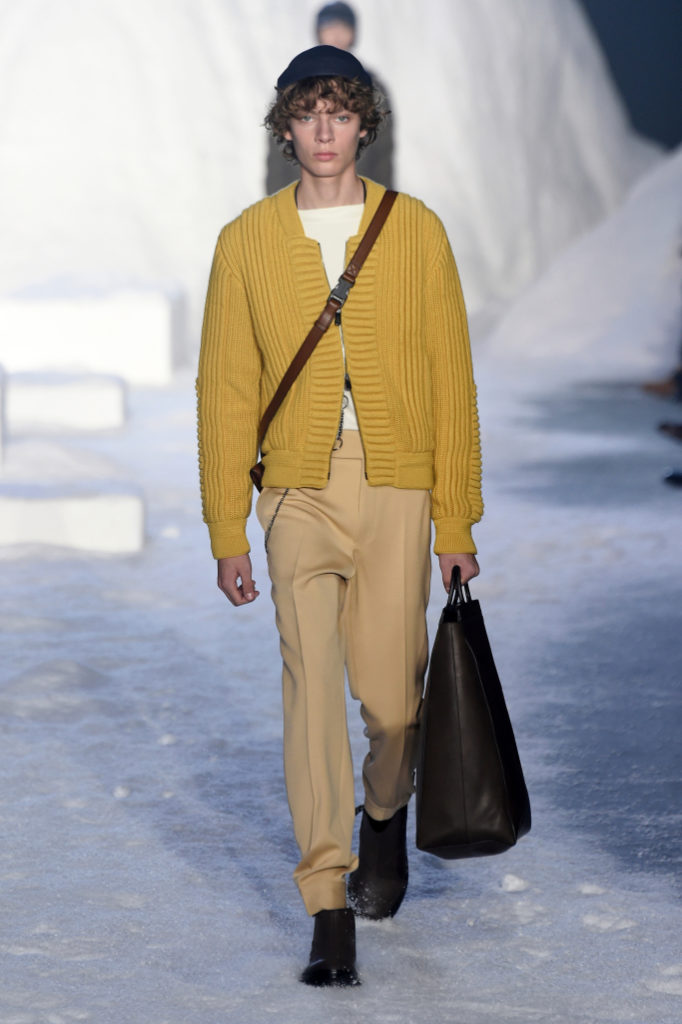 Diesel Black Gold presented men's and women's looks for their fall 2018 presentation in Milan.  While still decidedly urban, bohemian and Navajo references set this collection apart from past seasons.   This translated to looks that were softer and, for the womenswear, even a bit romantic with more color throughout the line.  Beading delivered a slightly western vibe on skirts, pants and denims.  The beaded black leather moto was a stand-out, sure to be a collector's piece.  Shearling dominated the outerwear lining nylon parkas, adding a rich pop to puffer jackets, highlighting an olive Western  jacket with quilted sleeve and Navajo print inserts.   Shearling biker jackets, a black shearling toggle coat and bold black shearling overcoats provided plenty of options for making on outerwear statement.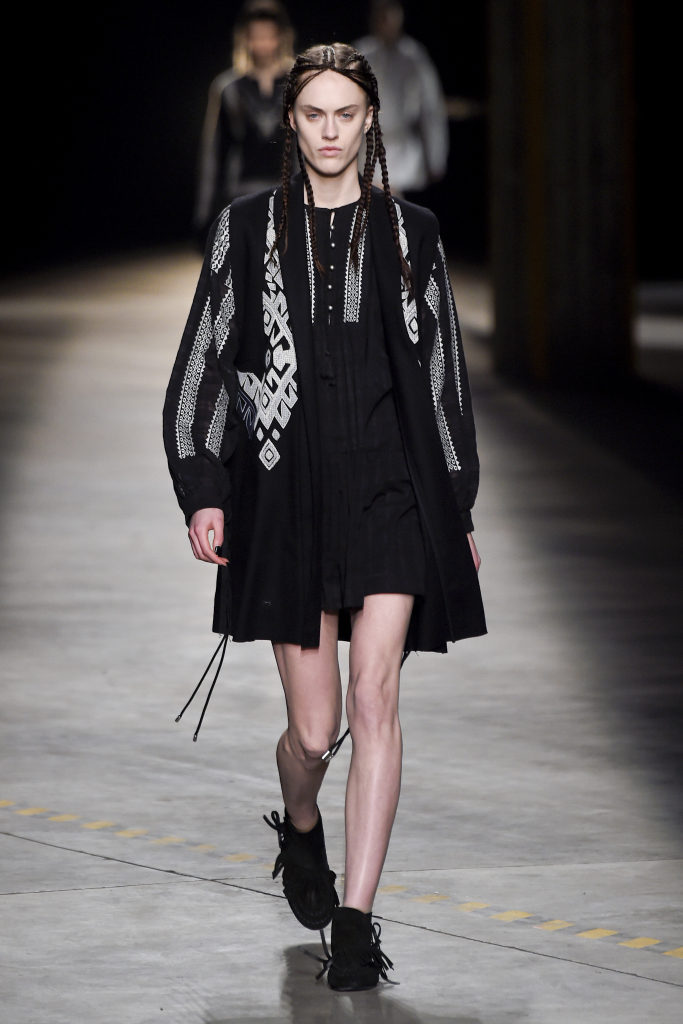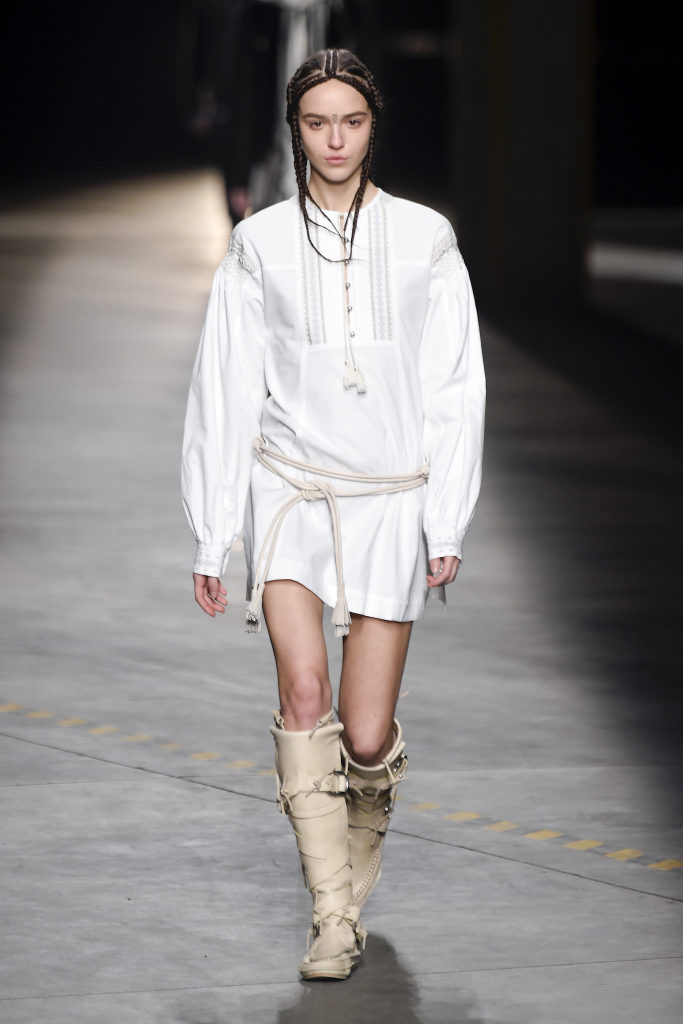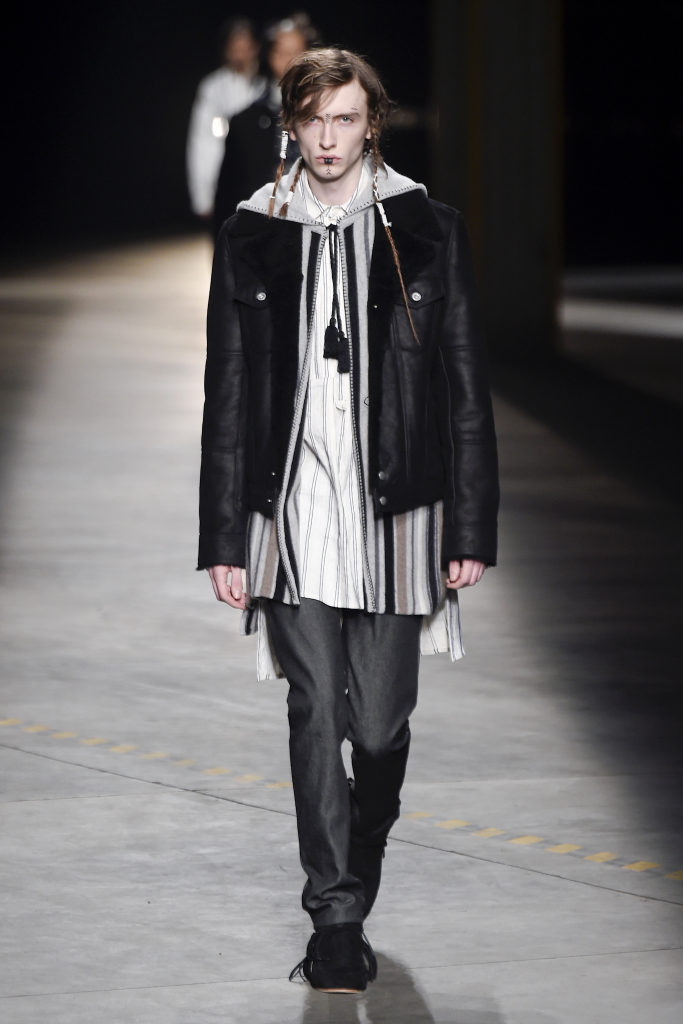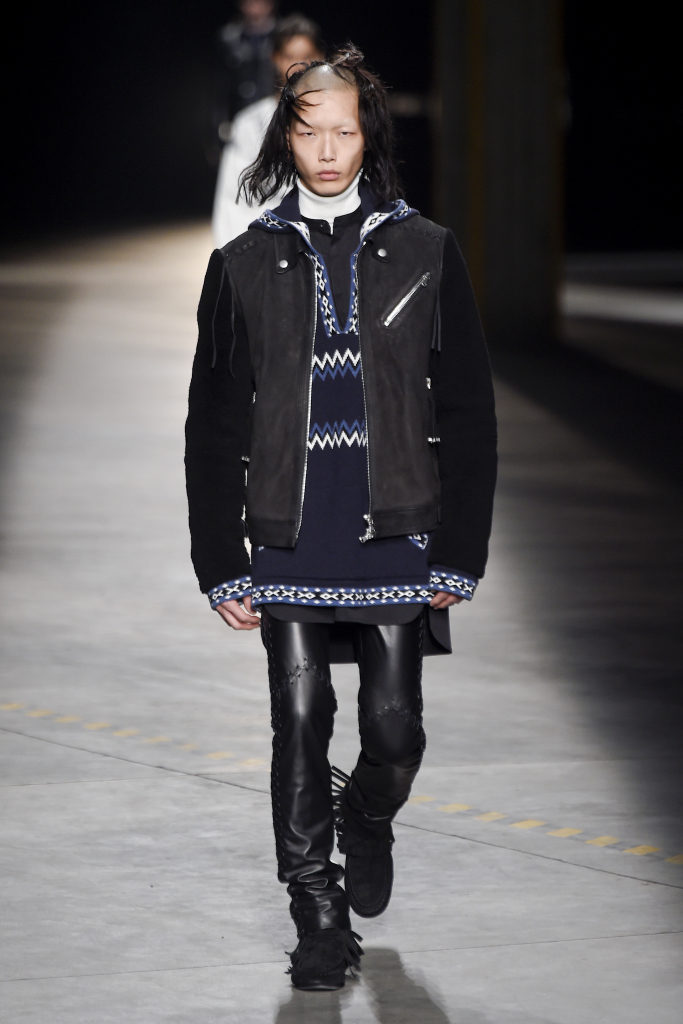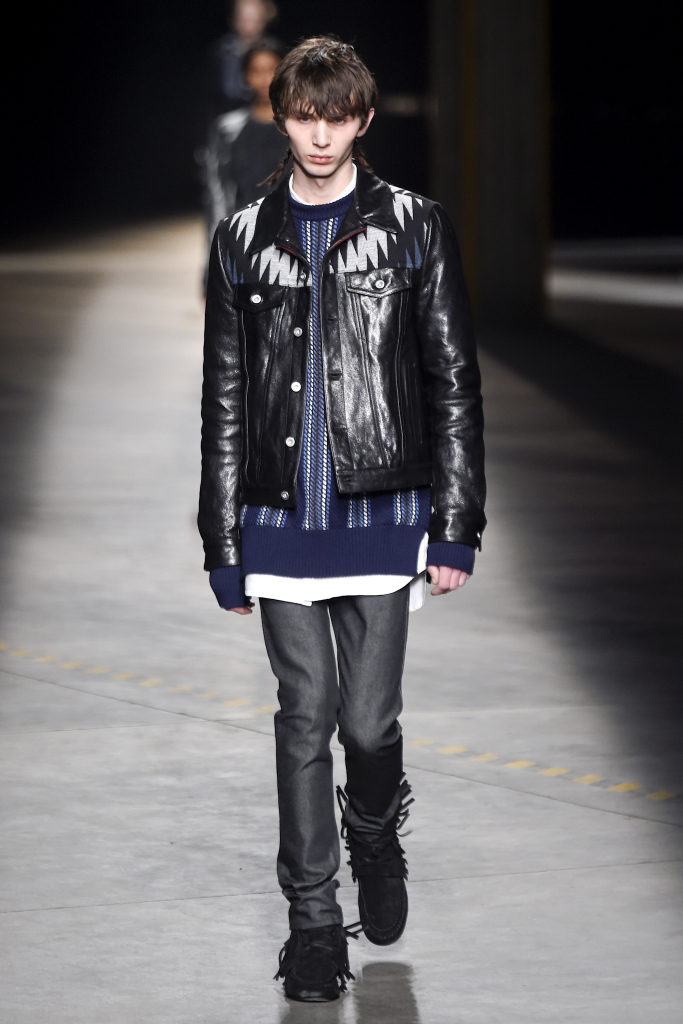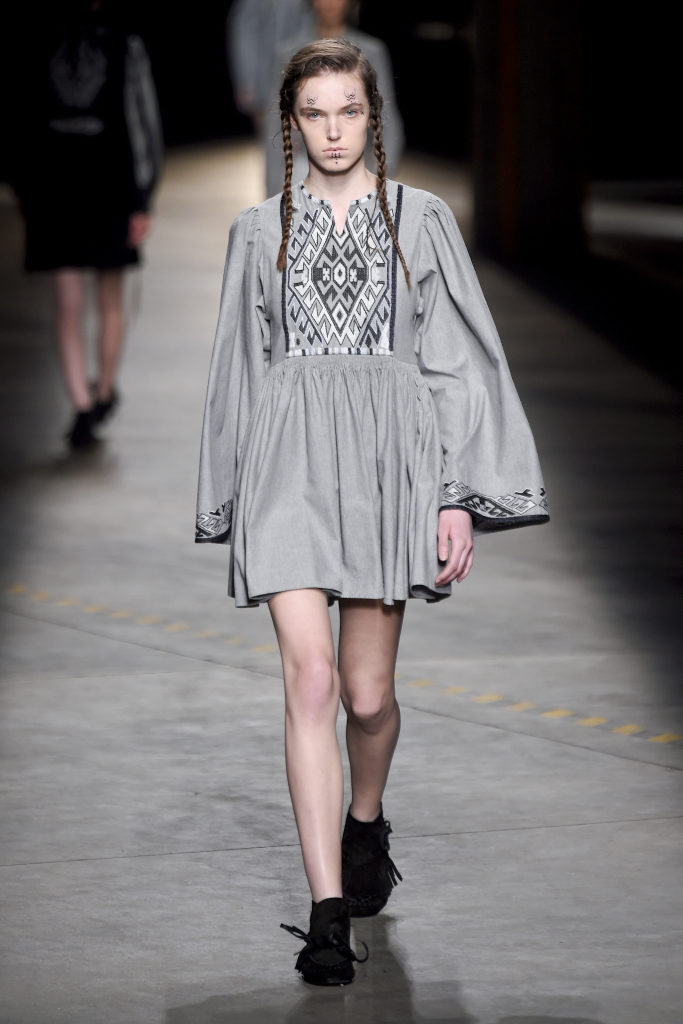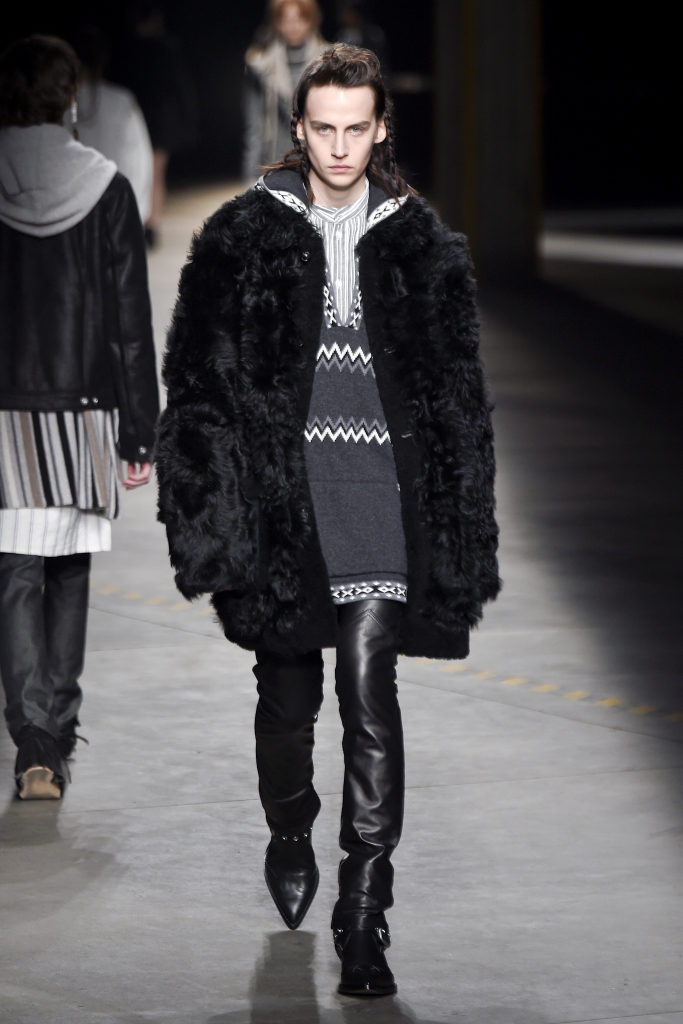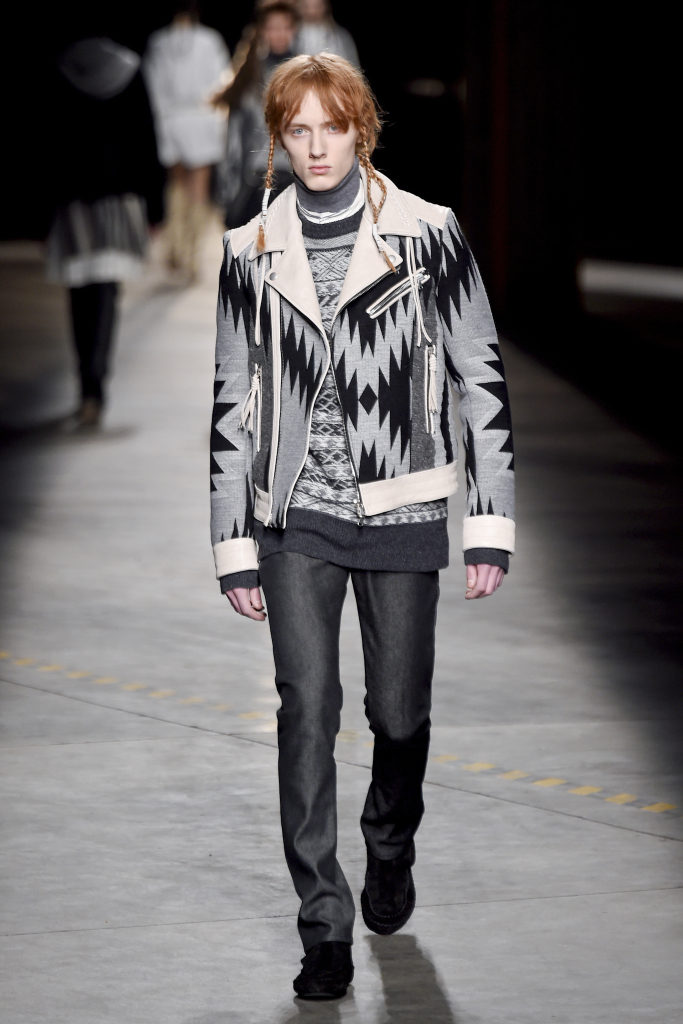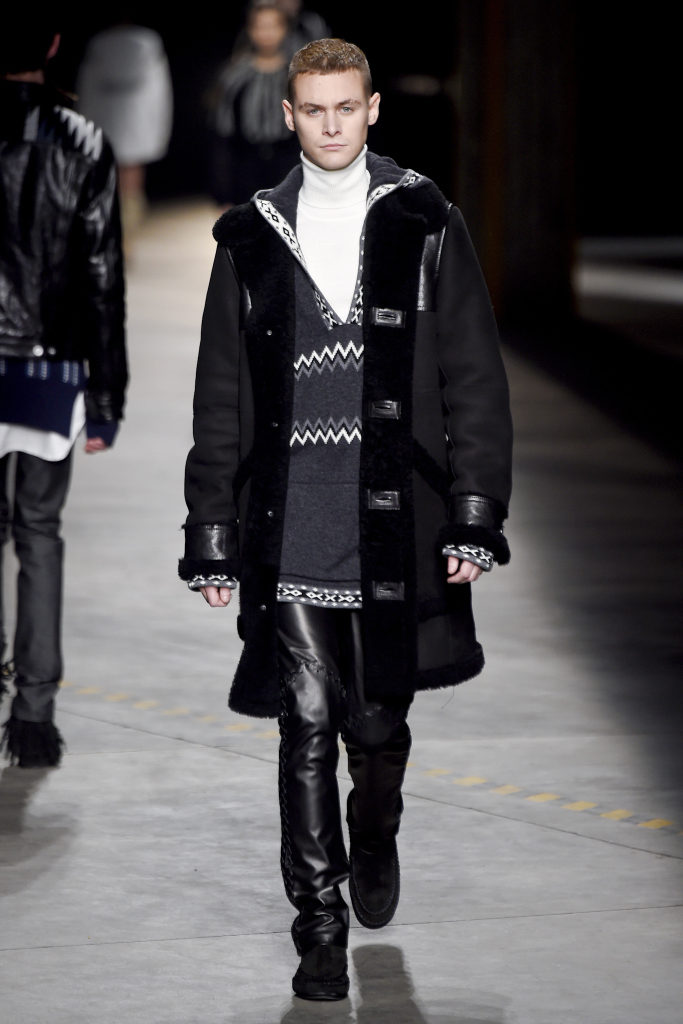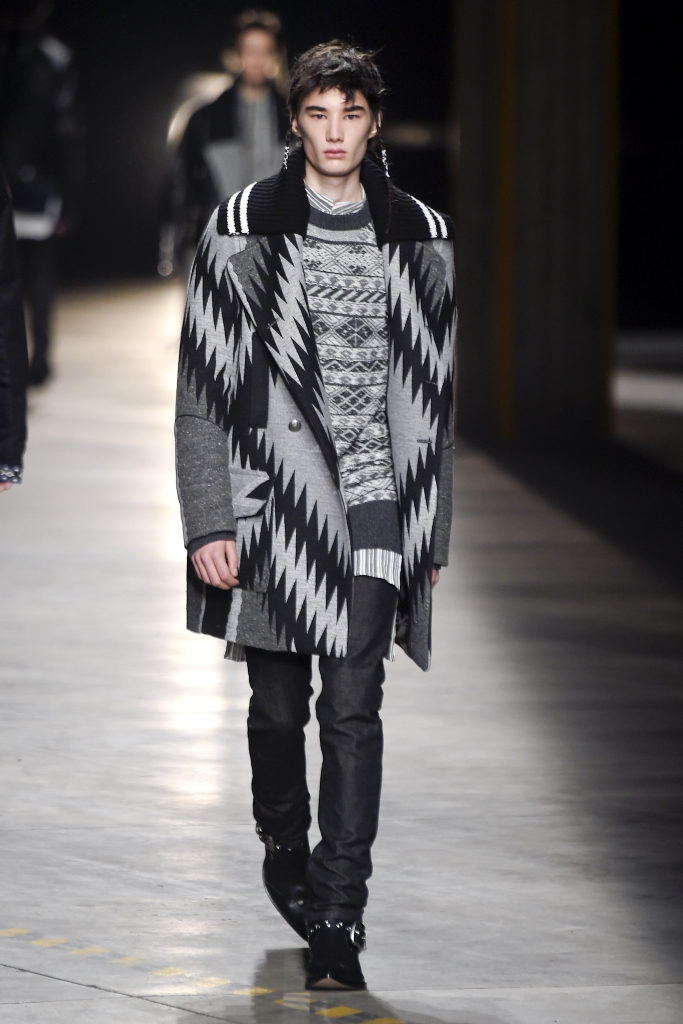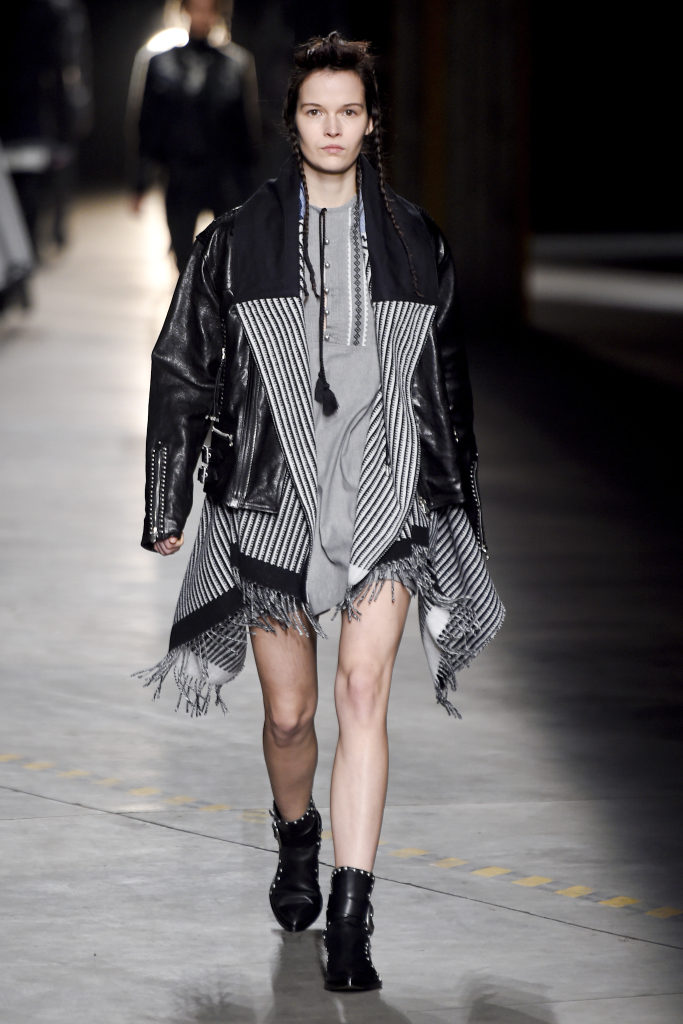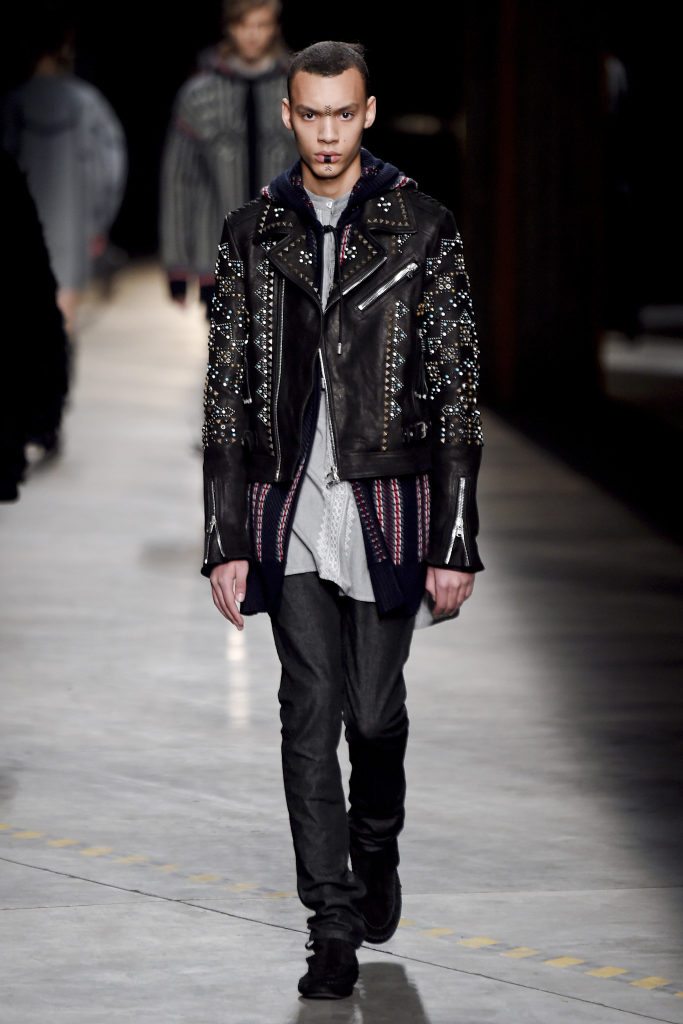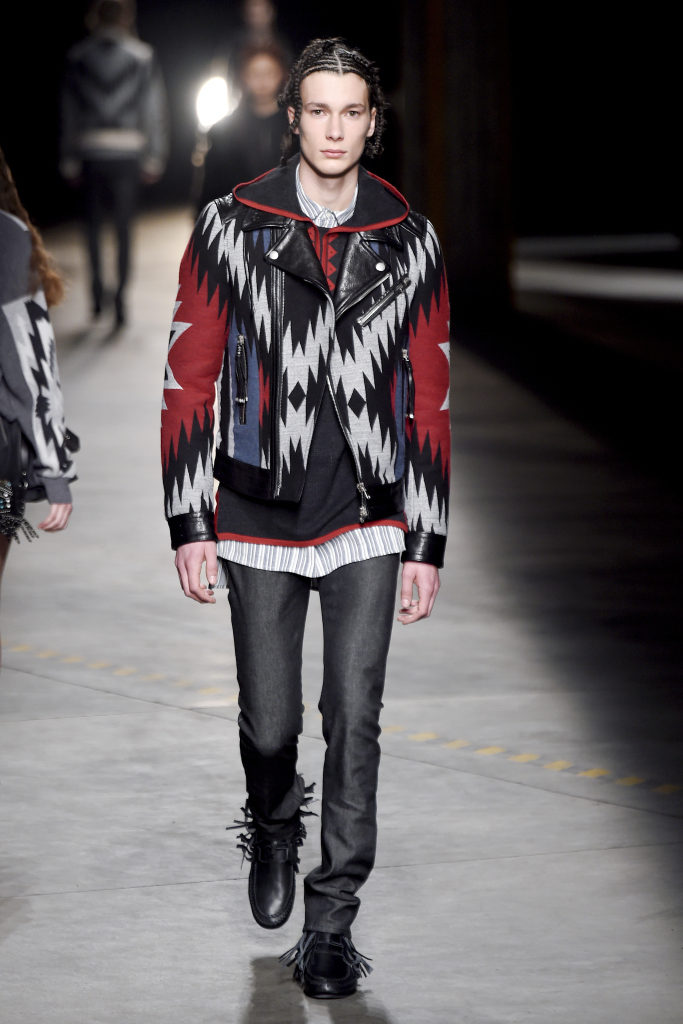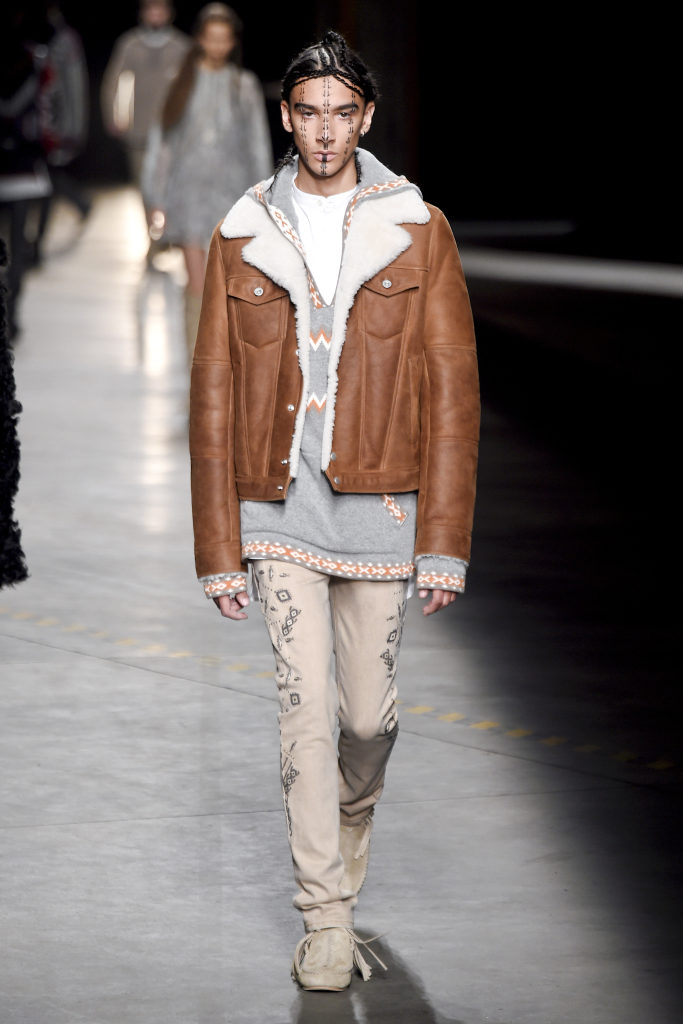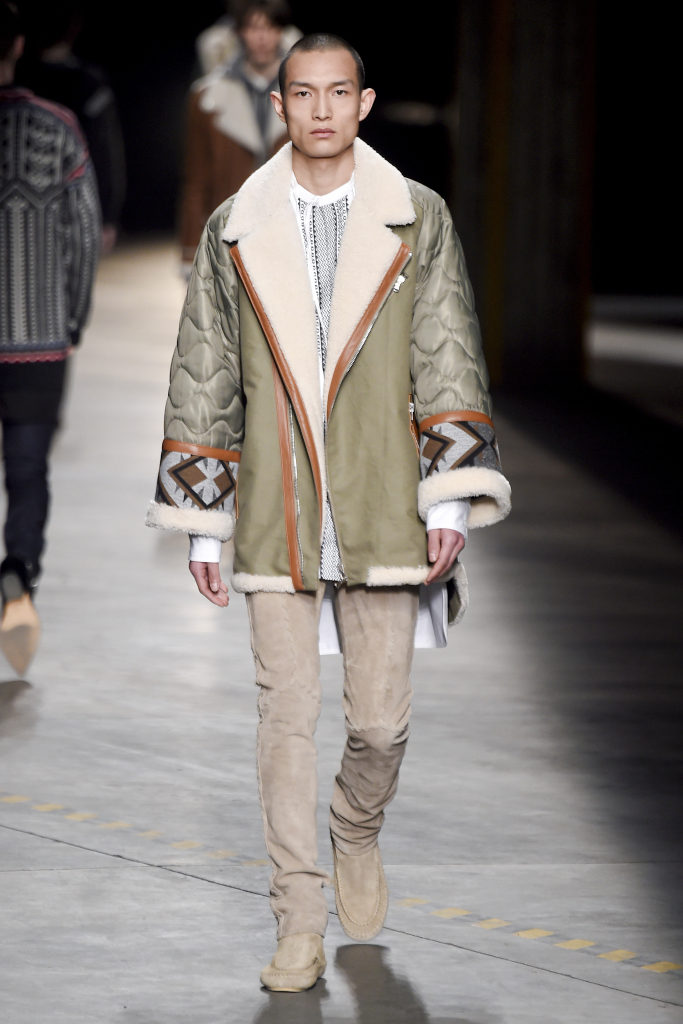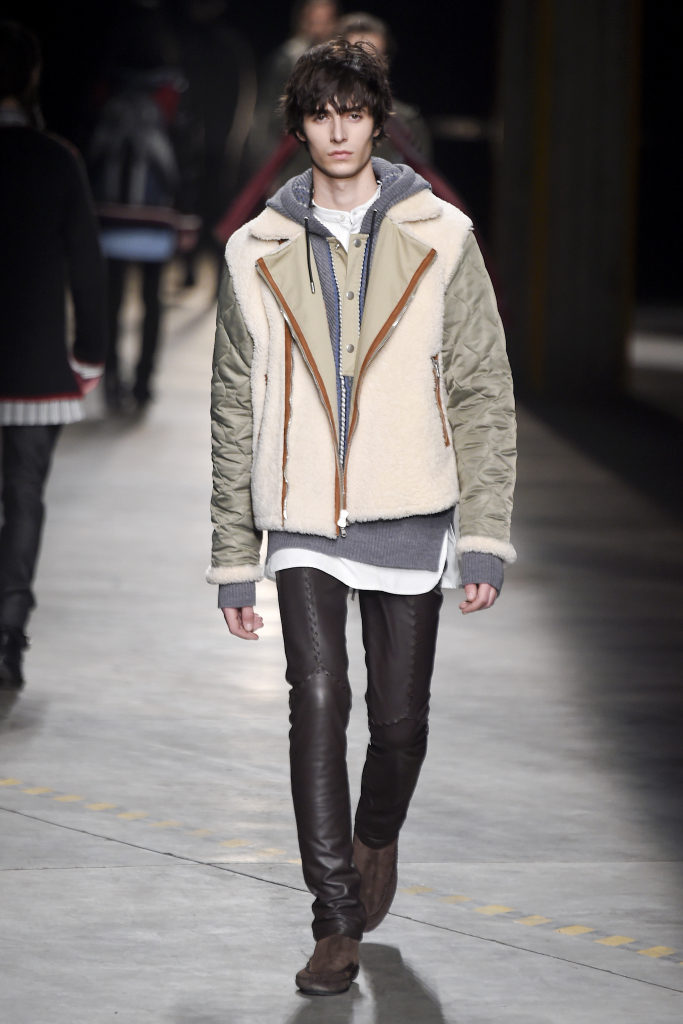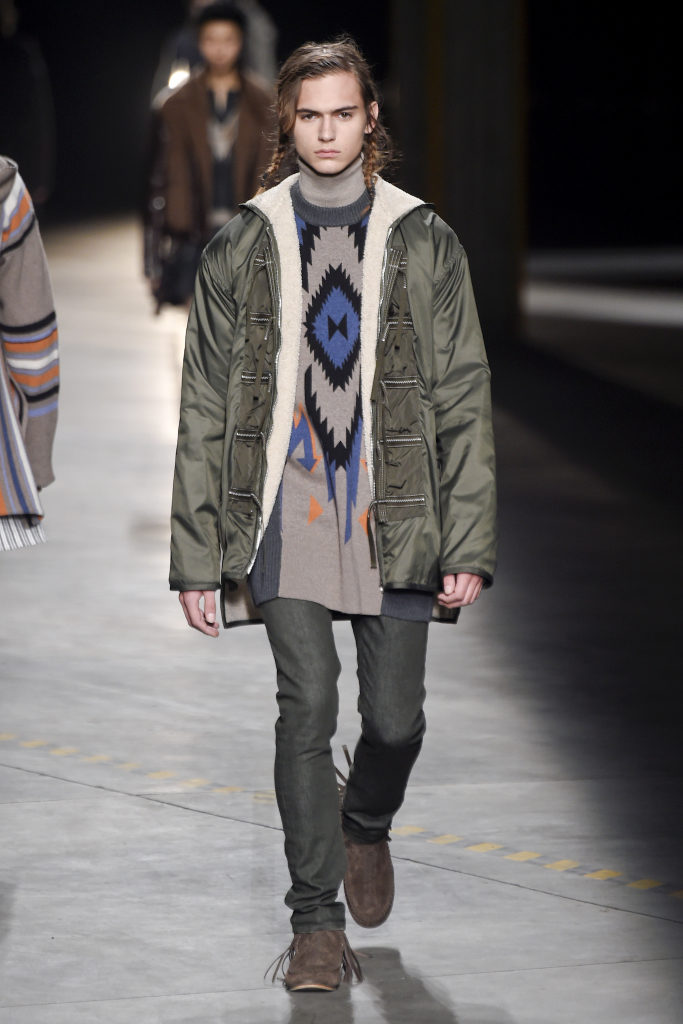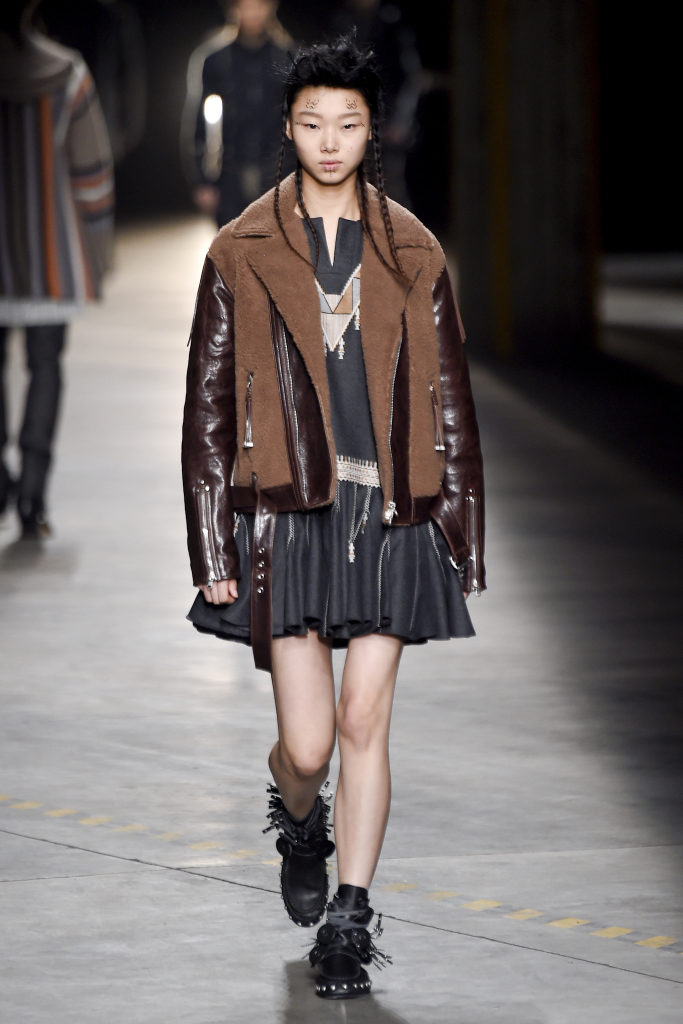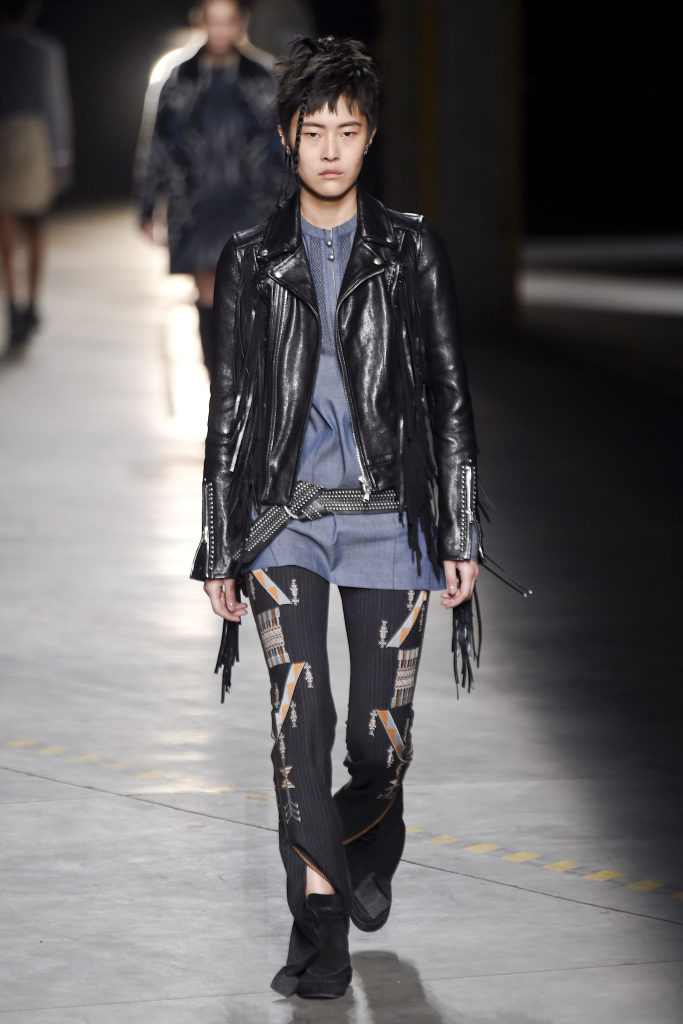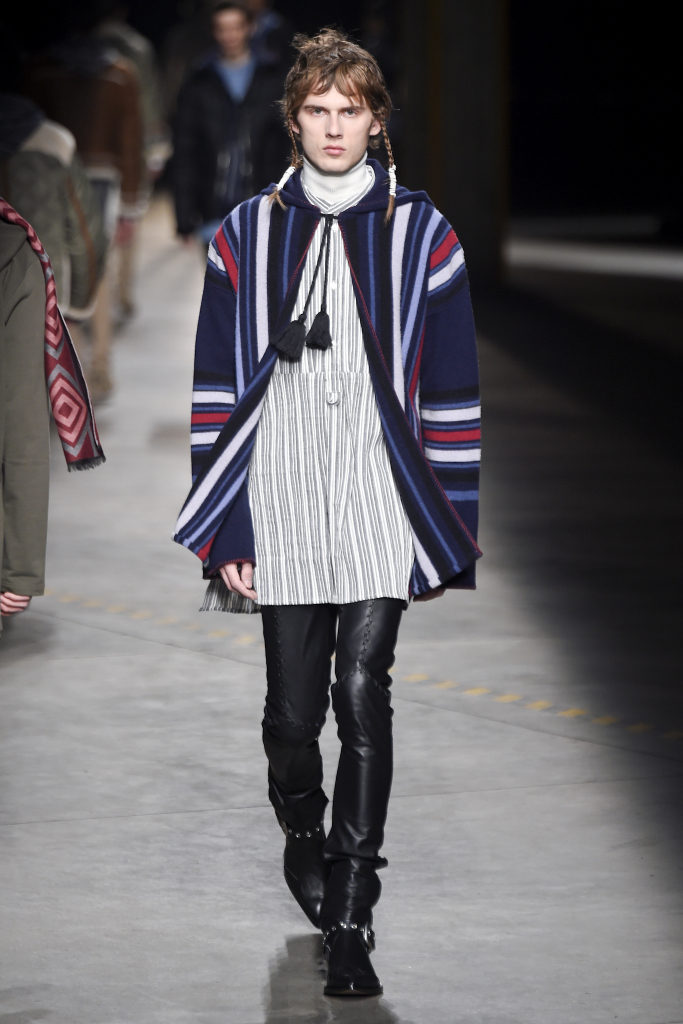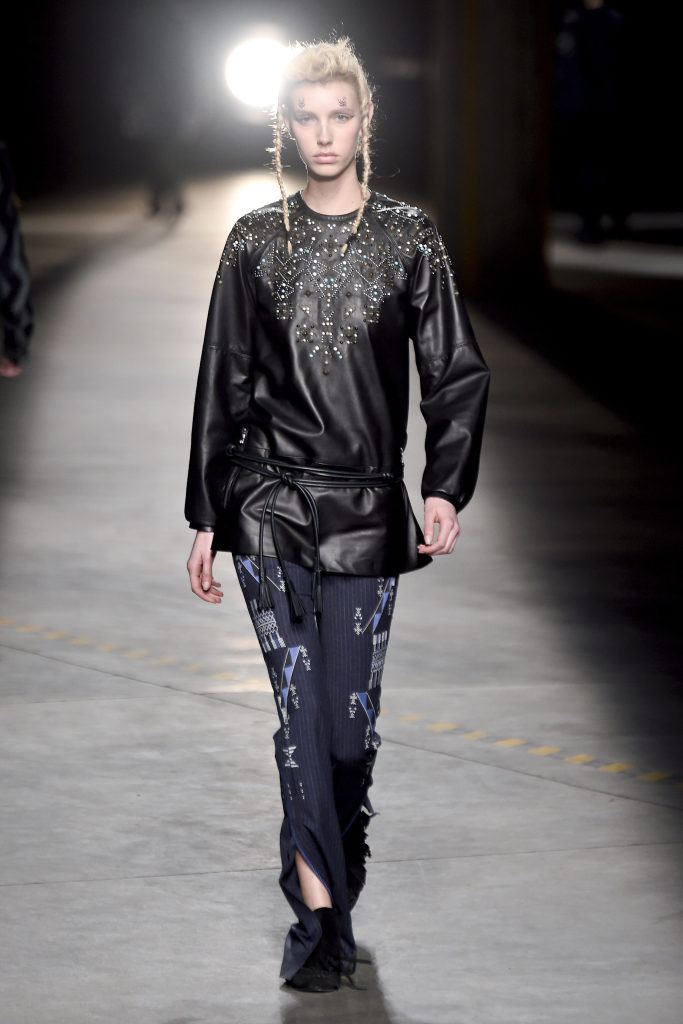 Marni's fall 2018 collection was not for the faint of heart.  Billowing pants, oversized suits and huge blanket wrap coats had an almost cartoony feel that was enhanced by the bold plaids and quilted patterns in bright colors.  Nylon jumpsuits and pants referenced cutting edge looks from the 1980's.  As a collection it was a bit overwhelming, but taken individually there were some fun and very wearable looks.  The sheer artistry of the patchwork shearling coat could not be overlooked.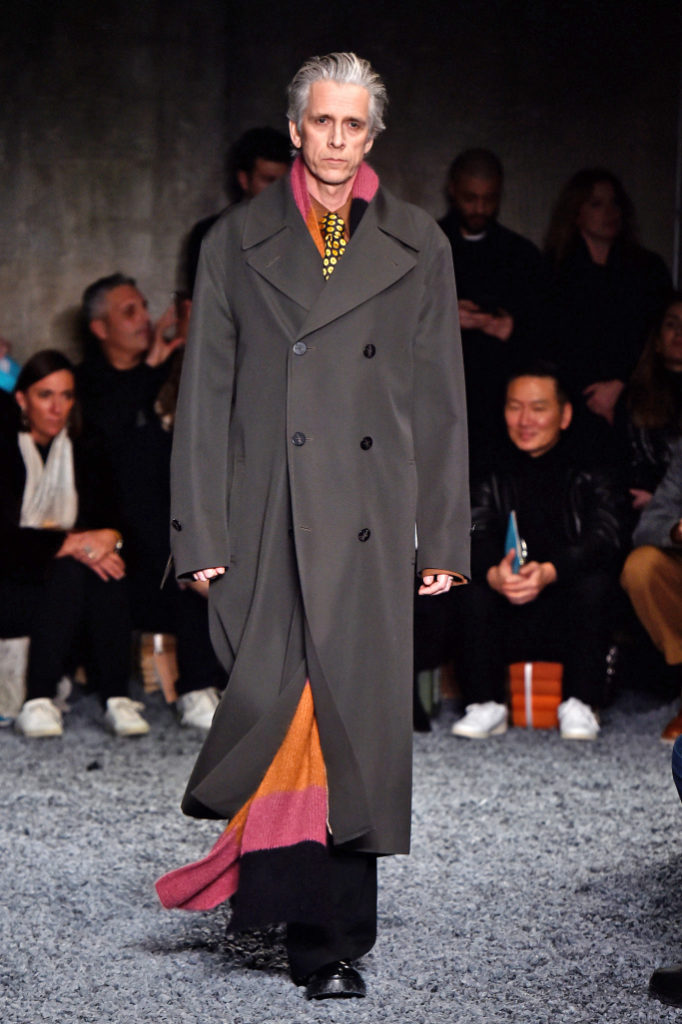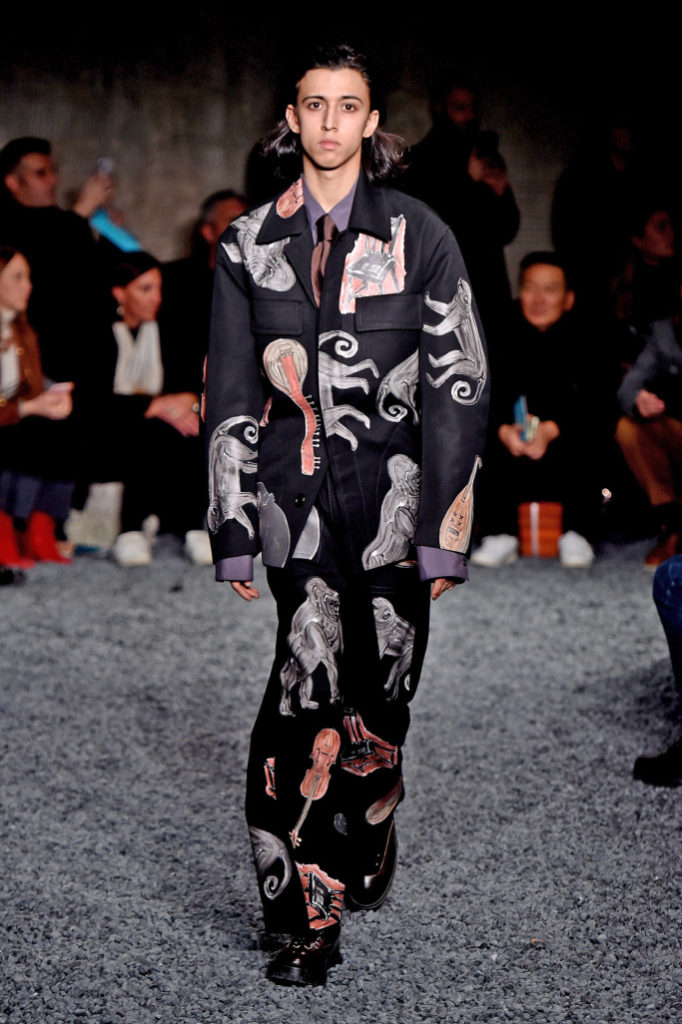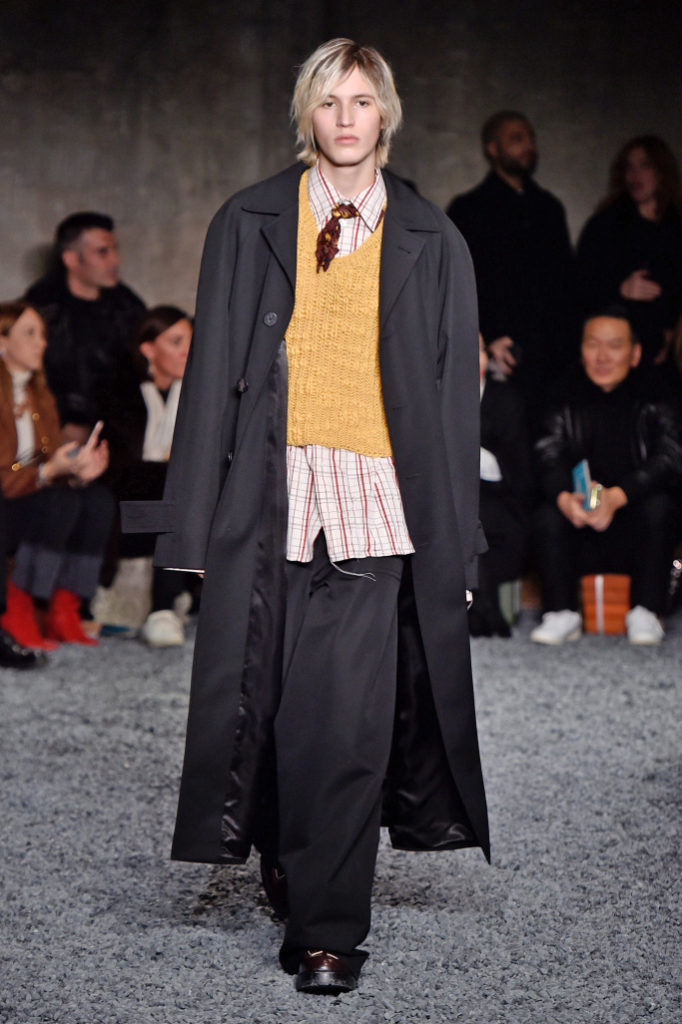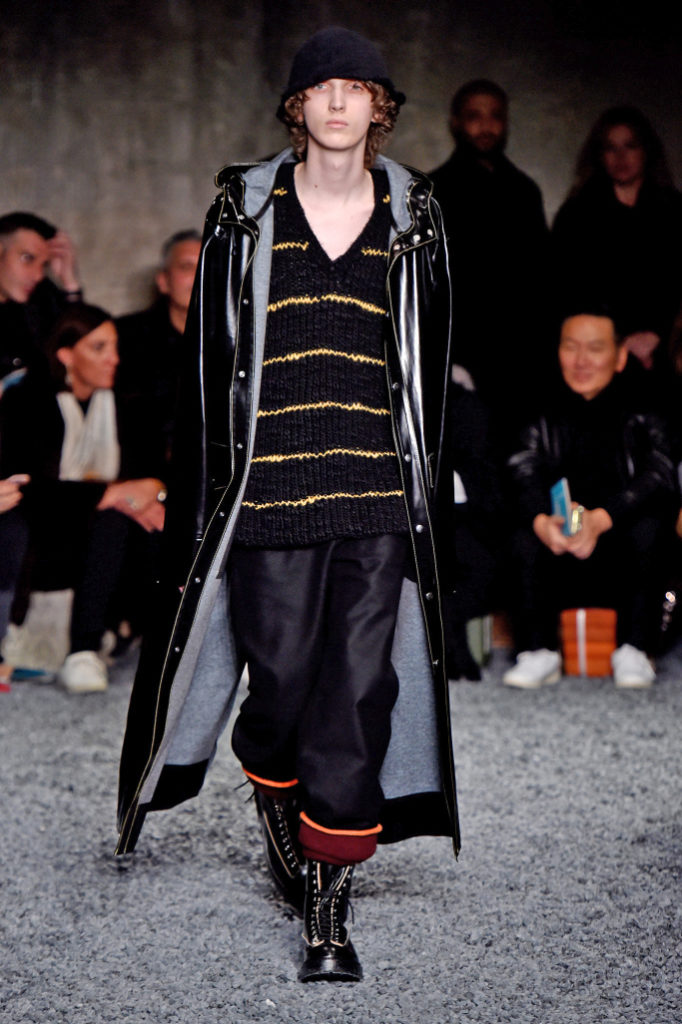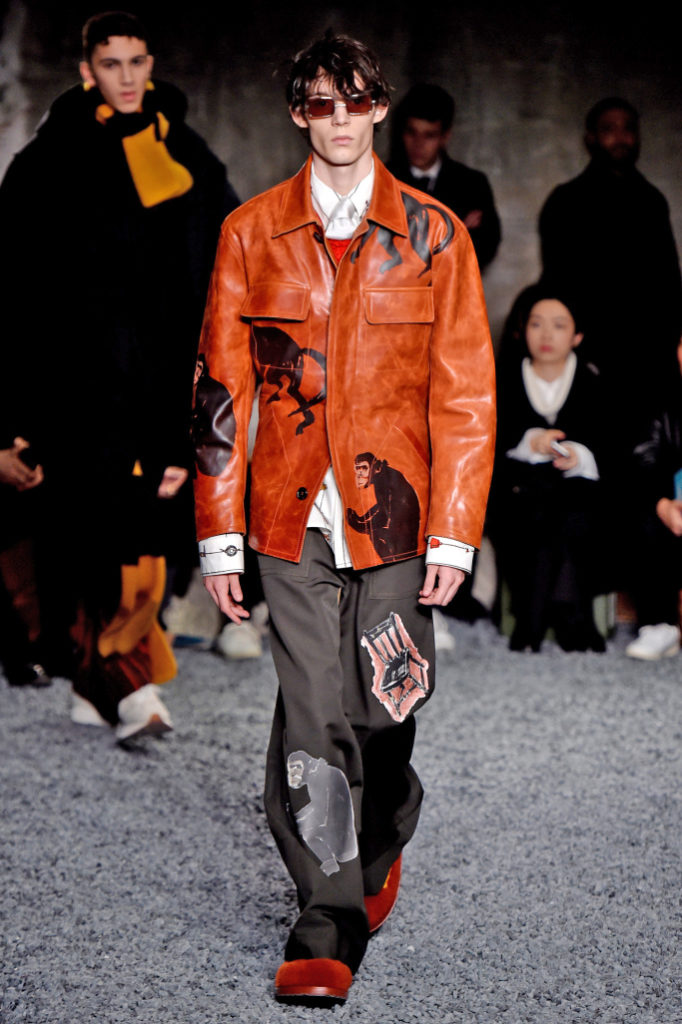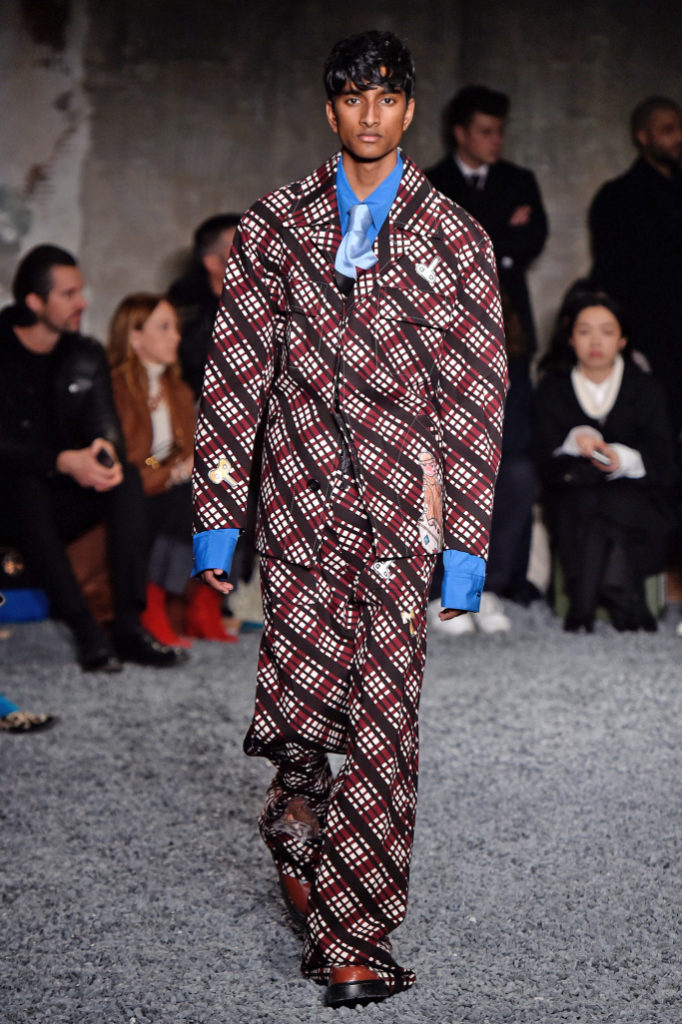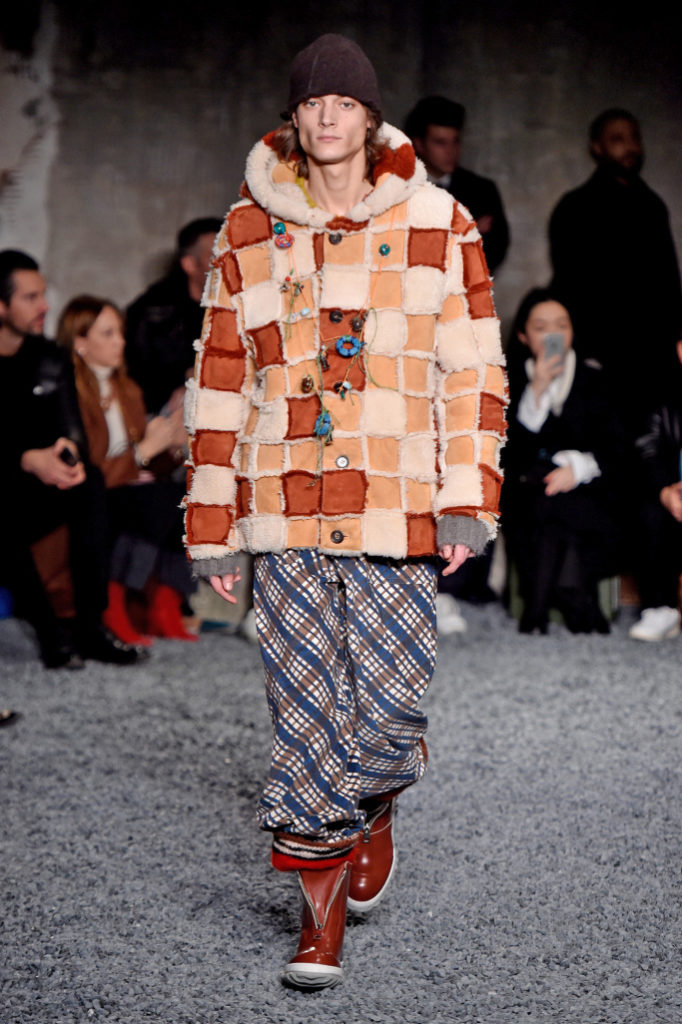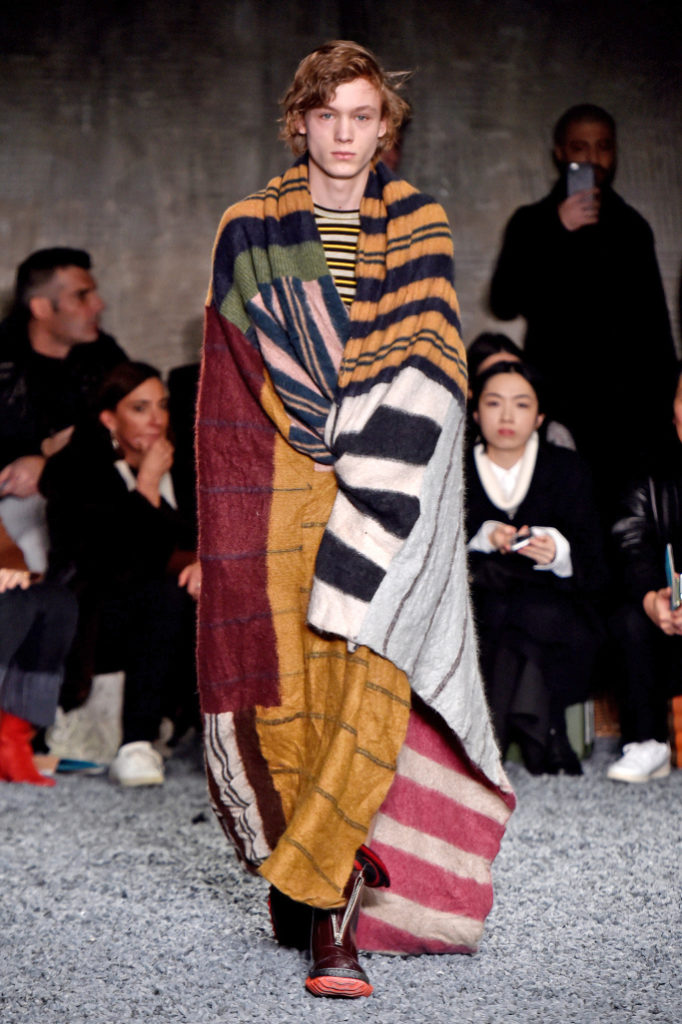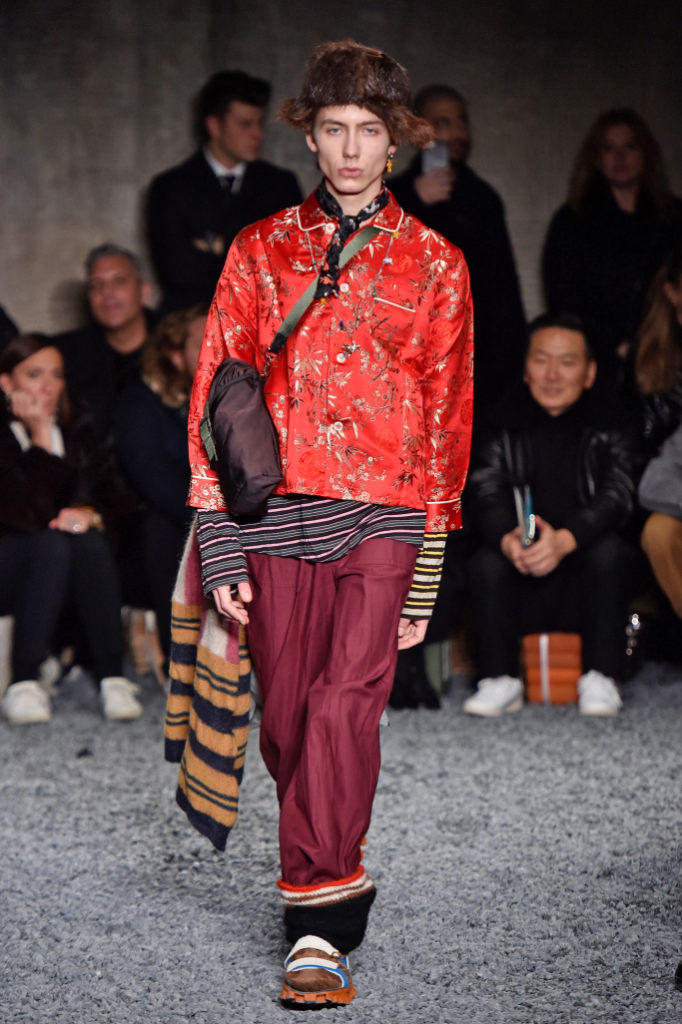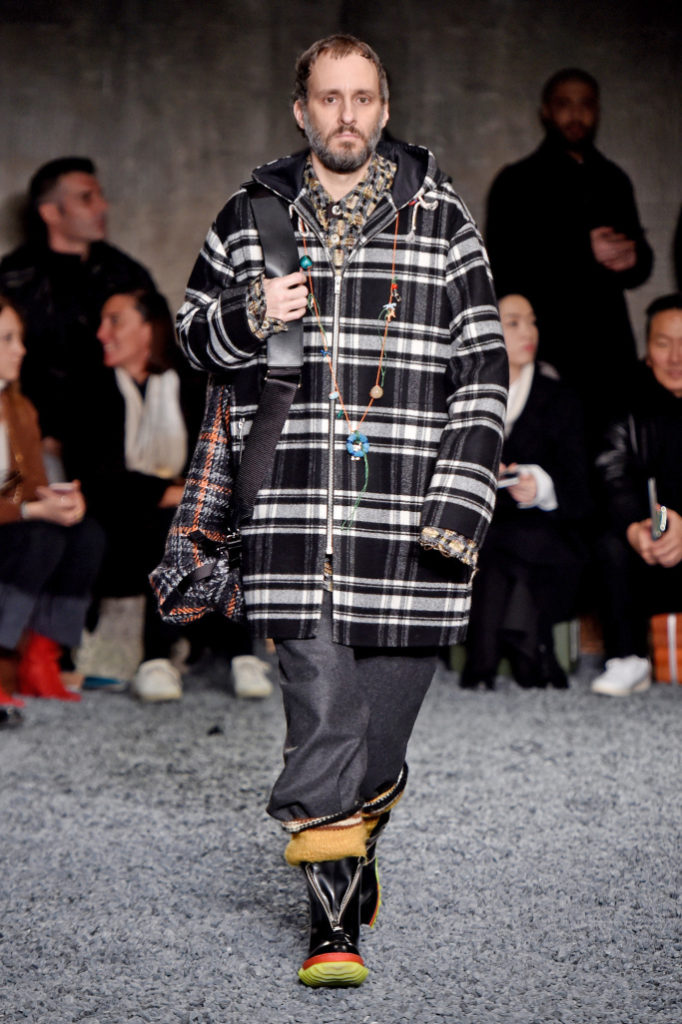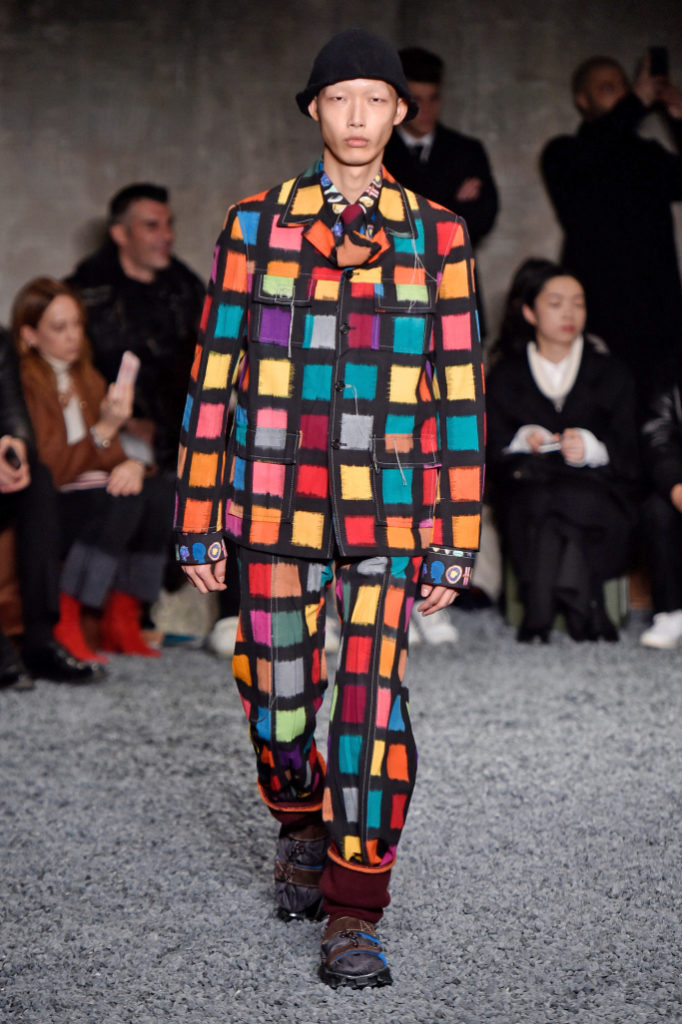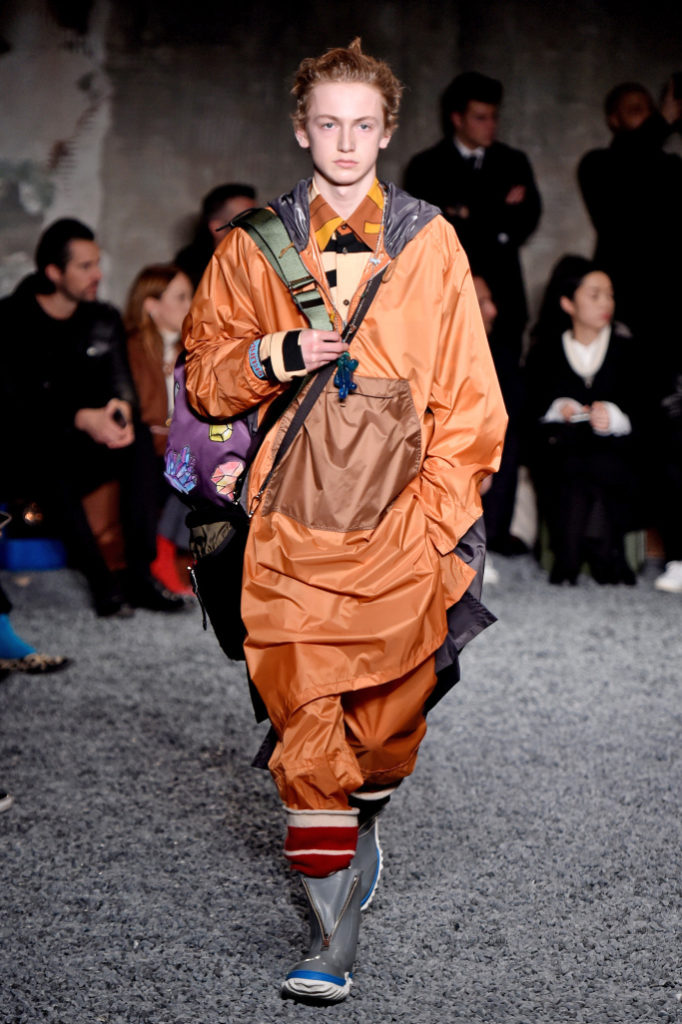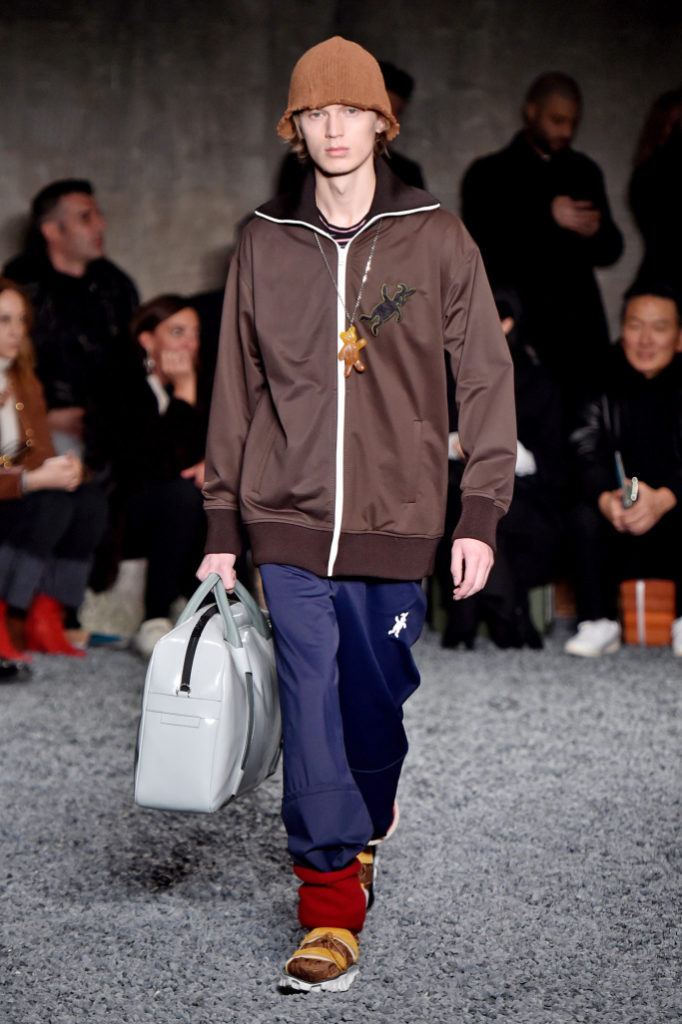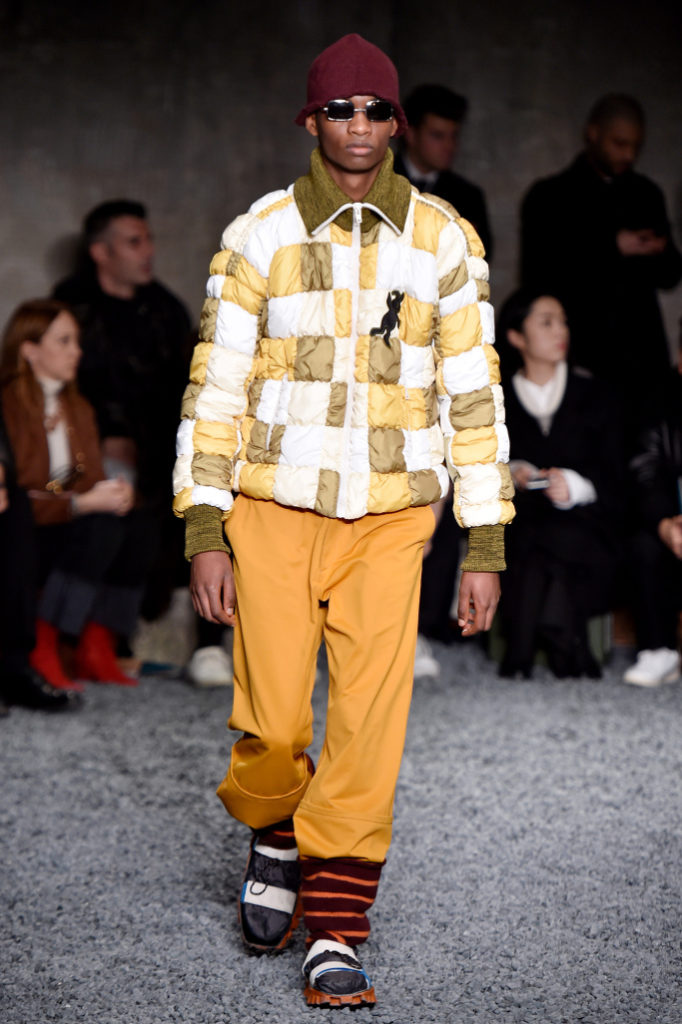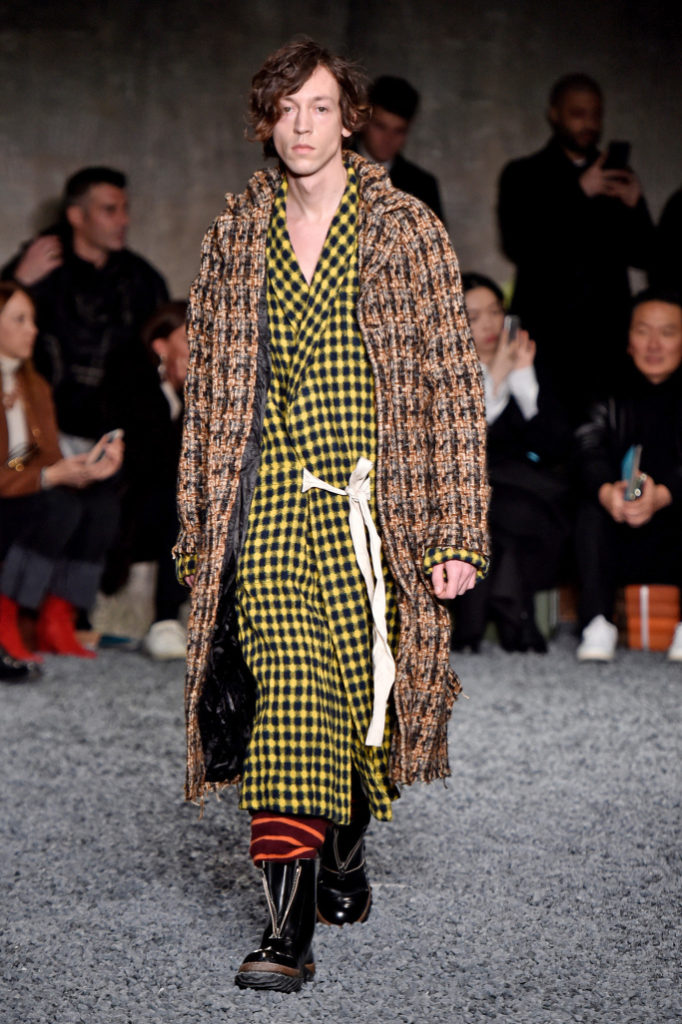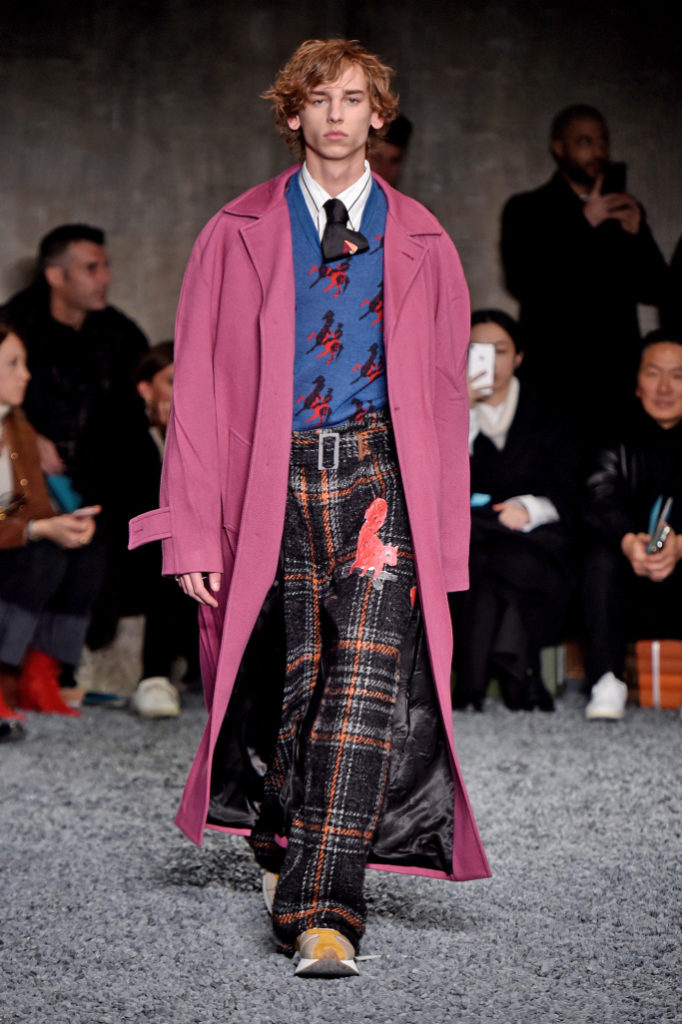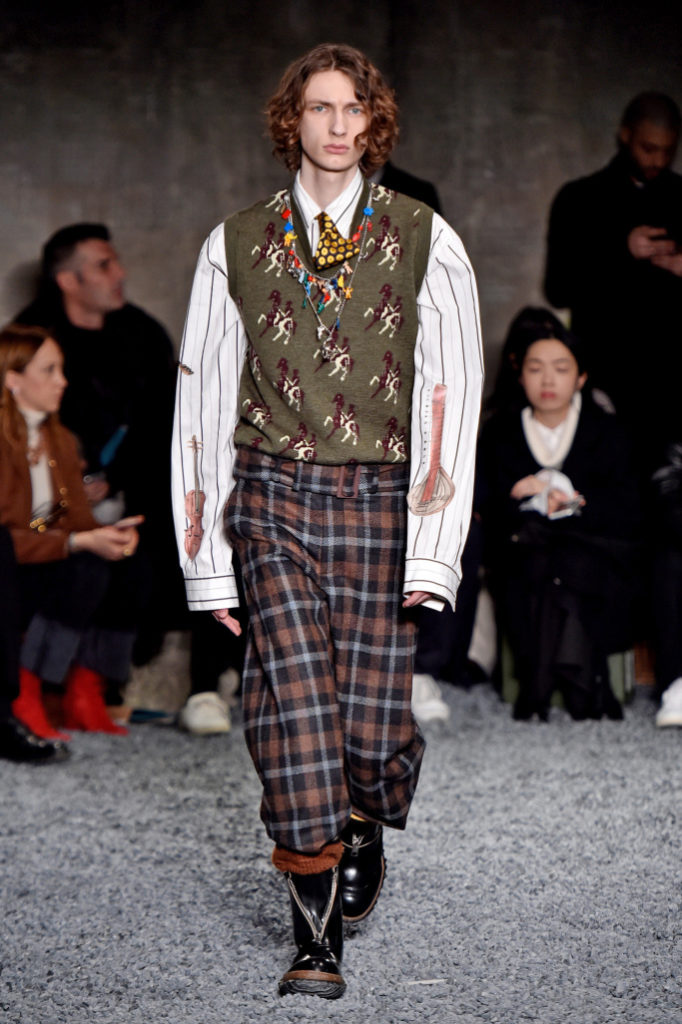 The Les Hommes collection for fall 2018 is the kind of collection you need to see up close and personal to really appreciate.  The detail and craftsmanship on every look is extraordinary.  A tough, futuristic vibe came through with quilted leathers, leather breastplates, shiny camo jacquard suits, metal grommets and lots of buckles and straps.  Layering served to enhance the feel of urban fashion armor.  Paisley beaded appliques, whip stitching and a crystal embellished suit showcased the impressive artisanal handiwork skills.  Shearling appeared in many forms throughout this collection too, from the collar on a leather breastplate, as a rich accent on leather jackets and as a versatile black shearling coat with zipper cutaway.  The future is here…and we like what we see.