MILAN Fashion Week Fall 2019 Trends Recap PART 1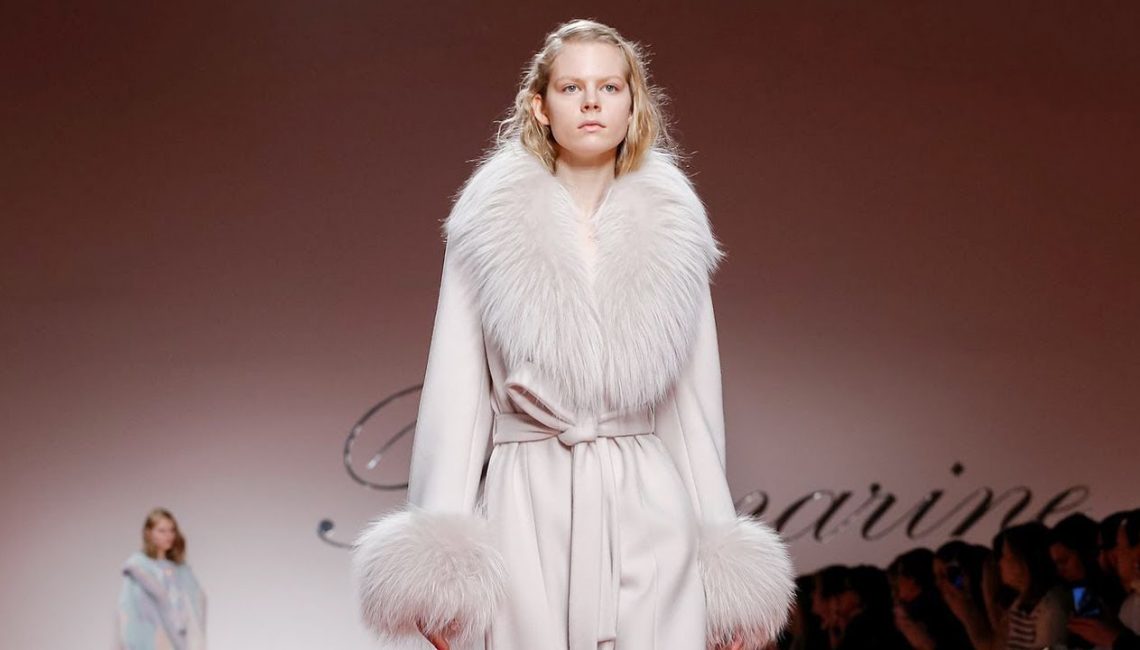 Milan Fashion Week is held in a city known for great food, great fun, and tremendous passion for creativity and craftsmanship. We're happy to report that the Fall 2019 Collections that we're about to review truly live up to that high bar.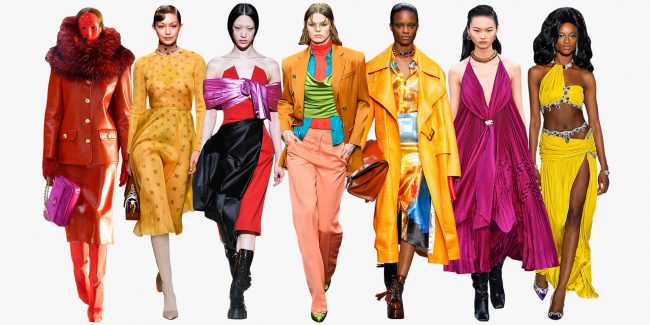 Milan Fashion Week Fall 2019… All that Glitters Is Gold!
It was a punch in the gut moment when Sylvia Fendi came out to take her bow post show without Karl Lagerfeld by her side. For decades, he was the ying to her yang. The Fendi fall 2019 RTW will be the last to get Karl Lagerfeld's masterful touch and it was where beauty met innovation thanks to Lagerfeld. He reintroduced the world to the artistry of fine tailoring and why it matters so much. From clean, sharp suited ensembles to billowy dresses, the OMG moment was a laser cut sheared mink in brown fur with yellow underlay. You have to see it to believe it. These were forever pieces from Fendi.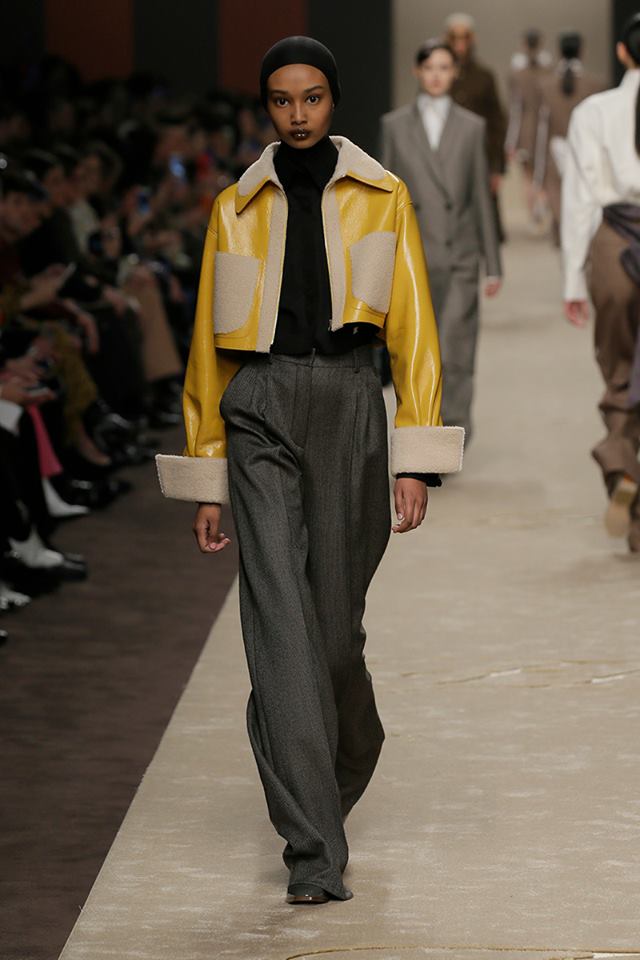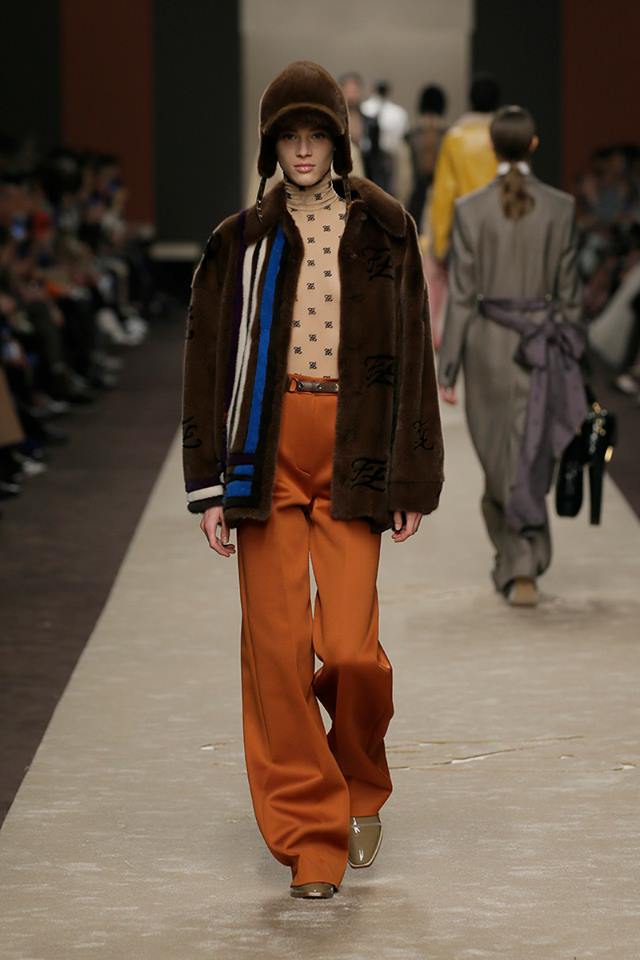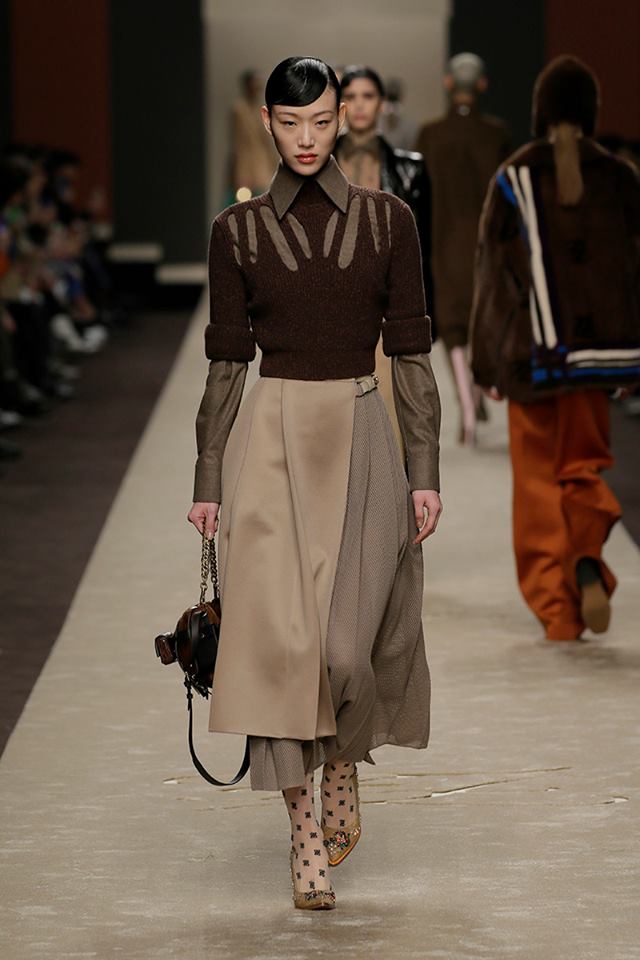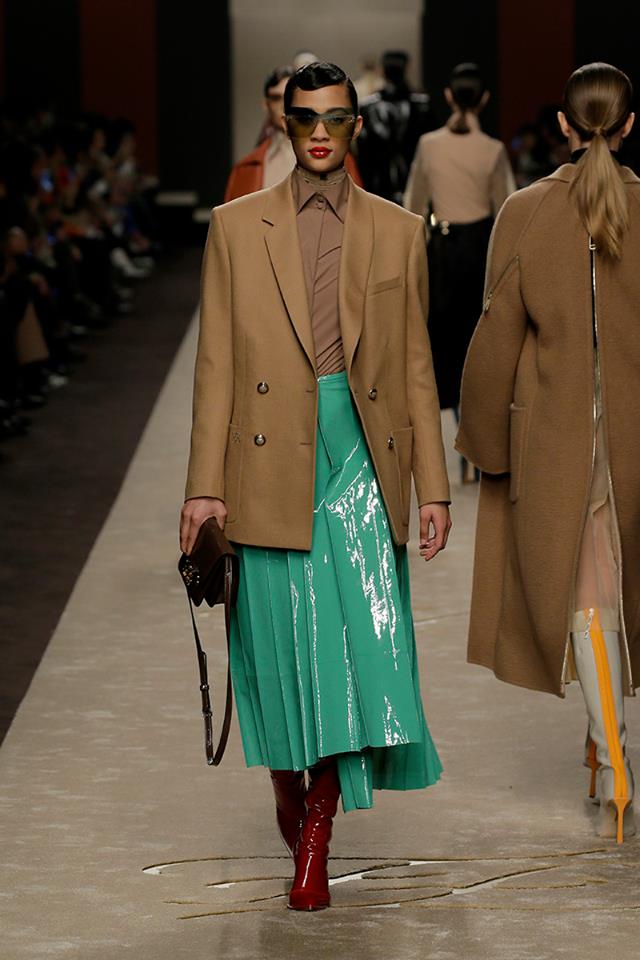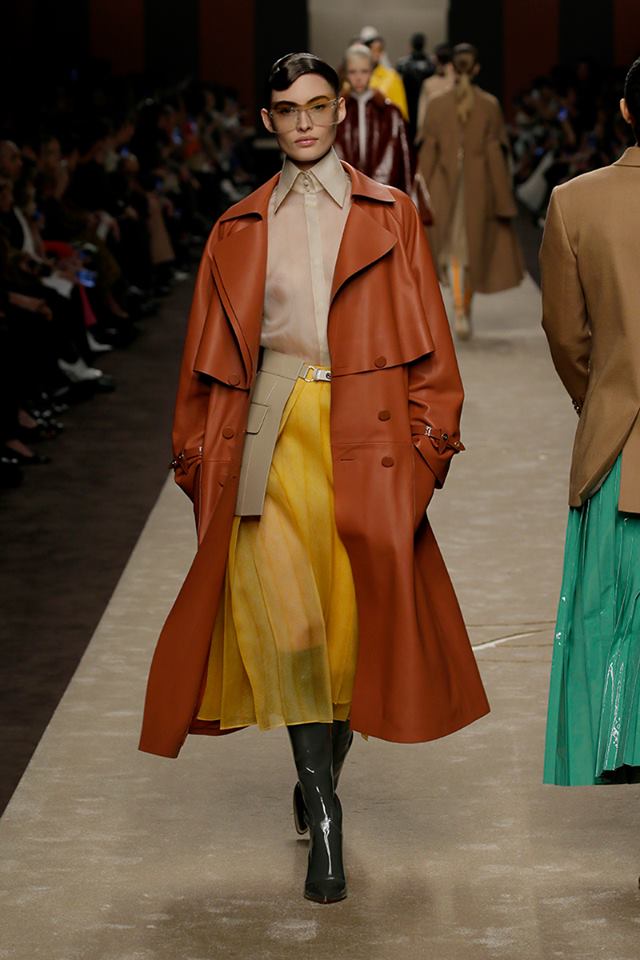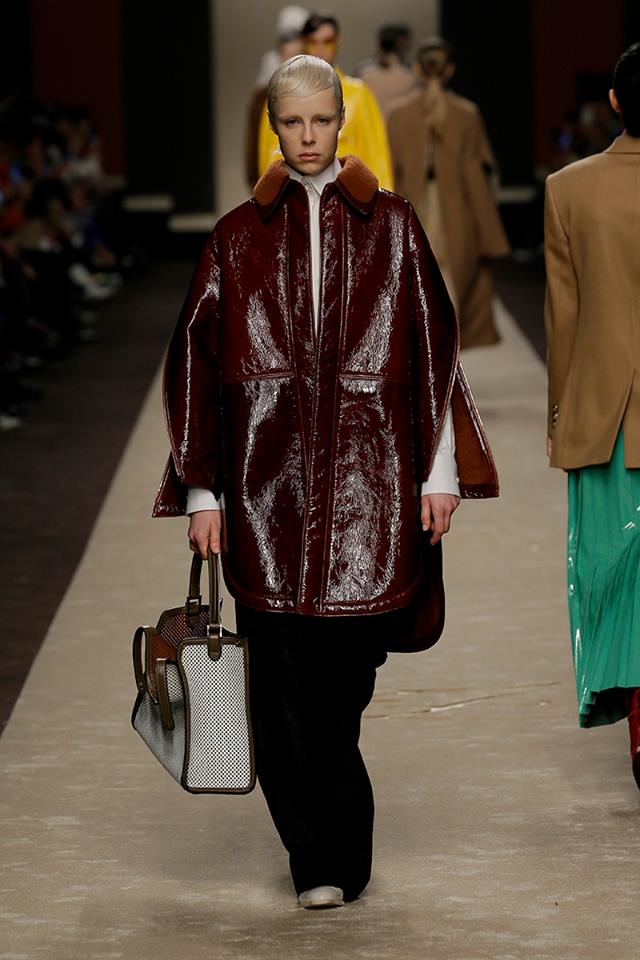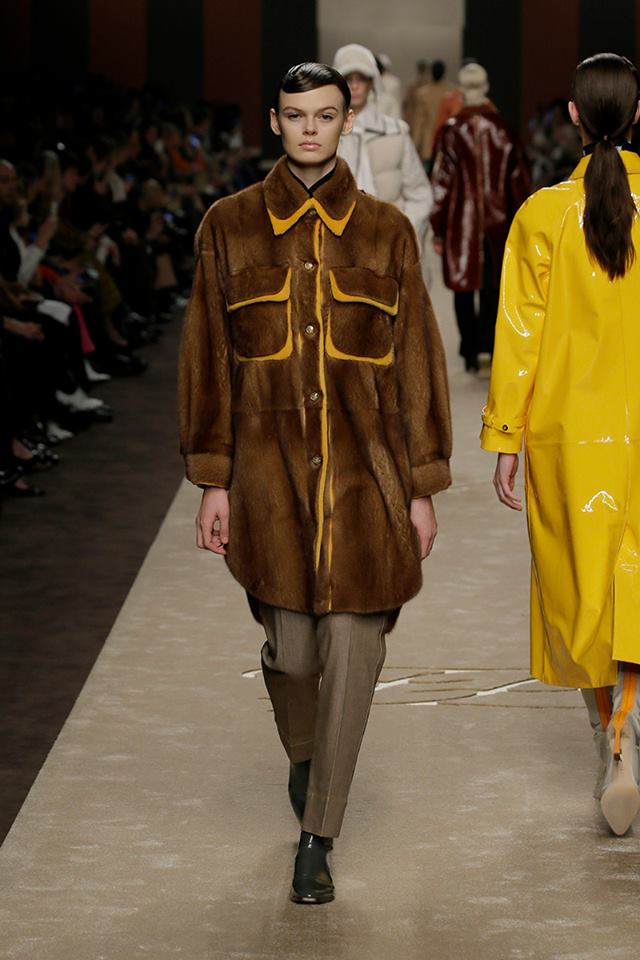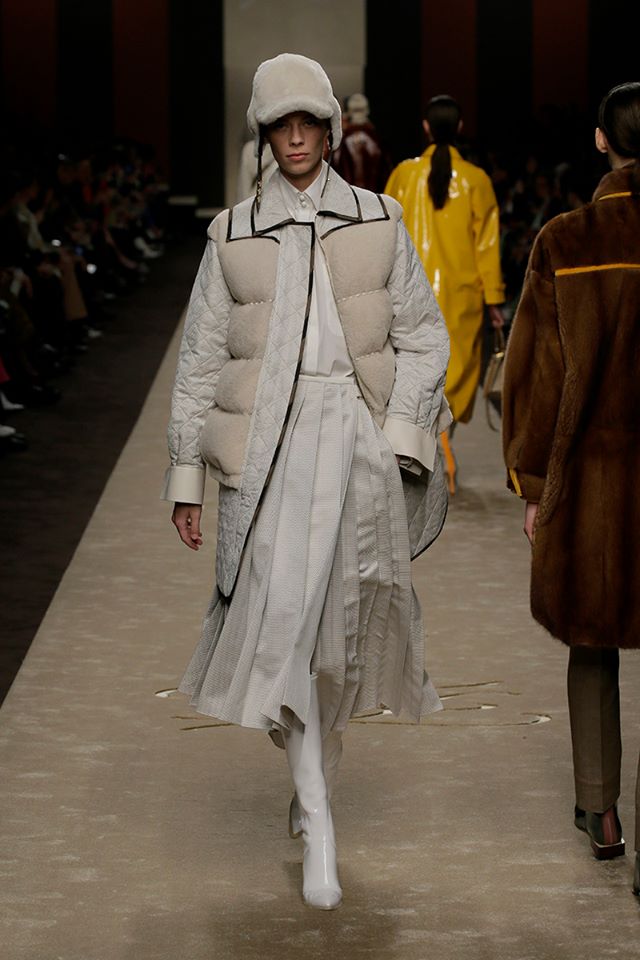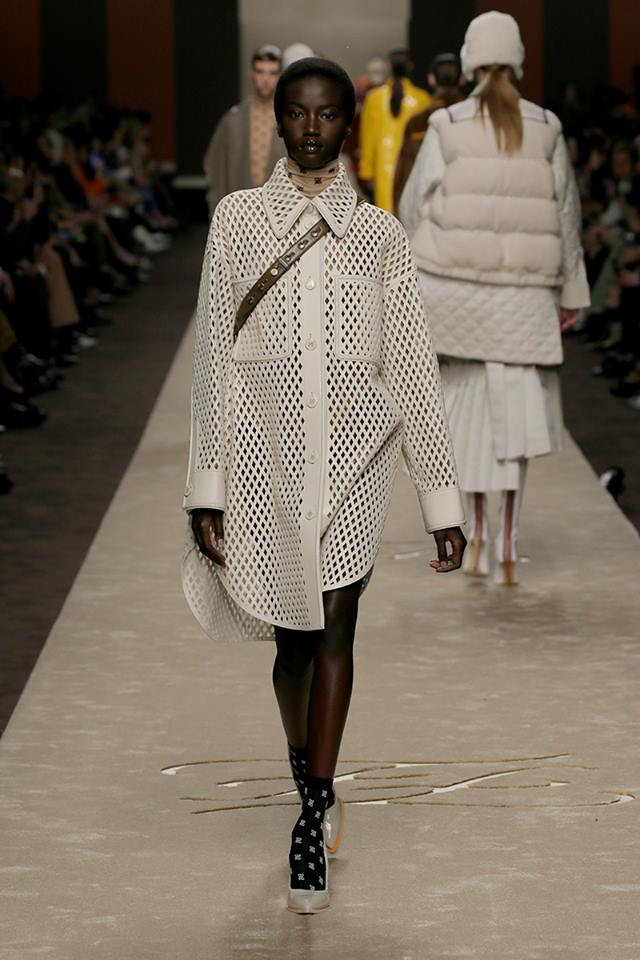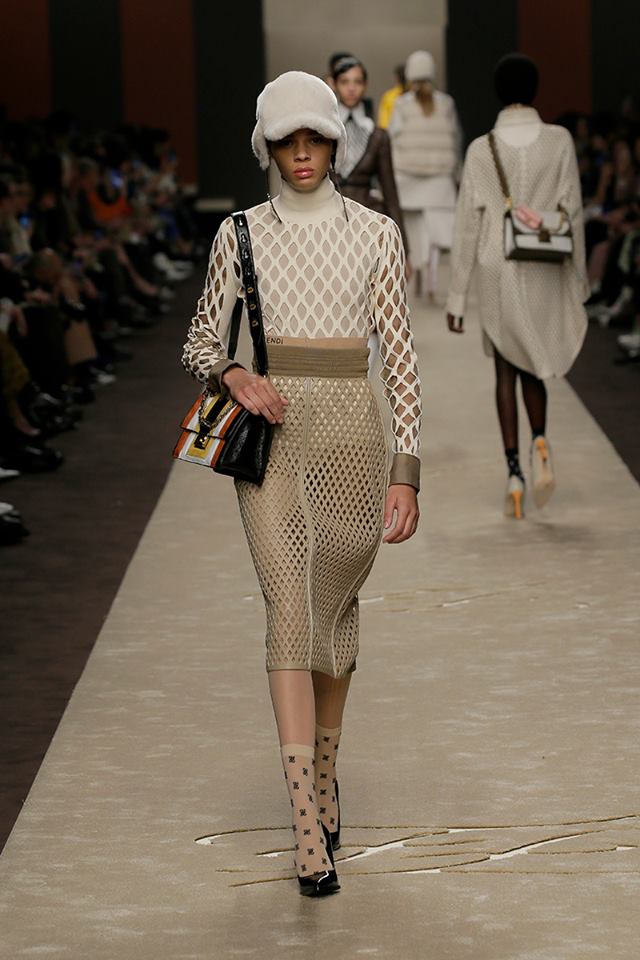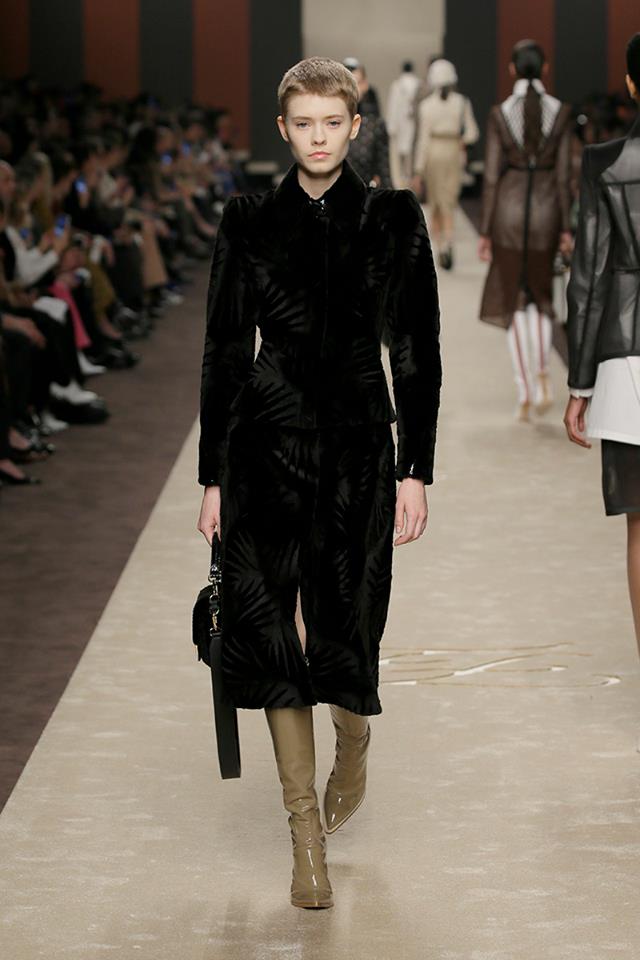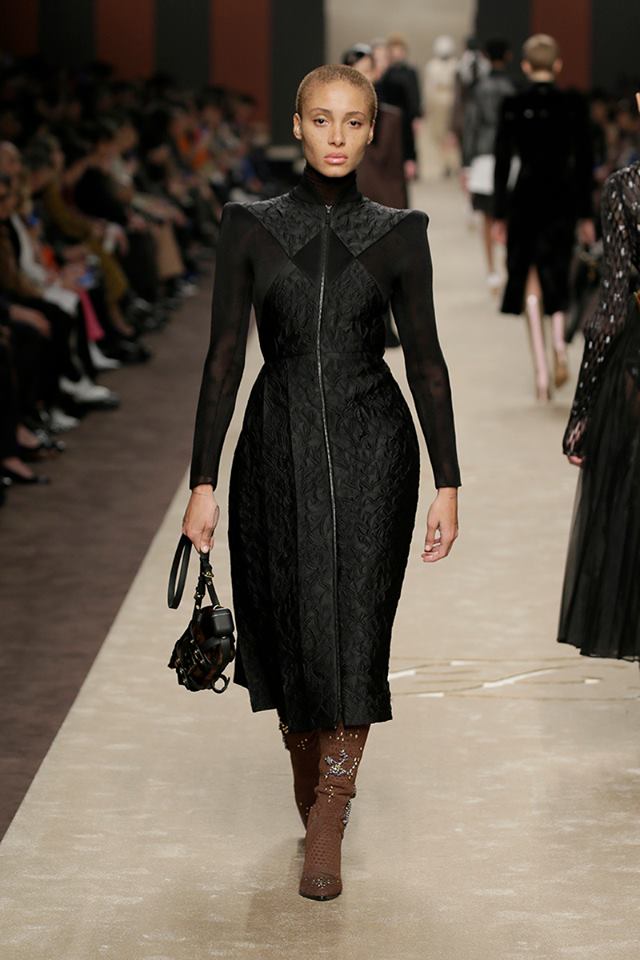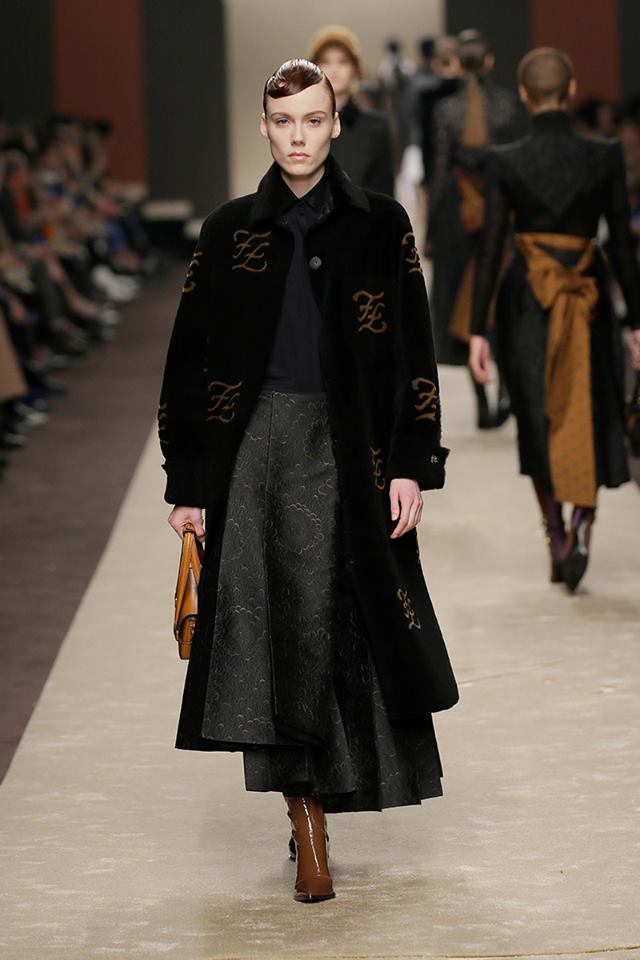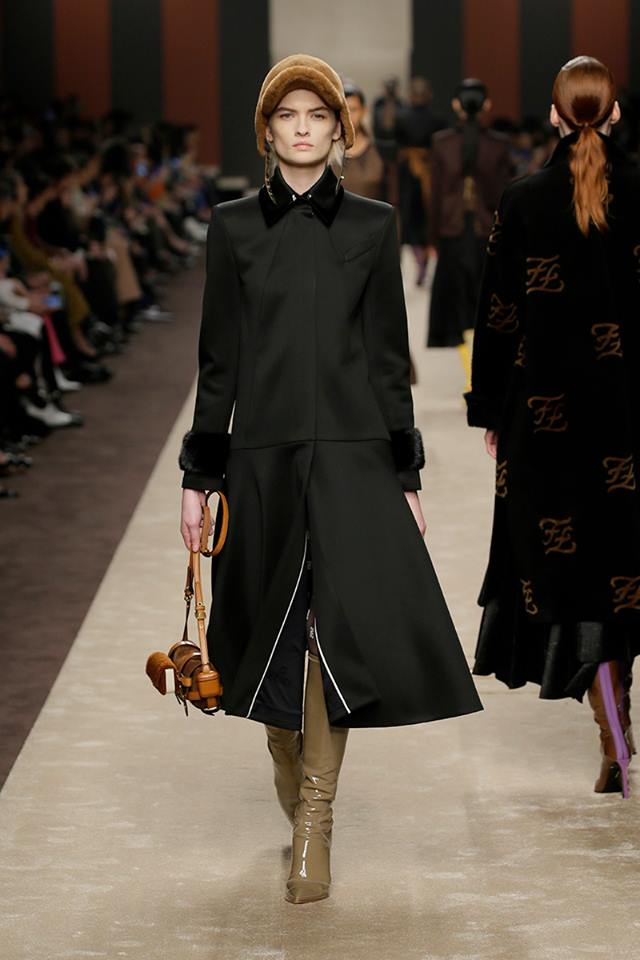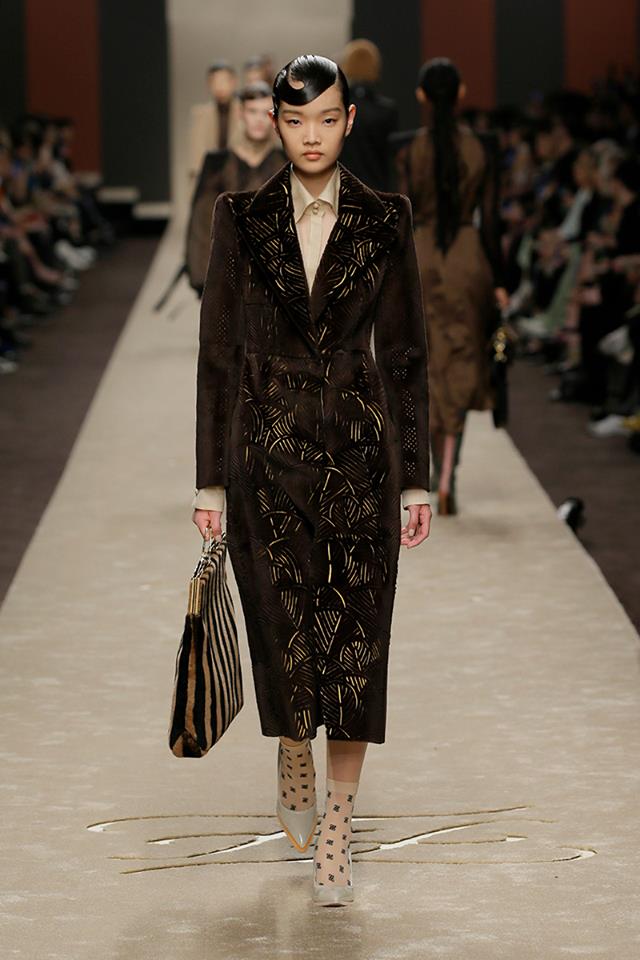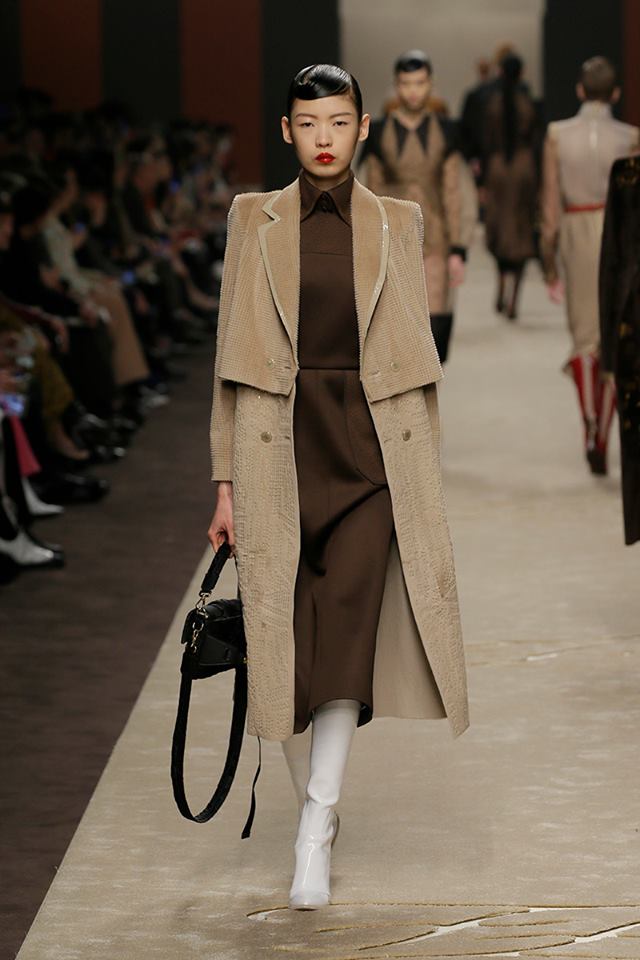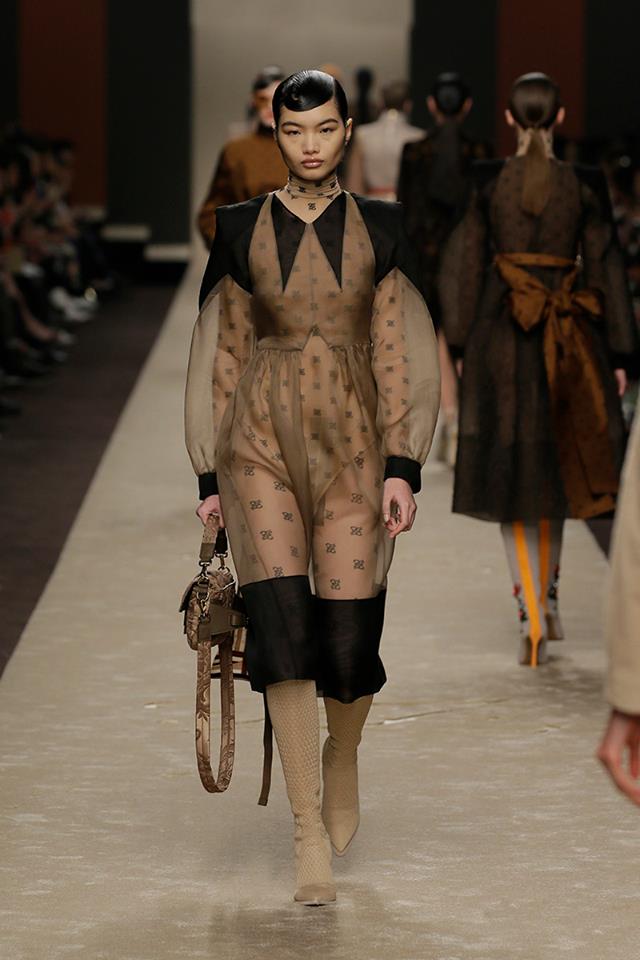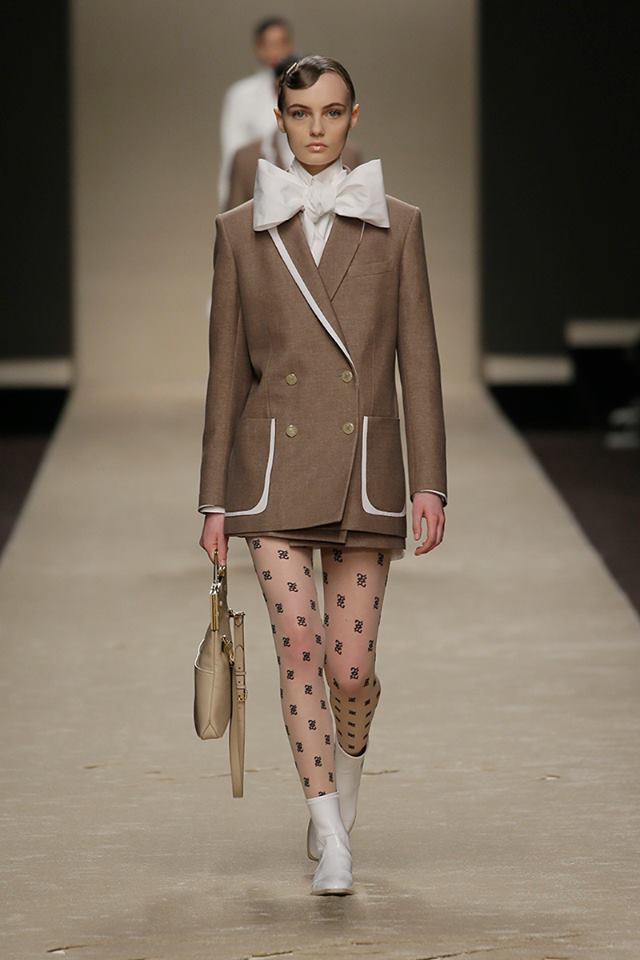 PRADA's theme for the fall 2019 collections was the "Anatomy of Romance." Highlighting the junction where poetry meets severity, there was a perfect balance to these fashions. Heavy, supple wool brought forth the stark and structured which intersected with soft, feminine brightly colored silk satin. A yummy coca brown shearling hooded cape was just the kind of romance that this collection was about.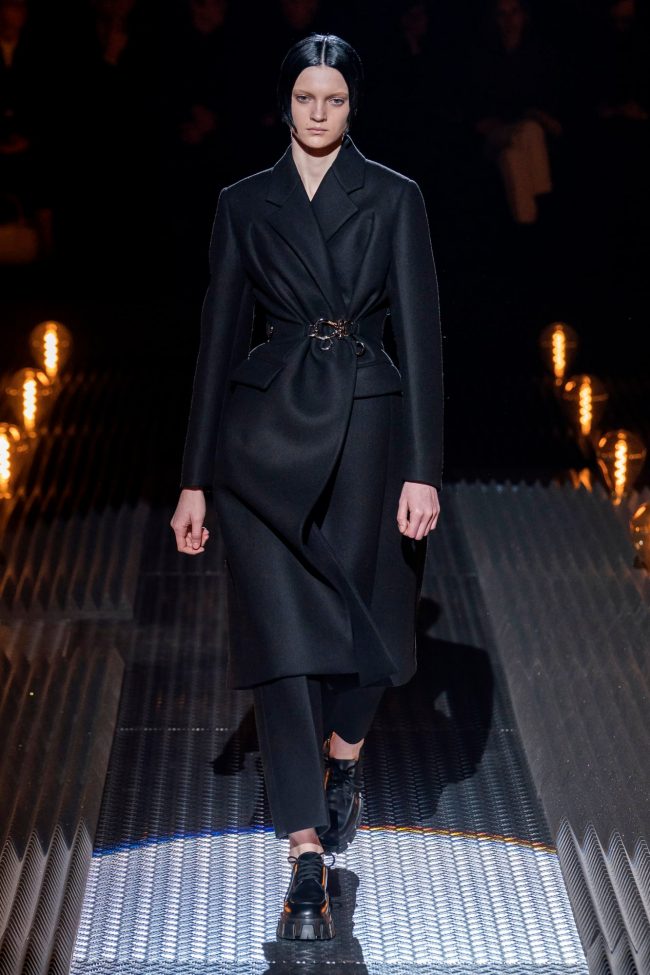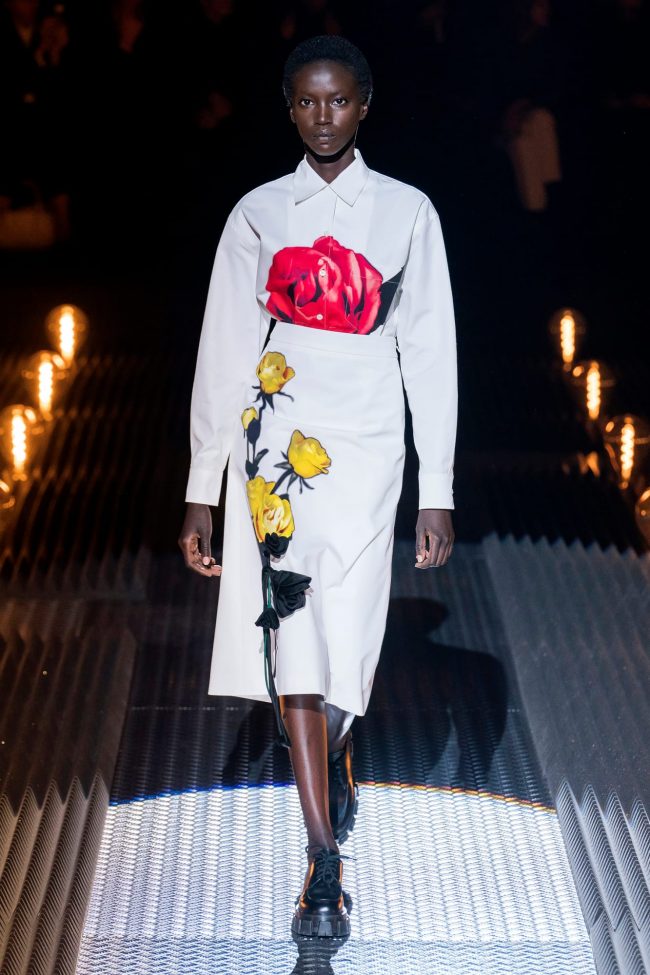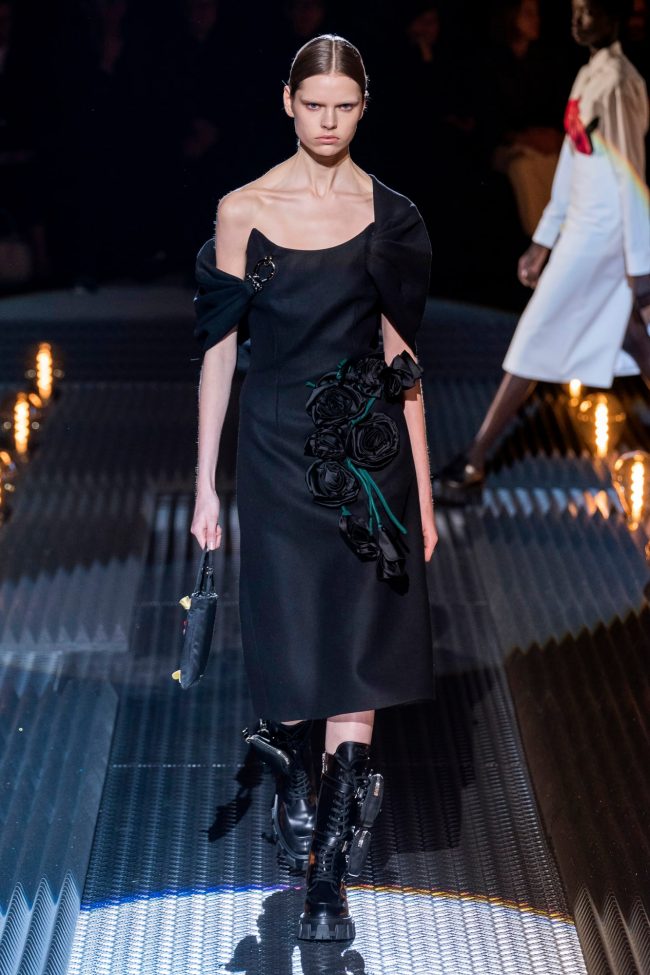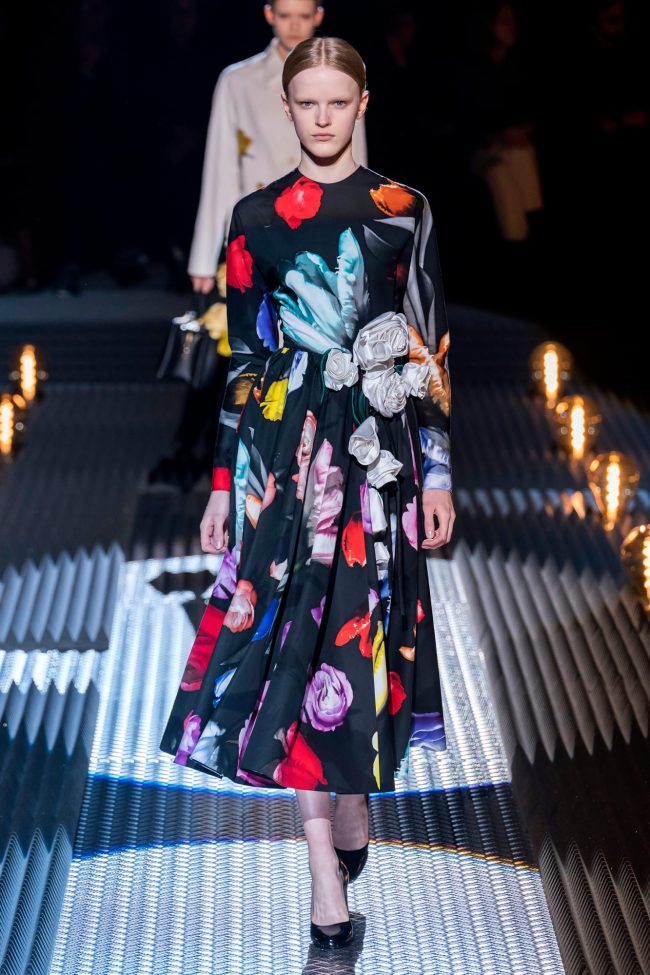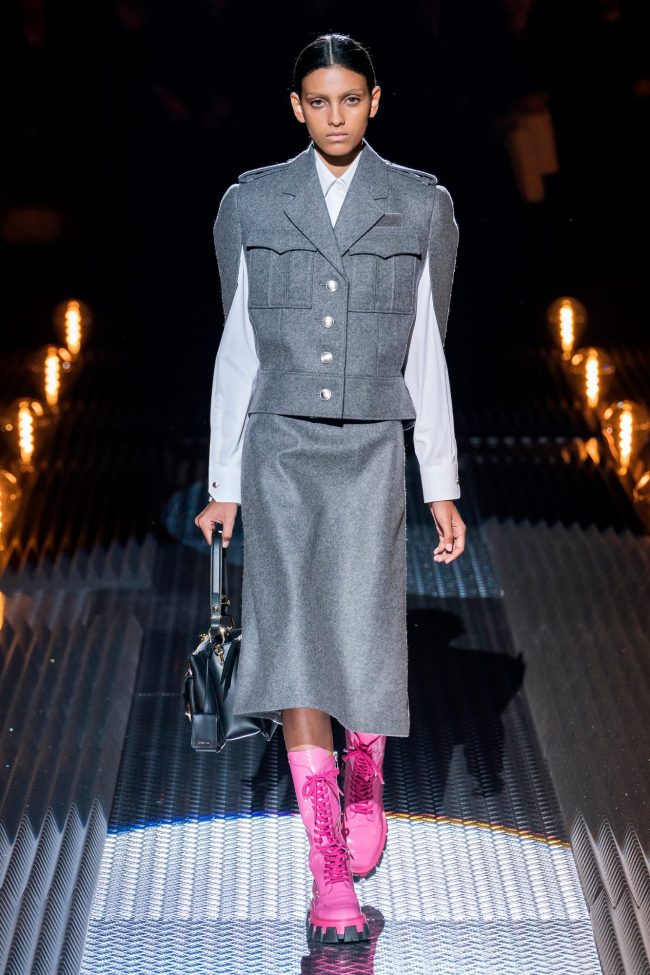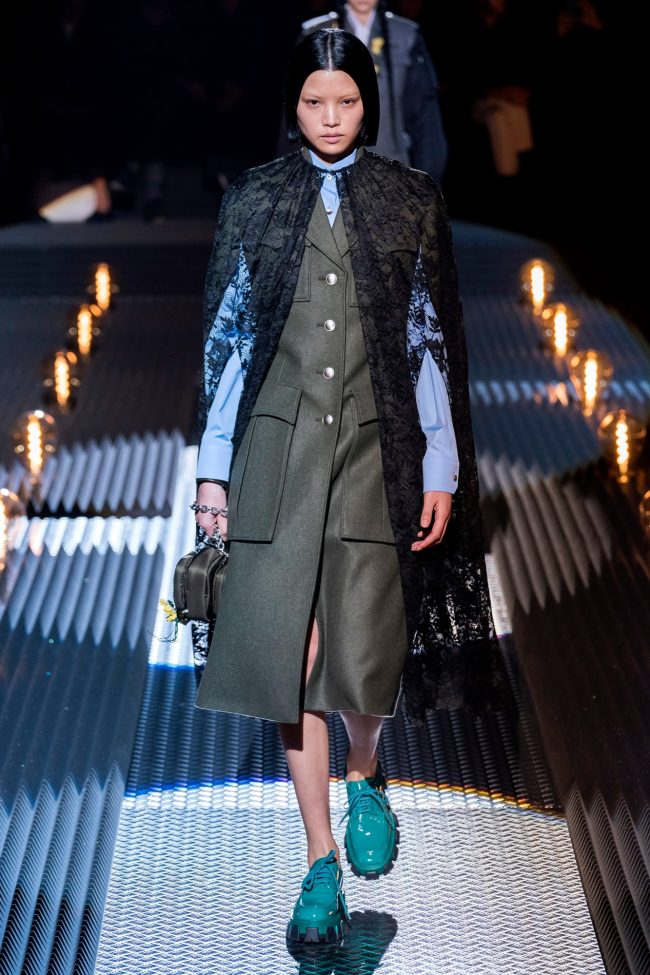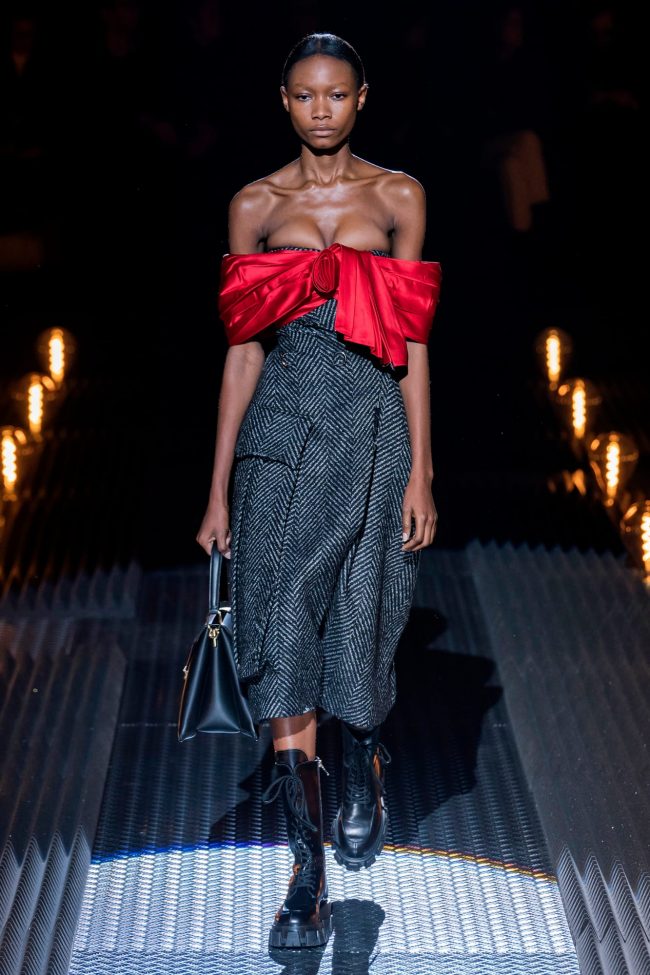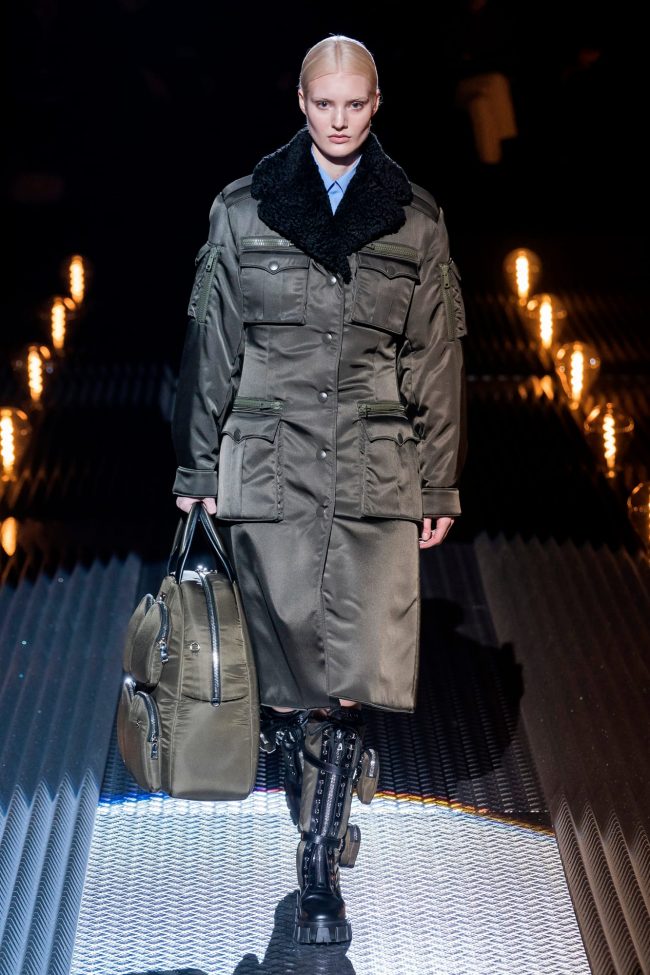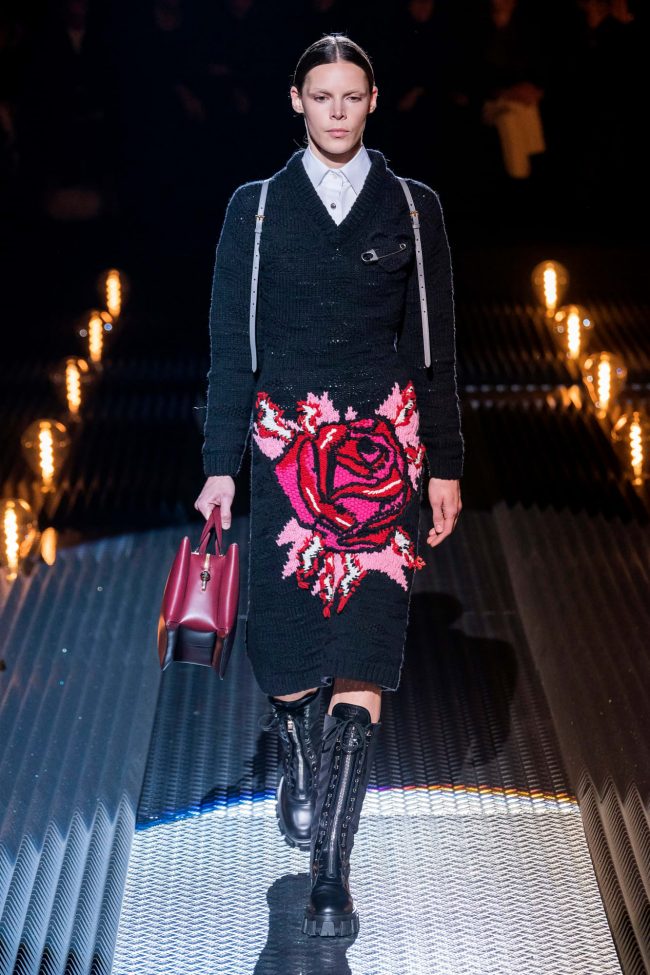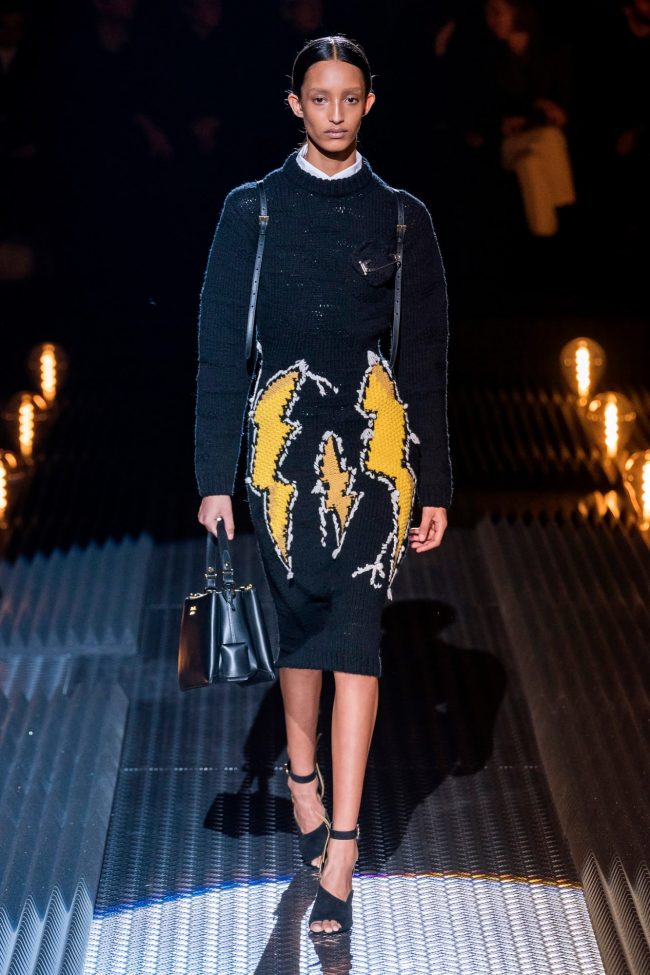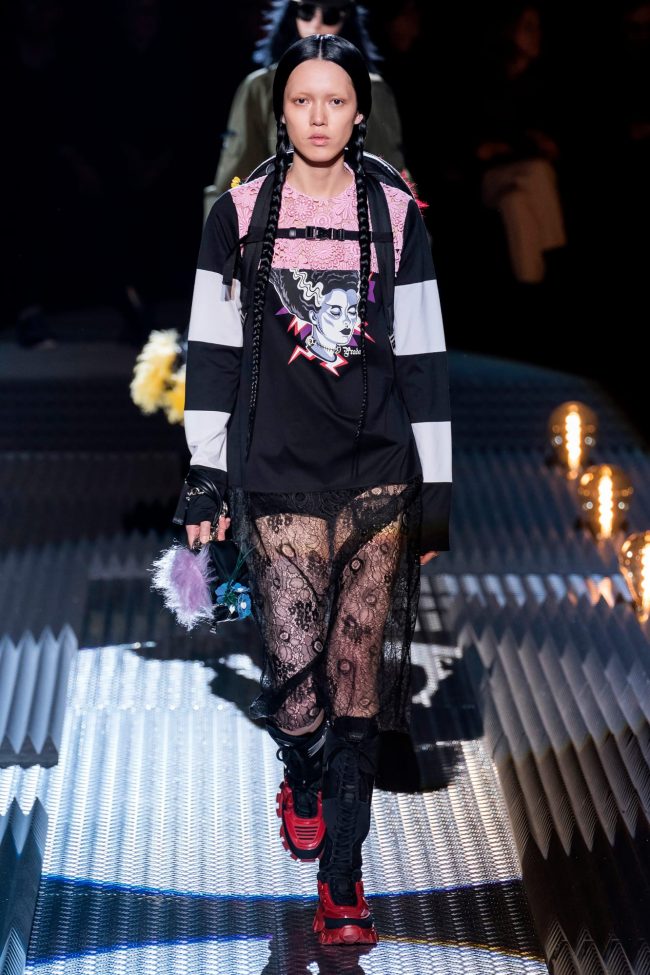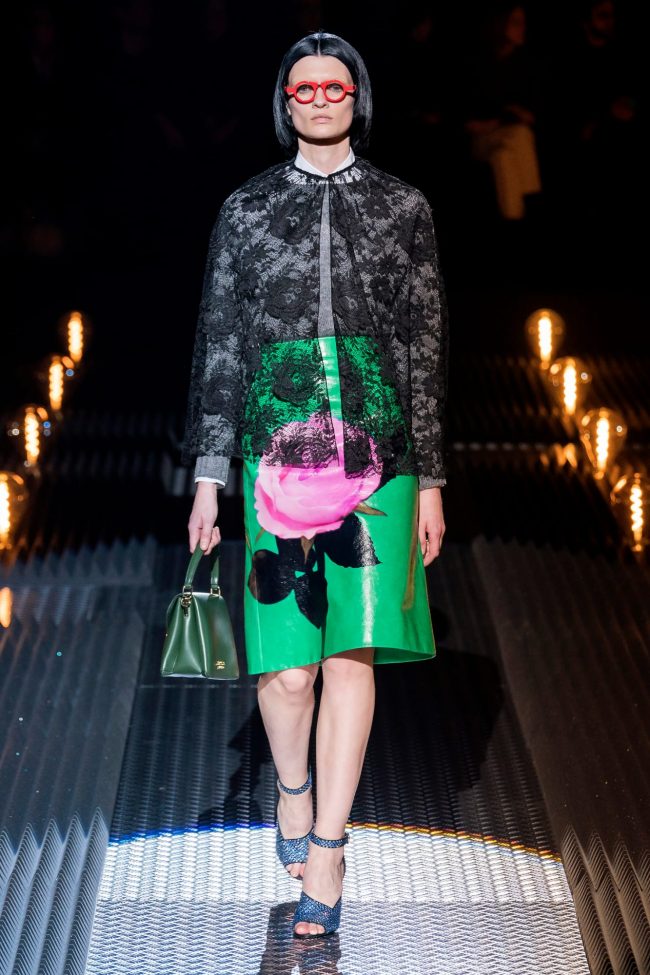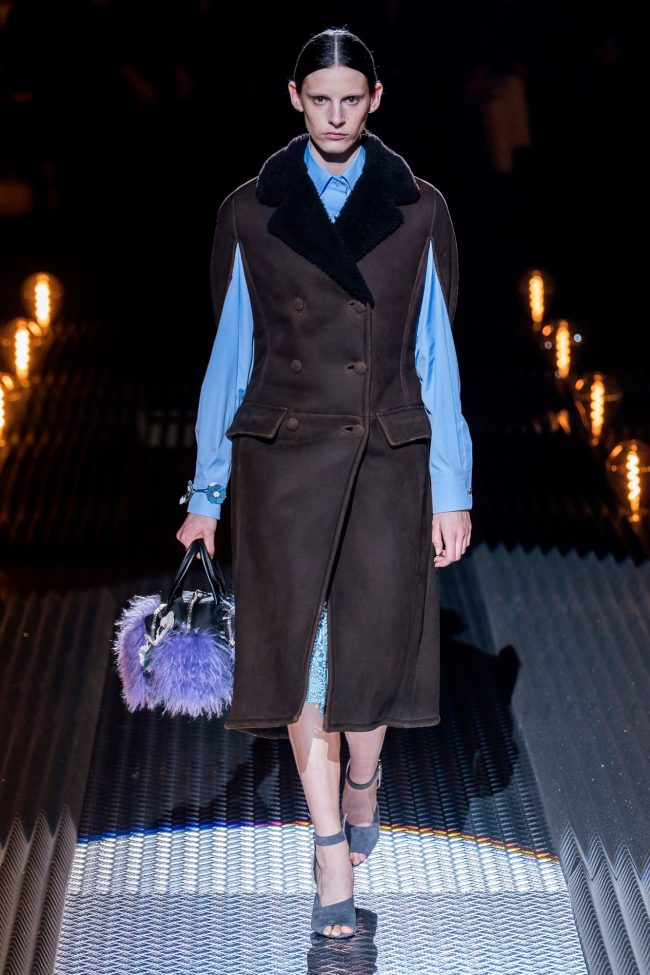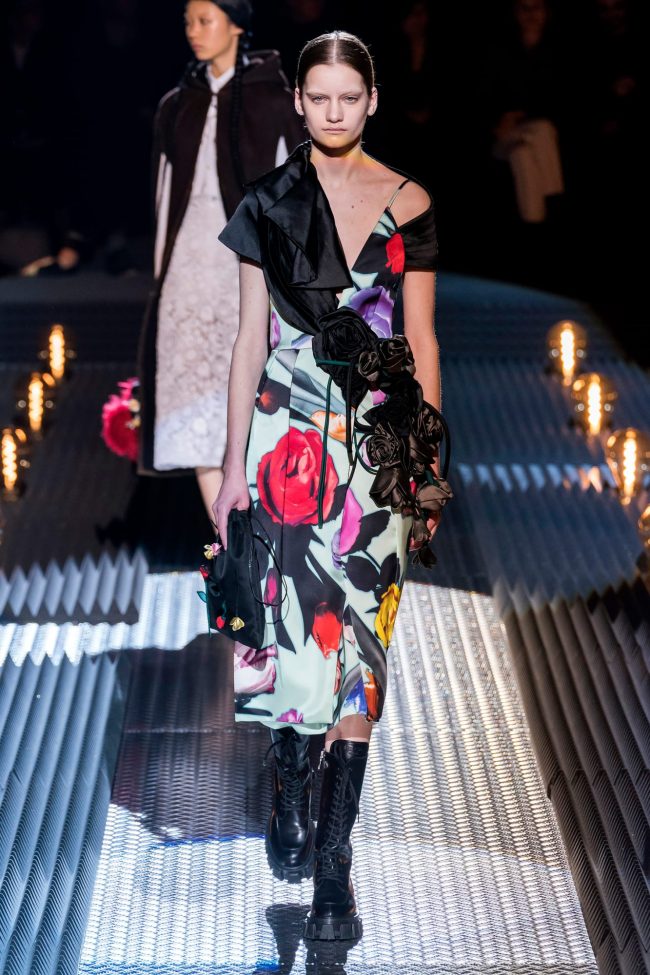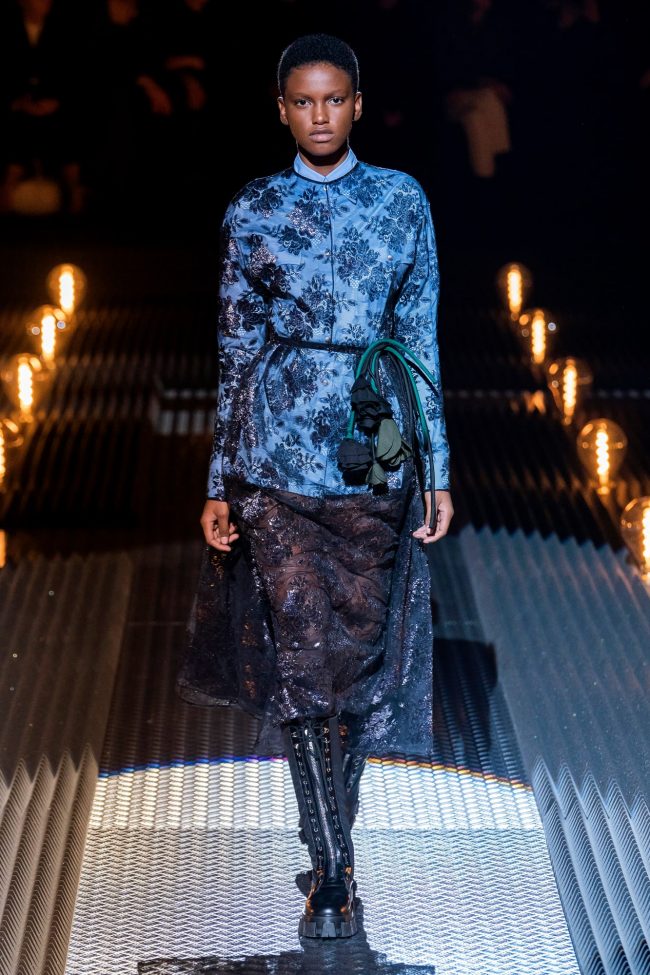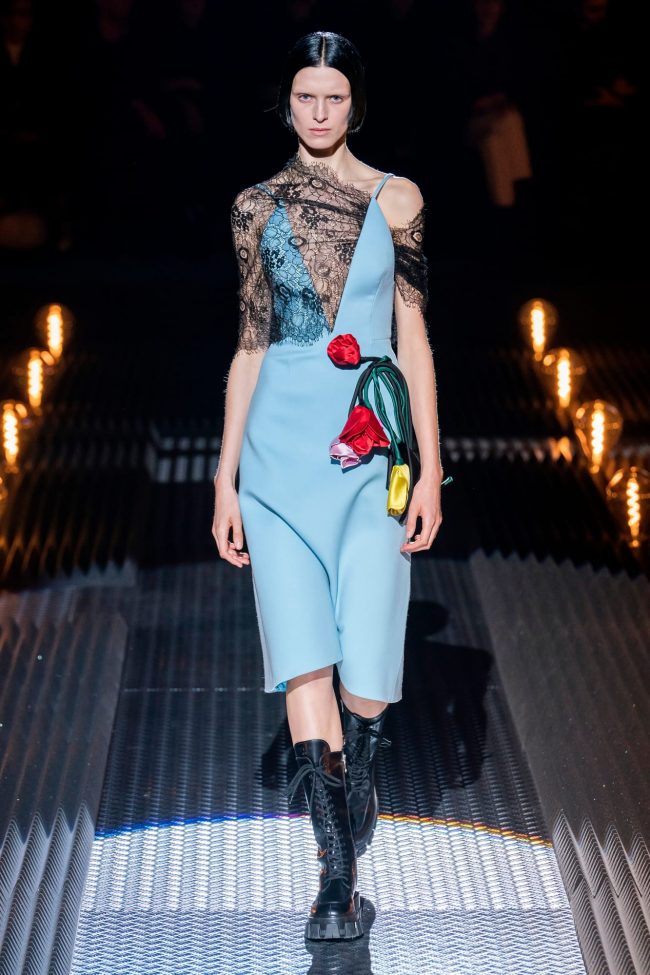 Geometric patterns in red, black, white, and grey took center stage at the MSGM fall 2019 collection.  A fun, festive, and less serious show included cozy sweater dresses, newspaper print pants, and oversized bows which gave off a very 80's Madonna vibe. There were so many options for the leather lover! For both the girlie types or rocker babes alike, skirts and paper bag pants reigned supreme. Regrettably, the tailoring in this collection wasn't as sharp as what we have seen across most of the Fall 2019 shows making many looks appear sloppy, ill fitted, and unfinished.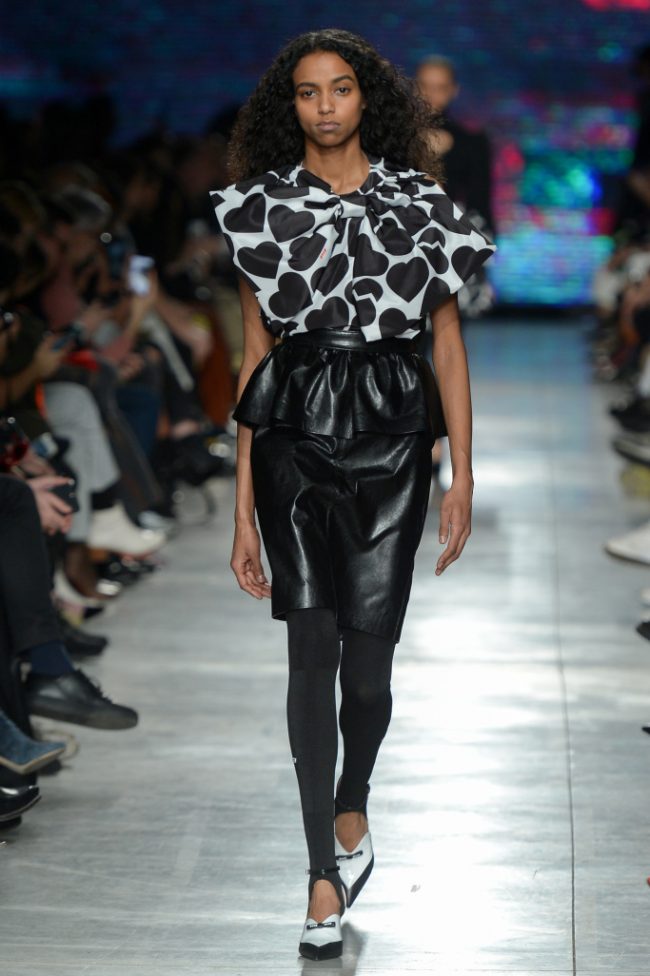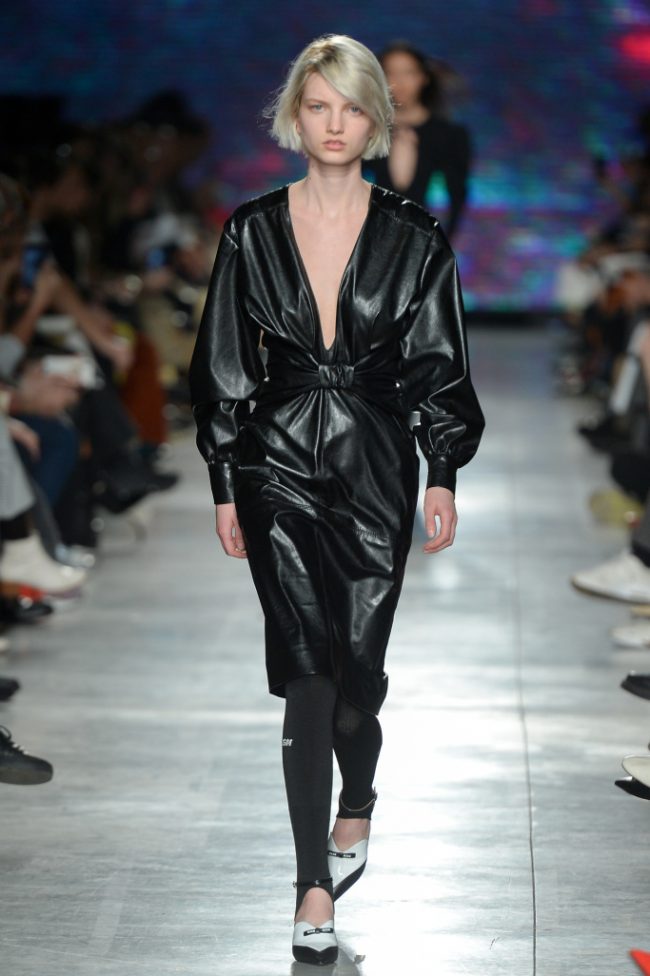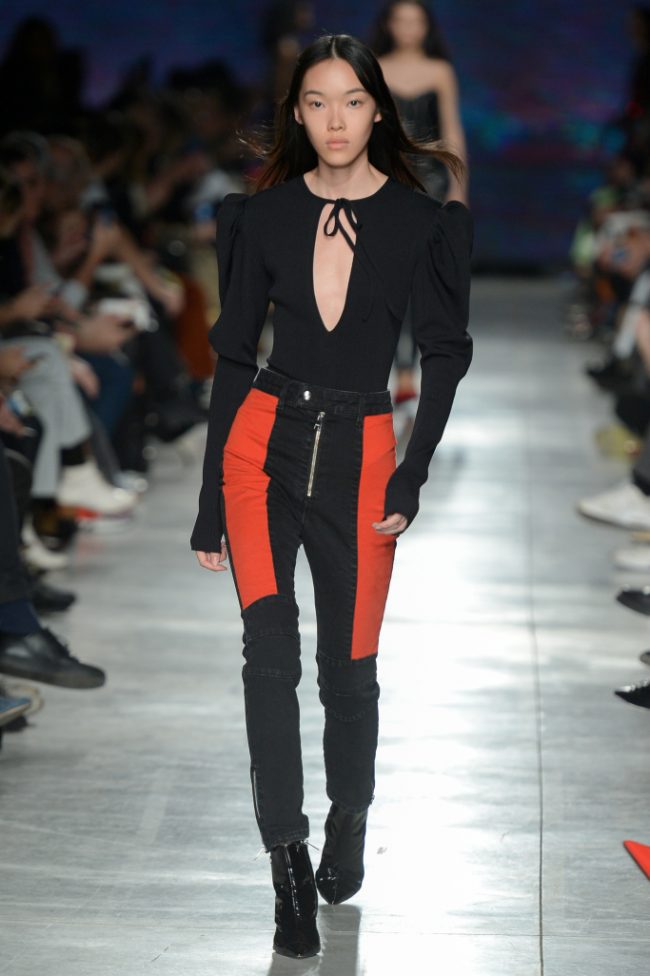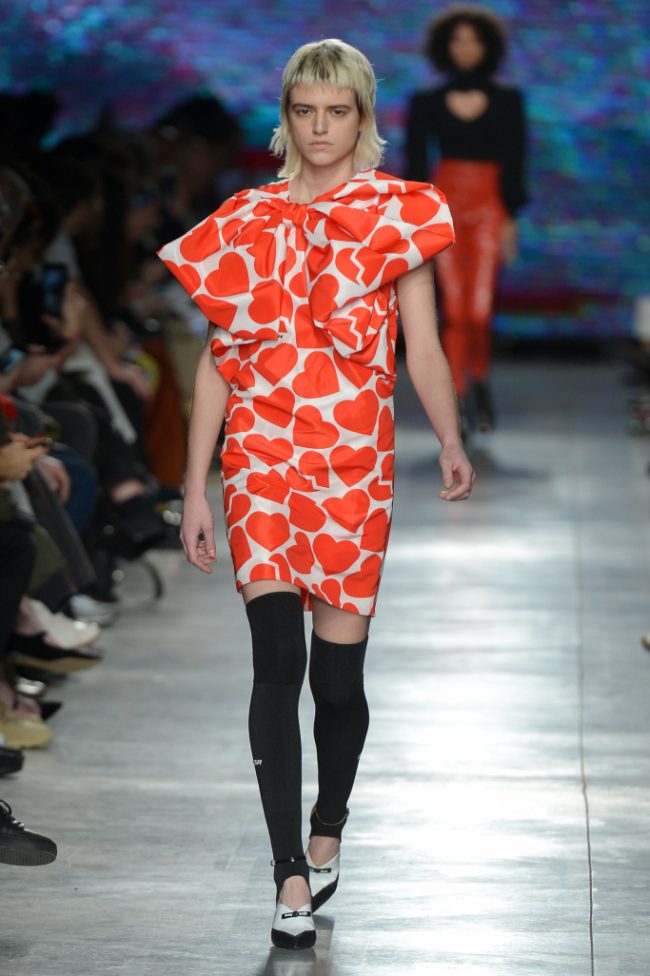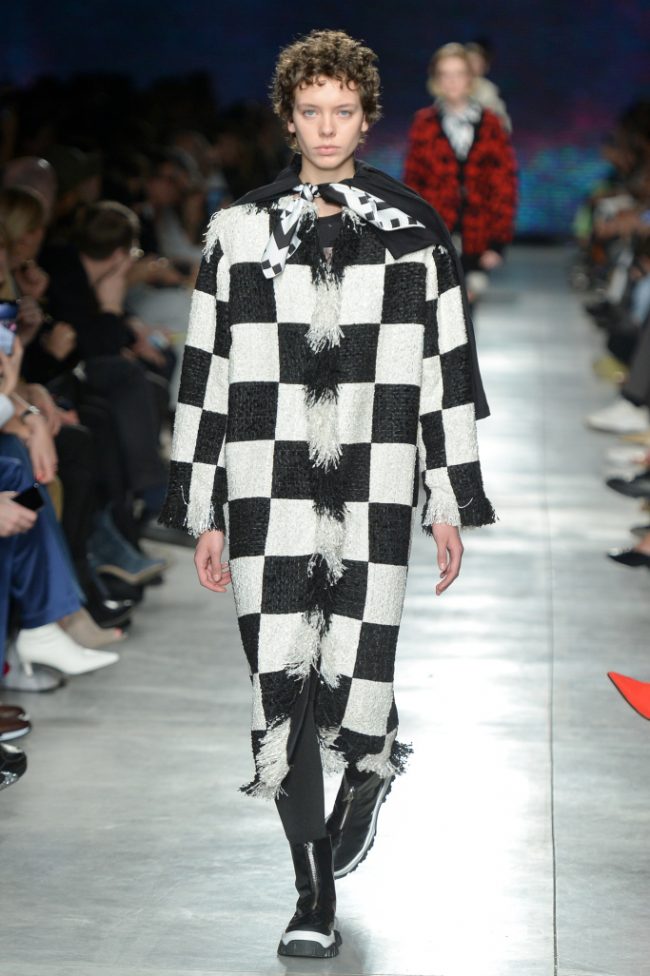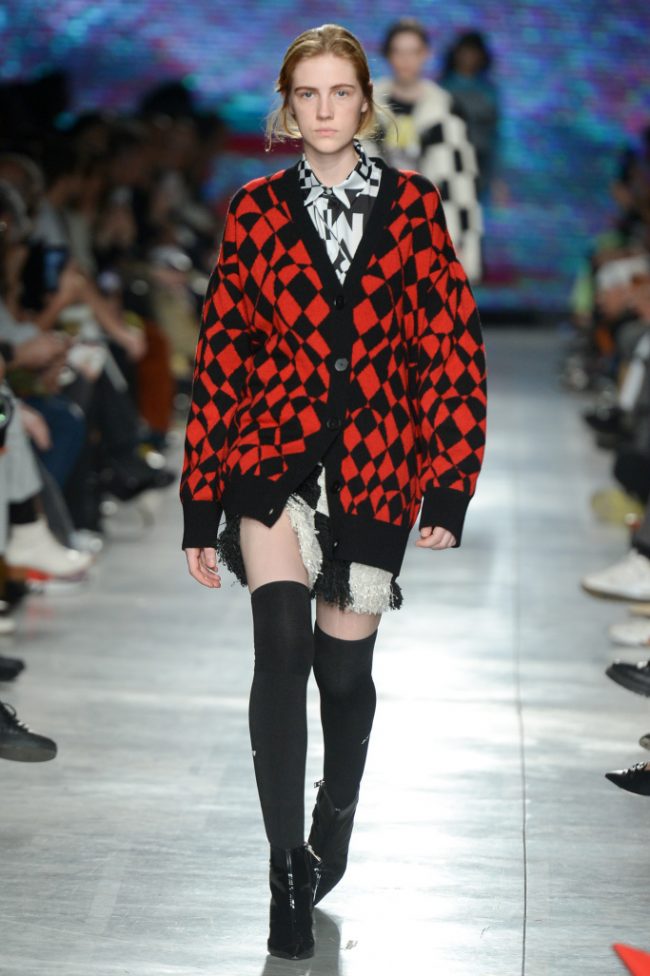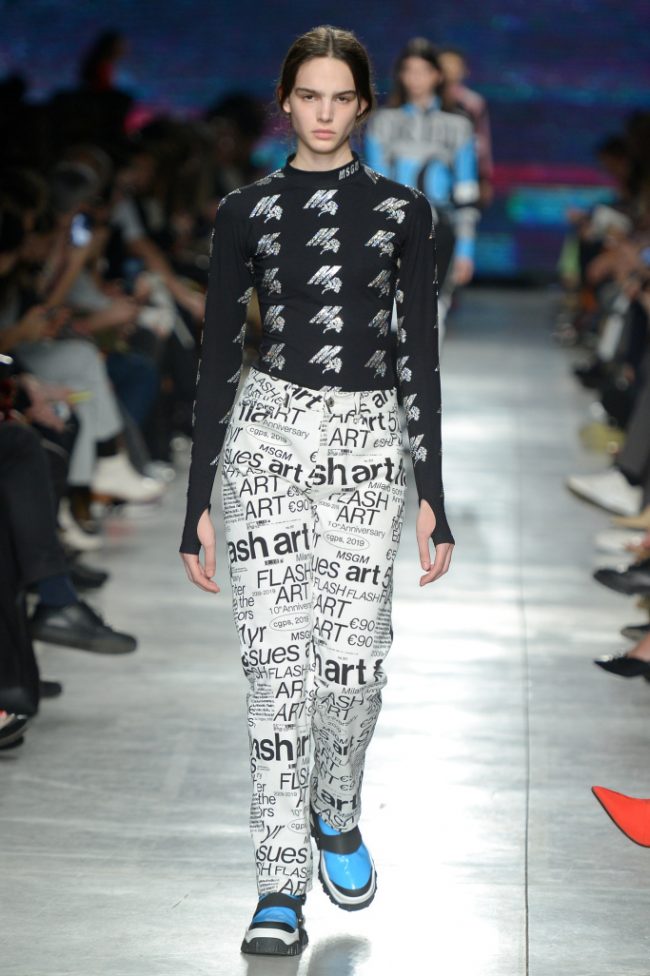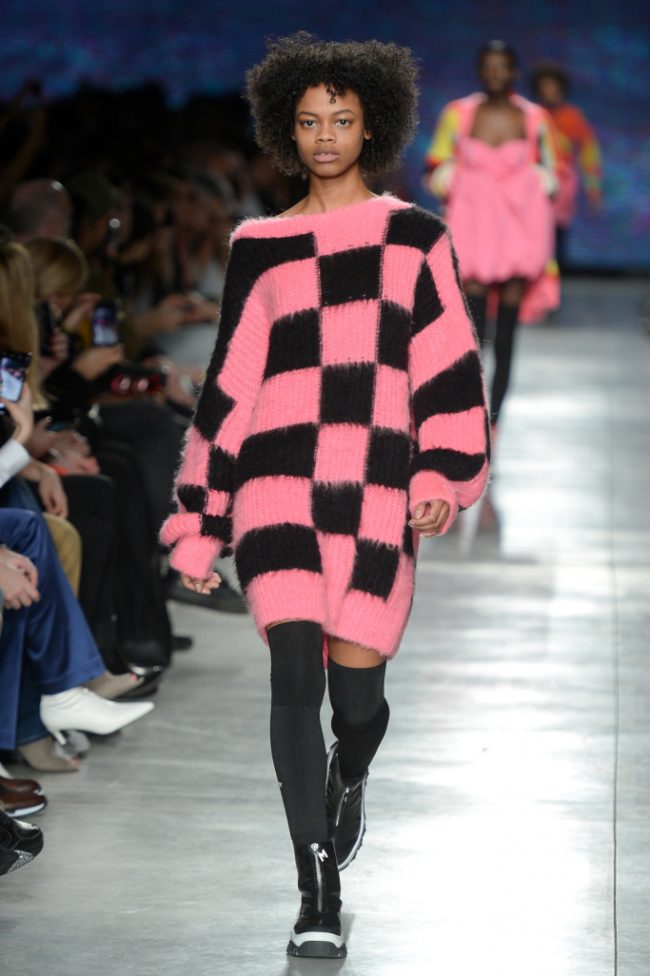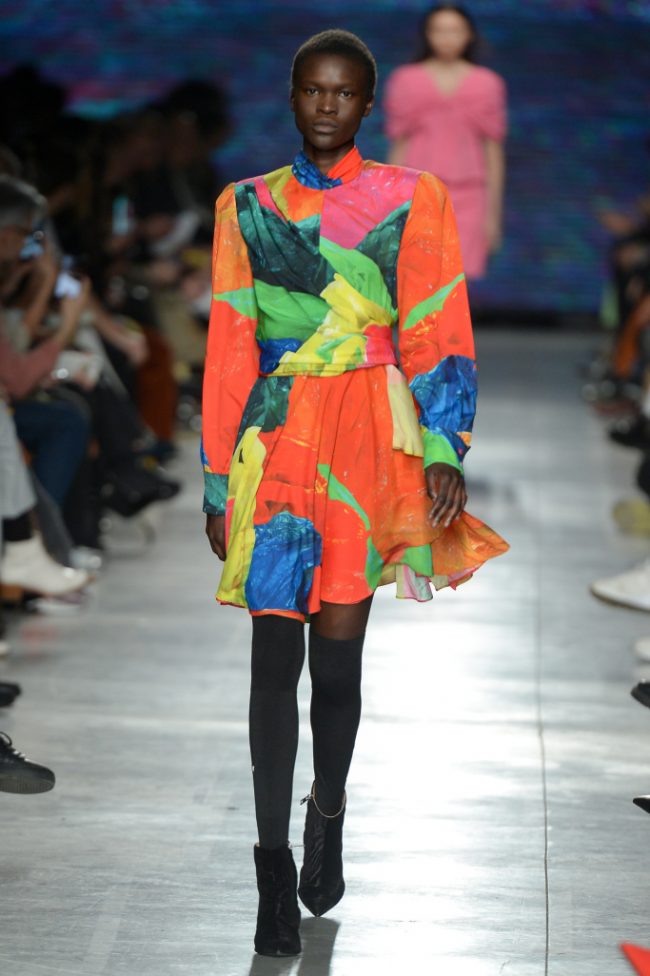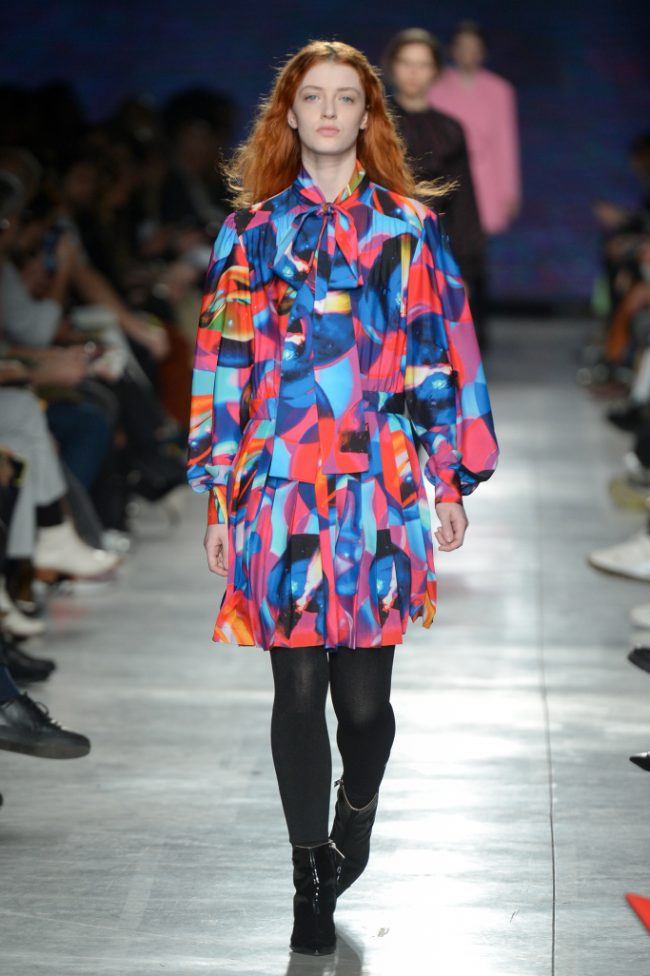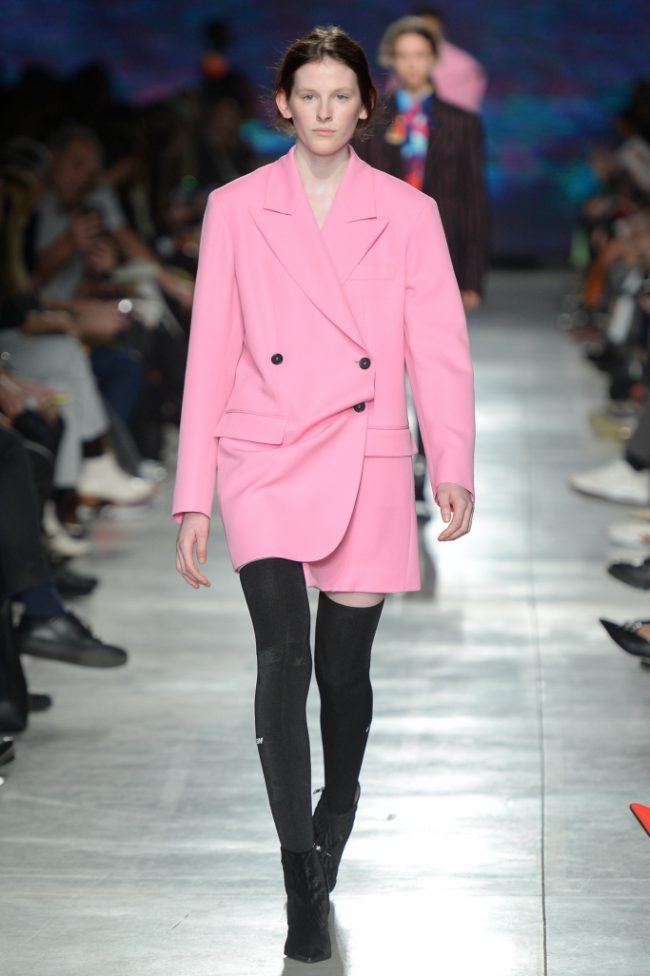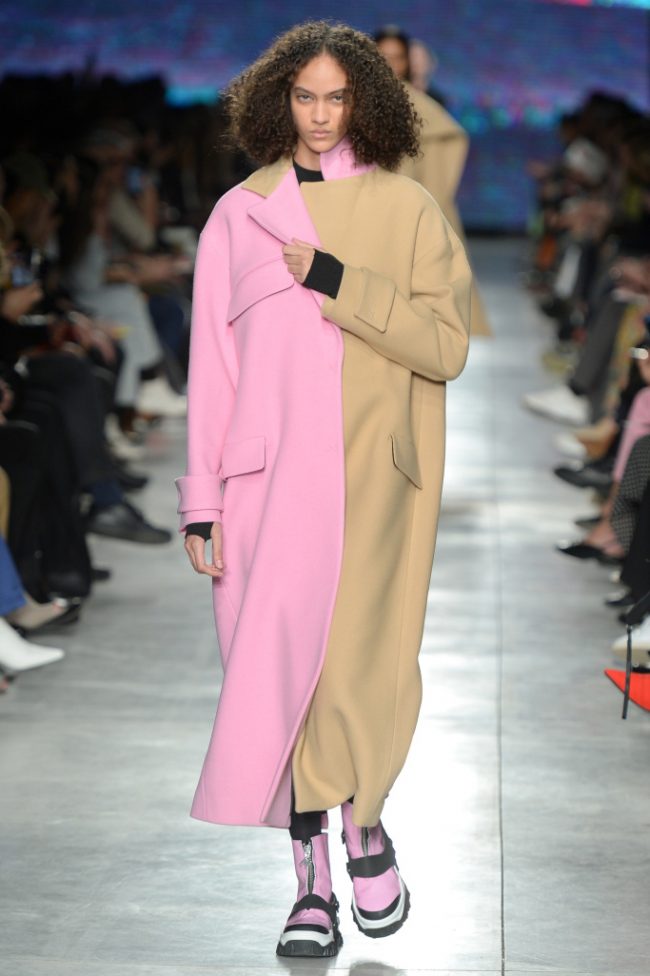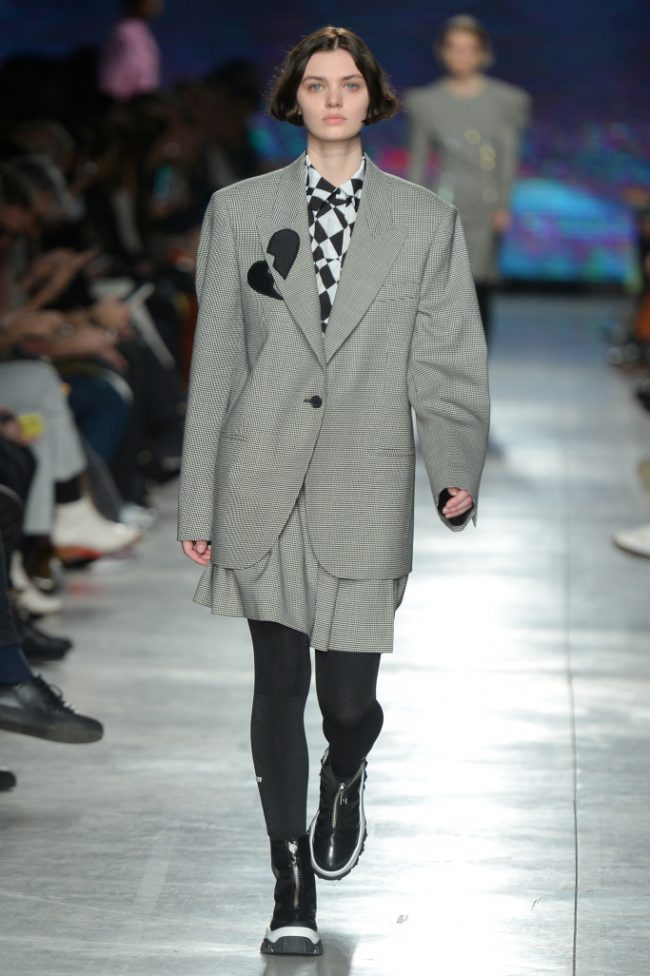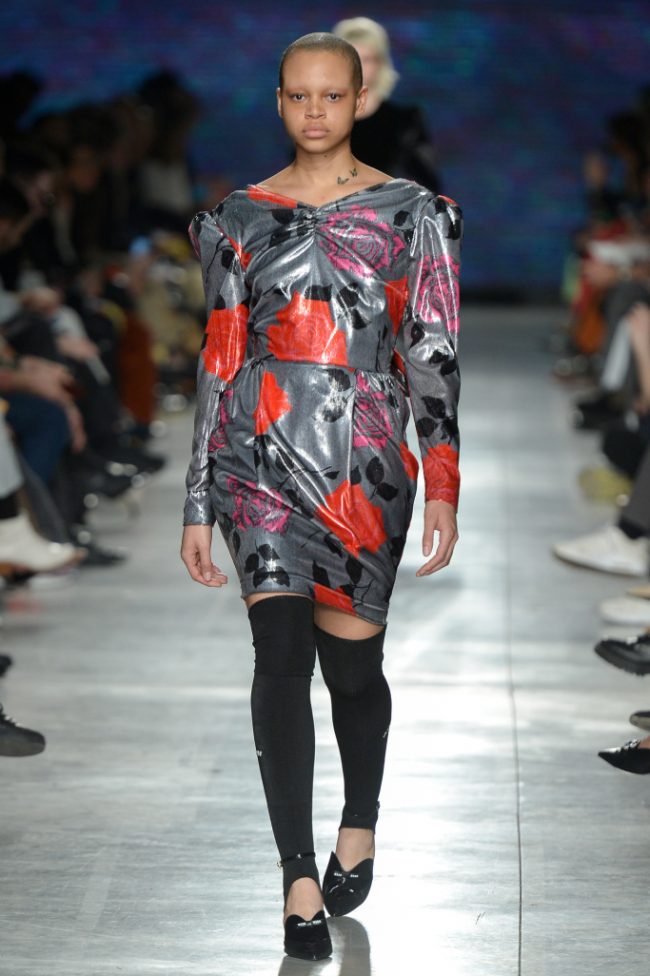 Wording can be a tricky thing. For a brand that claimed they were going "fur free", Tod's fall 2019 collection sure had a lot of shearling jackets in it. Nevertheless, it's all good for all our fur loving girls! Shearling is a more rugged and highly versatile fur option that we've always loved too. As expected from Tod's, there were loads of leather options here; after all, it is one of their signature textiles. A relatively safe and expected show, a deep emerald green curly lamb coat broke the monotony.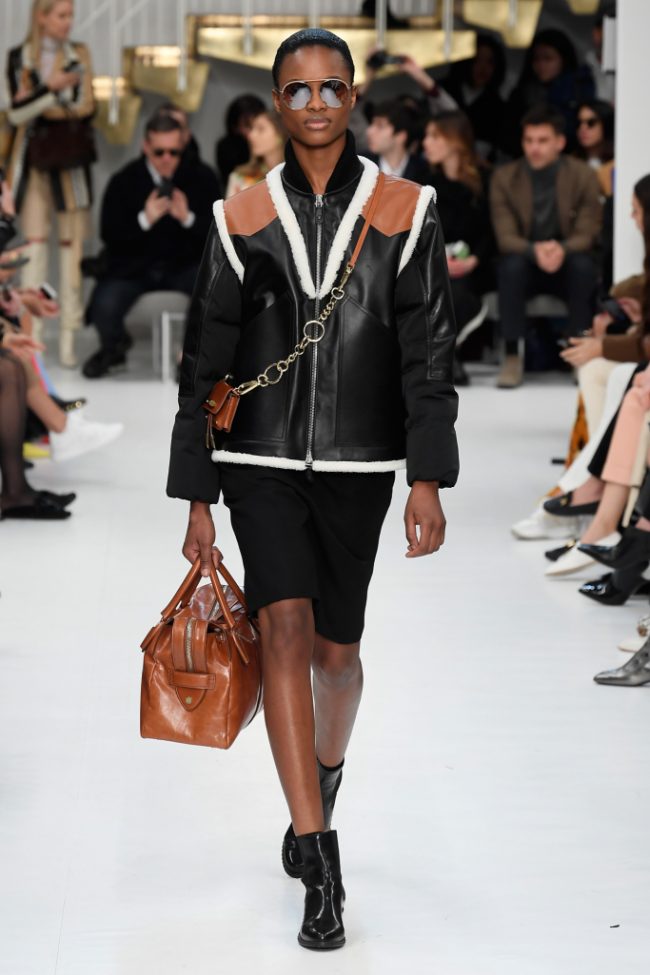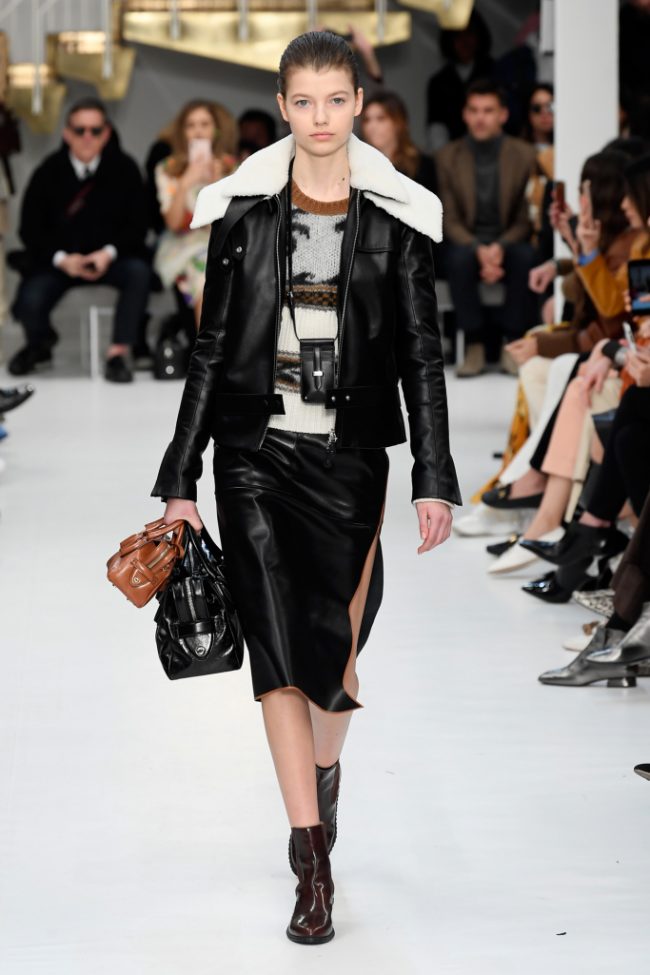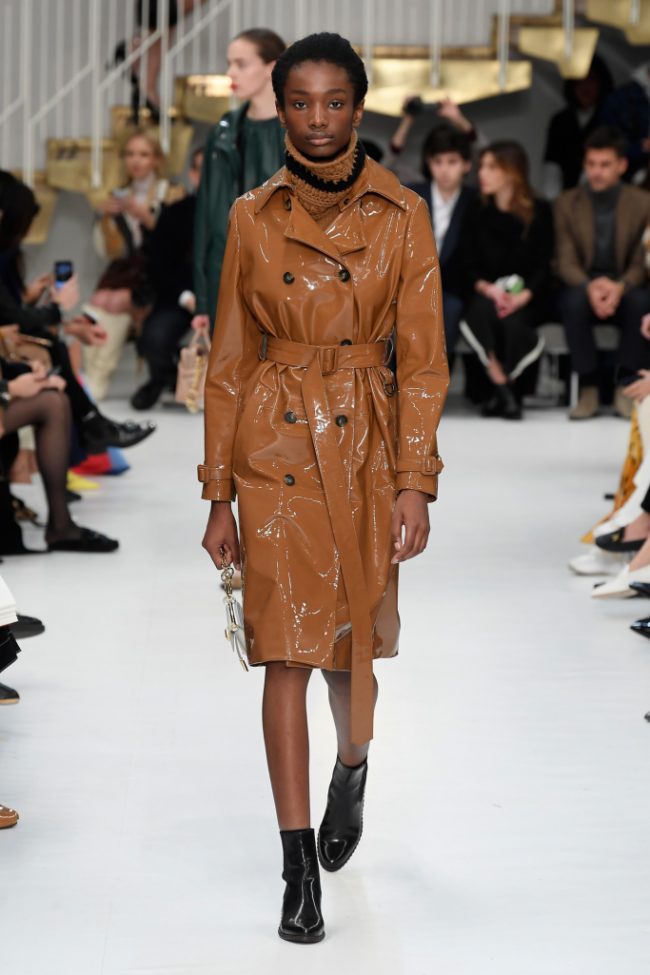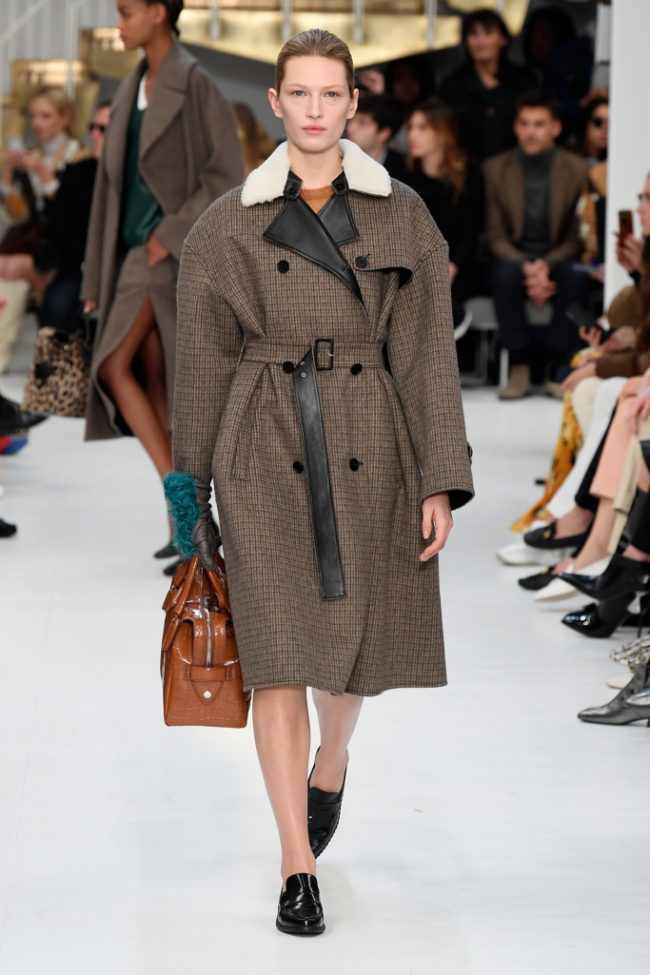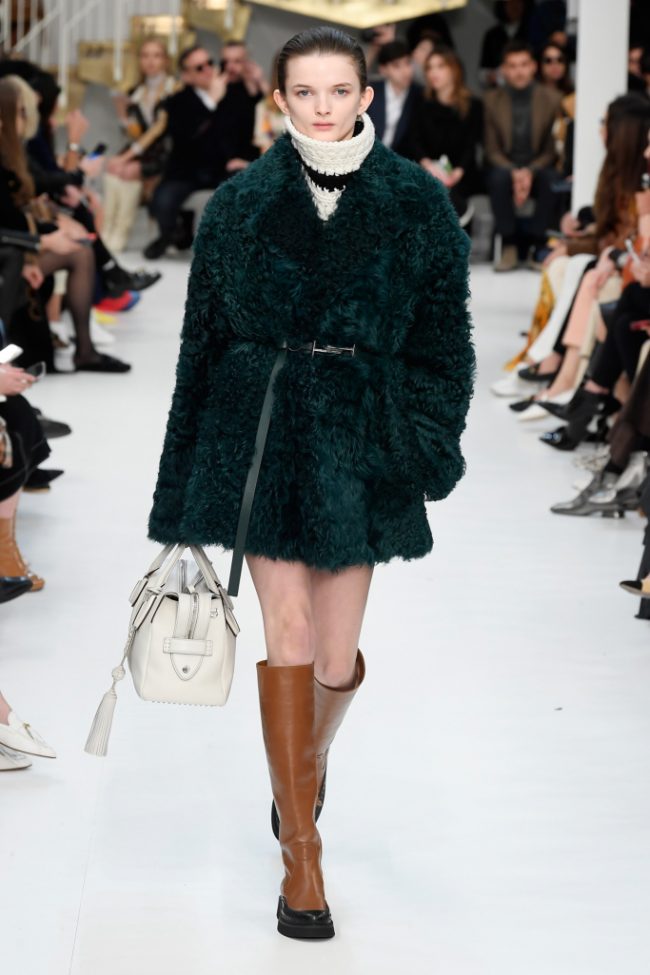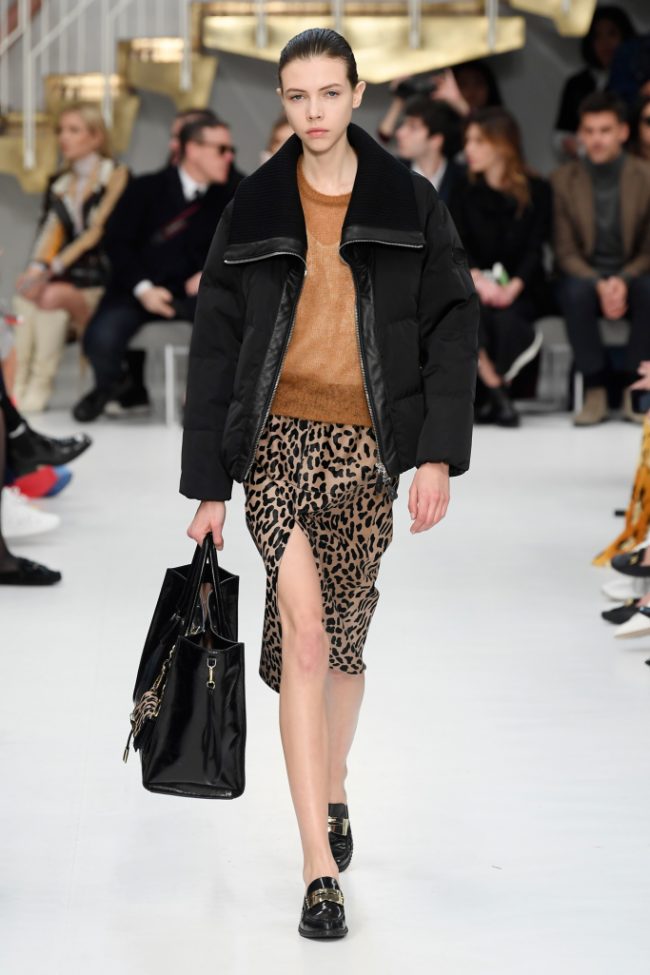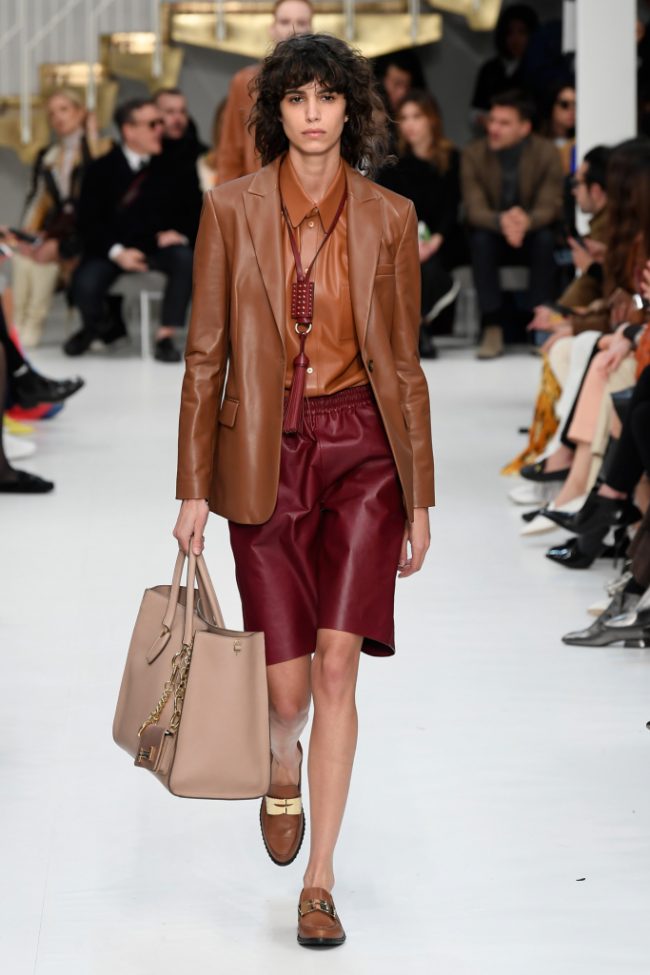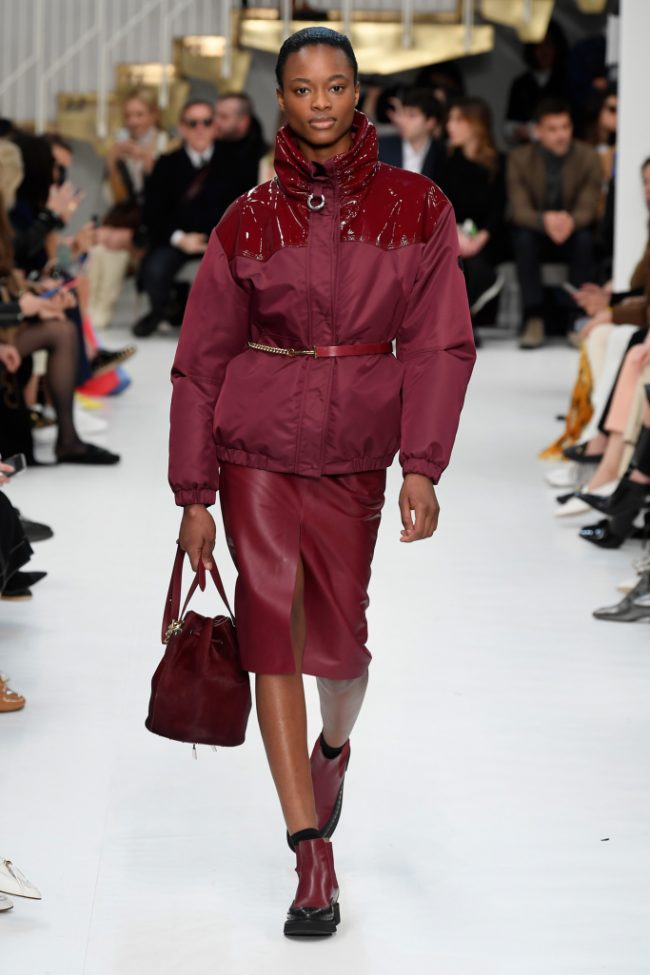 In the brand's effort to ride in the fast lane of what's hot now, Blumarine has had a few collections of the recent past that have veered off the road and crashed. But for fall 2019 RTW…. now this was a Blumarine tried and true collection! A return to luxe and elegance was the roadmap back to success. Windowpane argyle prints and ever so soft blushes and off white tones created tranquil yet bold options.  Calf hair animal print coats and jackets stood strong and pronounced fox fur collar details on lighter cashmere full length coats created the perfect juxtaposition in design. Evoking feelings of Easter celebrations, the brand used pastel hued minks with intarsia inserts much like a prized Faberge egg. Blumarine is back on track!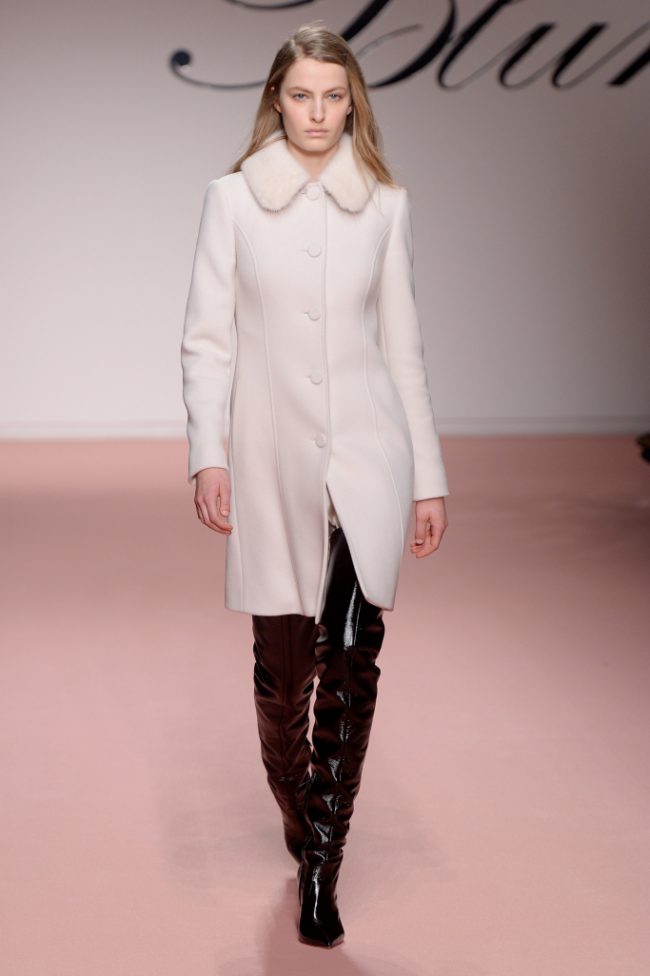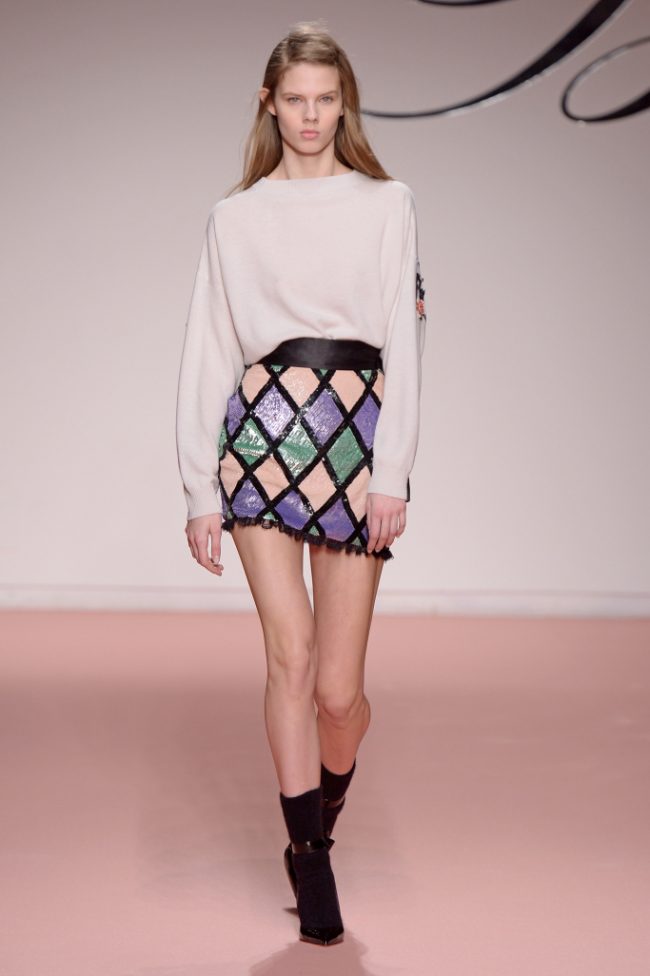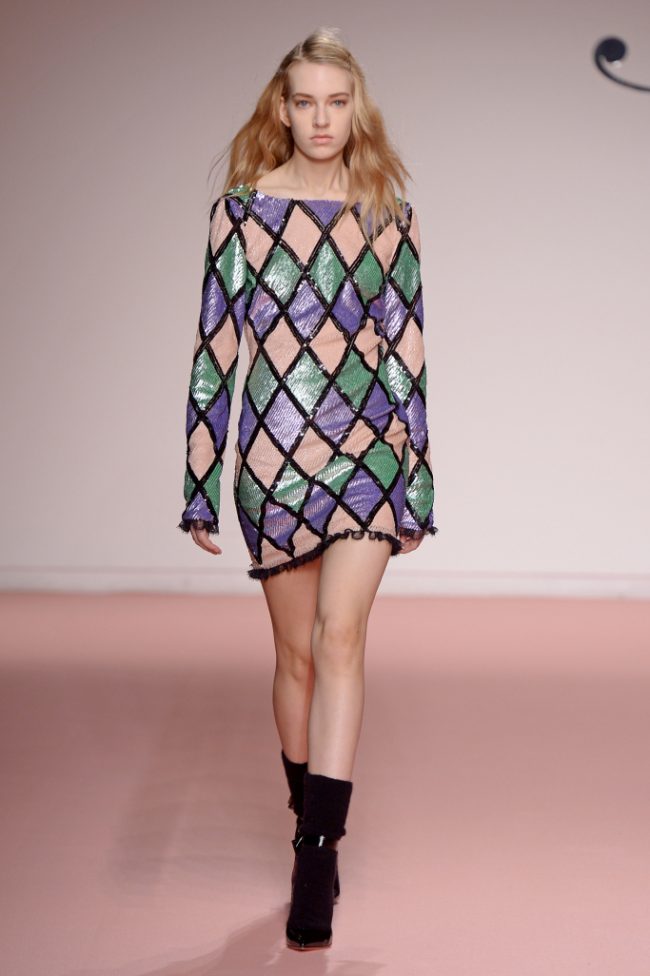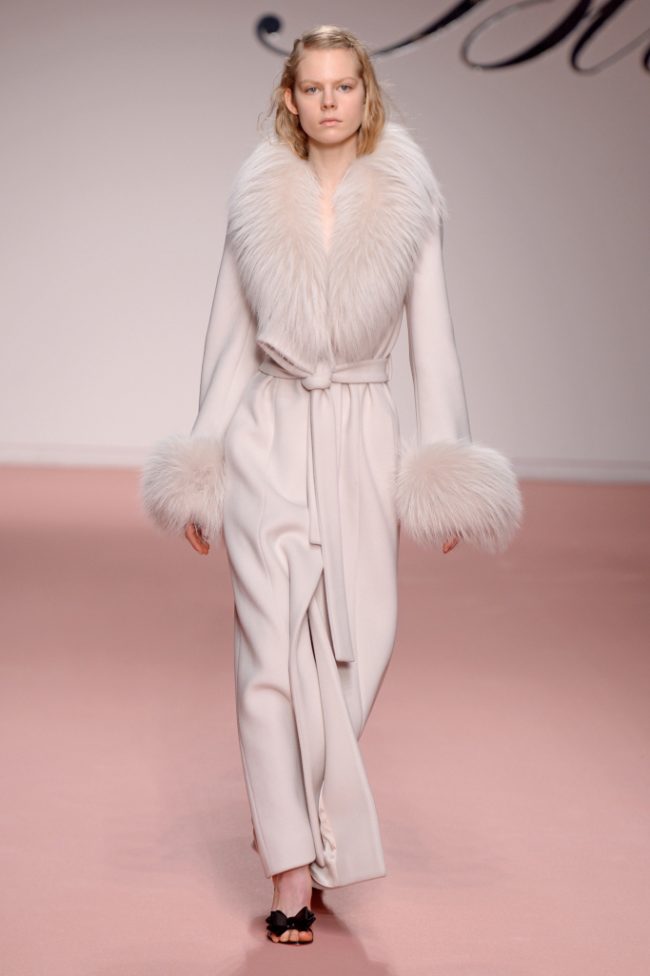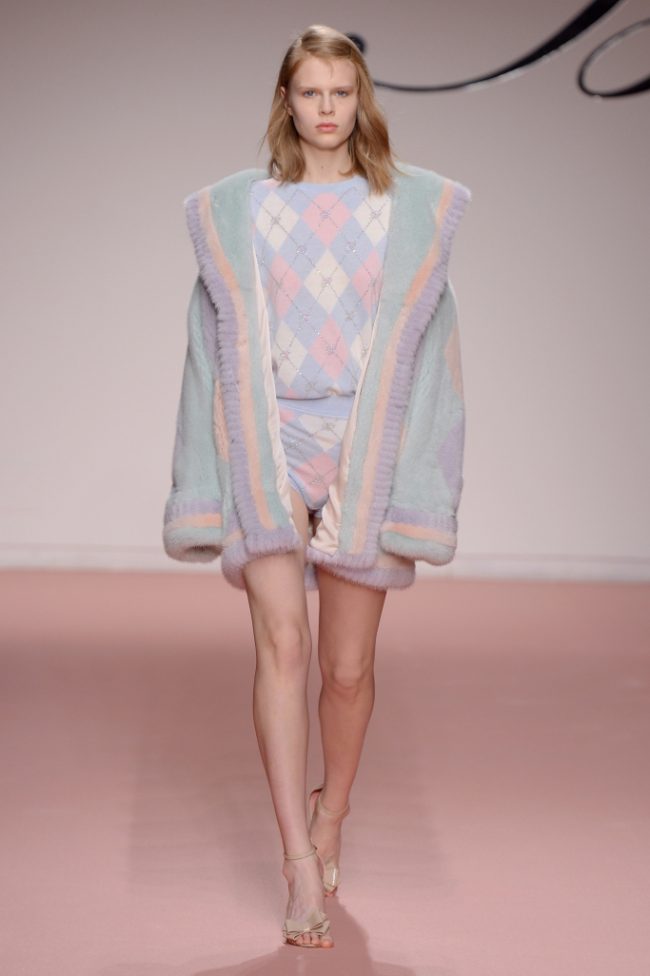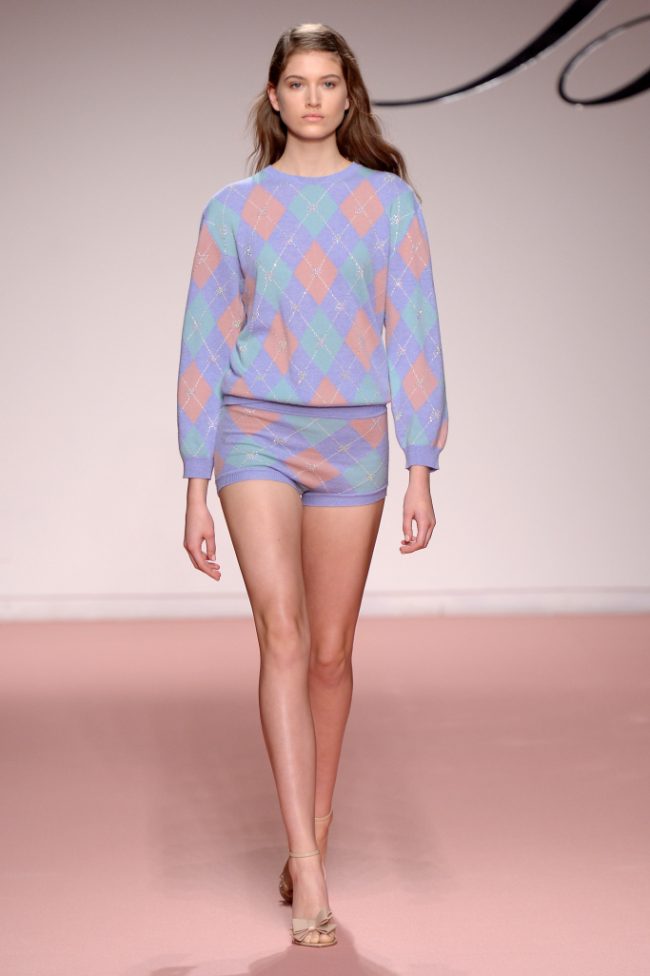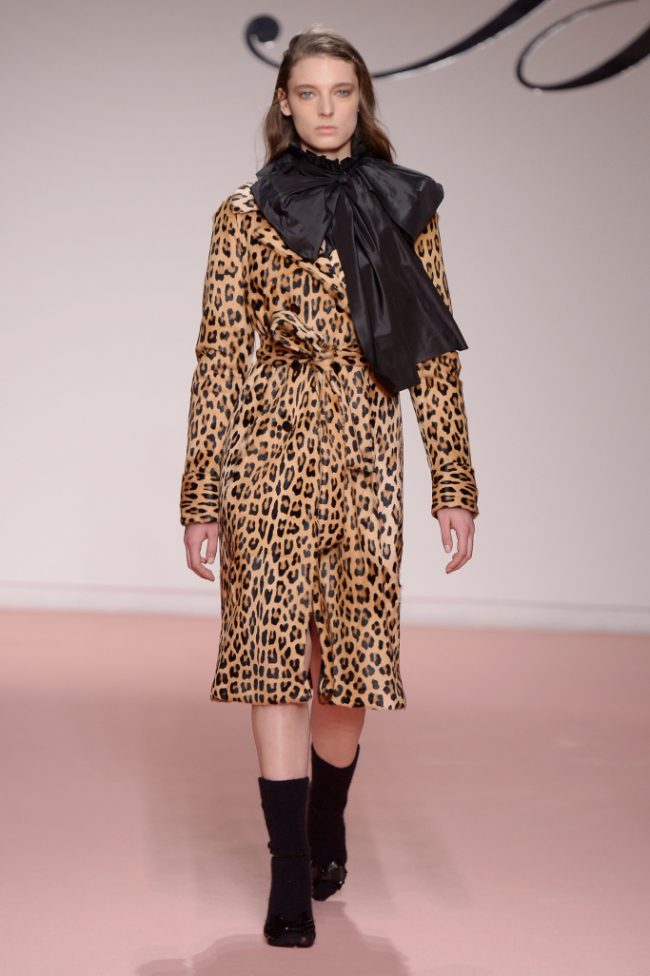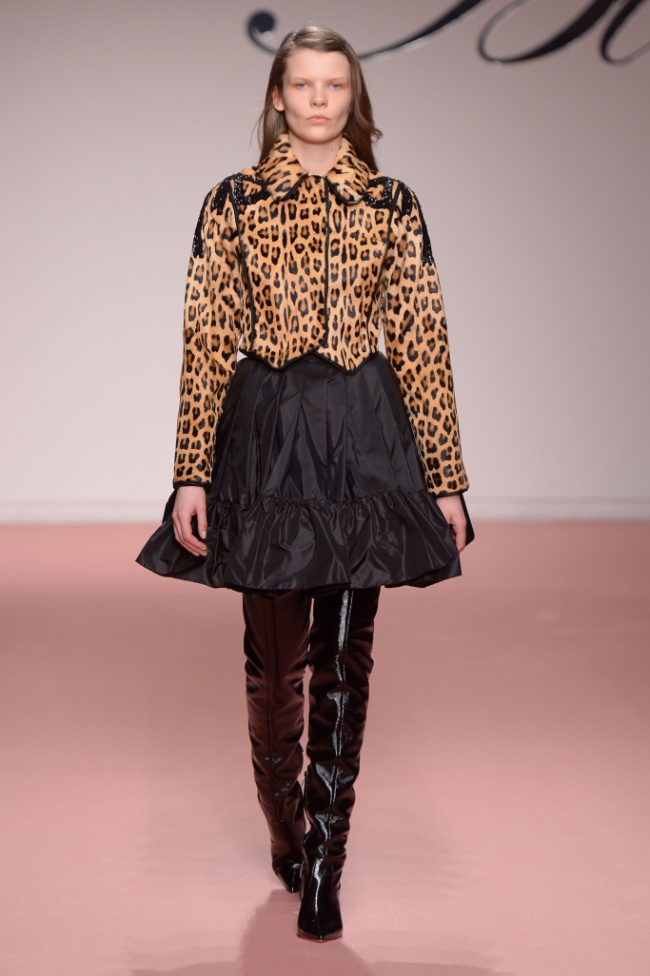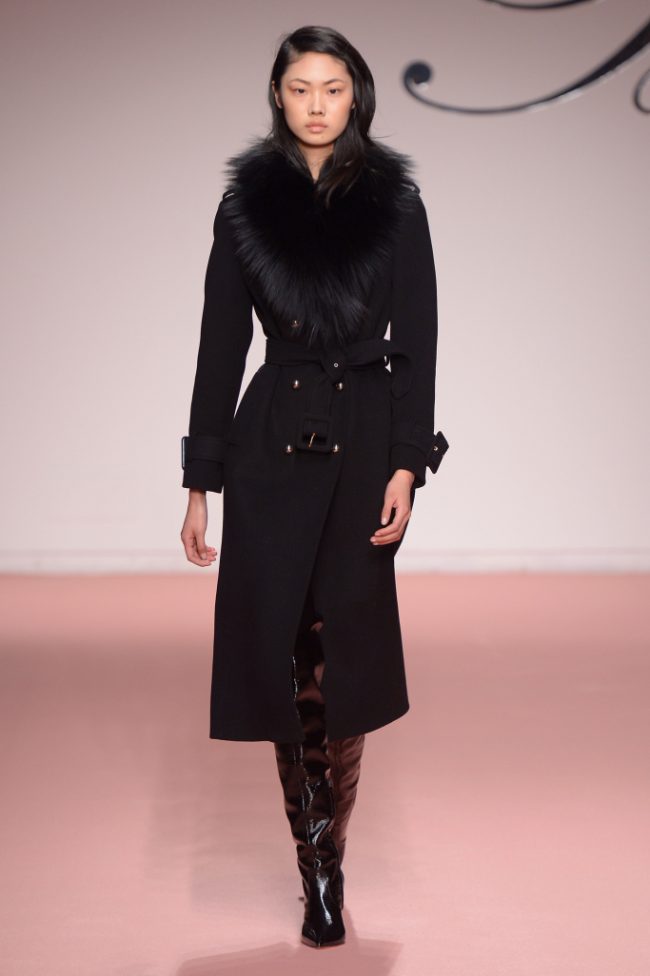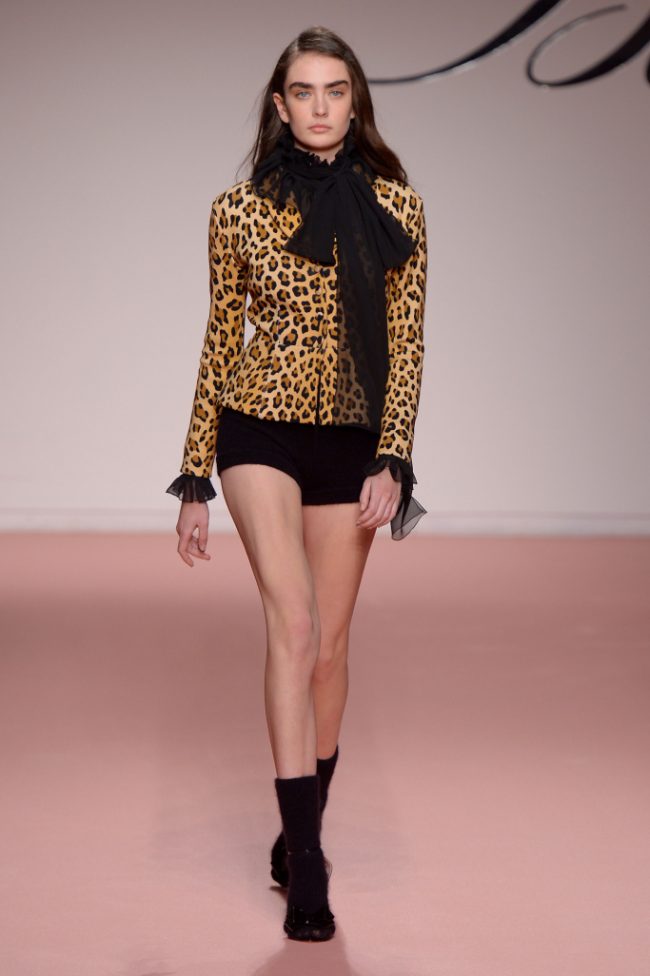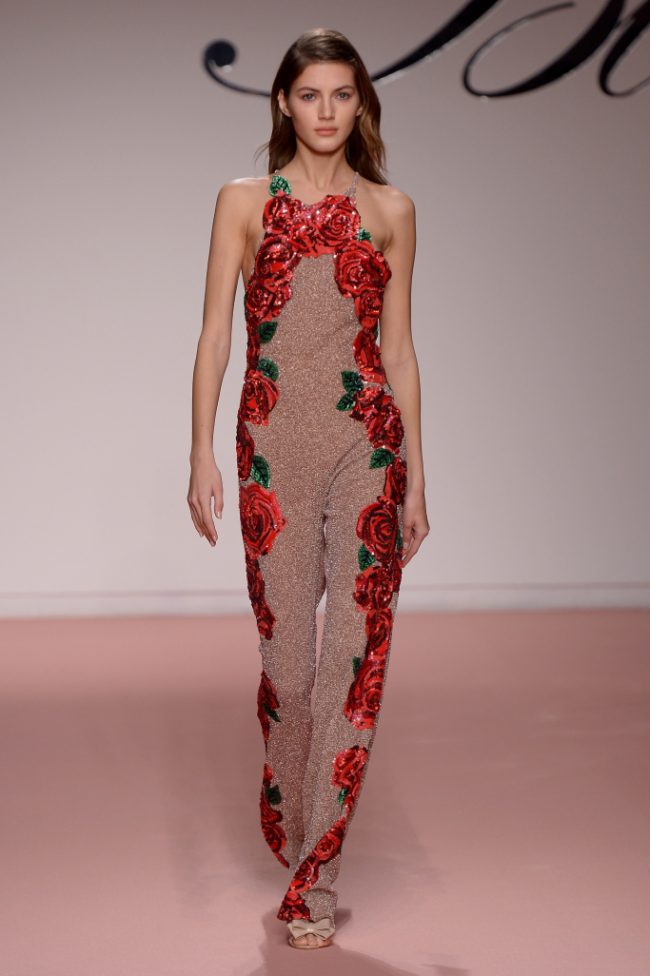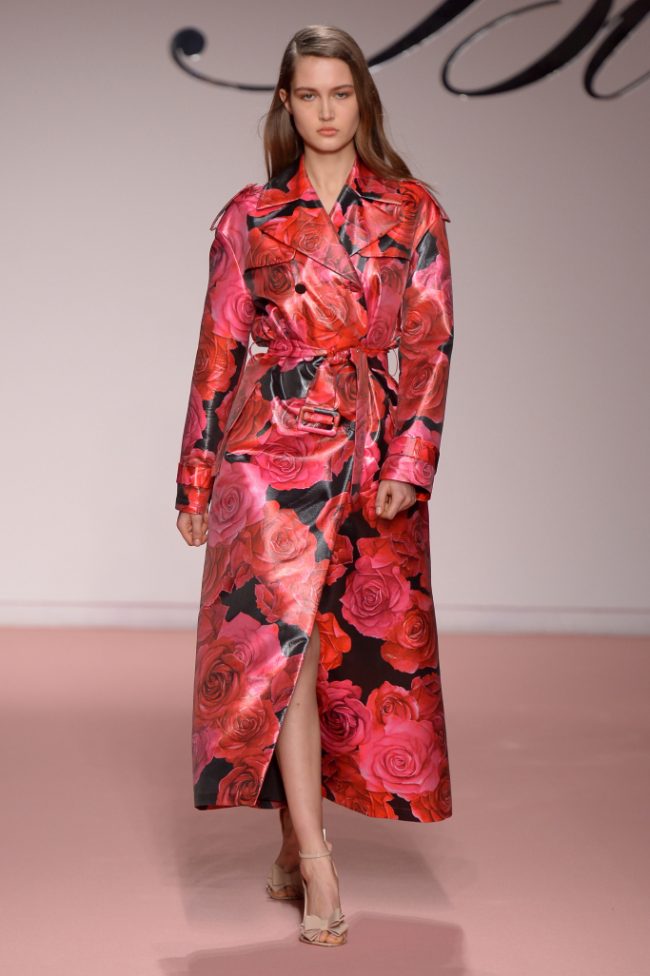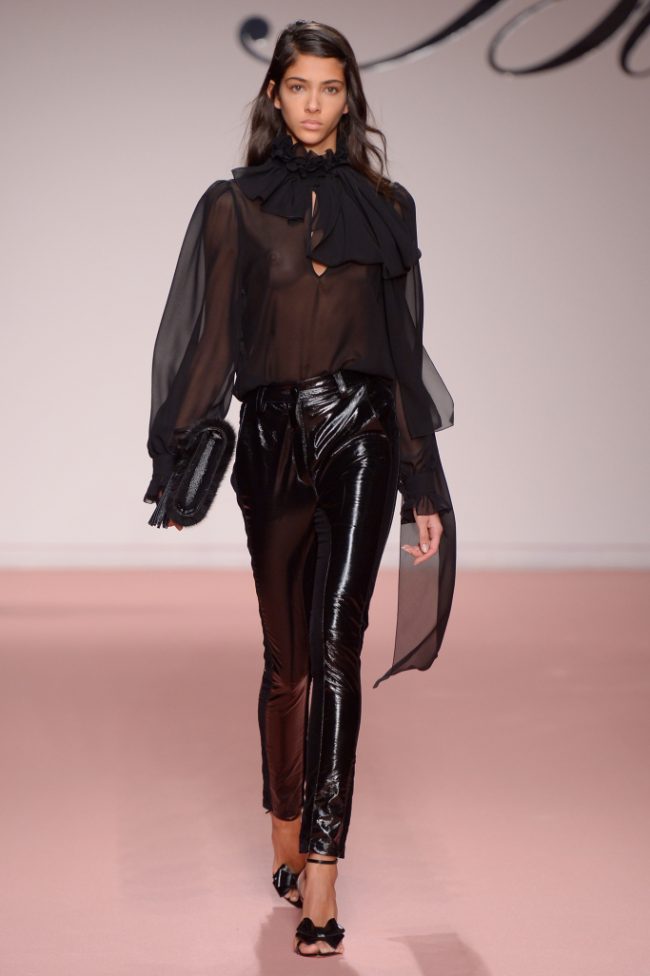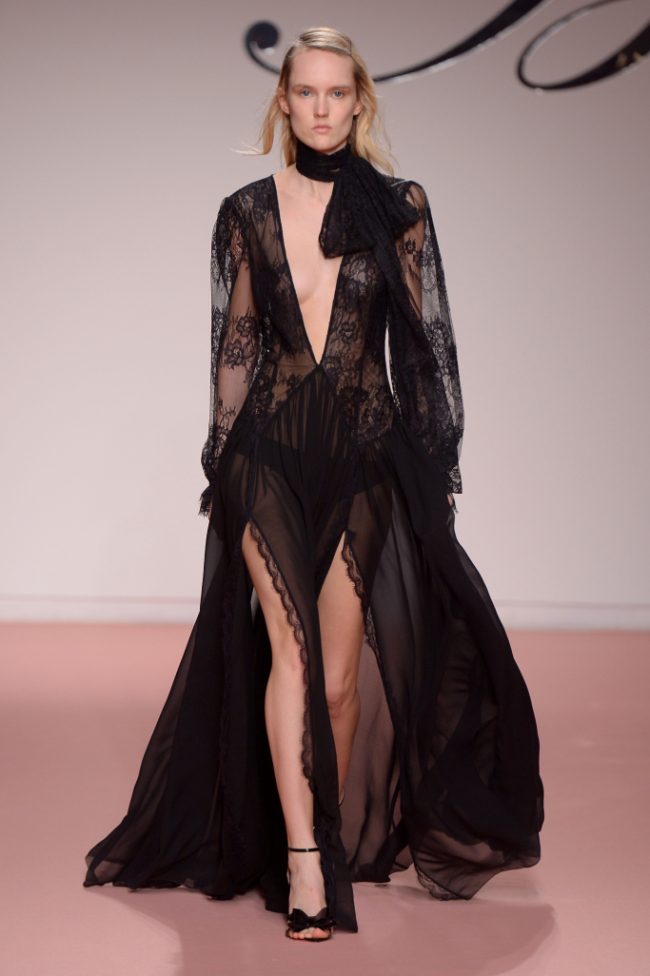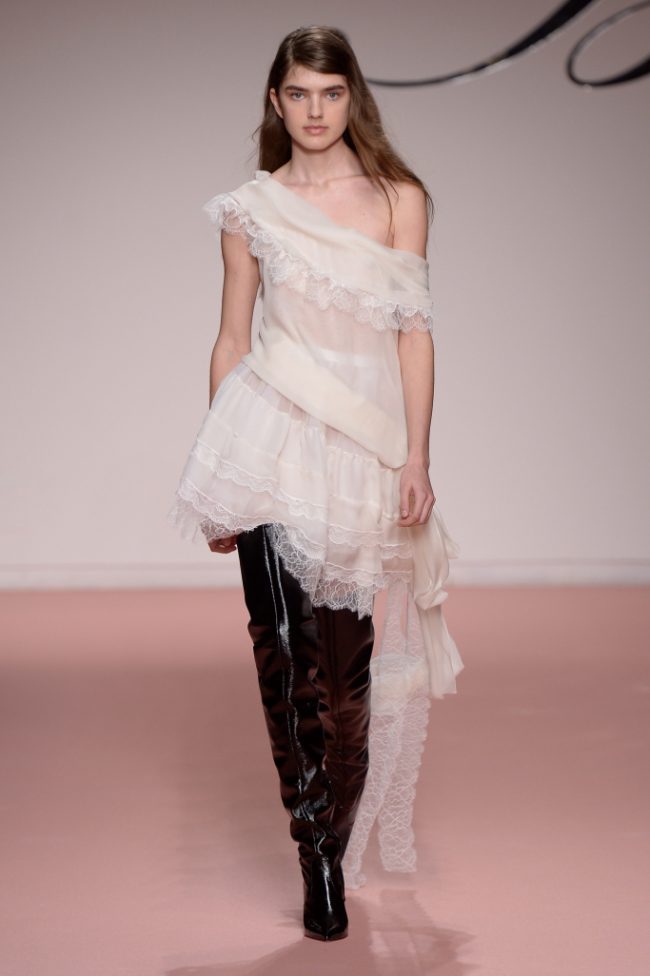 Much like the work done by one of the great masters, the fall 2019 FRS collection was visually stunning wearable works of art! Countless intricate prints that looked like Old World paintings brought into being suit and dress options alike. Textural highs and lows were hit by metallic touches, deep earth tones and solid piping, why oh why oh why, did they miss the opportunity to introduce fur into this deep, luxe collection?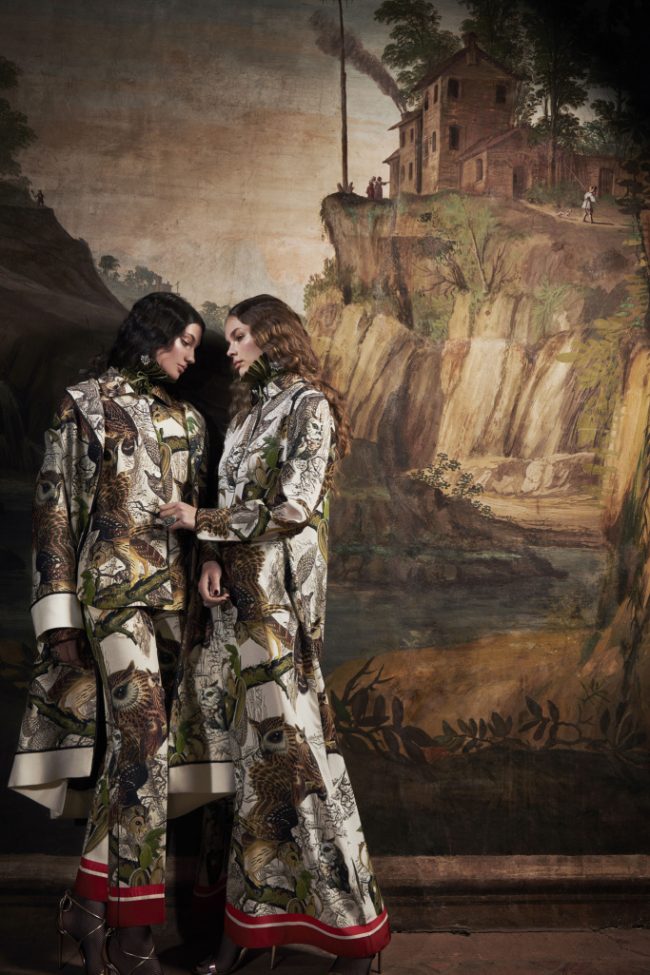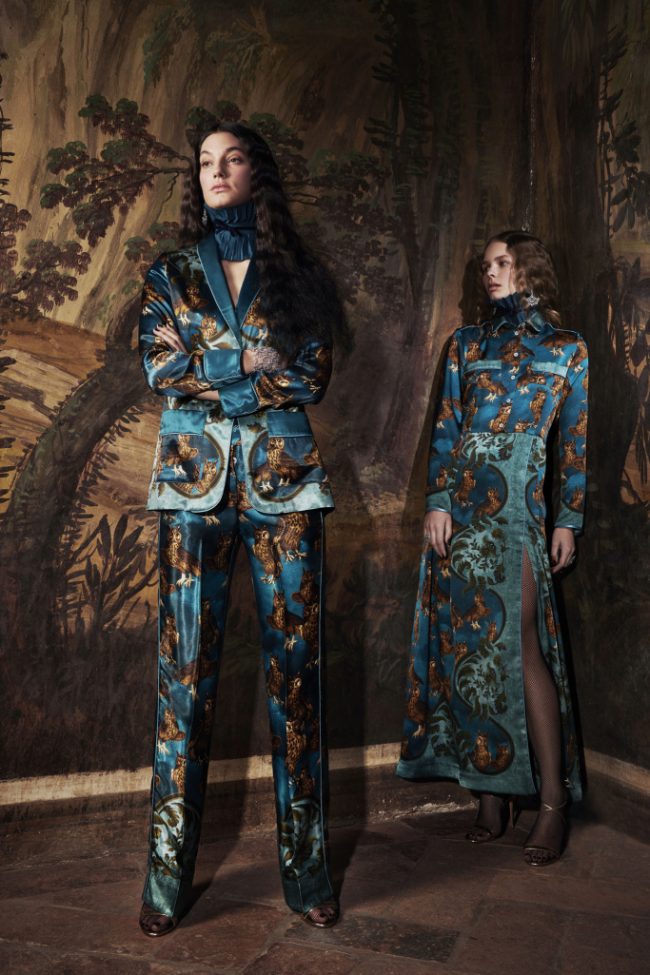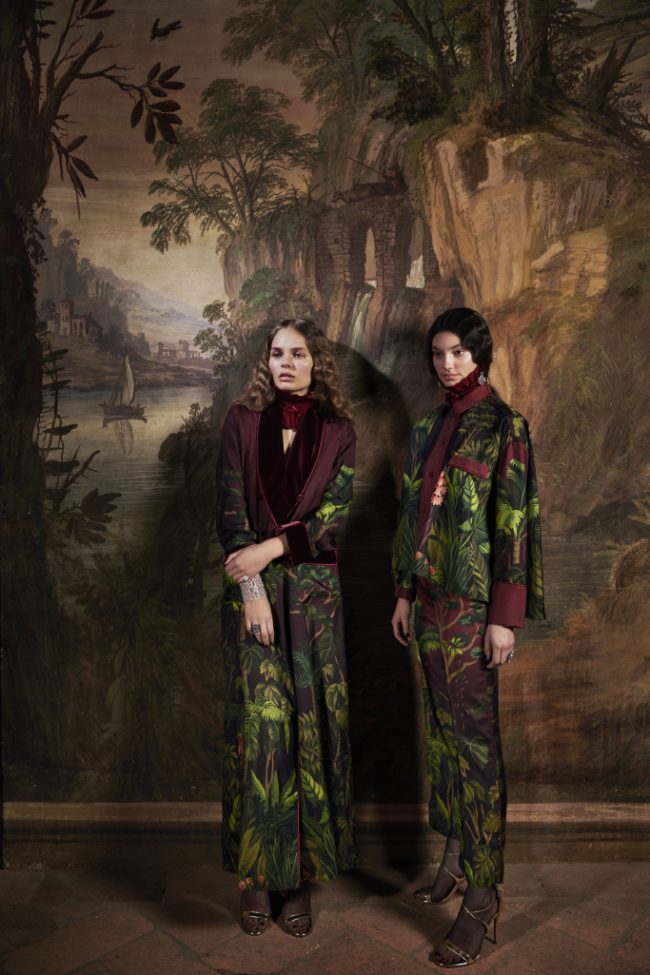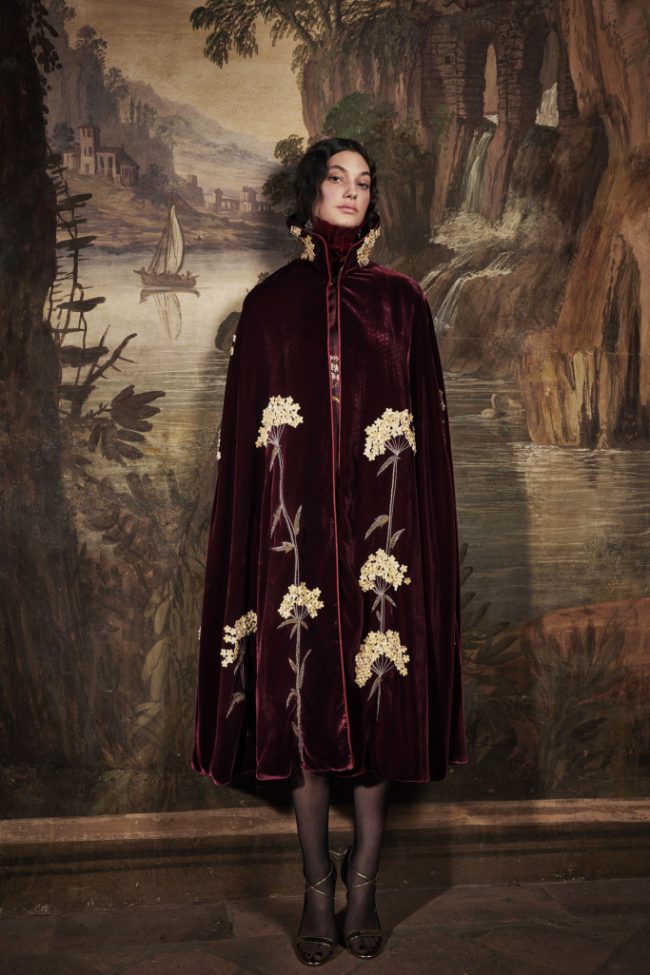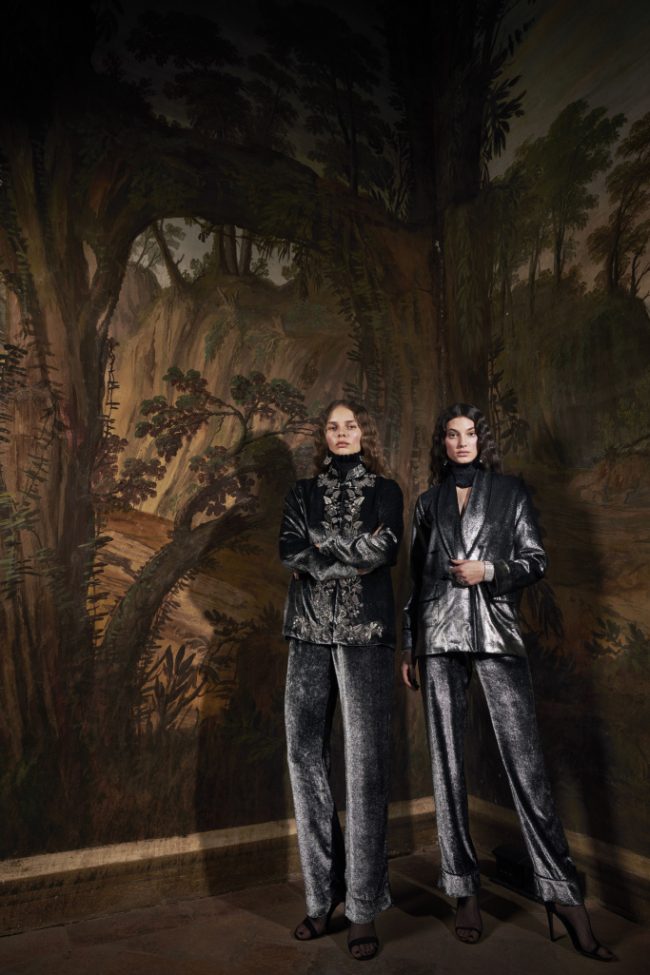 The Etro Fall 2019 RTW reignited our passion for paisley! Oversized fringed blanket and wrap coats had us daydreaming about huddling up to a roaring fire with our boo. Bohemian almost Southwestern prints added to the design's richness. Spectacular use of muted paisleys disappeared into the design and became almost neutral in their application. Smoking style duster jackets effectively married the masculine with the feminine. Two distinct departures for the brand-less saturated colors and more skin showing…..hum? Not sure this is what their core customer is clamoring for?