MILAN Fashion Week Fall 2017 Collection Reviews PART 5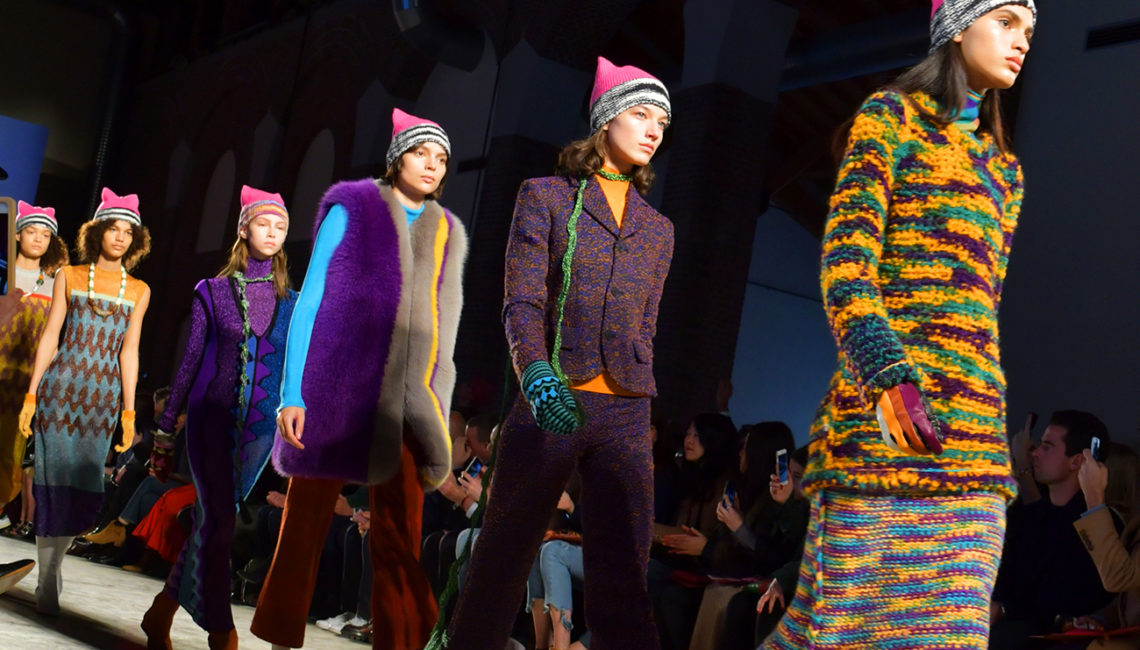 The message is strong and clear with the Milan Fashion Week Fall 2017 collections.  Luxury matters.  And whether it comes from skilled craftsmanship, extraordinary detail and/or the finest fabrics, leathers and furs, it is a worthwhile fashion investment.  If the stock market and real estate continue their upward path, the Milan Fashion Week Fall 2017 collections should be easily welcomed when they hit the stores this summer.
A Kaleidoscope of Colors At Milan Fashion Week Fall 2017
Goga Ashkenazi's of Vionnet took illustrations of New Guinea's birds-of-paradise from the "Encyclopedia Britannica" and reproduced them on silks, chiffons, and lamés. Using bright colored tulle for overlays or vibrant silk sashes or sarongs, the collection for fall 2017 RTW was vibrant and full of energy. An island blue asymmetrical shearling coat was fresh and modern. A combination leather and shearling walking coat in cranberry red was a must have as well.
We are suckers for a chubby fox coat and, in the fall 2017 RTW show, Missoni gave us one heck of an option. White fox with colored stripes running on the latitude was drop- your- jaw -hot! Fox boas and vests were in the line-up too, if that's your cup of tea. The expected sweater options were there, of course, coordinated with wool suit separates that were richly textured or of contrasting patterns.  Missoni did a beautiful job working colorful intarsia mink designs reflecting their signature rich patterning.
e·la·tion: the feeling you get when viewing the Agnona fall 2017 RTW collection.
de·light: the feeling you'll get owning a piece from said collection.
There just wasn't anything not to love that was put forth by designer Simon Holloway. With a little bit of menswear influence made to look great for women and a selection of the finest Italian cashmeres Agnona presented a collection in midnight blue, vibrant red, and cool camel that will stand the test of time.  Oversized outerwear in vibrantly colored fox is sure to make a statement next fall.  The textural mix of Kalgan and curly lamb in a rich wine colored coat was a refreshing twist.
The late 1950's are alive and well at the house of Philosophy di Lorenzo Serafini. In their fall 2017 RTW collection, we saw plenty of references to Elizabeth Taylor in "Cat on a Hot Tin Roof".  Soft, angora sweaters that always make the "girls" look good along with high-waisted, petal pusher pants and crinoline skirts that played into the theme. The twist came with updated patent leather looks and fur. A beautiful black and white spotted fur opened the show. The white mink belted car coat reflected the polished innocence of the era while a mini-skirt suit with leather trim and fur sleeves suggested a more "Cosmo girl" feel.
A sepia color palette painted the fall 2017 collection from Cividini.  With rich velvets and cozy knits design team Miriam and Piero Cividini delivered an old fashioned appeal and a promise of cold weather coverage.  But it was the unexpected fur treatments that gave Cividini a fascinating edge.  His-and-hers camo sweaters gave a nod to streetwear, but in mink they had a surprising luxe allure.  Who else would give us a camo baseball jacket with broadtail sleeves?   A broadtail sweater with fur fringe was very "of the moment".
Kiton's fall 2017 RTW collection was small but mighty. Precision tailoring of clean, classic suited silhouettes with topper coats was the focus.   Raising the level of sophistication, they added trims of fox, sable and mink to oversized collars to create coats that were the centerpiece of the fashion options. A favorite piece was a Russian broadtail walking coat with 3/4 sleeves trimmed in black leather and a collar of black cross mink. Impeccable!
Related articles