MILAN Fashion Week Fall 2017 Collection Reviews PART 3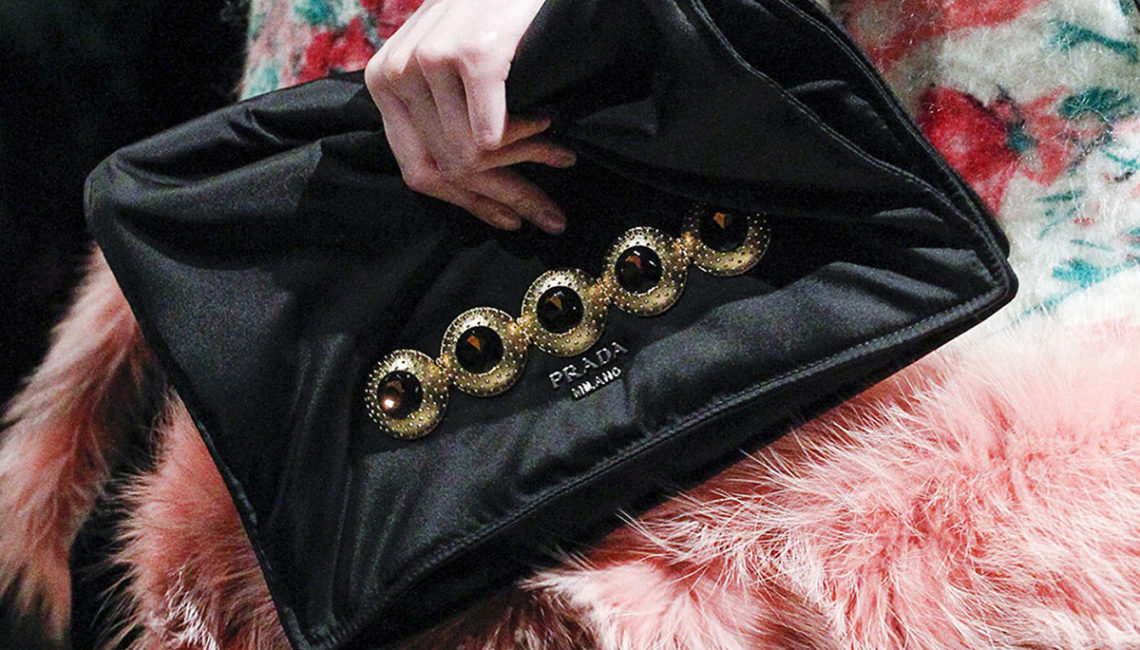 Designers took chances with the Milan Fashion Week Fall 2017 collections and we loved it!  The Italians have an eye for drama and this season they looked to unexpected pairings of textures and patterns and colors to make bold statements.  Fur was added to the mix for an even stronger visual declaration.   Boring was simply not on the menu.  The message of these Milan Fashion Week Fall 2017 collections was clear; go bold and express your individual style.
Bellissimo! The Milan Fashion Week Fall 2017 Drama Continues
None of it made sense, yet it all made sense. Does that make any sense? This was the internal dialogue we were having as we watched the Prada fall 2017 collection unfold before us. Super rich fabrics pieced together in color combinations you'd never think would work but did. Take, for example, a black mohair walking coat with long goat fur collar in bubble gum pink….fine but then put under it a flouncy, red 3/4 length skirt and a royal blue multicolor sweater, not done yet….then top it off with a black purse with tan goat fur handle and sparkly gold stilettos and, well, you've the picture. Then add the references to the 1960's, 1970's and even the 1950's that collided here, but seemed to work well together.  Amazing creativity!  Each outfit was a work of art.
Andreas Melbostad, lead designer for Diesel Black Gold, gave us a fall 2017 RTW collection full of hip girl styles we loved!  A shearling wrap skirt paired with a cable knit turtleneck was back-to-school cool. Long, thick scarves accessorized sweaters and jackets. A black patent moto jacket with cafe ole shearing was so pretty and so tough at the same time. Long maxi dresses and cardigan sweaters lined with fur also gave a cozy, chic vibe.
If you're looking to wrap yourself in warmth and happiness, Mr & Mrs Italy's fall 2017 RTW collection had it all lock, stock, and barrel. Patchwork decals emblazoned on nylon parkas and mink jackets were youthful and fun. Parkas lined in striped or stenciled mink or patchwork fox redefined street style.  For the guys and the girls, oversized hoods with colorful fox or shearling trim made the jacket offerings a casual cool that will work for today's active lifestyle.  Cross body bags made with mink and adorned with fox pom-poms will be an impulse buy you'll never regret.
Sometimes knowing the back story of a brand can help put it in present context. That's true for Krizia. Zhu Chongyun, a successful self-made woman who is chairman of Shenzhen Marisfrolg Fashion Co. and a designer in her own right with some 20 years' experience, bought Krizia early in 2014 with plans to revive the fortunes of this bygone fashion house. More recently she hired Antonio D'Anna to help co-create. So now the challenge is to resurrect the soul of the brand while infusing it with today's tastes. For their fall 2017 RTW collection, there were plenty of clean, contemporary, luxurious looks. Jackets and coats were oversized, sweaters had elongated sleeves.  Accordion pleats and lace macramé punctuated the collection.   Modern day two piece knits played into the casual, unfussy wants. A ribbed beaver coat shown belted and the matching bomber jacket added just the right depth and drama to the collection.
Anna Molinari knows how to dress her PYT's and she does it well, with plenty of pop and sizzle. Her fall 2017 collection for Blugirl seemed to come in distinct chapters.  Baby doll dresses, lots of lace, bibs, belts, and bows may have been a bit overdone, but they showed a frilly, feminine side.  Rich velvets, some with brocades and others in bright colors provided an opulent feel.  Monochromatic knit ensembles were polished and modern.  And then there were the eye-popping looks in tropical prints and leopard stencils, some of which featured boldly colored plush fox collars. These were not for the faint of heart.  We loved the leopard stenciled mink coat with the bright blue mink trim.  On the softer side of things was a patchwork shearling coat in sherbet colors.  Russian Cossack hats topped off the looks. (Pardon the pun.)  This season Blugirl truly does have something for everyone.
The reigning queen of pattern mixing, Veronica Etro, did it again! This time around she deftly mixed patterns and textures in unexpected combinations to create extraordinary looks.  Color-blocked jackets were a refreshing new twist in shearling design.  Who else would introduce pants of corduroy and shearling and pair them with a multi-pattern silk wrap blouse?  Or add leopard printed goat trim to a coat with a heavy ethnic print?  Etro's fall 2017 RTW collection reflected her unwavering commitment to the highest quality in textiles and tailoring. Whether fine, rich silks, light-as-air gabardine wool, or richly textured shearling, Etro's pieces are always magic to behold. Fur lined boots which coordinated with the looks were effortless and, paired with a micro minis, looked so cool….a little like a sexy Pocahontas. This was fearless fashion for sure.
Related articles