MILAN Fashion Week Fall 2017 Collection Reviews PART 2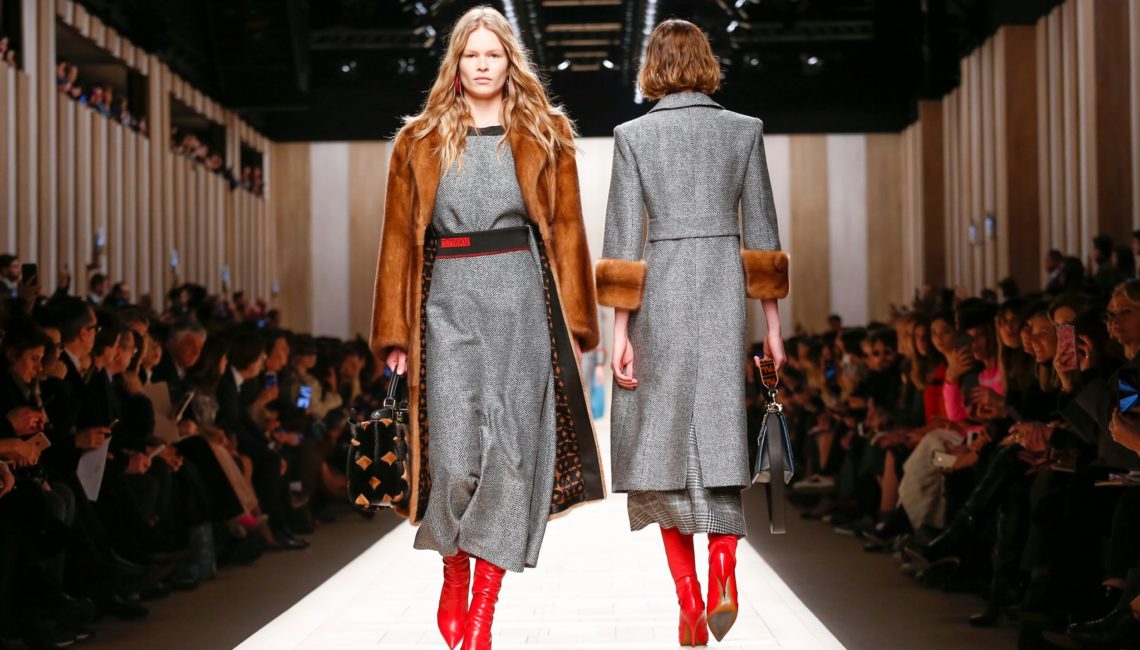 The Milan Fashion Week Fall 2017 collections are full of fashion magic.  The world's most luxurious fabrics manipulated by the most skilled hands in the most innovative ways….what more could we want?  From the venerated masters of design to the new and emerging talents, the Milan Fall 2017 collections are redefining fashion and giving editors, buyers and fashion consumers a much-needed dose of inspiration and excitement.
More Fur Fashion From Milan Fashion Week Fall 2017
Cristiano Burani made athletic wear look cool, tailored, and sophisticated in his fall 2017 RTW collection. Soft, saddle colored leather with red track pant pin striping down the sides was a new twist on ath-leisure wear that will take you many miles in fashion fitness. Weaving in matte shearling coats and mink collars again highlighted the luxe casual styles that are evolving for today's woman. The textural tones and geometric designs resembled stain glass windows. Mr. Burani's presentation was a sure nod to the traditional Italian artisanship.
The 1980's were a golden age of politics, music, TV, and fashion. Sara Cavazza of Genny gave us all that glittered in the golden age, making everything old new again in her 2017 RTW collection. Gold lame, electric blue silk, shoulder pads, and jumpsuits were among the finishing touches that looked like they just rolled past the stanchions at Studio 54. A fox chubby coat in blue, white, and black, with gold sequin trim, was absolutely fabulous and exactly what champagne and caviar dreams are made of.
Ladylike fashion with a school girl's innocence helped define Vivetta's fall 2017 RTW collection. Vibrant purple, pink, and red highlighted silhouettes that featured peterpan collars, bows, and petal pusher pants. Lots of very mod jacket options completed the looks which included a purple riding coat with brass buttons and cheetah print collar. A black mink intarsia walking coat with cartoonish icons played into the girlish fantasies.
Karl Lagerfeld put his twists on classics, proving that they need not be boring in his Fall 2017 RTW collection for Fendi.   A palette of grey, brown, red, teal and black was used to tell his story, applying them to traditional silhouettes in skirts, suits, and top coats. The grey came by way of glen plaids, brown was the color of lush mink, and the red…..thigh high boots to pair with every look. A teal blue shearling with matching mink belt and cuffs and contrasting golden collar demanded notice.  But it was Mr. Lagerfeld's innovation in fur design, a trademark of the house of Fendi, that brought the greatest reverence.  A sheared red mink coat was embellished with laser-cut floral inlays of fur.   A geometric intarsia design of mink, broadtail and shearling promised the exclusivity that only the most highly skilled craftsmanship can provide.  With his expert tailoring of a camel and black mink dress he proved that fur RTW can be body flattering.
Hugh Hefner made it totally acceptable to wear PJ's all day long so why can't we? FRS's fall 2017 RTW collection was entirely made of loungewear, and so what?! It's awesome and we aspire to have a life where this look makes sense for our leisurely lifestyle. Decadence was defined in rich, jewel tone velvets, hand painted silks, and brocades accessorized with opera length pearls which were sexy and alluring. But really, when the two piece broadtail pajama set appeared this was luxury beyond imagination.
A small but mighty capsule collection was presented by Fabiana Filippi in her 2017 RTW show. What was indisputable was the fine, traditional Italian handling of the most luxurious fabrics. The richness of fur expanded her vocabulary using tufts of fox on a black cashmere coat and mink trim on a felted wool jacket. Fox vests were part of the versatility of the RTW making these key pieces for every women and her first class taste.
Related articles