MILAN Fashion Week Fall 2017 Collection Reviews PART 1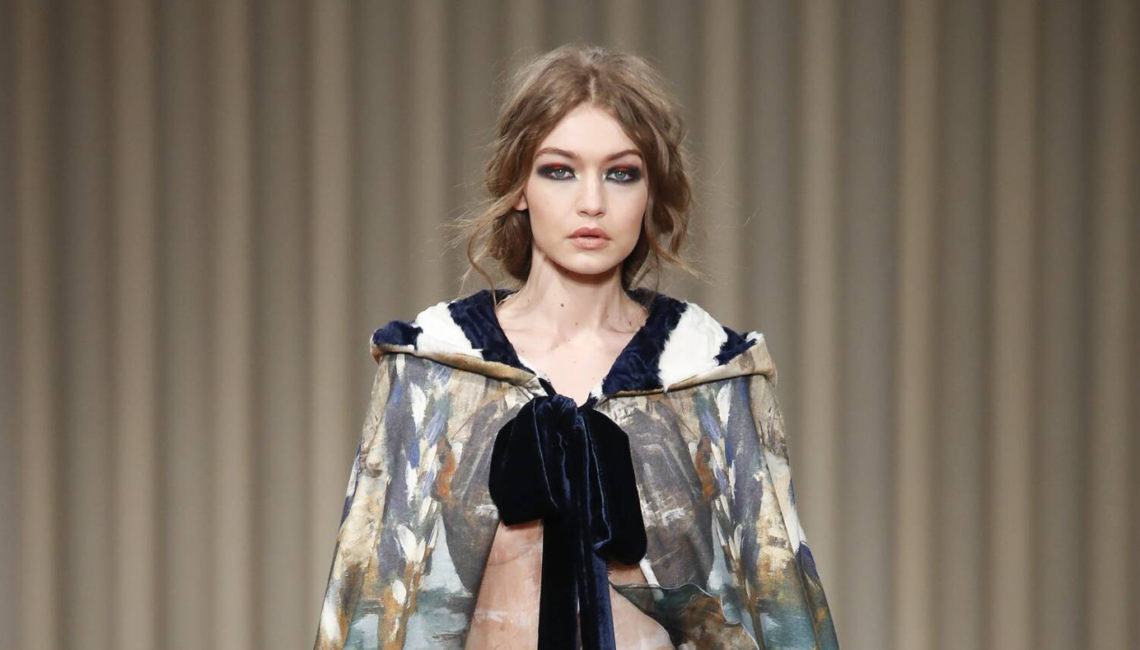 Within the first few shows of the Milan Fashion Week Fall week 2017 collections we were reminded why so many of the luxury labels from New York, London and Paris rely on factories in Italy to produce parts of their apparel and accessory collections.  There is a commitment to craftsmanship and quality and a refined creative sense that goes along with the "Made in Italy" label.  It is what gives Italian design such a strong luxury appeal and an innate sense of style.  Welcome to the Milan Fashion Week Fall 2017 collections!
Capitalizing On Craftsmanship At Milan Fashion Week Fall 2017
No. 21's fall 2017 RTW collection was an interesting juxtaposition of style references.  Pretty, flirty, frilly print dresses in soft chiffon fabric felt like an old world, 1950's Italian street scene.  Brown plaid suits and skirts gave a more serious and structured sense of RTW. A horizontal striped trim on jackets, sweaters and belts had an American collegiate feel.    Shirt collars made of mink were just the right kind of modern glam for today's well-heeled woman.  Shearling varsity jackets were "of the moment" wow!
With ruffles, flounces and sheer fabrics Francesco Scognamiglio had all the perfect notes for ladylike dressing in his Fall 2017 collection.  A butterfly theme added to the message, but crisp tailoring and perfectly placed cutouts that mimicked a monarch's pattern brought a healthy dose of sex appeal.  The collection moved on, picking up a slightly tougher street-style edge with metal studs and a black goat hair jacket.  Light and pretty, modern and cool, a multi-colored, belted goat hair jacket brought his message together.
Pretty sure there will not be one girl on the planet who wouldn't give her eye teeth for just one piece out of the Alberta Ferretti fall RTW 2017 collection. Ferretti gets girls – what they want, how they want to dress, and their dreams. From a navy and white broadtail walking coat to an orange broadtail hooded coat, both had an unexpected cool, casual vibe. Her velvet cape with jewel appliques and mink lined hood expressed the drama and opulence that defined the collection. With this collection there were plenty of "gotta' have it" pieces, making it entirely possible to throw away all your clothes and build a closet on Ferretti alone.
A lot of thought went into each look at Gucci's fall 2017 RTW show. Full ensembles, including shoes, handbags, umbrellas, and even nose rings complemented the already ornately decorated clothes. Pattern mixing was still a main driver of the looks, and touches of gold threads or sequins gave them glint. Then, BAM, out of nowhere appeared an ivory mink walking coat and a quiet hush came over the collection. A monochromatic, streamlined look allowed just enough time to catch your breath and take in all that is the genius of Alessandro Michele.
If you're in the market for a super cool piece of outwear, Annakiki for fall 2017 RTW has you covered. Fluffy pastel fox coats and trims were so fresh and fun it was hard not to smile as they charged down the runway. A bright orange fox coat with flounce hem was just the right amount of fashion folly. A statement piece for sure, it was definitely versatile enough to keep up with your daily demands. A few sliver croc outfits with pink fox were added because, as Anna Yang, the designer said, "I wanted to mix the silver with the pink because it's so sweet and soft — I thought that would come as a surprise."
"If it ain't broke, don't fix it."   Max Mara wisely followed the adage for their fall 2017 RTW collection. The finest wools, cashmeres, and furs were chosen to make up the stunning, monochromatic looks. Red, camel, grey and black were predictable colors for the brand, for sure, but we we're so grateful to a brand that knows what it does best.  This was solid RTW full of fresh twists. In particular, a red shearling bathrobe coat took our breath away. Shearling trimmed bags may be the bag of the season
Related articles