MILAN: 2017 RTW Spring Summer Menswear Collections Part 1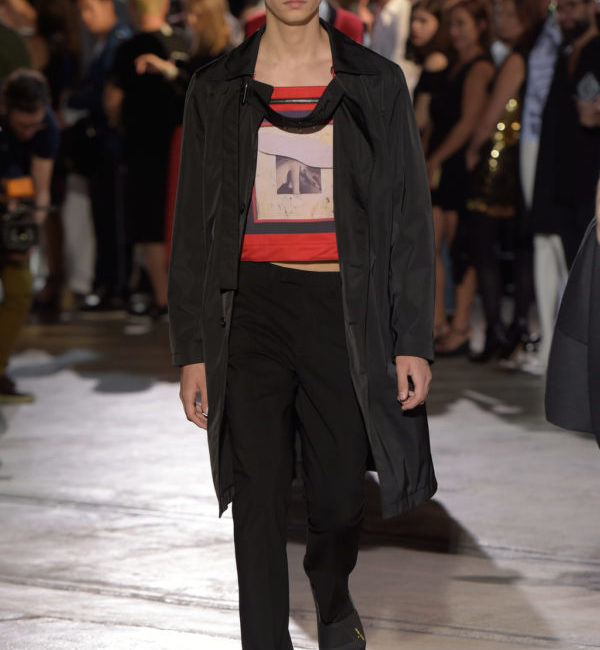 Before getting into the finer points of the Raf Simons 2017 RTW Spring collection, a bit of a history lesson is in order. Robert Mapplethorpe, an American photographer, was best known for his provocative style featuring mostly black and white photos of sexually suggestive subjects. Now superimpose some of Mapplethorpe's most iconic images on Simons' genius designs, and you have the makings for some pretty artsy fashion. Oversized, box cut shirts and sweaters paired with black pants were contemporary and well crafted. Simons then screen printed Mapplethorpe's photos on the fabrics. Unfortunately, the result looked like souvenir tees at the Guggenheim museum gift shop.
A 60's rock star revival played out on the Dolce and Gabbana spring 2017 RTW runway. Ankle length pants, skinny lapel sport coats and thin ties paired together looked like an early Beatles album cover photo shoot. In customary fashion, D and G crafts unique prints like pineapples, trumpets, palm leaves, and polka dots. The expected cheetah and zebra patterns jazzed up caftans and shoes. In the collection, 99 looks and not a boring one among them.
Fantastico!…..the Italian tradition of exceptional fabrics and quality craftsmanship were on fine display at the Versace spring RTW 2017 men's wear show in Milan. Flowing nylon parachute parkas, silk knit jersey tee's, and impeccable merino wool suits were among the stand outs but it was the leathers that left us breathless with desire. Soft skins in black or beige with a laser cut-out geo pattern was so unexpected and way cool! Bellissimo!
In the wake of the sobering news that the Ralph Lauren Corporation is struggling, CEO and President, Stefan Larsson, is serious about the bottom line. Focusing on the core collections, shuttering stores, and cutting management, the spring RTW men's show featured all that's right with the iconic brand. Key popular pieces that remain in production to keep things healthy include the army jacket, safari jacket, peacoat, and duffel coat. The RL brand also stays true to conservative men's wear that looks monied and sophisticated. Monochromatic color coordinating, linen and nylon fabrics all solidify the sophisticated elegance of the collection.