Luxury Fashion: Denim Trends to Love or Leave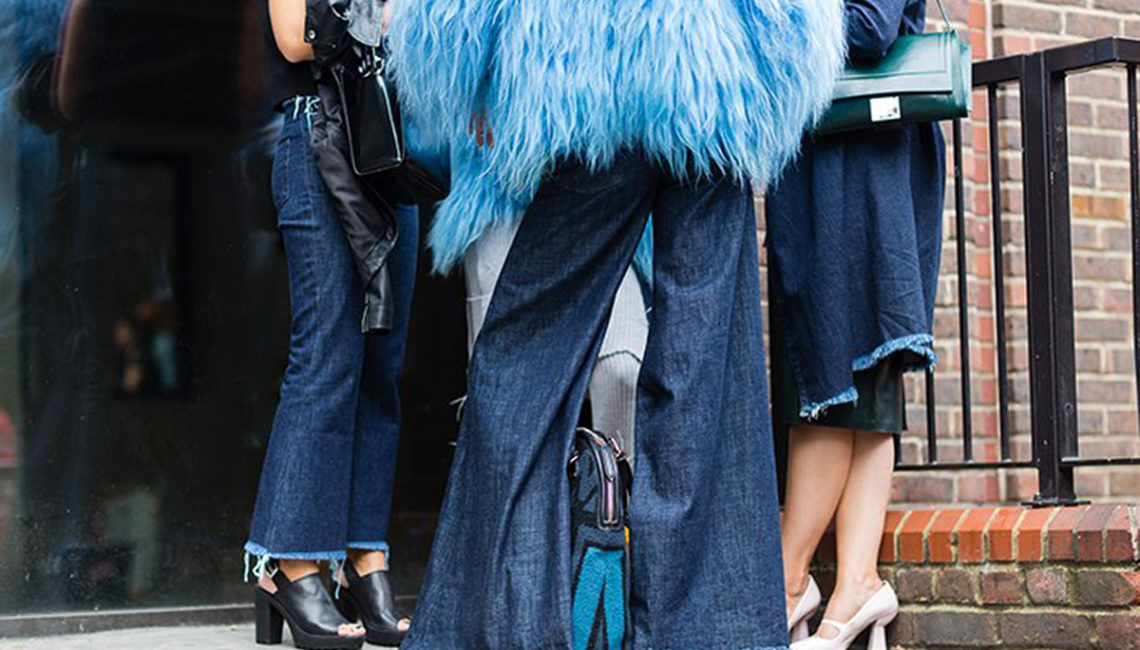 I recently had a conversation with a friend who was repping a line of hand painted denim jeans and jean jackets that sold for $750 – $1500 and it got me to thinking, just how did "regular jeans" transition from a workday staple into luxury fashion phenomena?
Denim Trends: Luxury Fashion for Everyone
Denim may be the most democratic fabric on the fashion scene today, with denim jeans equally at home with boots and a flannel shirt on the working ranch hand or with heels and a crisp blazer on a New York socialite.  But just where did jeans get their start and what has fueled their explosion across the various fashion sectors and into the highest realms of luxury fashion?
In 1873 Jacob W. Davis, a tailor from Nevada, added rivets to reinforce his sturdy cotton twill pants creating denim jeans that provided a strong and durable work pant for laborers, miners and ranchers.  And so the denim jean category was born.  But over the years, denim has become a creative canvas for designers in every sector of the fashion industry, with some of the most interesting and extraordinary (and costly) adaptations coming in the luxury fashion category.
Basic jeans have gone through many iterations through the years, some much better than others.  Traditionally colored blue with indigo dye (thus the term blue jeans), innovations in technology and fabrications have expanded the possibilities of denim. From sulfur dyeing that allows for jeans to be produced in a rainbow of colors, to a variety of washes, fits and detail work the possibilities for denim are virtually limitless.  In some cases the design drivers are easy to discern.  Distressed looks, acid washes, stretch fits, embroideries and the variety of silhouettes easily make their marks and differentiate styles.  But it may be harder to identify the sartorial touches, the luxury details and the exceptional tailoring that catch the attention of the savvy luxury fashion buyer.  In some cases, the luxury adaptations have worked well, such as the tremendously popular fur-trimmed denim jacket.  In others, such as the previously mentioned hand painted jeans, practical considerations have come into play (after all, how do you clean these and maintain the hand-painted design?)
A recent review of the online offering of women's jeans from Neiman Marcus brought up 622 options ranging from a skinny jean by rag & bone for $325 to the embroidered denim flare-leg pant with studs from Gucci for $2500 or the embroidered crop jean from Alexander McQueen for $3795.  This is, in itself, a testament to how widely accepted jeans are today for dressing across a broad variety of dayparts and occasions.  And, while the offerings for men may not be as wildly diverse, jeans can put the guys at the top of their style game whether for casual wear or, with a blazer and a crisp shirt for the office or an evening out.
How Far is Too Far with Luxury Denim?
Recently TopShop generated much debate when they introduced their new Clear Panel Mom jeans featuring a clear plastic panel at the knees.  The internet response was immediate and harsh, with many declaring this new style trend the "worst of all time".  While the trademark high-waist and light rinse of earlier "mom" jeans had already created consternation, this new design trend may have taken things just a bit too far.  Let's face it, the knees are not exactly the most attractive body part.  And now, taking it one step further, they have introduced a completely transparent pair of polyurethane plastic jeans for $100 that bares all.  It is akin to wearing a terrarium around your legs.  They are not alone in their outrageousness, however.  Nordstrom's has recently introduced a new line of jeans covered in fake mud…for a mere $425.  Now that's one dirty little secret!
Related articles