LONDON Spring Summer 2018 Collection Reviews PART 4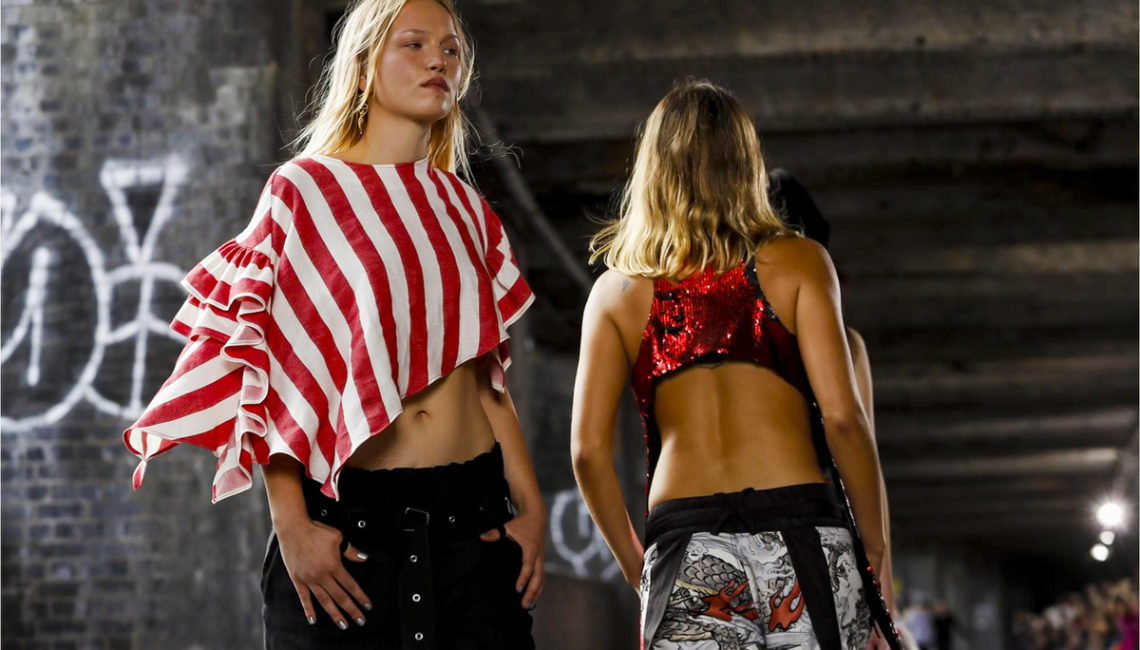 Ahh….thank you London!  The innovation and excitement that define fashion is indeed alive and well for spring summer 2018.  From smart, polished looks to the wildly eccentric, designers here gave us plenty to think about for spring summer 2018.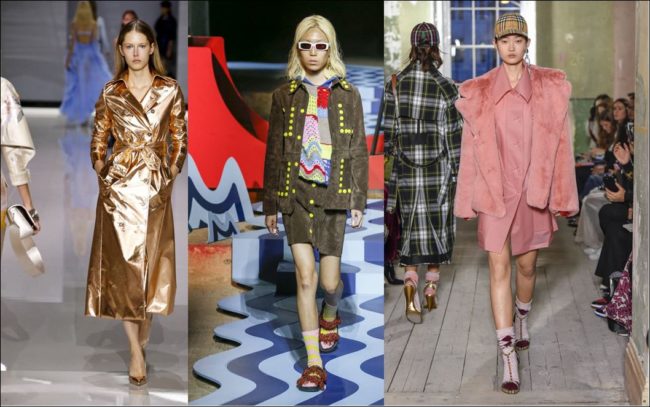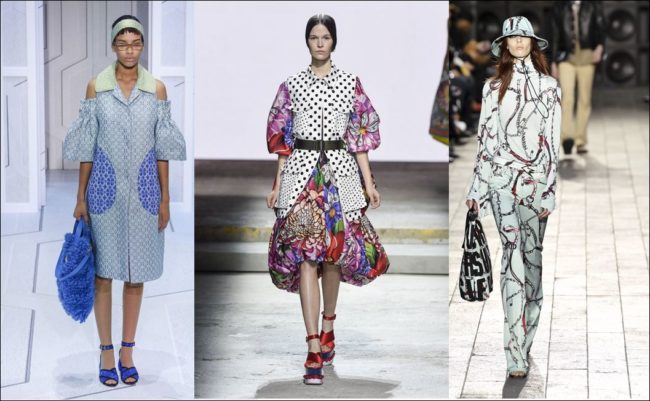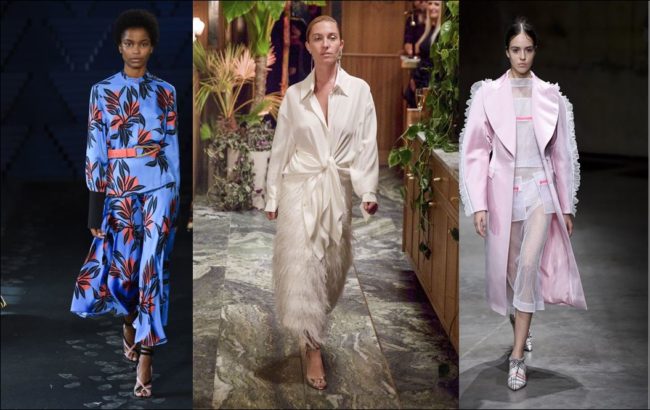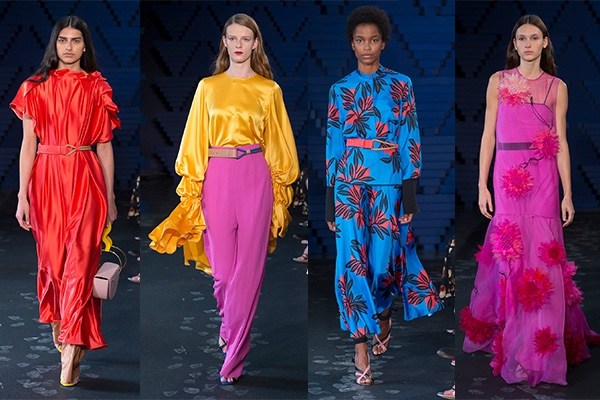 We Wrap Our Look At London's Spring Summer 2018 Runways
Sharon Wauchob's spring/summer RTW for 2018 was a clear demonstration of her extraordinary tailoring, architectural constructions and avant- garde shapes.  But she showed a softer side, too, with  ruffled collars, classic ladylike ruffles and diaphanous dresses. Hard, angular lines on stiff blouses and trench coats had a clean, modern feel.   Creative pant constructions featured belted ankles. Recognized for her statement outerwear, her blue rubberized satin coat was a standout.
Victoria Beckham's spring/summer 2018 RTW collection riffed on a men's wear theme. Boxy, oversized shirts, blazers with large lapel collars, and three piece suited styles were softened with pretty pastel colors and supple fabrics. Ms. Beckham continues to evolve as a leading designer with her attention to detail, a simplistic, clean approach, and just the right balance between fashion forward and approachable styling. A key piece worth noting was a crimson shirt dress that reflects the effortless style that has become her signature.
Amanda Wakeley, you had us at the bow belt! In her spring/summer RTW collection for 2018, Wakeley stays true to classic, girly-girl dressing. Sweetly appealing, soft silhouettes marked with ribbon belts looked smart, reflecting a polished school girl prep. A full range of silhouettes included pant suits with wide-legged pants, jumpers, and maxi dresses. A touch of an American sportswear vibe, a nod to the 70's and a dash of boho chic, this was a collection of  day to evening wear for today's modern woman.
Up to now we've hardly seen much denim for spring/summer 2018.  Enter MM6 Maison Margiela.  They  gave us strong denim looks that left us wanting more.  But this was not your usual denim.  The character of this exquisite fabric was seen in the graceful  drape of an over-sized two tone tunic.  It just behaved in all the right ways. Complimented by crisp white blouses that were contemporary in cut, these were the perfect looks for easy, polished chic.  Wide legged drawstring pants and t-shirts and footwear with bold graphic prints defined the casual, young vibe of this collection.  A special shout out to Maison Margiela for looking back to their DNA and doing what they do so well.  This collection had a youthful, edgy energy that sets them apart.
London continued to deliver the unexpected and the exciting for spring/summer 2018.  Marques Almeida gave us a strong collection of fashions with a sense of occasion. Bold stripes for sweater dresses and pant suits offered an urban chic vibe. Shimmery liquid metallic skirts and dresses were sexy and dramatic.  Powerful separates to mix and match included handkerchief blouses and cowhide pants and jackets. Smartly tailored coats grazed the ankles for a memorable outerwear statement.   Almeida crafted a key purse in various sizes with a lucite chain handle that is sure to be a must-have accessory for the season.  A version in burgundy fur certainly caught our attention!
Gareth Pugh is one of the London stalwarts that always challenges convention and we love him for that.   For his spring/summer 2018 collection he shocked and awed in his usual way. Doing what is seemingly impossible to do with garment constructions, he used metallic fabrics that literally stood on their own. Liquid red patent was used for crinkled, baggy pants and trench coats. But it was his plastic column dresses that looked fit for a superhero dressed by a genius. These truly were "fashion is art" manifestations.
Pam Hogg used a nude body stocking and piled it high with puffs of tulle for spring/summer 2018.   Soft pastel colors of mint green, cotton candy, blueberry, and lemon sorbet, covered all the essential body parts but left just enough peeking through to stir the imagination. She segued into a lycra catsuit that were color blocked for a powerful effect. What Hogg did with trench coats for the season was a stark departure from her sexy underpinnings. The coats were cut well with large lapels, cuffs, and pockets. Very wearable and very cute, indeed.