LONDON Spring Summer 2018 Collection Reviews PART 2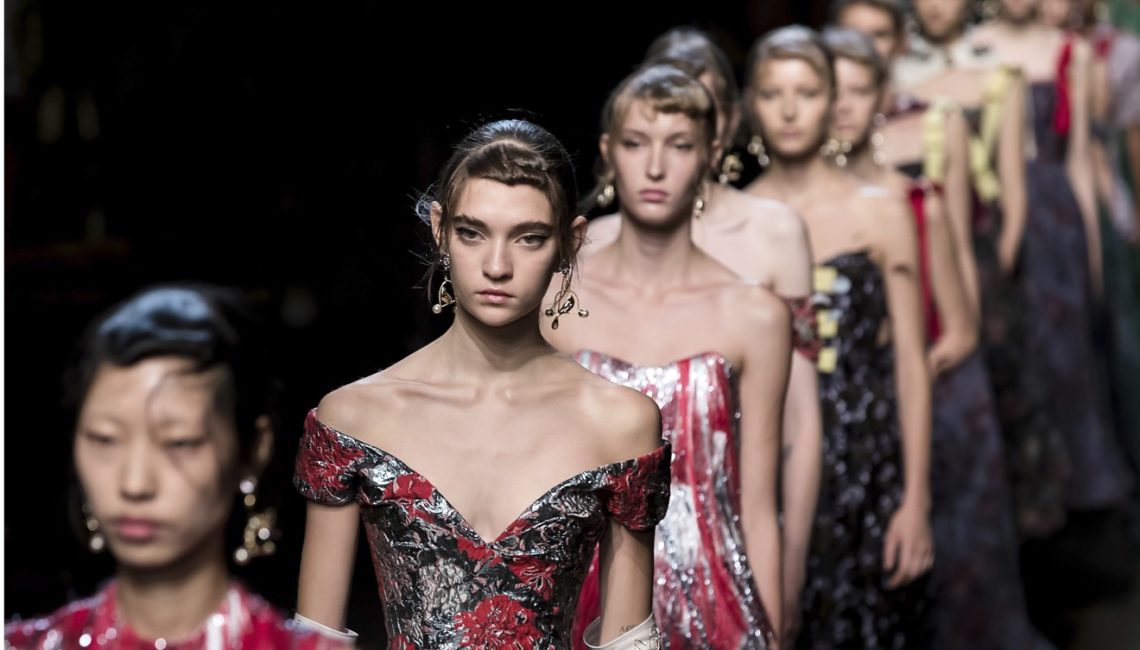 The London Spring Summer 2018 collections have not disappointed. Whether, your fashion flair is more daring and revealing, or  modest and classic, there are fresh and new silhouettes and color combinations that consumers will openly embrace.
Beauty Personified on the London Spring Summer 2018 Catwalks
Mary Katrantzou's spring/summer 2018 RTW collection gave us the fun and whimsy we have been hoping for!  With creative constructions, unexpected fabrics and bright colors she delivered playful and festive clothes that were mood enhancers. Vibrant patterns were eye-popping.   Lots of balloon skirts gave volume and whims.  yThis is not a silhouette we've seen much of this season and it was a welcome change. It seems even for spring designers can make bold statements with outerwear and Katrantzou gave us a some brightly color-blocked trench coat options with drawstring closures that were stand-alone show stoppers
London Fashion Week continued to keep the mood light and airy and designer Anya Hindmarch, with her spring/summer 2018 collection, fell right in line! Texture was on the menu in head to toe ensembles featuring colorful patterned brocades that were rich and sumptuous. A line of maxi dresses adorned with fringe were beachside chic. Cut out shoulders and unexpected sleeve constructions kept things edgy and modern.  The real highlight from Hindmarch was her must-have accessories. Her bags were pure fun, each one a playful conversation piece. But the footwear had us breathless. Fuchsia and orange lamb slip-ons were over the top indulgence!
There are those designers and their collections that need no introduction…..Versus Versace by Donatella Versace is one of those gifted few. Her 2018 spring/summer 2018 show had a definite point-of-view that resulted in a cohesive collection.  That she relied upon some of the Versus Versace trademarks including chains, mesh and those iconic prints was all the better!  These are easy-to-wear looks with enough Versace verve (including the Versus logo) to let them know you are a fashion player. With a hint of western flair, light wool gabardine plaids were smart and crisp. Touches of metallic leather were used as luxe embellishments to give us more of that Versace bling.  Even the plaid suitings had enough twists to   suggest the confidence and seduction of Versace.  Part of the genius of this collection is in the youthful, energetic and solid wardrobe options that work from the office to the street to the club.
The link between fashion and pop culture is well understood.  For Thea Bregazzi and Justin Thornton of Preen this relationship manifested itself in references to the uber-popular television adaptation of Margaret Atwood's The Handmaid's Tale starring Elizabeth Moss and airing on Hulu.  The white bonnets and 18th century cuffs of their spring/summer 2018 collection reflected the dress of the conscripted women that are the focus of the story.  Another reference, a red letter A embroidered on a shirt, referred to Nathaniel Hawthorne's The Scarlett Letter in which a young woman is forced to wear a scarlet A on her dress to shame her for giving birth to a child of unknown male parentage.  Did the duo have a message for this collection?  It seems so, and it is a cautionary tale to women to take back their power.   As the show progressed they introduced sexy, romantic daywear and dresses with lace, beading, ruching and breezy diaphanous fabrics .  These gorgeous and delicate dresses reminded us of the fun that can be had in being a woman, too.
We have a new, favorite must-have look from the spring/summer 2018 collections and it's hot off the runway at Peter Pilotto! His tuxedo trousers were the bomb! Pastel satins, cropped and low on the waist, may be the cutest addition to your warm weather wardrobe so far this season.   Pretty striped dresses tailored on the bias were a great addition and were also irresistible. With a hint of a few floral prints, Pilotto's collection was a solid representation of why we love spring RTW!
Margaret Howell gave us British fashion at its finest for spring/summer 2018.  Smartly tailored separates had a mix and match versatility. Crisp blouses, full skirts and boxer and Bermuda shorts are just some of the silhouettes that get a fresh redux with the subtlest of twists.  Ms. Howell knows how to keep things new and fresh without being overtly trendy to give her clothes an expanded life.  Great outerwear pieces included a sleek minimalist trench and a hooded duffle coat with toggle fasteners.   With a blend of men's and women's RTW, Howell continued to broaden her reach, providing salable options for both. For a fashion week that has trended to the pretty and frilly, this collection was just easy, effortless style.
References to the stylings of 30's jazz clubs and 50's cocktail.  A black and white photo from 1958 documenting a meeting between Duke Eillington and Queen Elizabeth II.  These are the things that influenced Erdem Moralıoğlu as he created his spring/summer 2018 collection for his eponymous line Erdem.  We couldn't be more entranced!   Strong shouldered, sophisticated dresses shared the runway with lady-like full-skirted cocktail frocks.  Rich lace overlays, grosgrain ribbons and brocades, opulent embroideries and embellishments and long, white gloves lent an air of royalty to these pieces. Frayed hemlines on robust plaid suits and dresses suggested a modern edge.  In the mix were a few balloon skirts leveraging what seems to be an emerging trend in London.   Erdem gives us fashion with a story, and we like it!
Related Articles