LONDON Spring Summer 2018 Collection Reviews PART 1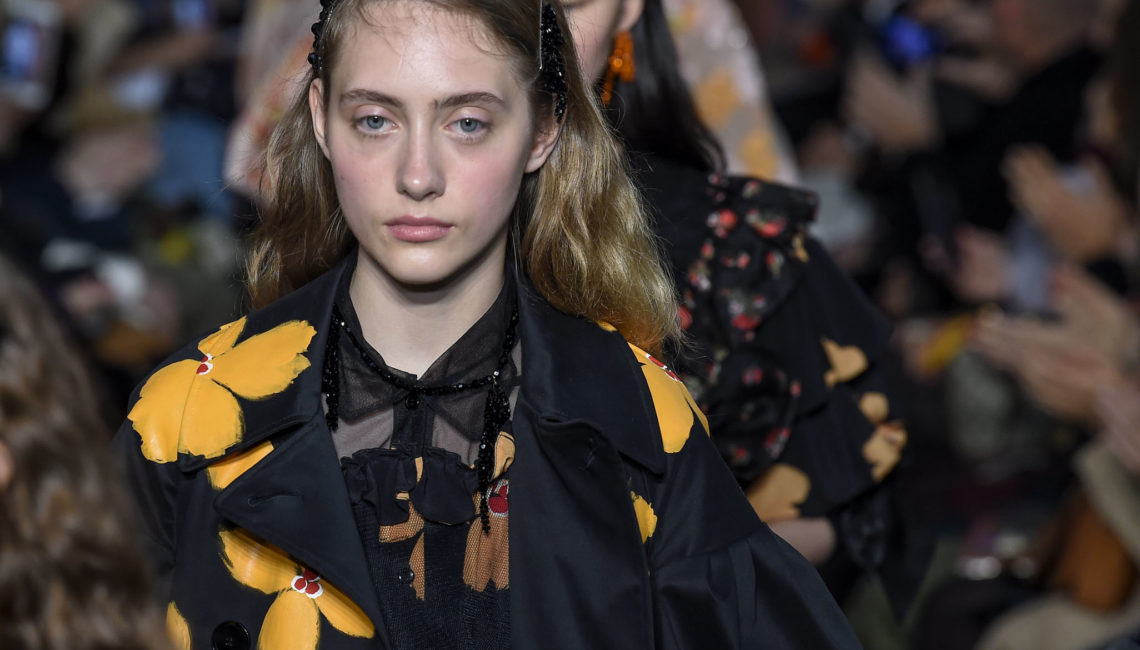 As the London Spring Summer 2018 shows started we felt a renewed sense of excitement.  The runways here are known for bold creativity, often bordering on the eccentric, as well as extraordinary tailoring and luxurious fabrics.  Fashion here can be wild and unexpected or steeped in rich sartorial traditions.  Will we see a departure from the more toned down approach to the season that we witnessed in New York?  Time will tell!
London Spring Summer 2018 Designers & Trends
I aspire to be a Belstaff girl.  Season after season they deliver uber-cool sporty clothes that are dripping in luxury and understated elegance. For spring/summer 2018 creative director Delphine Ninous was inspired by the Paris to Dakar Rally, reflected in her performance fabrics and the clean, crisp color blocking in red, white, black, and tan.   For pure easy chic it would be hard to top her quilted nylon jacket with leather pants.  A black leather jacket and matching skirt was brilliant with stripes of red suede, white vinyl and snakeskin.  The easy feel of a white cotton canvas belted jacket with their trademark distinctive detailing summed up the Belstaff vibe, and what a great vibe it is!
JW Anderson invited us to slip into something more comfortable for spring/summer2018.  Natural fibers, neutral colors, and just the right espadrille sandal pulled it all together. His knits were top notch. Cute dresses and two piece ensembles were playful and unique. Anderson also interjected some butter soft Napa leather separates to add an edge. While the designer is known to push boundaries and take chances, this collection was safe and salable.
For a brand that's only been in production since 2010, Ralph & Russo, from the design team of Tamara Ralph and her fiancé Michael Russo,  is a pace setter in every way. Their spring/summer2018 RTW came on strong at London's Fashion week. A mix of chic dresses, elegant gowns, and edgy daywear offered something for everyone to adore and admire. Metallic leather skirts, dresses, and trench coats in silver and rose gold were strong statement pieces. Car wash hem lines and cut outs added a tough sex appeal that speaks to their loyal clientele. Remarkable all the way around!
The backstory and inspiration behind Simone Rocha's spring/summer 2018 RTW collection is as sweet as the collection itself. "I had these china dolls with Victorian dresses when I was little. I used to send them down the banisters at home, so they ended up with cracked faces," Rocha laughed. "But I kept them, and now they're coming out again for my daughter to play with." Billowing silhouettes, blouson sleeves, rich satins, lace and delicate eyelets all made up the many antique looks. Sweet, little bows, scalloped trims, and touches of tulle furthered the old fashioned appeal. For the girl who likes to live her historical romance in real time, this will be a well-received option.
Burberry's collection for spring/summer 2018 was brimming with youthful energy.  Infused with punk references, preppy twists and bright colors it was unfamiliar, but welcome territory for designer Christopher Bailey.   Polyurethane coats and jackets at Burberry?  Yes, indeed!  And they had a nice spring appeal. Tartan plaids and fair-isle sweaters reflected Burberry's British roots, but with a modern, fresh approach.  Skirts and dresses in diaphanous fabrics with lace trims or floral embroideries were delicate and romantic.  Burberry has become a leader in shearling design and for spring/summer 2018 they delivered plush shearling in robe coats, great coats and pea coats in mint green, rose and golden shearling.  A natural shearling jacket with cartoon decals is sure to be a collector's item for the Burberry fan.
Leave it to House of Holland to give us 'Punk Meets Street'. Their spring/summer 2018 mash-up of patterns and loose fitting separates were paired with Devo glasses and sparkly Birkenstocks to drive the mod motif home. A boldly colored wave pattern was used on a range of silhouettes, trims and accessories for eye-popping excitement.  Embroidered denims with aquatic embroideries were pure fun. The crocheted dresses and bags with plastic bubble beads had a cool '60's vibe.  The accessory du jour was the fanny pack. In a variety of colors and screen prints, this completed the trip down memory lane.
The House of Halpern had nightlife on the mind in their spring/summer 2018 RTW collection. An abundance of sparkles adorned party dresses which were short and long allowing ladies to pick their poison.  A chubby bomber jacket in colored python was solid on style and sass.  Vibrant jewel tones in emerald, sapphire, and ruby gave a richness and excitement. Sexy cutouts and asymmetrical hemlines showed just enough skin to keep things interesting.  Looking to cut through the velvet ropes?  Halpern is your answer.
Related Articles