LONDON: Spring Summer 2017 Menswear Collections Part 4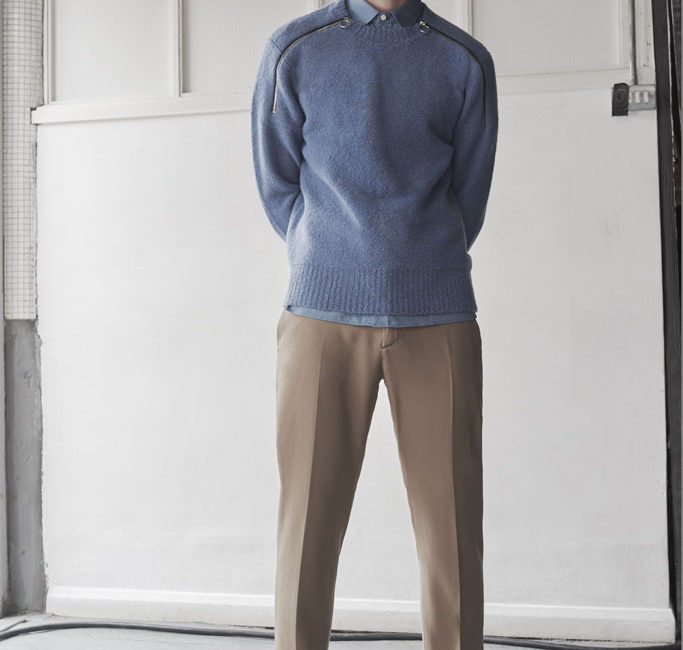 Mark Thomas, lead designer for Joseph, knows his buyer and works hard to create essential wardrobe pieces that work for him. For his spring 2017 presentation a three-minute film called "Everyman" helped to tell his client's story. The film opens with a reflective man starting his day in the bath. He then goes about his life traveling across London dressed in a range of clothing from the spring summer 2017 RTW collection. It is a relaxed mix of pants, coats, sweaters and shirts. What was especially refreshing for the "everyman"were the shearling bomber jackets and sweaters that take the place of Irish boiled wool sweaters. Very modern and yet practical for the man about town…and country.
The sex appeal emanating from the Belstaff spring RTW 2017 collection is enough to make you dizzy with desire. The brand is known for their motorcycle melodies, and they don't fall flat. Quilted, supple leather bomber jackets with muted, vintage colors of maize, olive, and chestnut added to the Steve McQueen coolness. Interestingly, this time around menswear designer Fred Dyhr collaborated with the women's lead creator Delphine Ninous to present a co-ed collection full of looks that managed to look rugged and luxurious at the same time. The beauty of a Belstaff leather jacket, if you are lucky enough to own one, is that it always appears to be distinctively yours, like a custom design that you wear easily and comfortably. Gotta say, the men's wear stole the show.
Katie Eary's spring 2017 collection was a jewel box of colors, glistening fabrics, and rich fur. Mixing men's and women's wear, the fashion was a nice blending of casual and dressy. Silk jersey fabric was a sexy, body sculpting choice for men. Teal colored Mongolian lamb jackets for him and her further the unisex trend showing that fur is fur-everyone!
Related articles