LONDON: Spring Summer 2017 Menswear Collections Part 2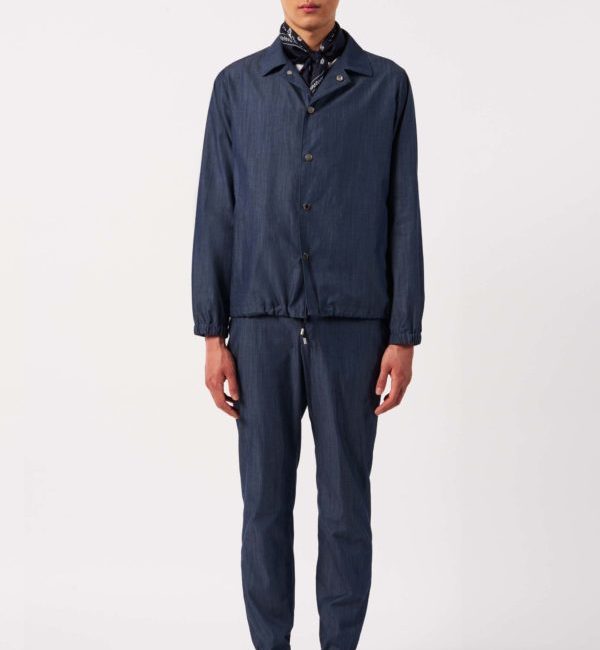 If you're looking to enhance your Tinder profile, up your cool factor, or save the world, the spring summer 2017 Menswear collection from Hardy Amies has your super suit! Clean lines, tailored sophistication and crisp materials, this is modern day men's wear that combines old world respect with a youthful appeal. Skinny, ankle length pants paired with suit coats were among the favorite silhouettes that will make heads turn. While designer Darren Barrowcliff is still new at Hardy Amies, if this spring's collection is any indication of what's in store, we suggest you start cleaning your closet to make room.
Known for its very British approach to wearable, practical fashion, the Barbour spring 2017 collection is chock full of cool layering pieces, prepster- hip embroidered shorts and great accessories. There are plenty of tech fabric jackets to pick from, each with fashionable and functional pockets, hoods, snap closures and draw string waists. Natural brown and blue color tones offer mix and match versatility. While some men are still charting their way to modern fashion, the Barbour RTW 2017 collection is safe harbor for all that's proper fashion.
Take your iPhone, the Blippar app, and Visa and what do you get?……a buying opportunity at House of Holland's spring 2017 RTW fashion show. Show goers could download the app and make direct purchases from the runway which would be delivered to your door the very next day. Yup, the buy now, wear now fashion craze is in full execution marrying shows with sales. It will be very exciting to see the results of this experiment. The line featured looks that would appeal to the young, college kid or club junky. Denim, screen tees, and lounge wear were among the offerings. Now let's see who's ordering.
If you wonder what men wandering around a seaside town in Britain might look like, get a glimpse of the Topman Design spring 2017 collection and it will give you an idea. It was almost a fantastical twist on men's wear as the brand combined colors of peach and powder blue with bedazzled animal appliqués on suited silhouettes or short short combos. The models were appropriately made up to look like they had a tan/burn/hang over. Just like an American in Vegas, it was just enough wrong to make it right.
Related articles