London Fashion Week Spring/Summer 2017 Collection Reviews Part 1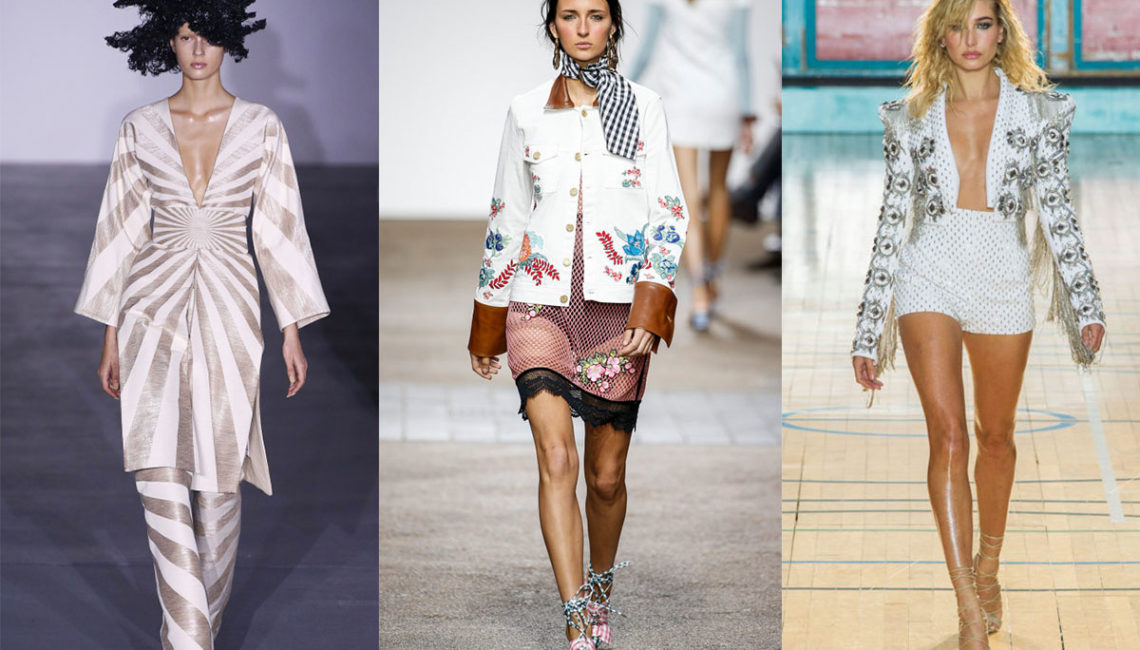 We're always excited to see what comes out of London Fashion Week!  Their mash-up of prim and proper designs, Savile Row tailoring and wild, creative exploration always holds the promise of the extraordinary and unexpected.  So buckle your seat belts….here we go!
Showing  men's and women's wear for spring 2017, Julien McDonald presented a collection that was hyper-infused RTW perfect for that day-to-evening kind of lifestyle. Reminiscent of the 80's, he updated brass button coat dresses with plunging necklines and cut-away hems that were so sexy they might even make Miley Cyrus blush (well, maybe not!).    Nude colored crochet dresses left very little to the imagination as well. Pink python asymmetrical dresses and animal print fringe beading added to the wow factor of this collection.  For the cougar on the prowl, McDonald included lots of glitz and glam looks perfect for clubbing. Let's dance!
There was no shortage of tulle and organza, ruffles, bows and bustles in Simone Rocha's spring 2017 RTW presentation. White eyelet lace dresses with gathered puffy sleeves evoked a little girl's Sunday school attire. She repeated this silhouette throughout the collection changing up the fabric to oversized flowers on a black backdrop which did not present much of an improvement. Deconstructed trench coats tried to give a little form and shape to the pieces but really added more confusion. Just figuring out how to put on and adjust these clothes could add a ½ hour to your dressing ritual.
House of Holland put out a full spread of red checkered picnic table fashion. Gingham prints galore, casual cotton dresses with ruffles, flounces, and florals, they all brought a sense of energy and innocent fun.  Added to the mix were brown leather accessories and a pair of chestnut leather bell bottom pants that fit right in. Some excellent ath-leisure looks in track suits and hoodies looked cute dotted with checks. A selection of designs in fishnet added a harder-edged street feel.  A belted gingham neck tie finished most looks but read more like a napkin than a necklace. The party girl in us particularly loved the brightly colored party dresses adorned in plastic disks that referenced the 60's go-go girl.
Sweetly appealing and demure, Emilia Wickstead, designer favorite of a certain royal named Kate, knows how to bridge the gap between little girl and lady like.  Full of looks perfect for a Jane Austen character and perfectly suited to spring, Wickstead created soft, pretty, romantic dresses and separates. High necks, diaphanous fabrics, lovely pastels and dainty prints were among all the well-mannered details.  The silhouettes included voluminous, billowing dresses, boxy tops and Empire waistlines –  perhaps not the most figure-flattering looks we've seen.
Gareth Pugh is always one of our favorites in London Fashion week.  We love his hallmark brash creativity! So we were duly thrilled to see that his spring 2017 RTW collection lived up to expectations. Strong editorial looks of sun-ray stripes and bold zebra patterns in broad-shouldered pant suits made a powerful statement.  His dresses were nothing short of nuclear. Striking dresses and more pantsuits embellished with 3-d gold shards in mosaic patterns danced under the lights, enhancing  depth and beauty. This seemed to send a message that Pugh's girl has an edge. Cape/kimono hybrids added bold drama while jersey and chiffon fabrics were draped and tailored to show a softer side.  All the hype and drama aside, Pugh still managed to deliver a good assortment of wearable pieces.
A bit hard to nail down an accurate description for Thea Bregazzi and Justin Thornton's Preen spring 2017 RTW collection but here goes…..Ruffles. Shredded ruffles, gathered ruffles, layer upon layer of ruffles, the pieces were full of texture and depth. These details were not merely soft and feminine, but powerful, edgy, and a bit counter-culture. Coordinated with a very chunky black platform shoe along with fabric which had frayed edges, this all gave the collection a strong urban feel.  To add to the cutting edge vibe, silver sequined skirts and brightly colored sequined patterns added even more visual pop. These were clothes that were meant to be noticed.
With 100% seriousness and all due respect, the Mary Katrantzou spring 2017 RTW collection is the miracle slim wear of all time. Forget about your shapes, curves, and lumps, Mary Katrantzou created microfiber fabrics with patterns that were simply stunning and oh so flattering.  Beautifully tailored silhouettes reflected her mastery.  With a vibrant color scheme in blues, rust, and white, Katrantzou drew from her Grecian background to mimic some of the very iconic pottery styles of ancient times. Later in the show she added plastic fish scales, scallops, ruffles and 3-D optical prints to add to the drama and up the glam quotient.  Totally gorgeous!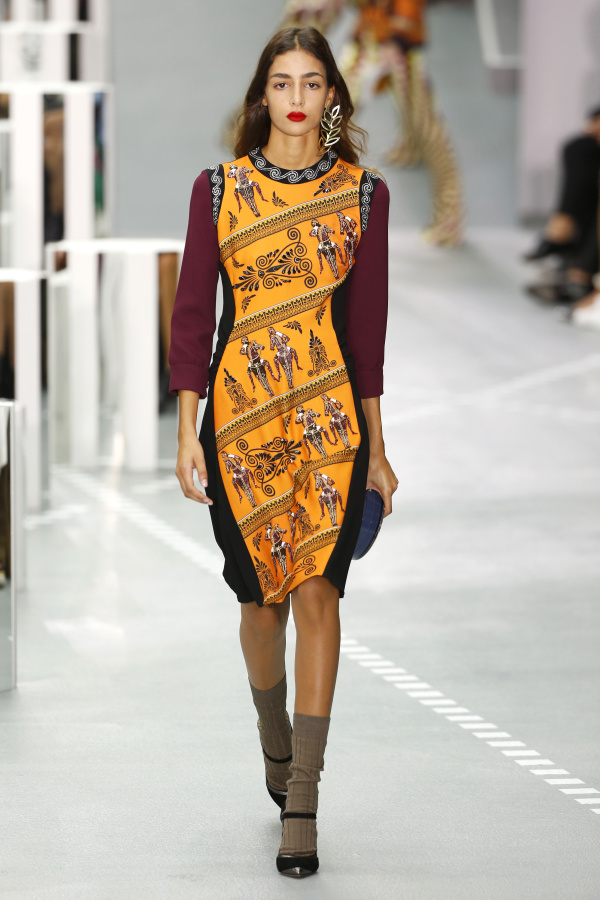 Related articles