LONDON Fashion Week Fall 2017 Collection Reviews PART 2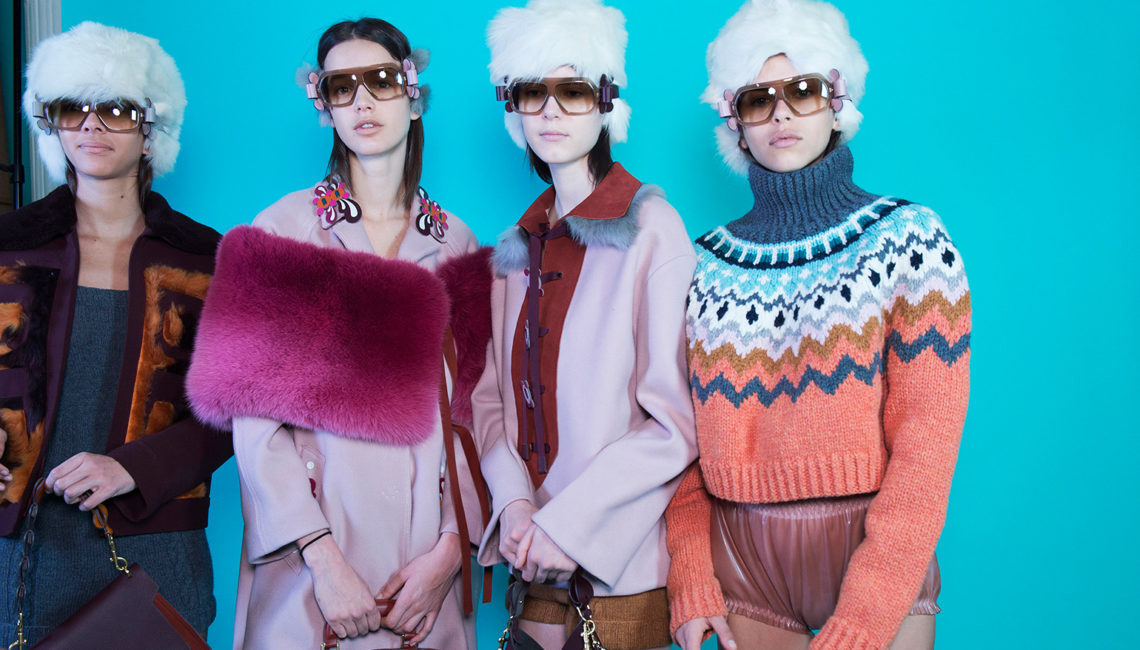 Ahhhh….this is the London we love.  As the London Fashion Week Fall 2017 collections marched on bursts of color, unexpected silhouettes and unconventional inspirations from art and history came into play.  This is what fashion is all about (or should be).  Fabrics and textures, too, are providing inspiration and designers are embracing the creative possibilities presented by fur.  All of this creates a visual pageantry that is making the London Fashion Week Fall 2017 collections a pleasure to behold.
London Fashion Week Fall 2017 Collections Color, Unexpected Silhouettes & Unconventional Inspirations
Vibrant color blocking and modern silhouettes marked the Fall 2017 RTW collection by Roksanda. Beautifully pleated knits, asymmetrical silk skirts, and dyed to match shearlings completed the looks. Roksanda interjects mustard yellows to balance the heat. A mink vest with a drawstring waistline was a nice key piece to mix and match with everything your heart desires. A rich red shearling coat announces you've arrived.
At the risk of being accused of having little imagination, there was just no understanding the outfits featured by Preen by Thornton Bregazzi for fall RTW 2017. Mixed media, ruffles, pleating and gathering, it all just looked like a jumbled mess. The design team of Thea Bregazzi and Justin Thornton did, however, ground the chaos with some very impressive dyed, curly lamb pieces and trims. A Kelly green fur "vest' attached to a brown plaid suit was very cool.
A 3D paper doll kind of vibe came from the fall 2017 RTW by Anya Hindmarch. Soft, sherbet colors with bright appliqués adorned jackets, capes, and dresses. Adding plush trims and accessories in shearling and fox provided drama and heightened the visual feast. Silly, furry, eyeball slippers added to the playfulness of the collection. Don't get confused here though-while the overall look was puerile-the luxury was evident and the price tag will likely be a bit more than the cost of a candy bar.
A frustrated feminist approach came off the runway at Sharon Wauchob's fall RTW presentation. Lots of menswear influences in her trench coats and pant suits was offset by the soft ruffles and French lace that appeared in other parts of the collection.  Even the choice of fabrics, soft silks and cotton, were opposites of what the fall season demands. What was remarkable was Wauchob's work with shearling and suede. Plush against smooth, another contrast in texture but it really worked!
Designer Erdem took to his roots and crafted a historically significant retrospective honoring his Turkish and British lineage. Rich, velvet dresses painted with intricate floral motifs, high neck lines and textural embroideries all tapped into days past where Sultans ruled the east. Combined with karakul topper coats that were dapper and royal, this was a true collection of gratitude to a generation past.
From the ground up, designer Osman in his fall 2017 RTW collection was high on texture and color. Sequin boots, heavy brocade pants, silk tuxedo coats, silver sequin skirts and pants, there was not much left off the Christmas tree kind of feel that was this show. To add to the already overly ornate pieces, Osman used fur and suede to compete the looks. A pale pink fox gilet added depth to a monochromatic styling.  A multi-colored patchwork coat of fox and shearling added to his powerful message.
Related articles