LONDON Fashion Week Fall 2017 Collection Reviews PART 1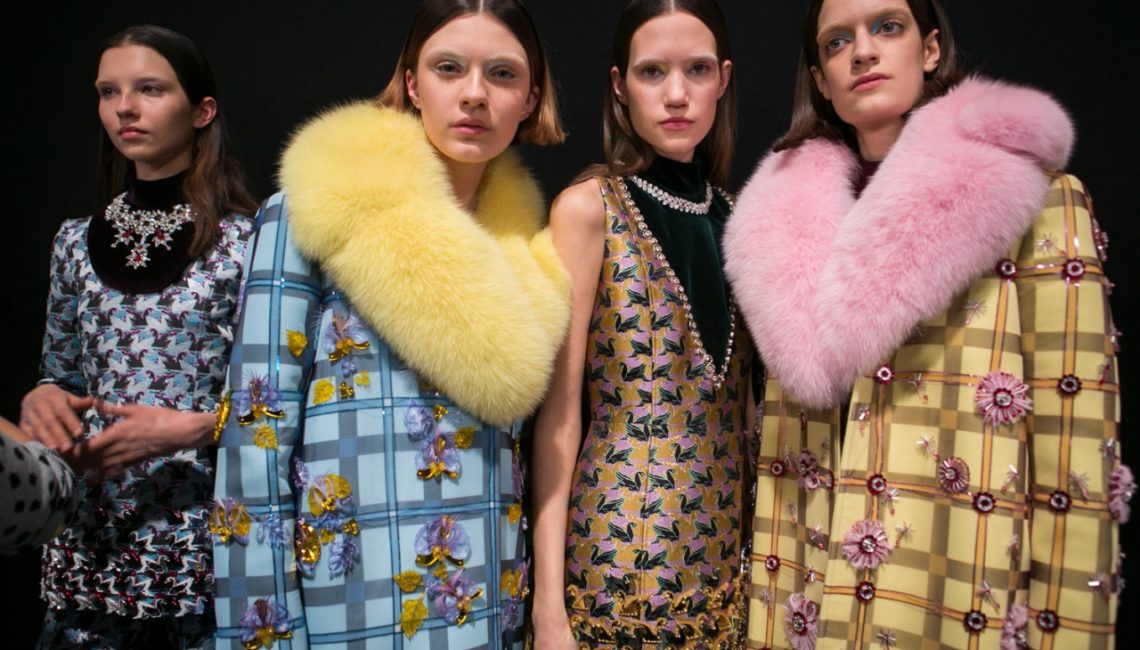 The London Fashion Week Fall 2017 collections began with all the expectations and hype that we are used to.  London is known, after all, for bold creativity, eccentric design and skilled Savile row tailoring.  As the first few shows of the week kicked off, things seemed a bit tame here.  There is no shortage of skill or craftsmanship to be sure, but we longed for the unexpected.  Here's to hoping for some surprises as the London Fall 2017 collections continue….
Our Kickoff to London Fashion Week Fall 2017 Collections Begins …….NOW!
Gathered, draped, swagged, or ballooned, J.W. Anderson's fall 2017 RTW collection was a play on proportions. Fluid materials like nylon and jersey were the underpinnings to many of the looks. Anderson included some strong suede ensembles too.  Shearling took on a new role in a sharp, deconstructed suit that, though cool and edgy, showed warmth and sophistication.  The natural markings of a fox coat and jacket provided a perfect counterbalance to the soft, feminine silhouettes.   Lots of "pick up" hem lined skirts with a tulip effect were in the offering and made a nice key piece for the collection.
We overheard someone say "sexy as hell" in reference to the Versus Versace Fall 2017 collection and we couldn't agree more!   Yep.  100% hotness slinked down the runway with black leather minis, crop tops and black cigarette pants with silver hardware, all raising the heat factor 1000 degrees!  These were clothes meant to be worked.  Strong shearling motos and jackets added a slightly masculine, powerful edge to the womenswear.  The design team is headed up by Donatella Versace's daughter Allegra and, by all accounts, the brand is in great hands. In the mix were some solid men's wear looks including layered sweaters and track pants that today's modern man will understand.
The House of Holland brand doesn't, on the surface at least, ever appear to take itself too seriously. Underneath the kitschy, cartoonish fashions that can sometimes look like Barbie Doll outfits or community theater costumes, Henry Holland was sending a clear message in his fall RTW 2017 collection. An ode to America and a celebration of her culture was the backdrop to the countless western wear outfits and coordinating cowboy boots. What makes a stronger statement than a boldly checked red and white Mongolian lamb jacket?  The floor length version in blue and white!  Pure fun!
Designers Peter Pilotto and Christopher de Vos, the team behind the Peter Pilotto label, gave us lots of vibrant colors and patterns in their fall 2017 RTW collection. Using Peruvian quilting as a driver of the line, the clothes had an artsy/crafty kind of vibe. Terra cotta colors woven through earthen tones were easy on the eyes and a pleasure to behold. A tweed, patch work parka with brown curly lamb collar opened the show and welcomed us into a warm world of South American heritage.
A rock solid set of RTW came from designer David Koma in his fall 2017 collection. Basket woven leather dresses and coats were different, modern, fresh, and demonstrated Koma's strength in artisanship. Flouncy, flirty dresses were aplenty, some trimmed with curly lamb fur. His use of sliver hardware and embellishments toughened up the looks and gave a futuristic kind of feel. Sexy cut outs on dress revealed just the right amount of skin. Whether clubbing or cocktailing, these are cool girl outfits with credibility.
Pretty, pastel fox punctuated Mary Katrantzou's fall RTW 2017 collection and gave a soft feminine feel to otherwise somber, masculine plaids. Plush fox sleeves on tailored suits had a 1940's film noir feel, evoking Veronica Lake in all her powerful sensuality.   Mixed into the daywear, Katrantzou included some more dressed up, evening type looks. Heavy silk brocade suits and coats along with beaded, floor length gowns rounded out her show. This collection will appeal to women with a nostalgic sense for fashion and an appreciation of understated elegance. For the younger budget-conscious fashionista, they'll probably take a pass and shop authentic vintage.
Related articles