Haute Couture Fall 2018 : Design at Its Best… PART 1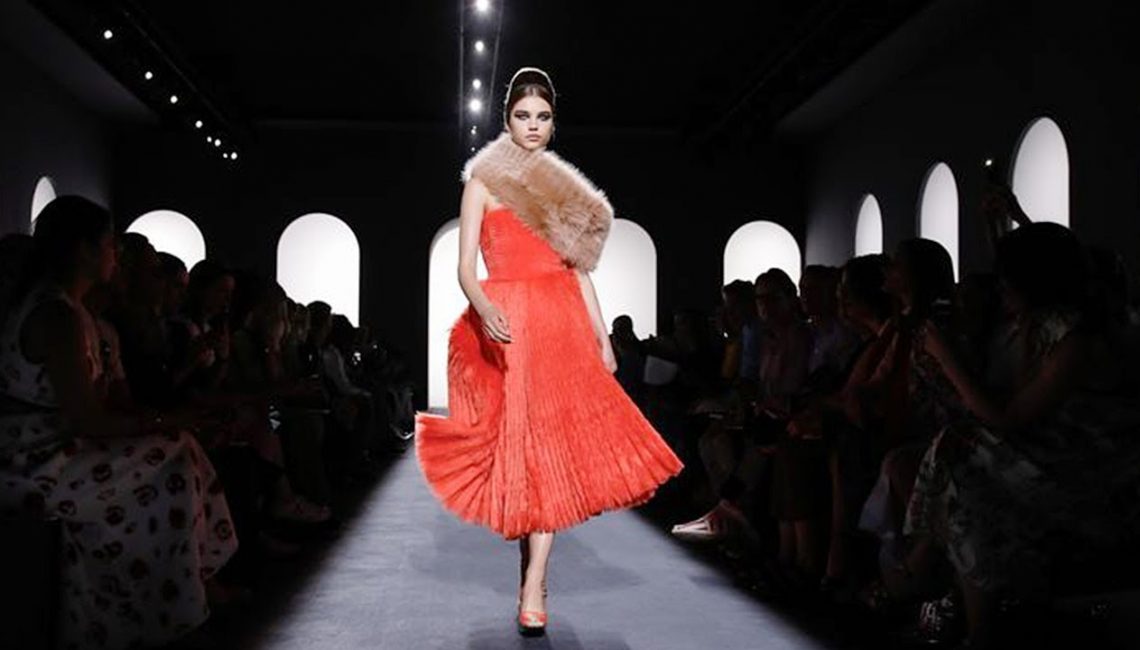 According to Wikpedia Haute Couture is "high-end fashion that is constructed by hand from start to finish, made from high-quality, expensive, often unusual fabric and sewn with extreme attention to detail and finished by the most experienced and capable sewers, often using time-consuming, hand-executed techniques."  By all accounts, the Haute Couture fall 2018 collections did not disappoint.  But what made these collections truly exciting was the modern, youthful approach that is beginning to seep into couture as designers recognize a new generation of couture buyers with a very different approach to style.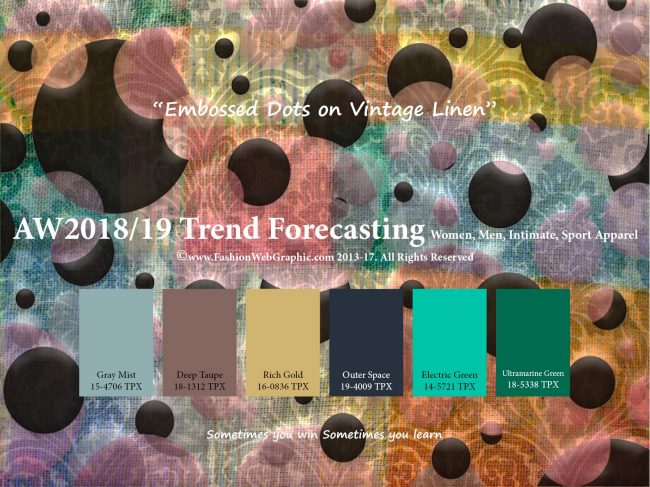 Like the extraordinary Rose Bowl parade floats that defy engineering rules and exaggerate what is really possible in design, couture collections, by and large, are similar kinds of iconic architectural feats that become indelible in our memories. Alexandre Vauthier's Haute Couture fall 2018 collection reflected just this kind of showmanship. The mood was all 80's with boxy shoulders, jewel tone colors, rich satins, high- waisted belts, and wide brimmed hats that Alexis Carrington would fight to wear.   This was excess and decadence times 10. But Vauthier's construction went deeper than just surface eye candy. He commissioned ateliers owned by Chanel's Paraffection subsidiary for his skillful pleating and glistening rhinestones—even the boater hats were done by Chanel's elite tailors. A black chubby fox jacket fit right in with the theme. An 80's diva's favorite kind of throw on, it's this kind of artistry and attention to detail that warrants collector status.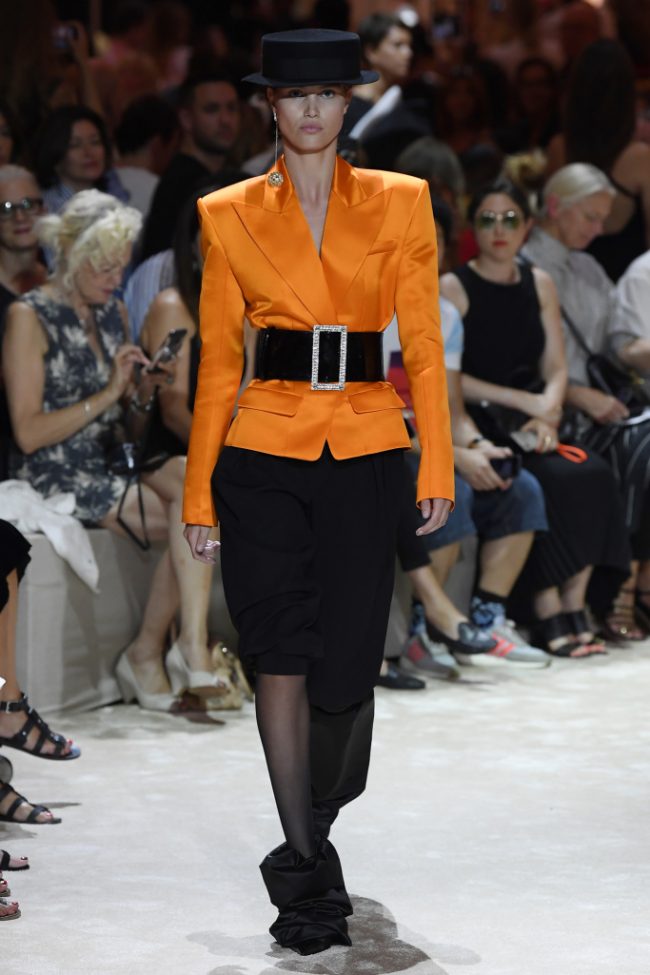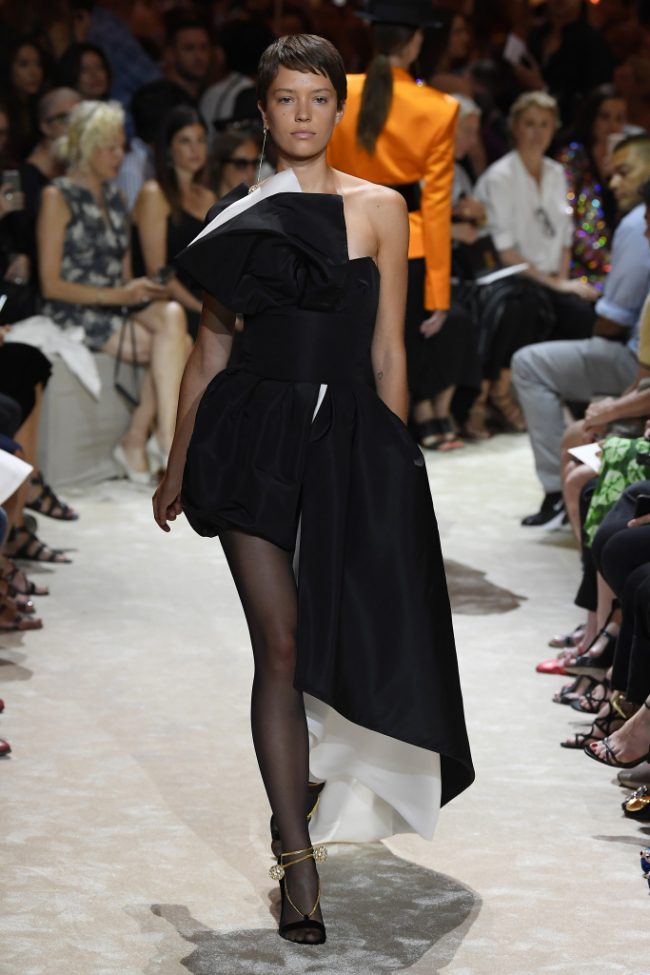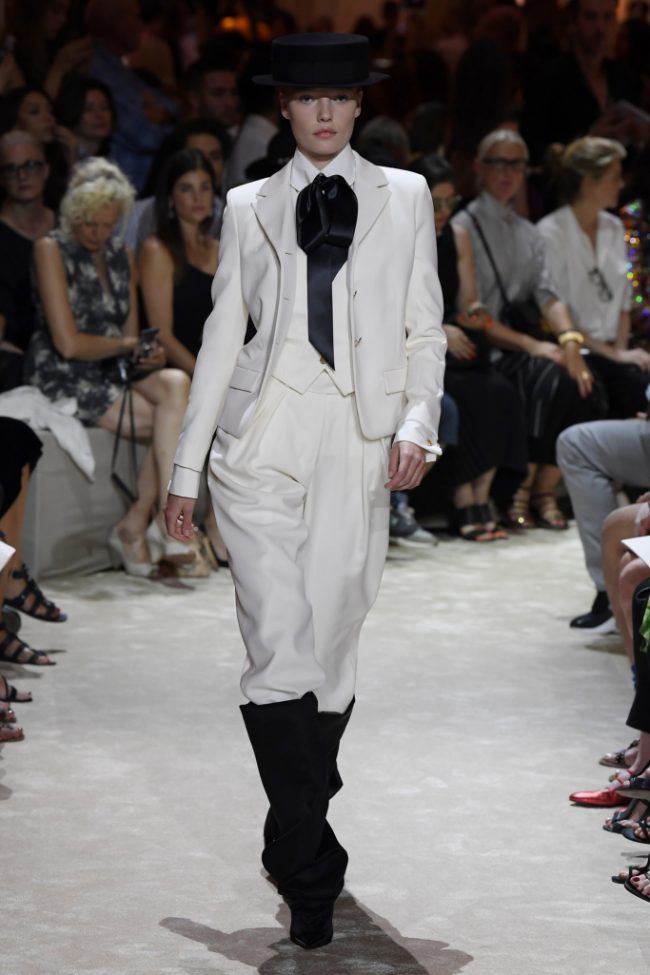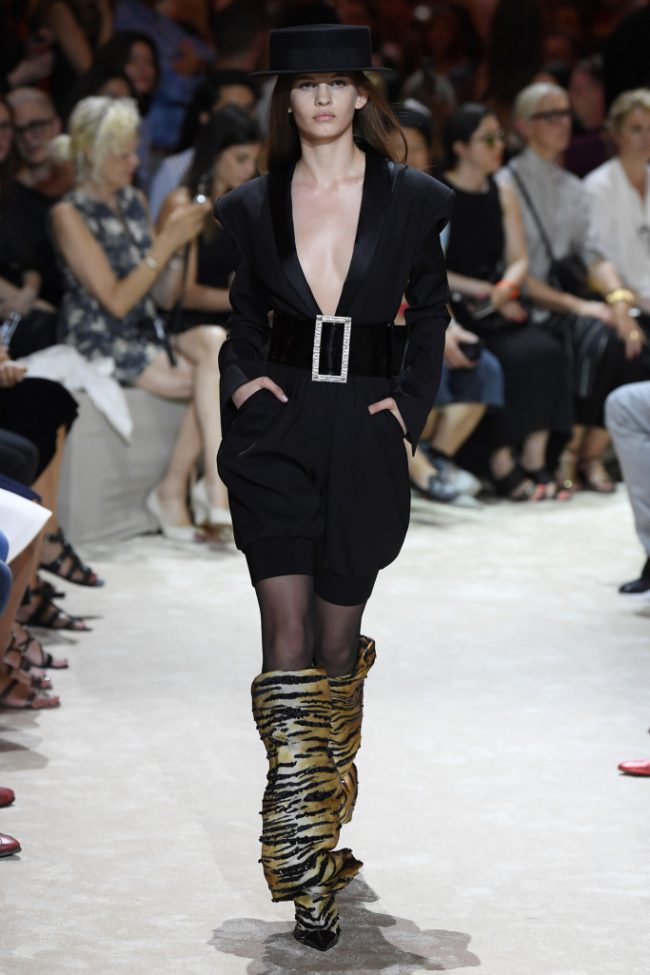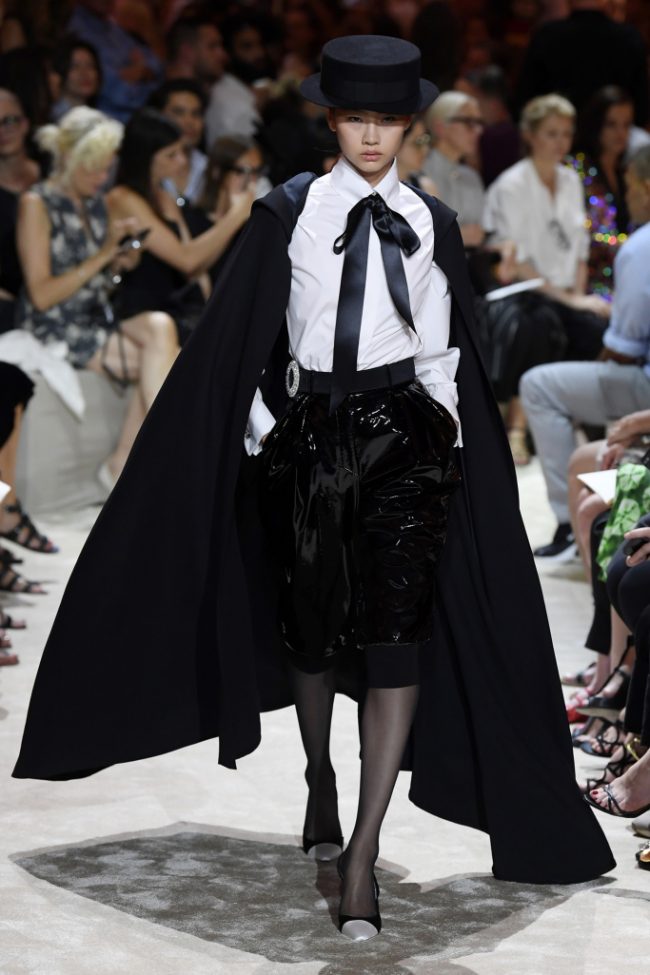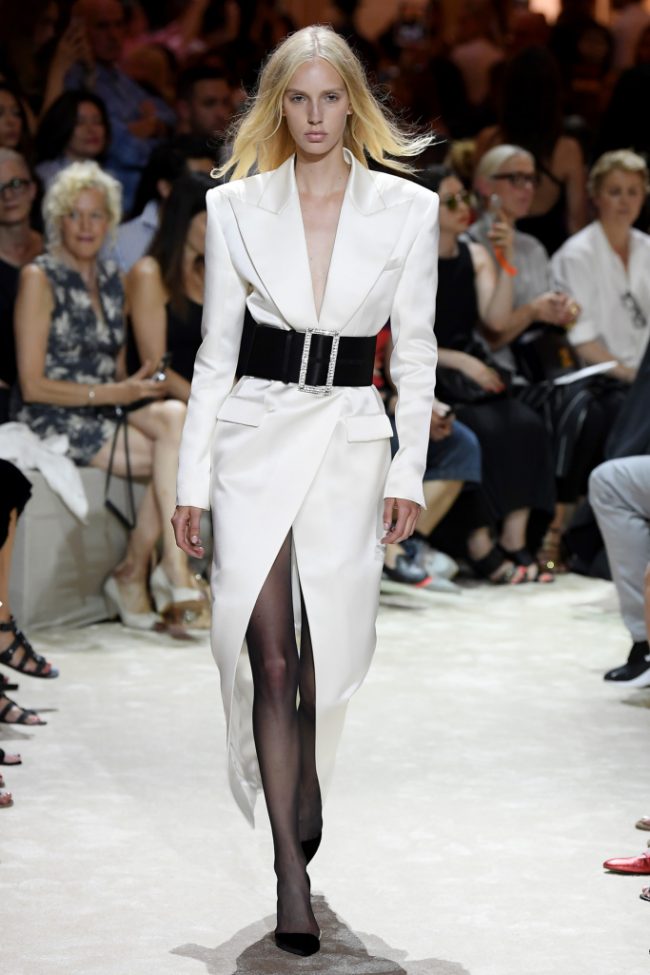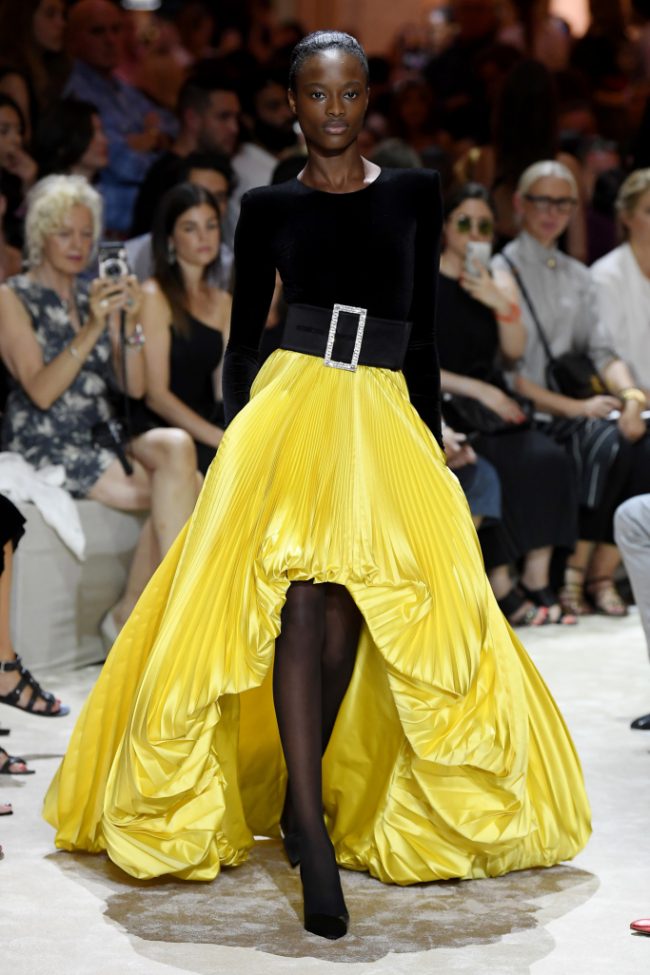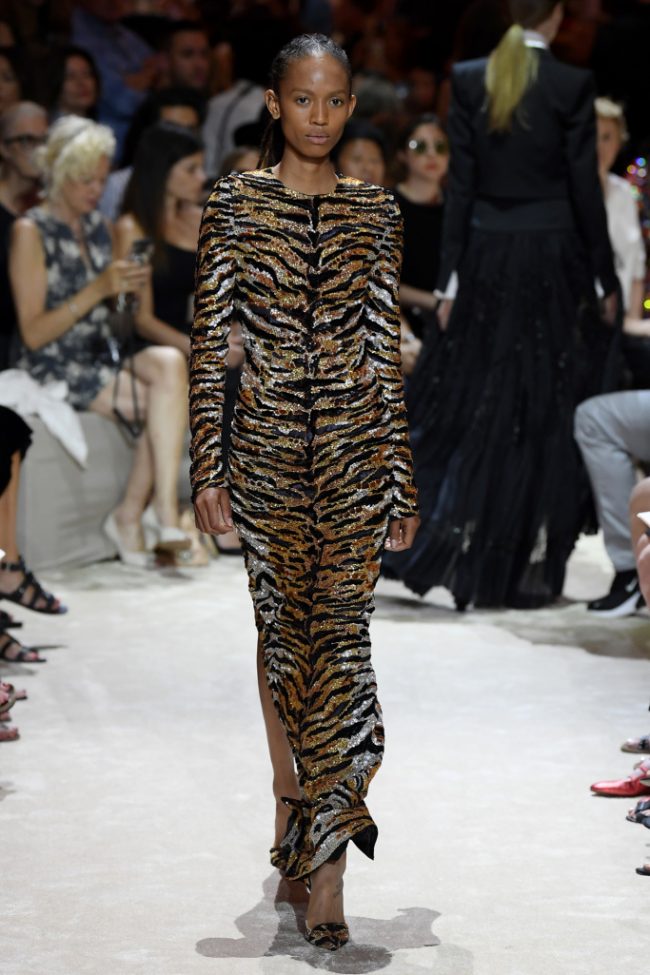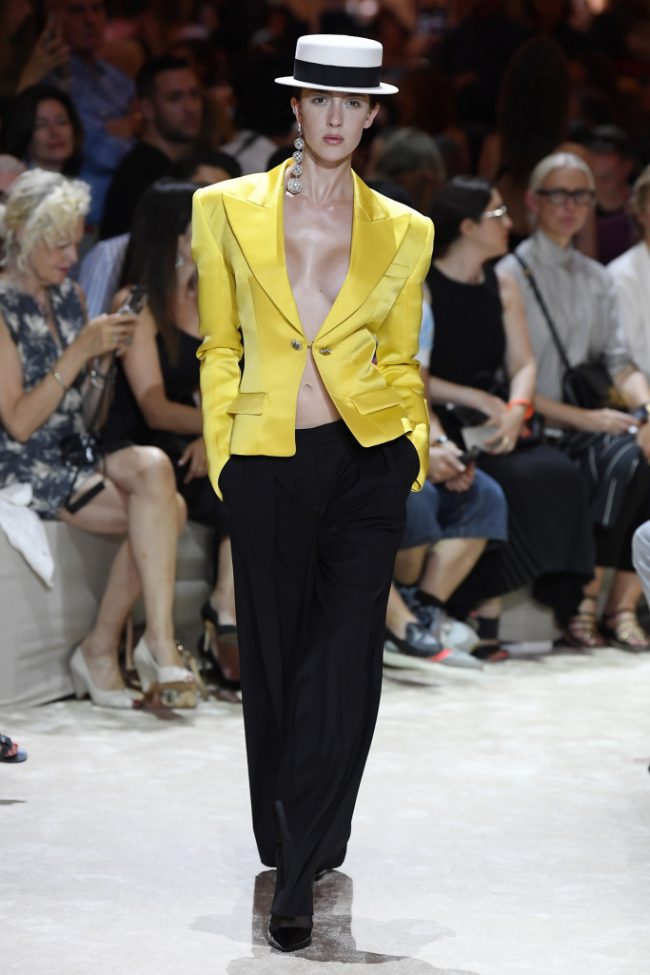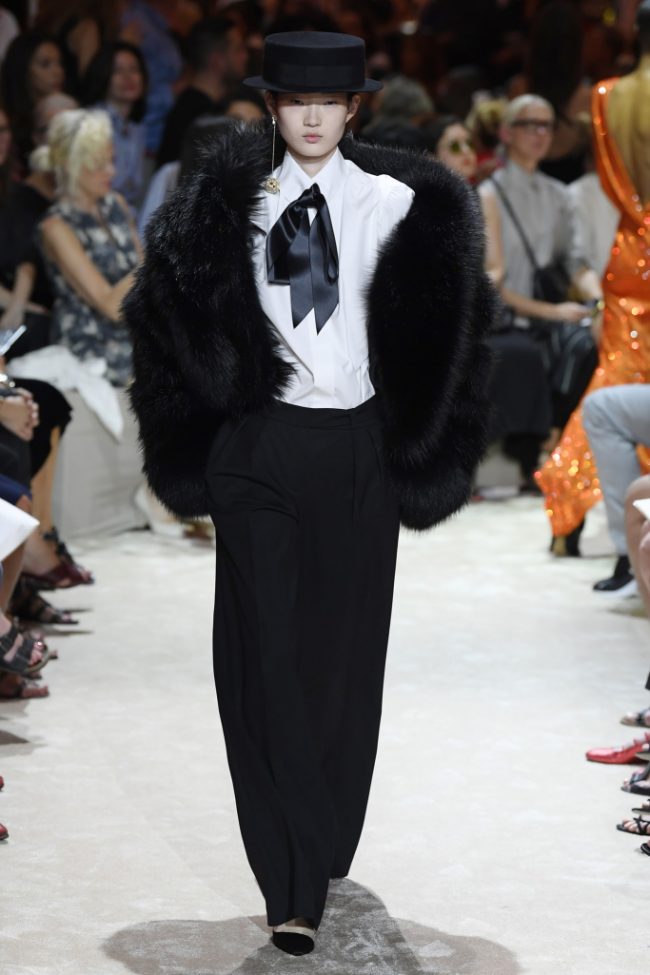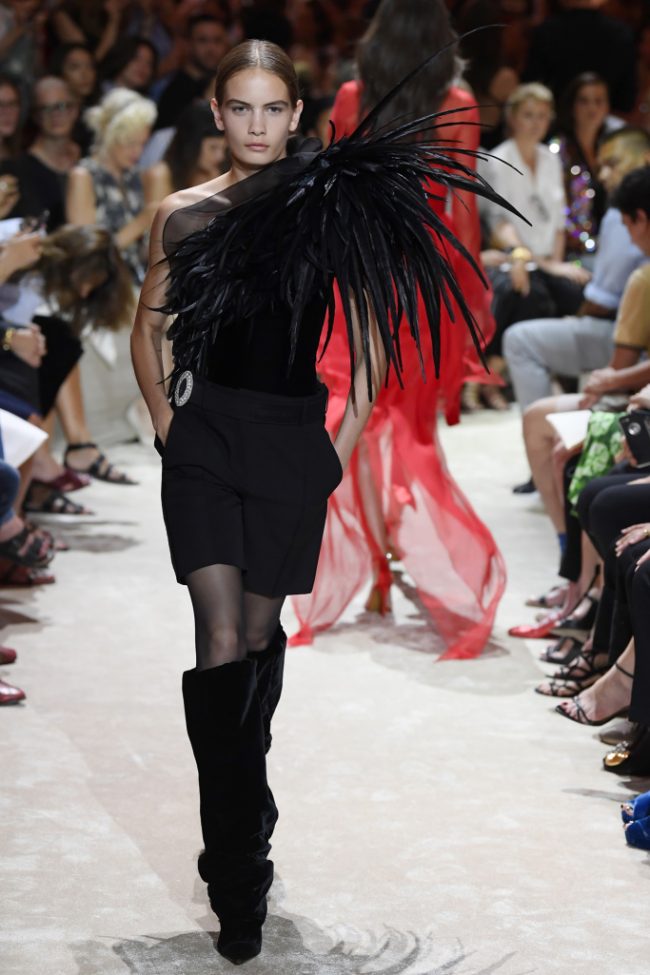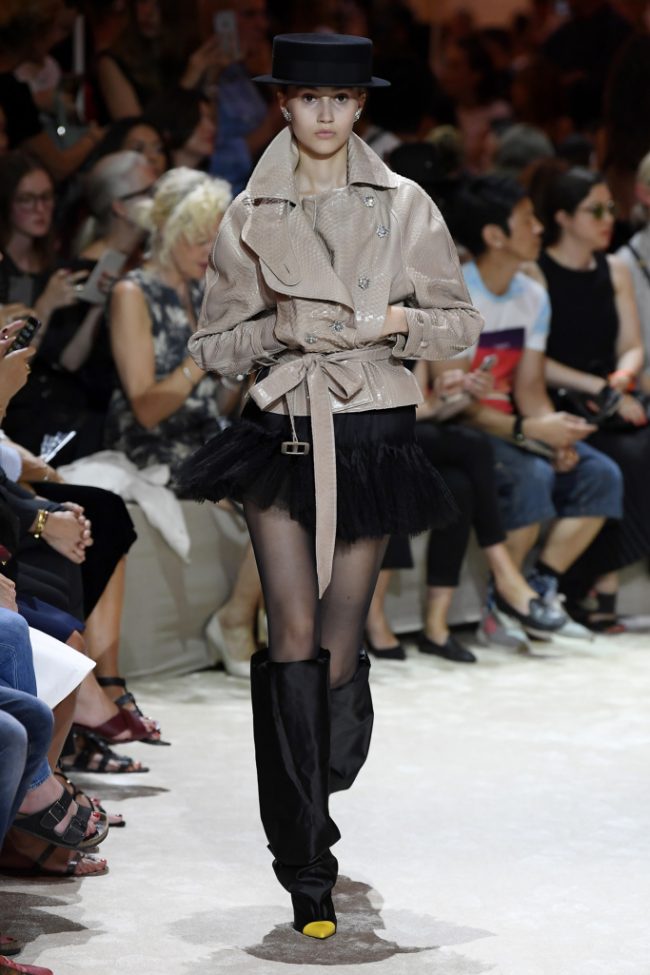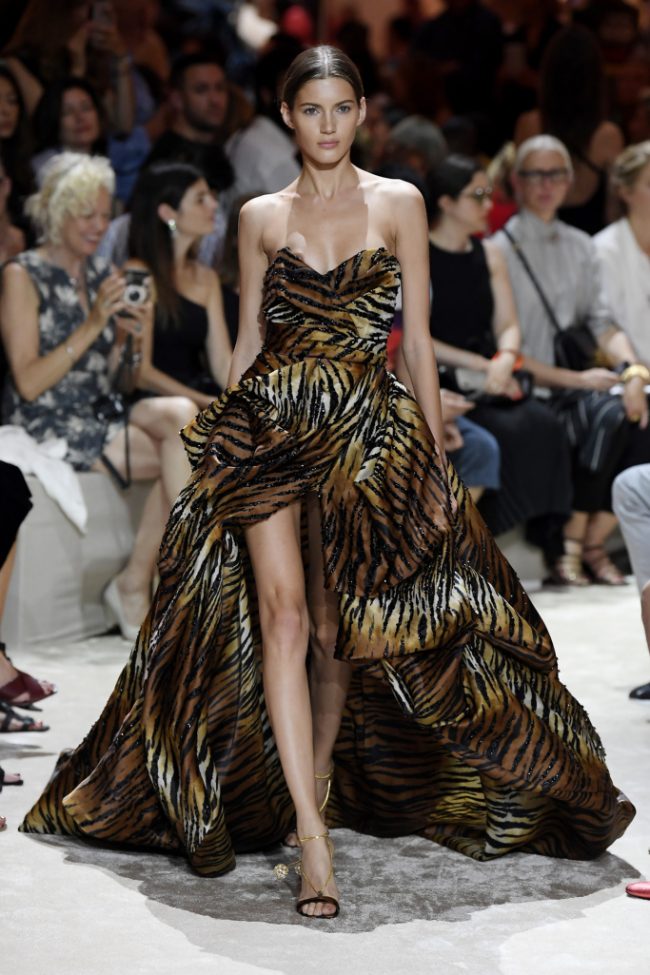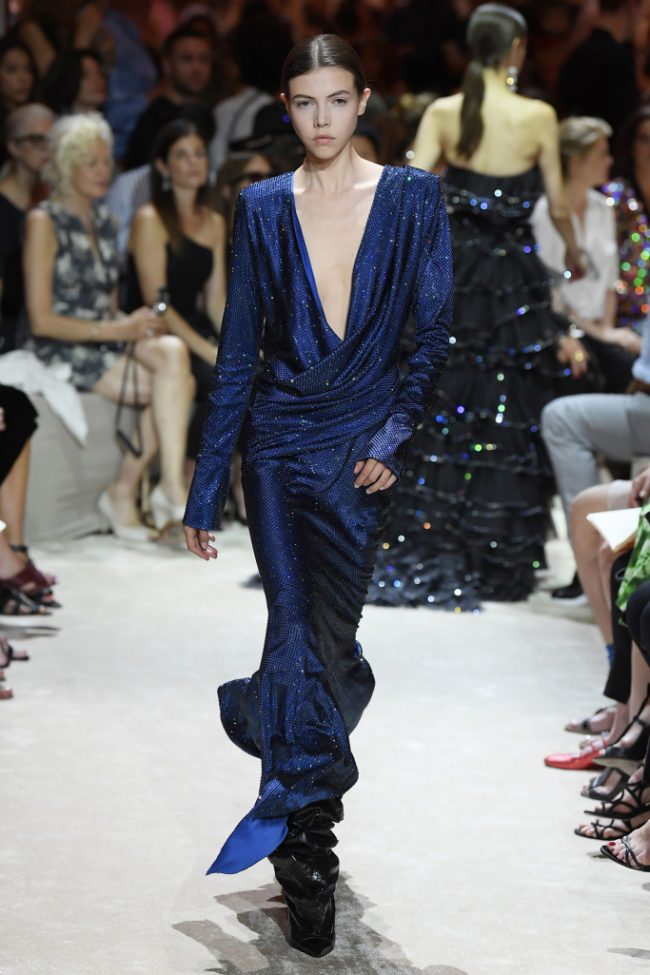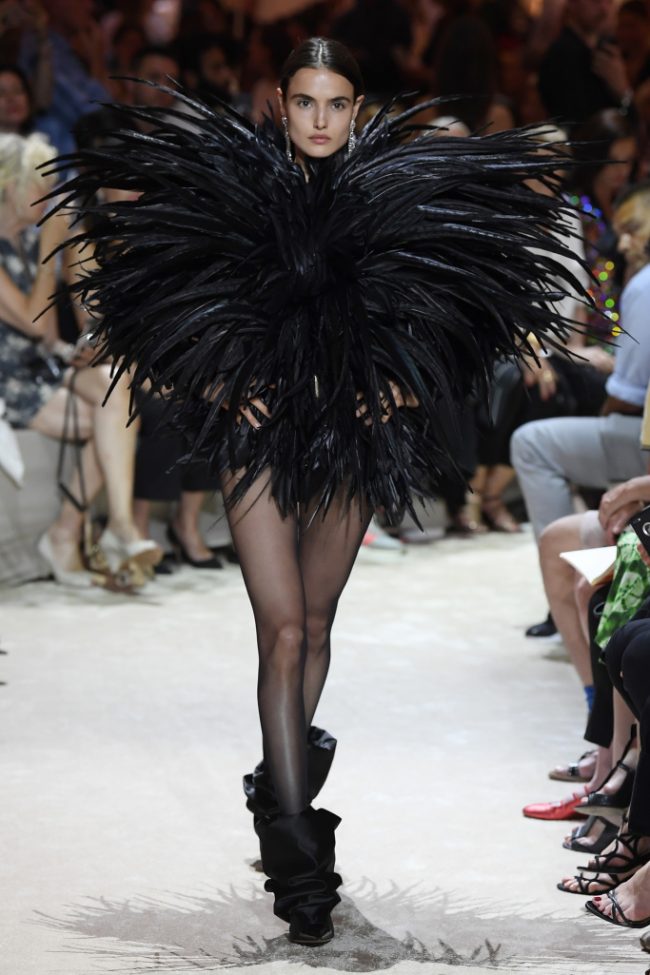 If you've ever wondered if there's a DaVinci among us, look no further than Silvia Venturini  Fendi and Karl Lagerfeld. They are the storied pair that will go down in the history books as artists way ahead of their time as they continue to excite and amaze us with what's possible in fashion and textile manipulations. The Fendi Haute Couture fall 2018 show was just one more example of the sartorial brilliance that will define their fashion legacy.  Innovative treatments of materials adeptly mimicked fur as in the orange organza skirt matched with a mink bodice that appeared as one material.   Small strips and patches of mink were sewn together to create a stained glass effect that was colorful, geometric, and artistic. Tiles of mink and leather were patterned to deliver a chain mail effect with one skirt made of 1000 mink tiles. Mosaic fur tufts dotted sequin ball gowns giving a jaw dropping depth and dimension. Delicate macramé floral inserts brought an unexpected lightness to an elegant grey broadtail dress.     Long and short coats of tonal striped fox fur and embroidered fabrics were anything but everyday.   This was couture at its finest.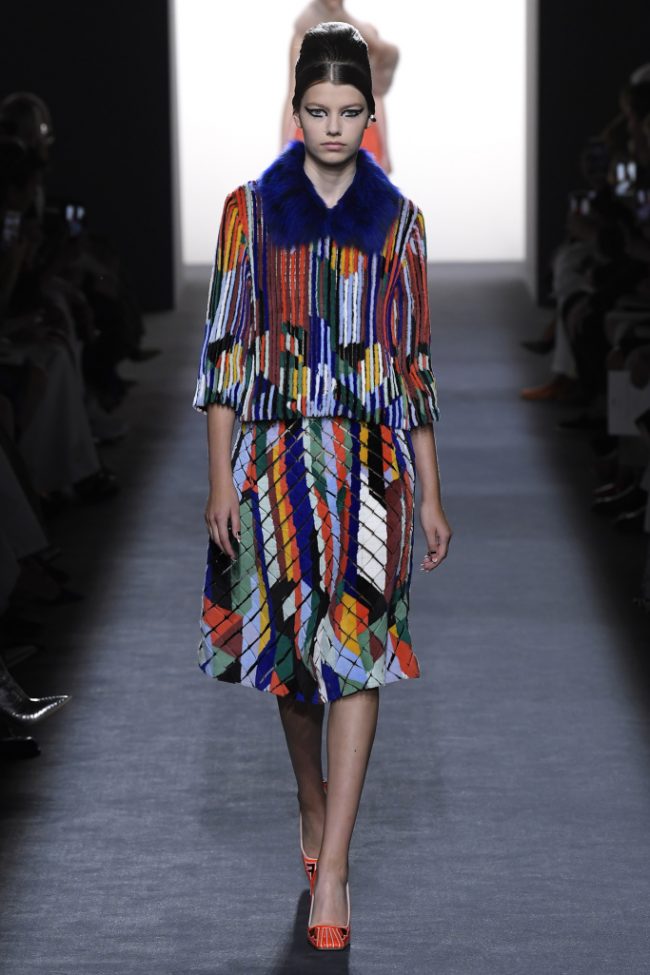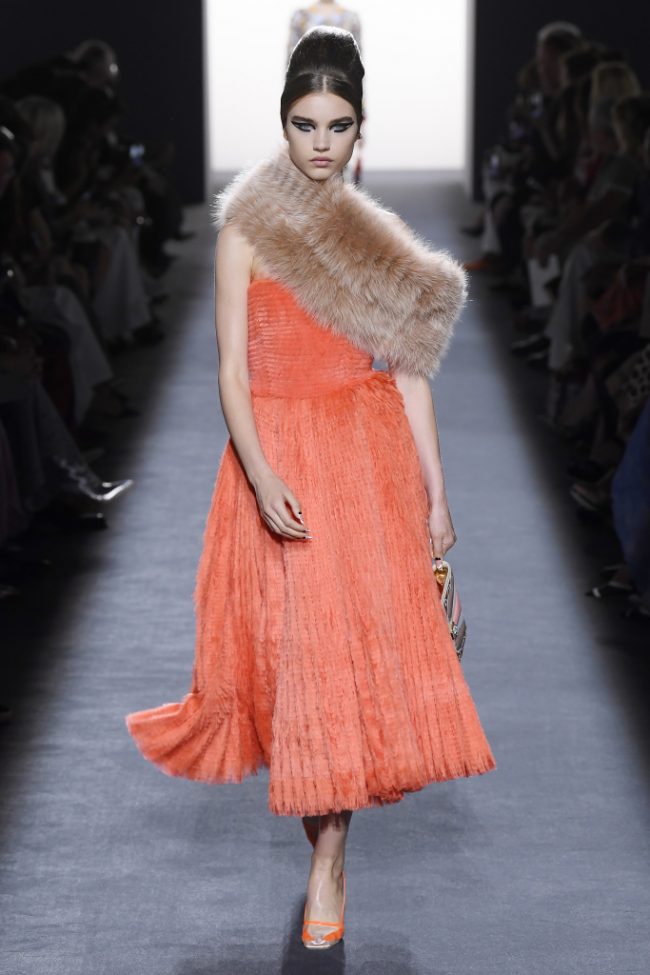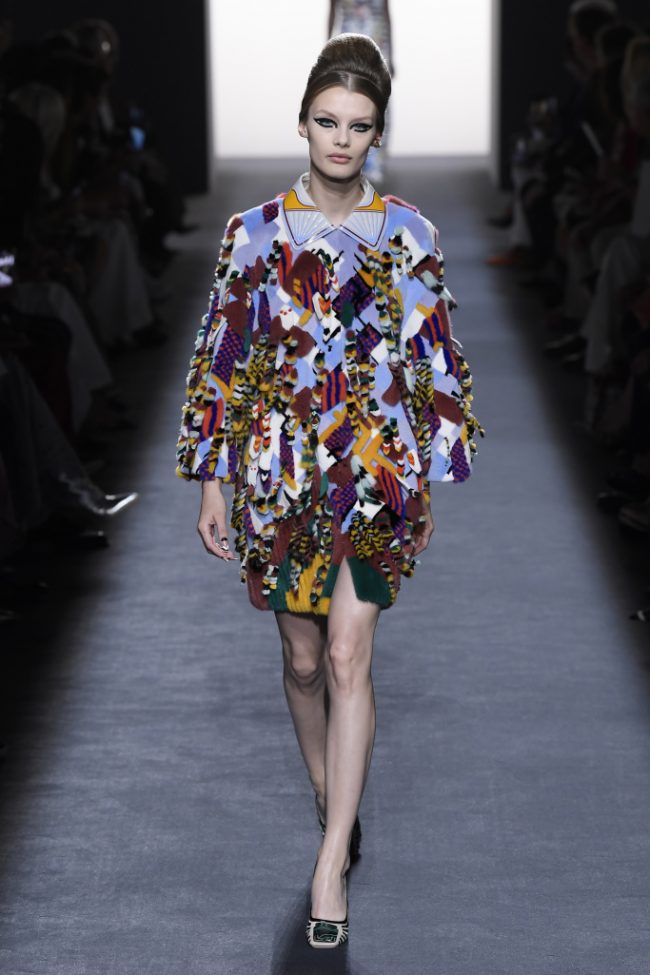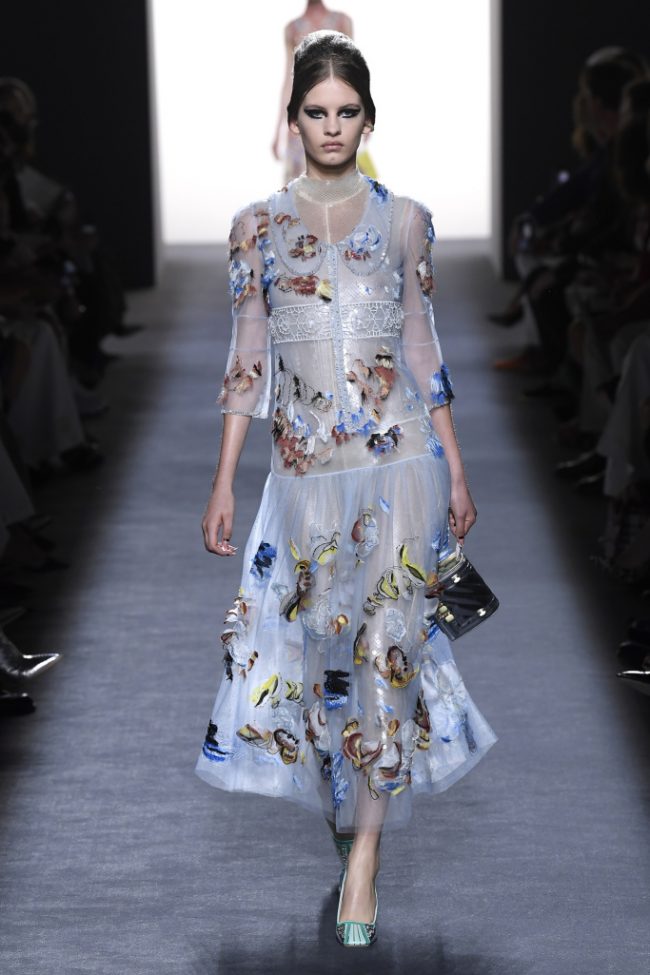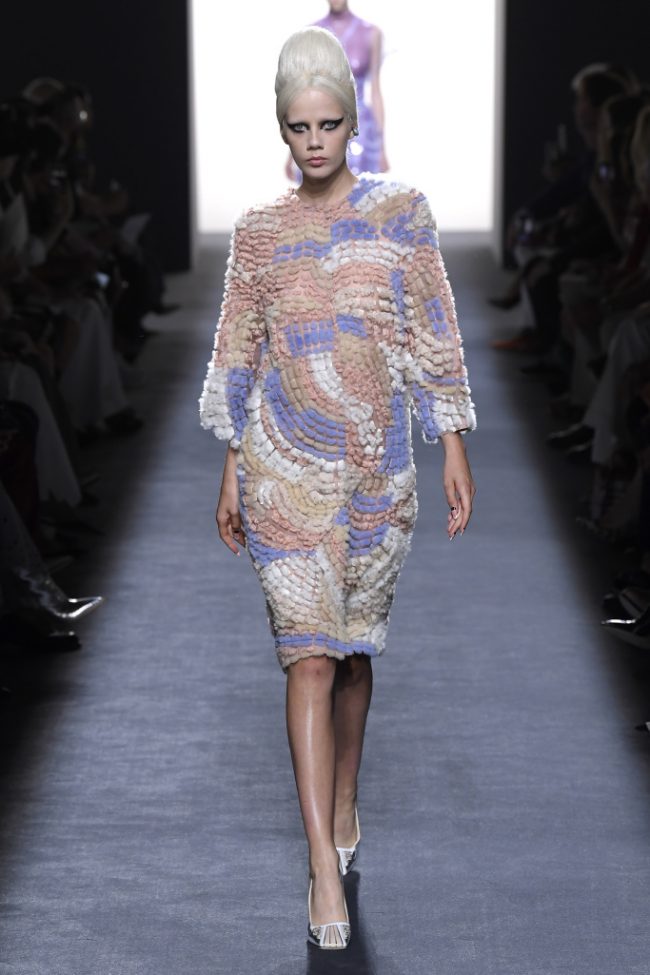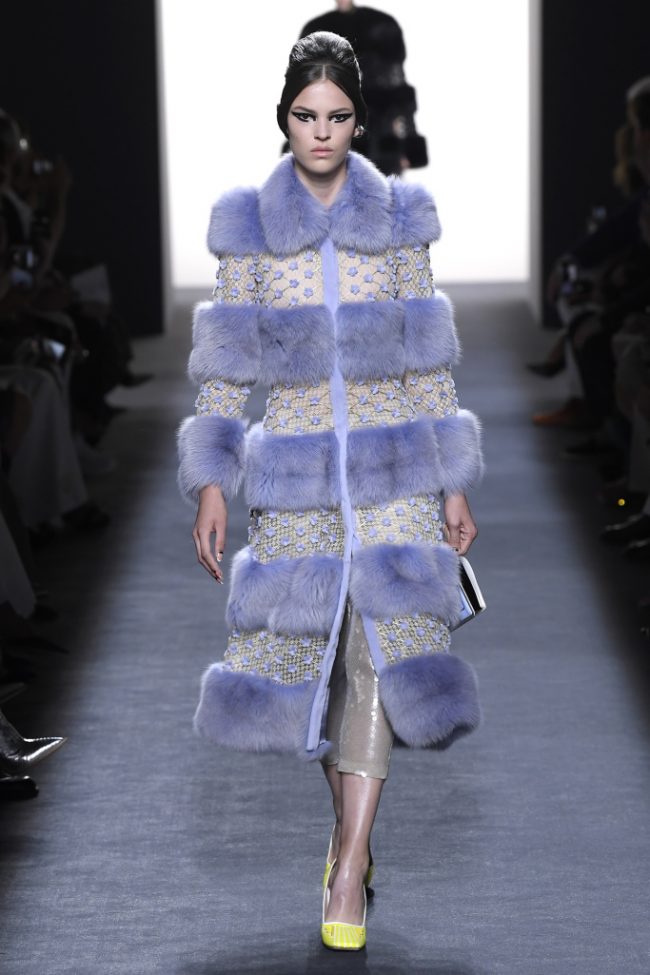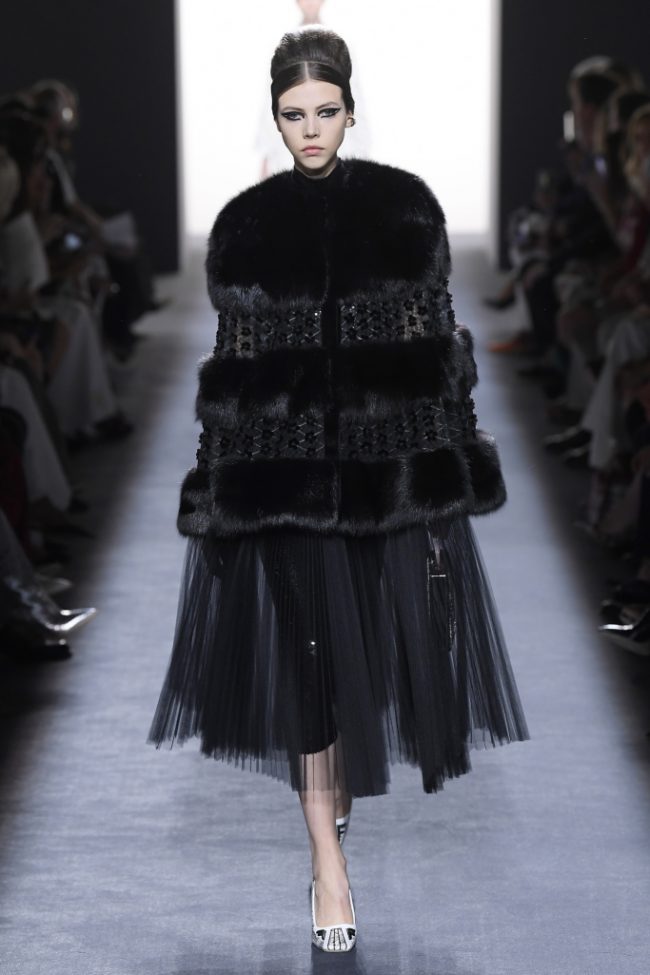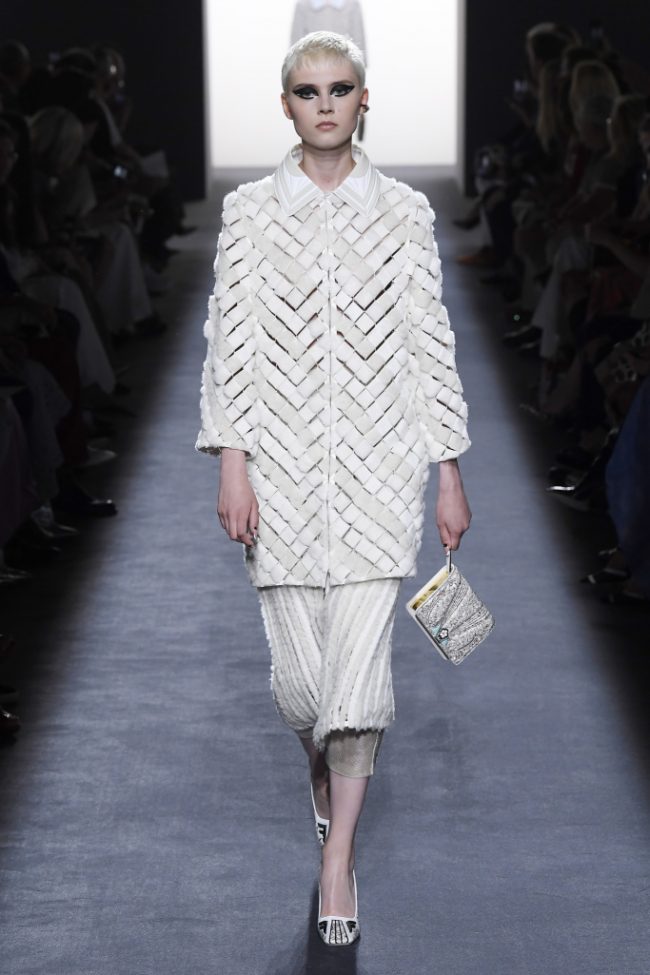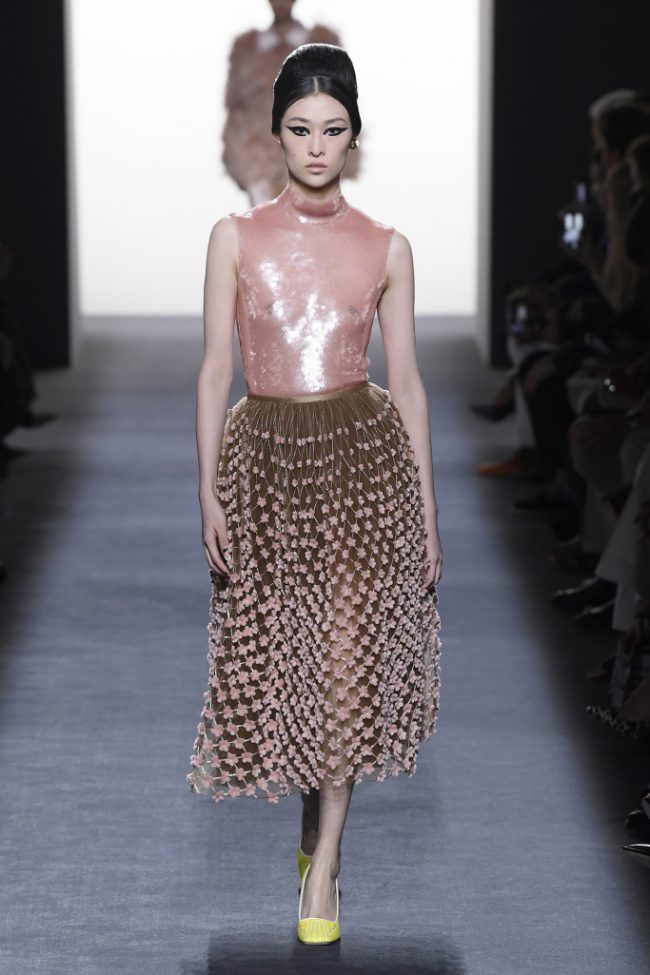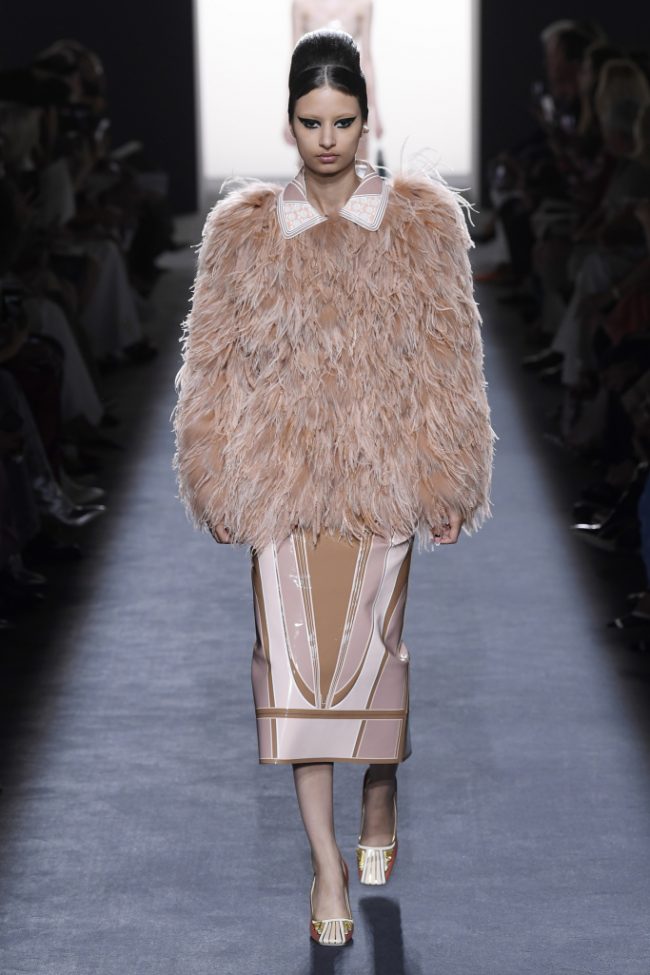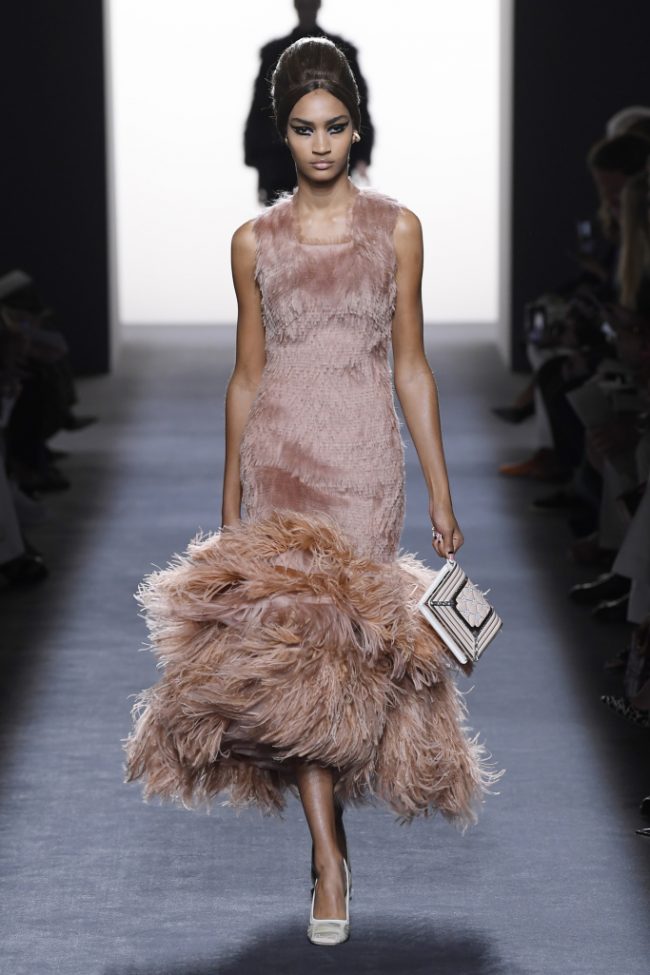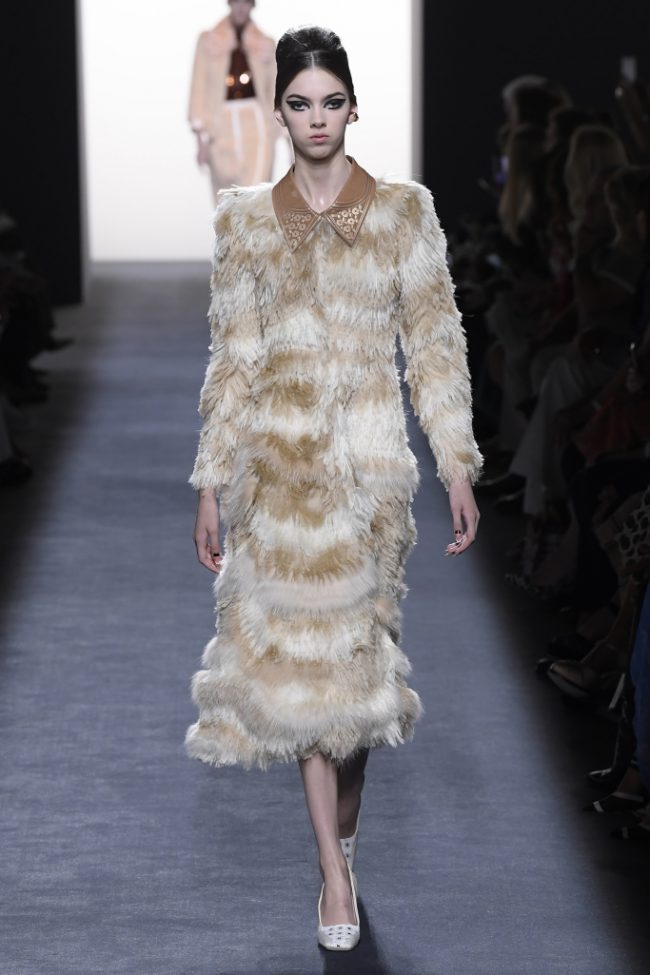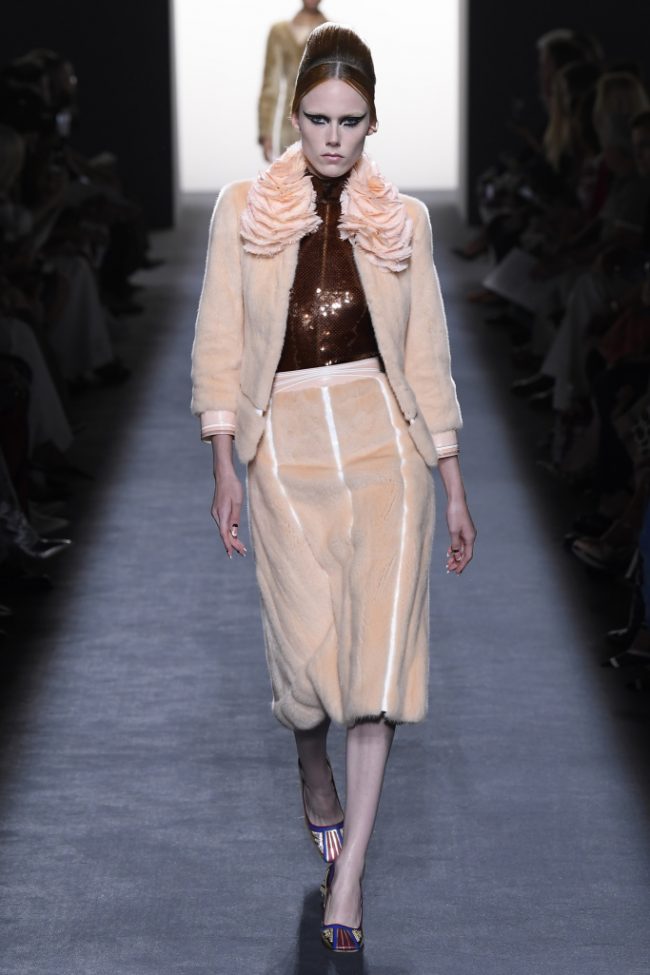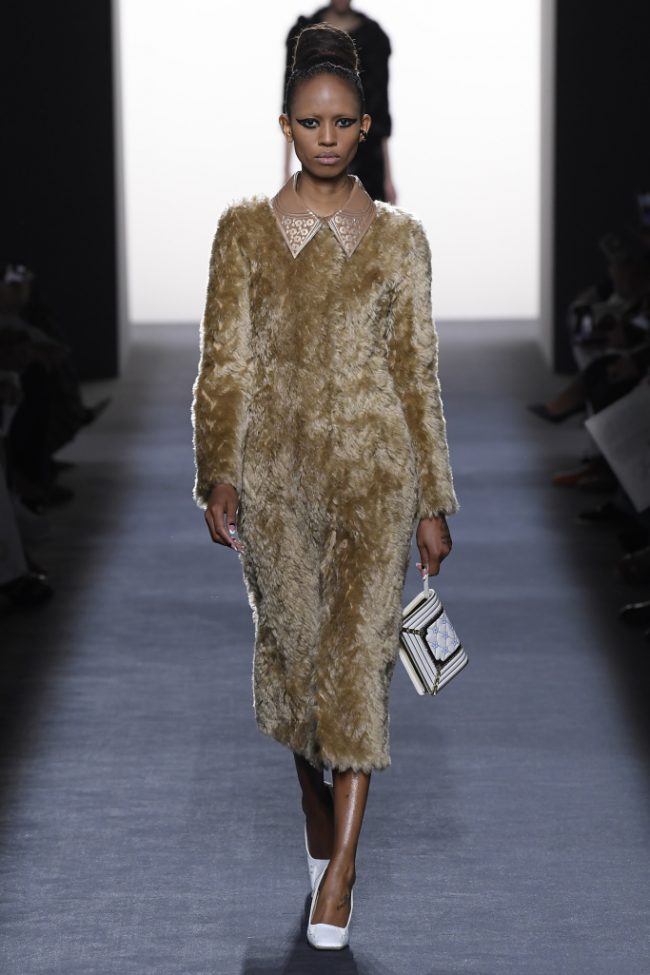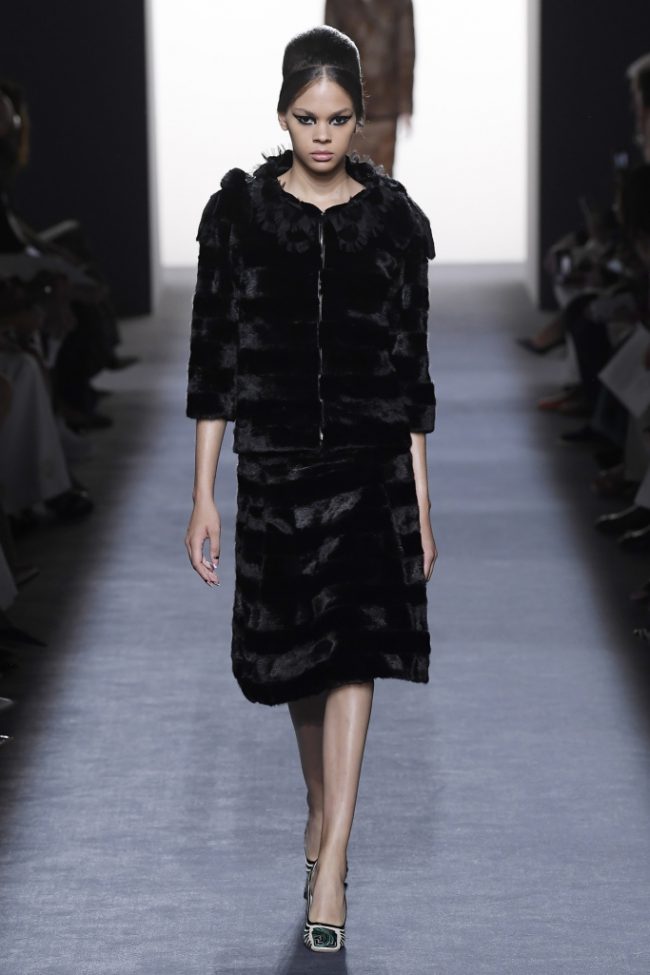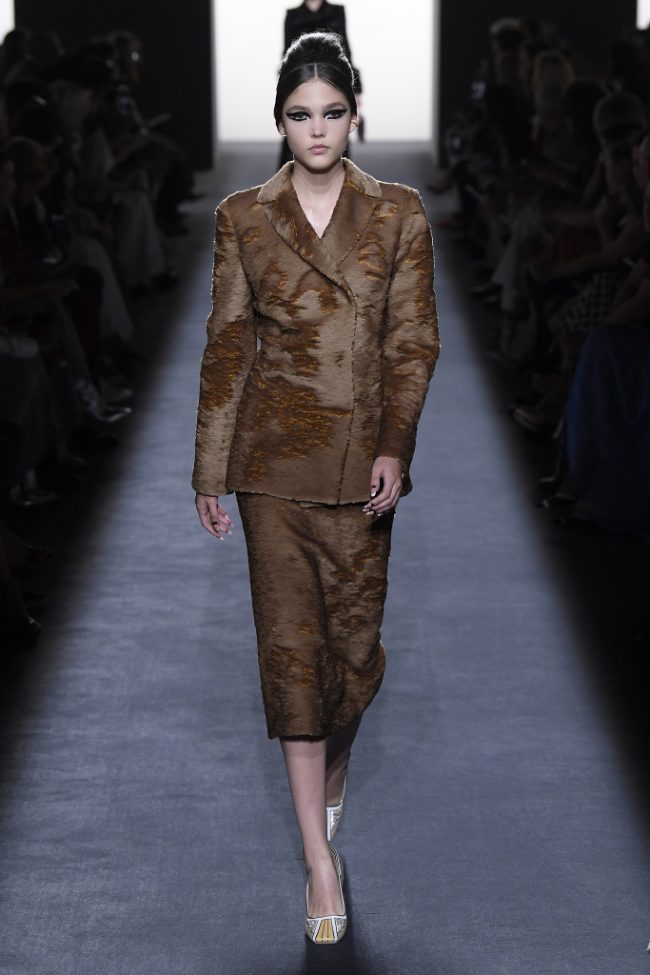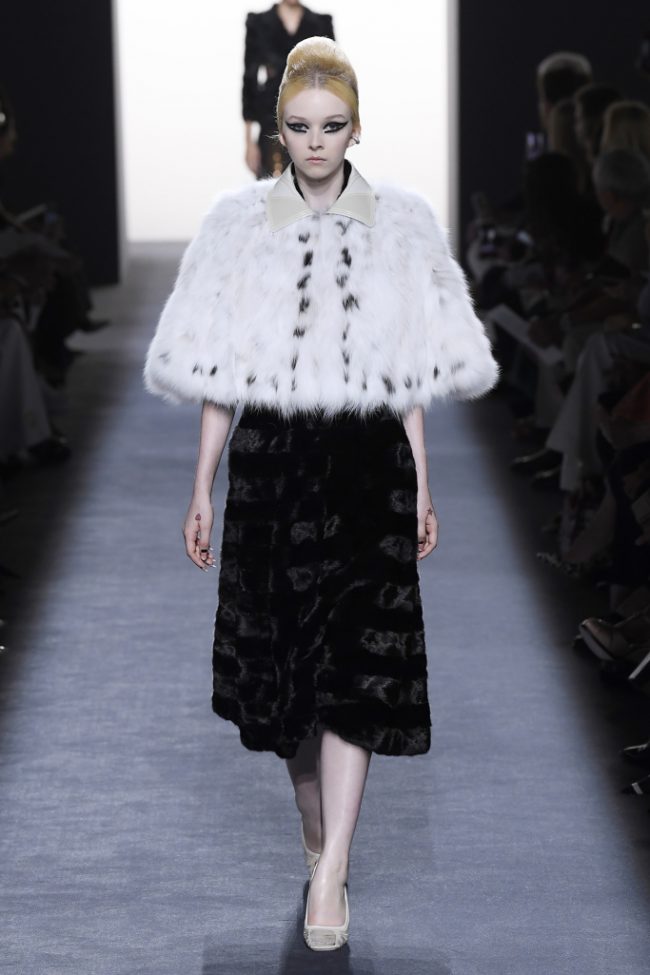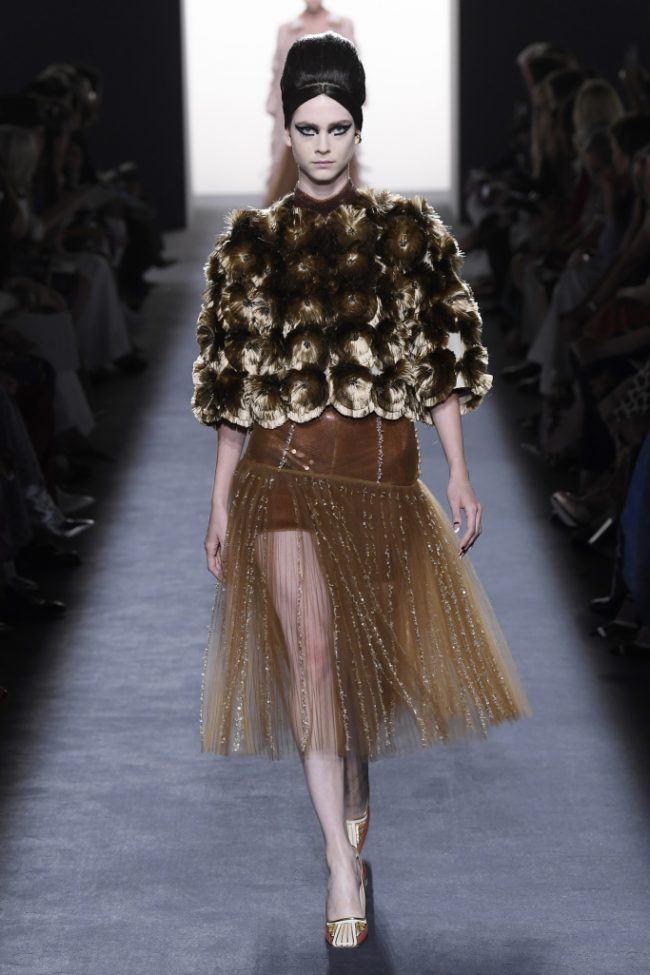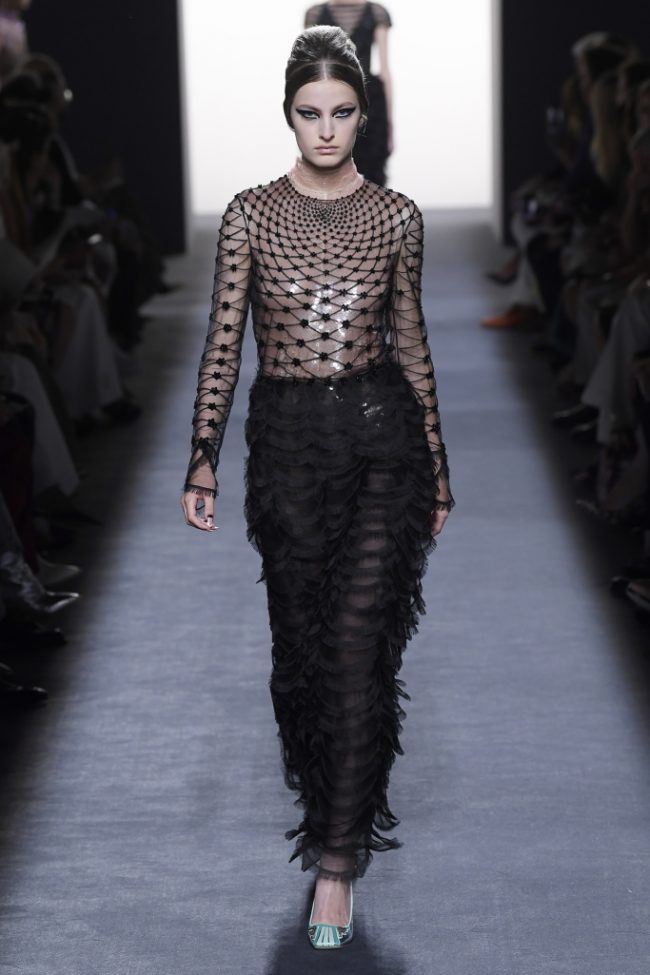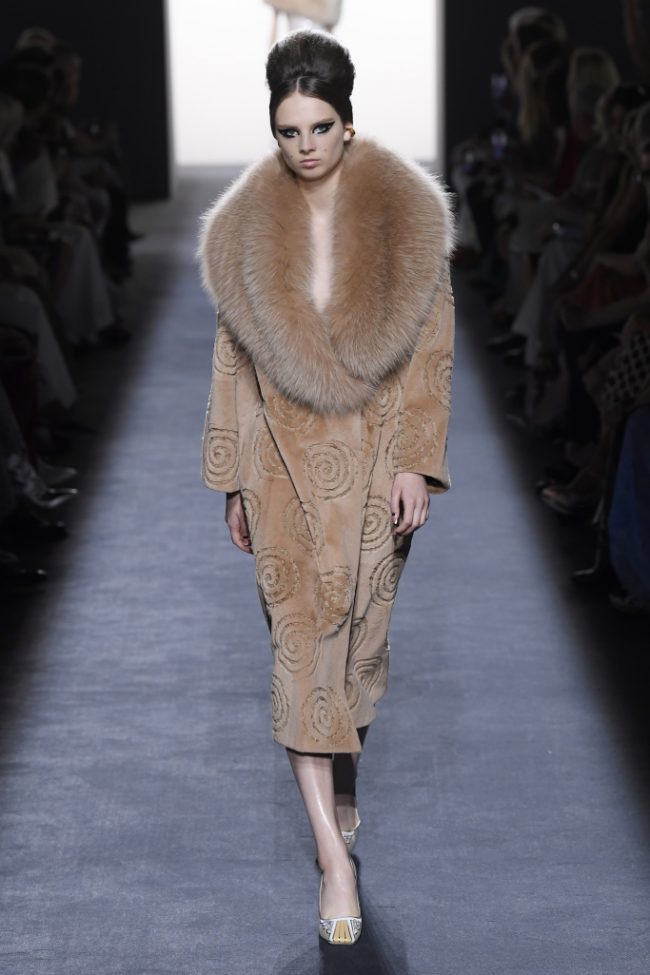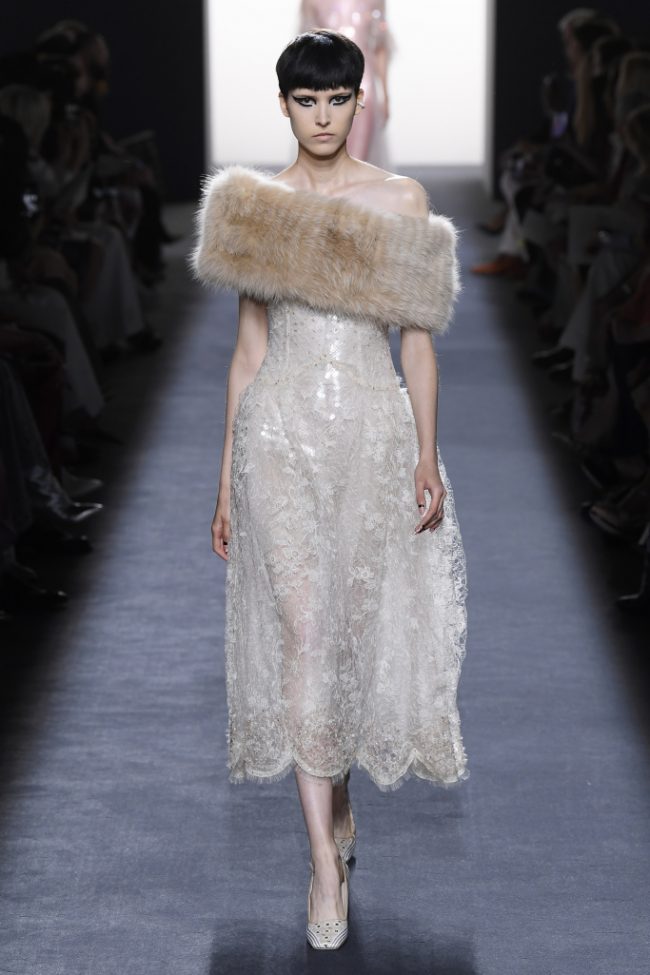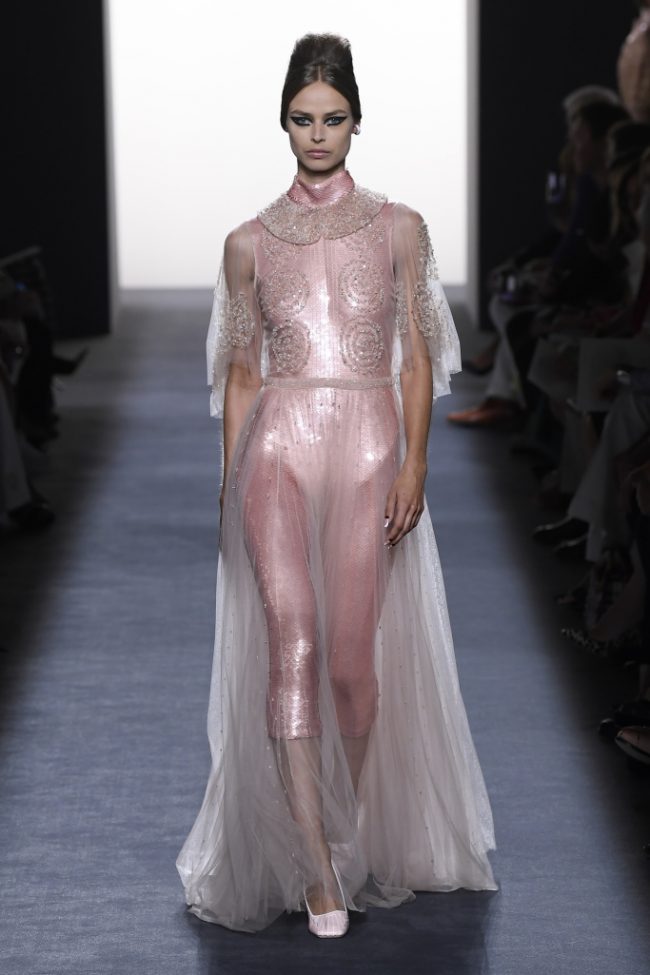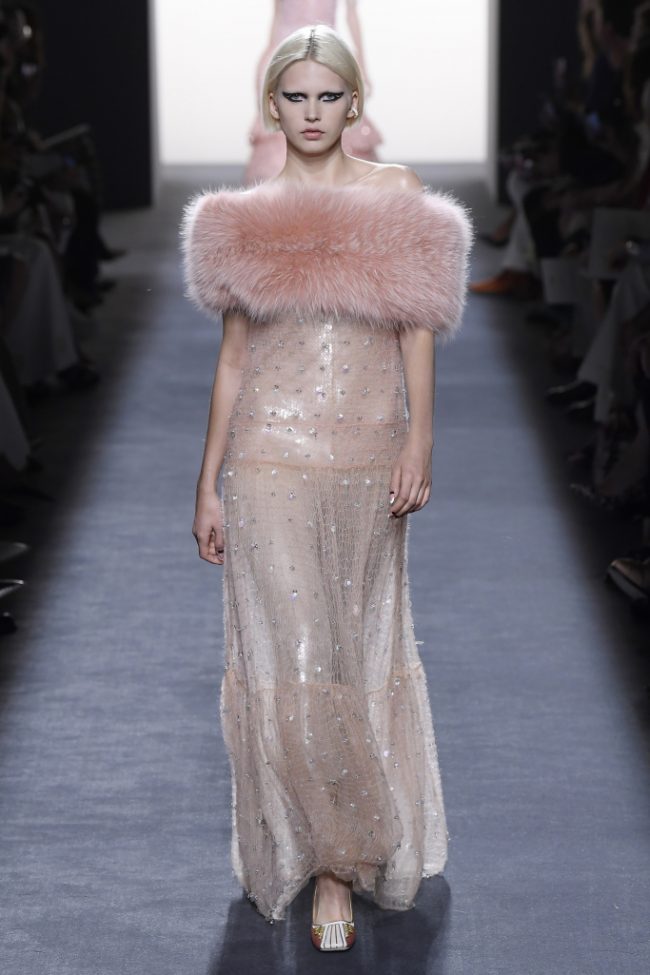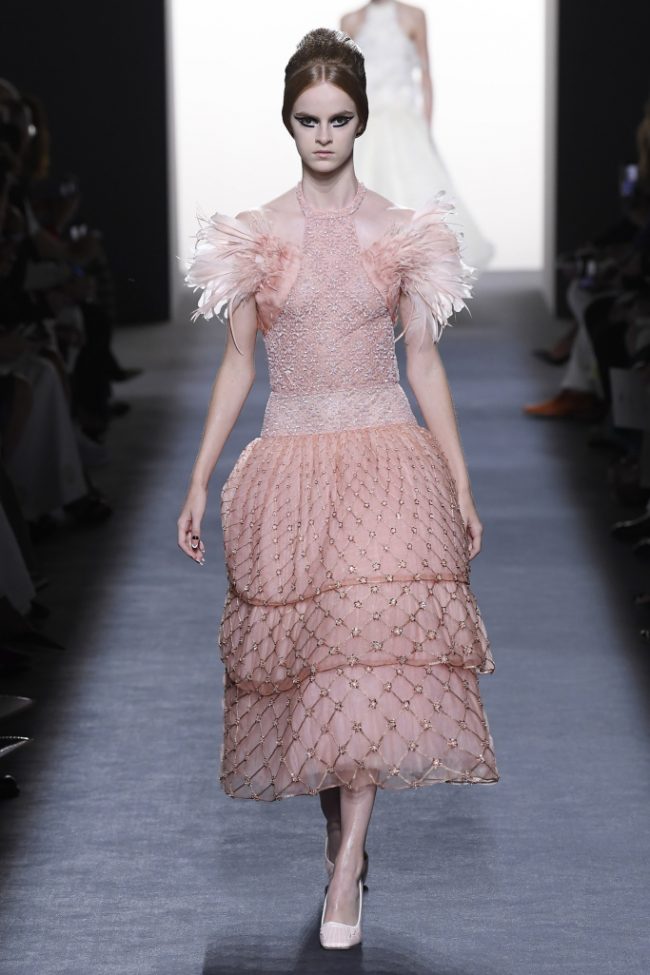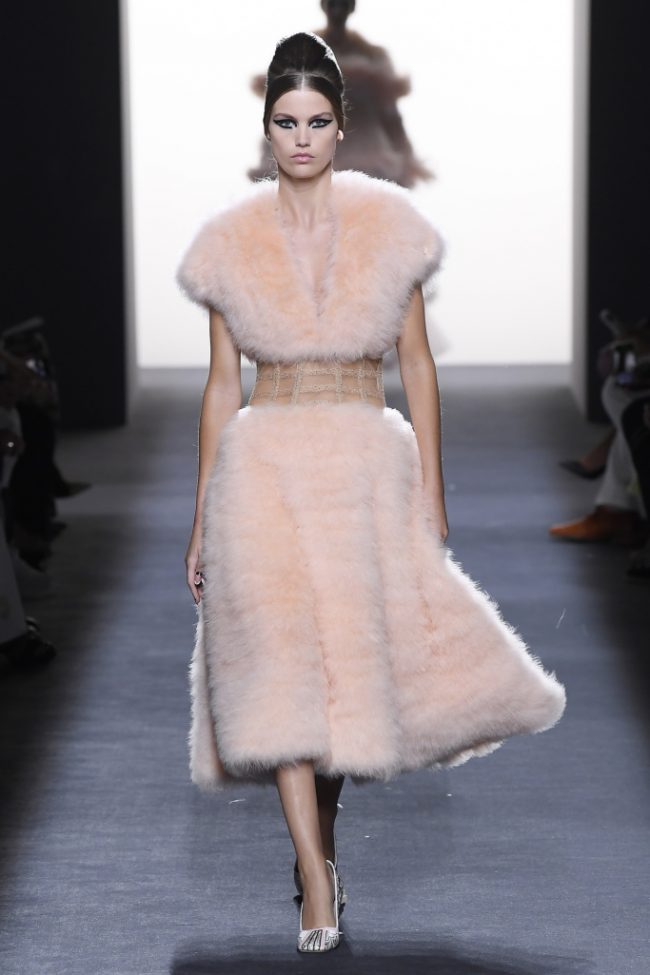 Giambattista Valli's fall 2018 couture collection took a fresh, youthful turn.  And why not? There's a whole new generation coming into their money and they reflect a different approach to dressing.  As this collection proved, Mr. Valli will be there for them.  From his opening look, a black bandeau top with high-waisted pants accessorized  with jaw dropping diamond ankle bracelets from Chopard, we felt a new sense of confidence.  Chopard continued to bring the bling, styling the sexy, contemporary, sleek gowns and pants that continued down the runway defining couture for the new generation.  Cocktail dresses had a flirty, young vibe.  But he also delivered his trademark excess in coats and dresses with billowing trains that insure the crowd will part around the wearer.  It is a sure way of making an entrance.  A black fur gown, knee length in the front and with a train was just the kind of over the top design the brand is known for in the fashion world.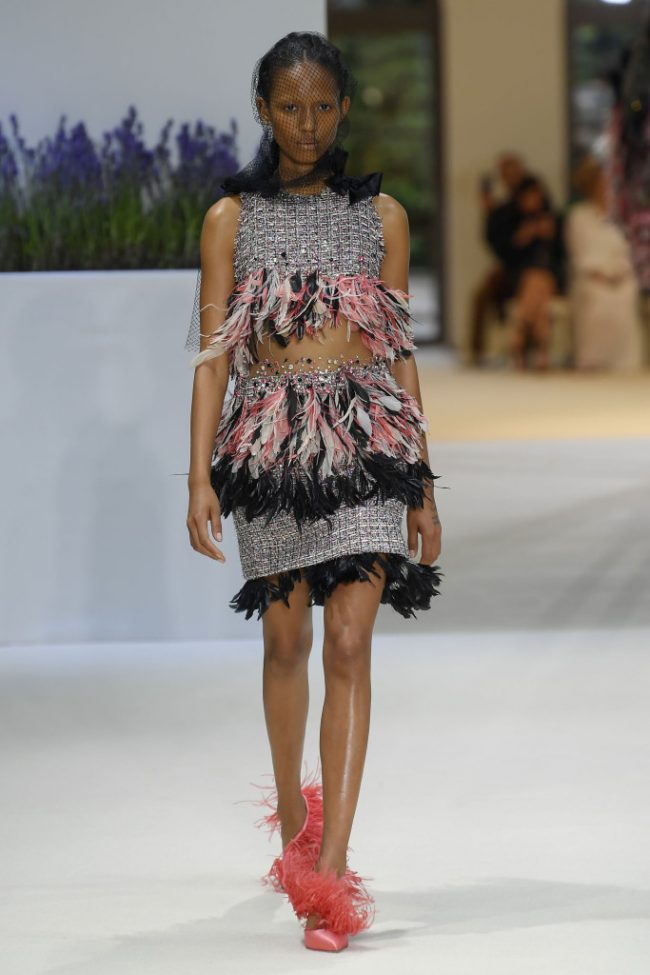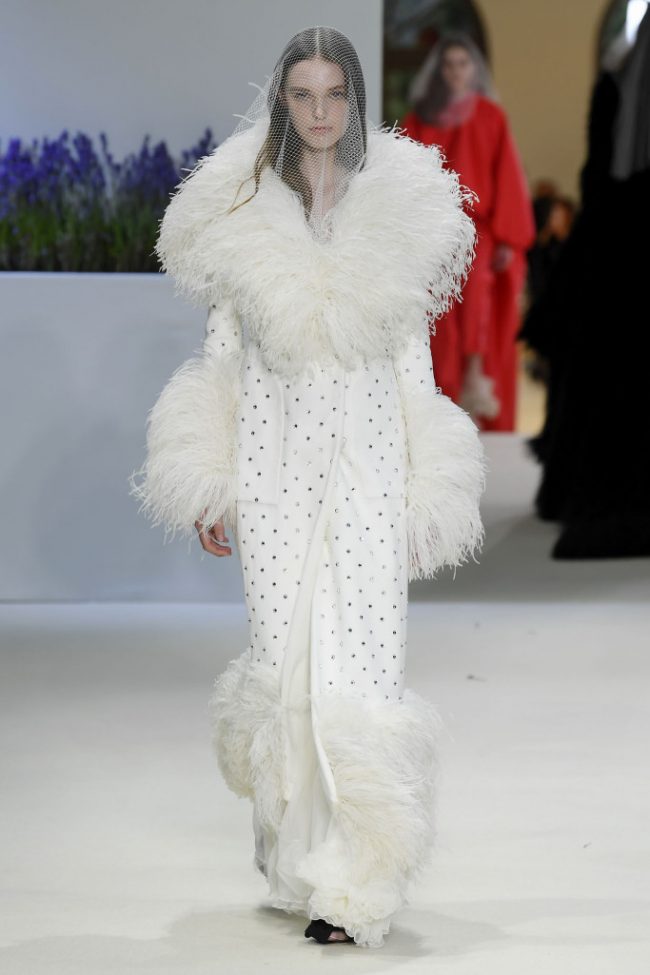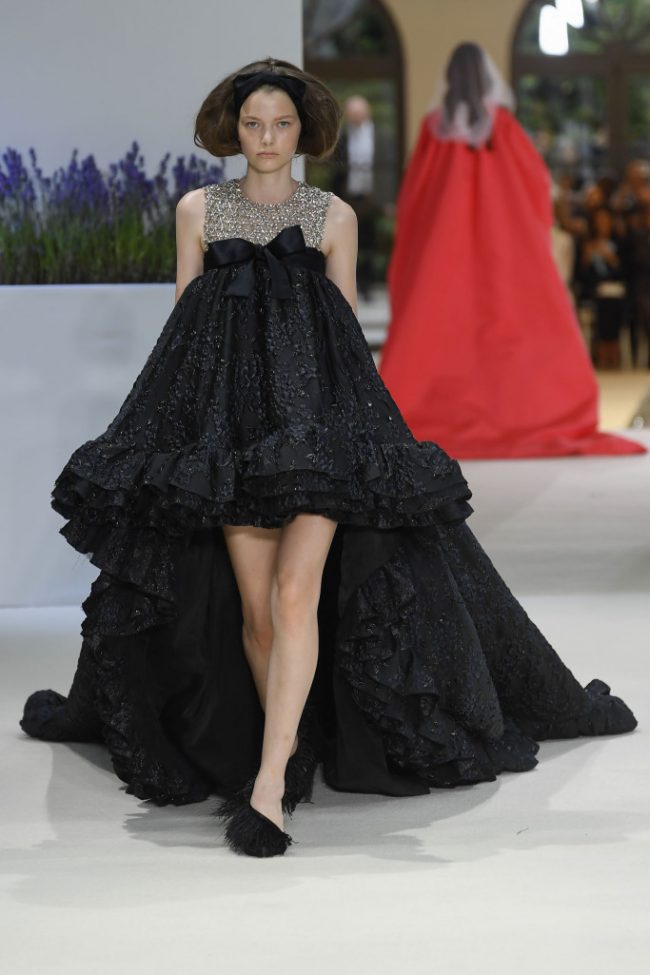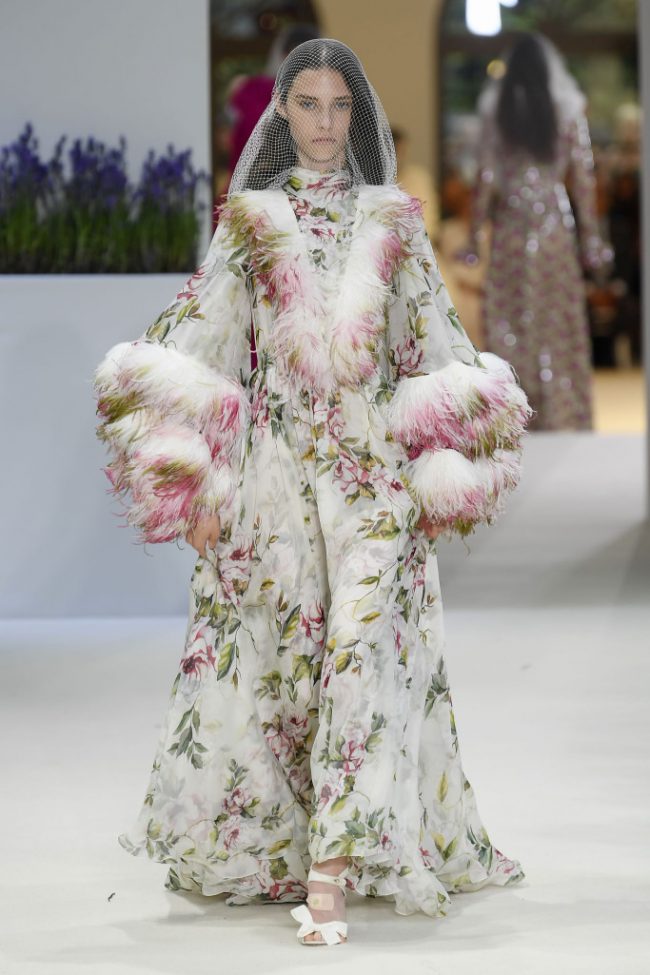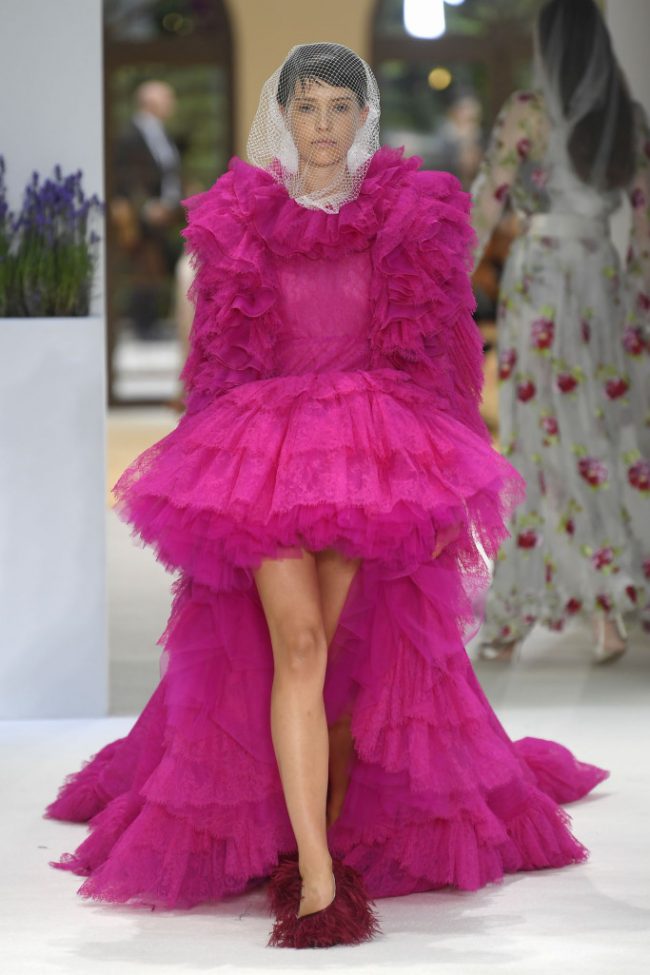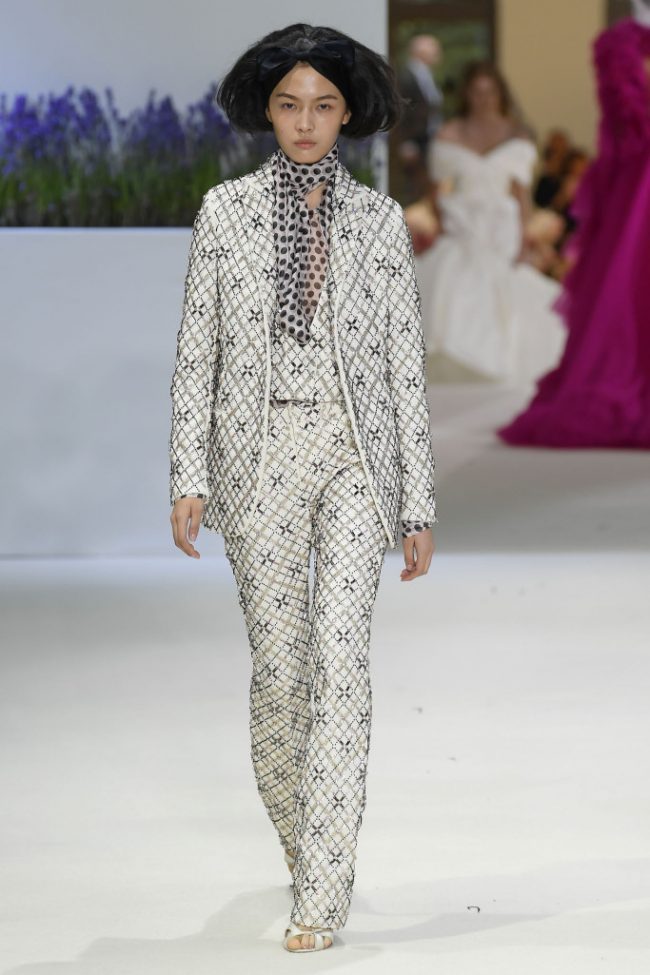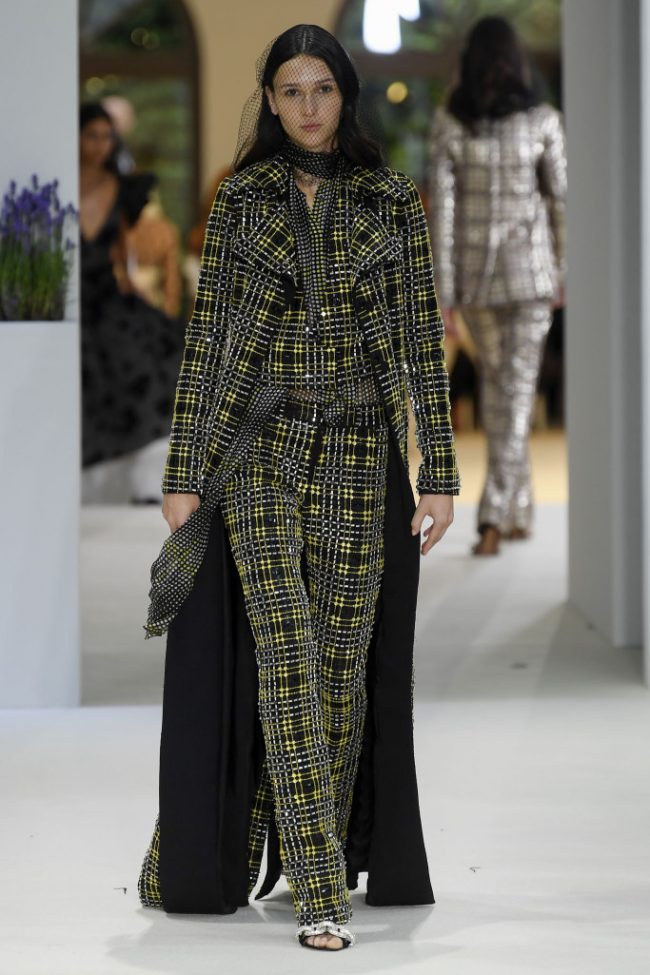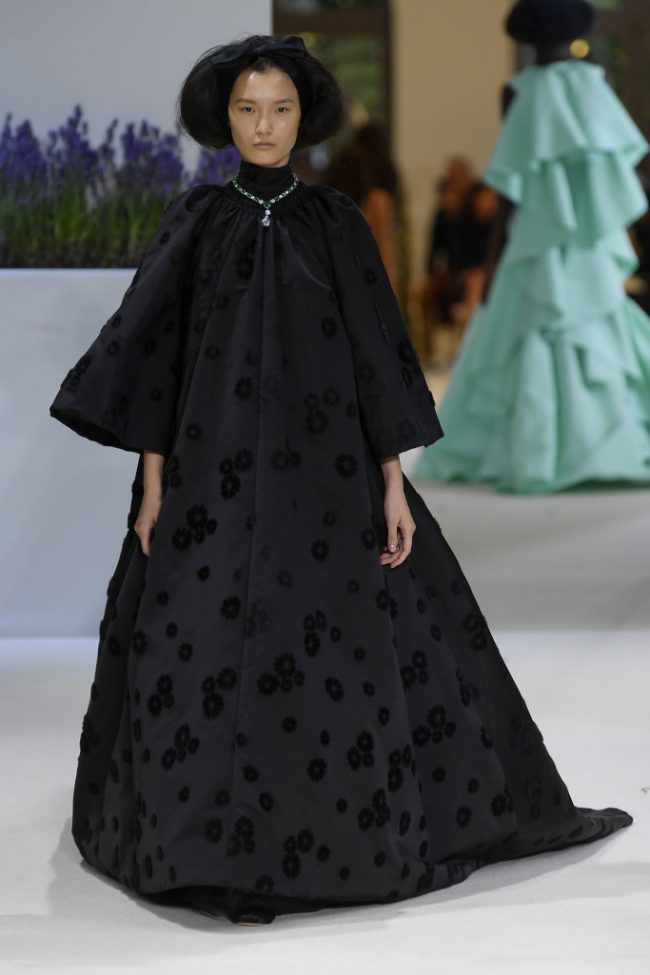 For the couture purest, one who requires the finest fabrics, intricate and almost impossible details, and luxe under glass, Jean Paul Gaultier's Haute Couture fall 2018 collection may not entirely pass the sniff test. A copious showing of his and hers fashion, there were lots of deconstructed tuxedo suits that highlighted Gaultier's mythical tailoring. Interspersed were some sure collector's items which, had Gaultier edited the show more carefully, would be on par with any of the finest couture shown. A two piece off white pantsuit was worth noting. The top was cropped just enough to see a sliver of midriff with a long sweeping train dotted in black marabou feathers. The pants were high-waisted and full legged giving an air of grandeur. Like Giambastia Valli, Gaultier wants to attract the young and beautiful to invest in his couture and he did so with intarsia fur. A black sheared mink smoking jacket with the silhouette of a face woven on the back was our everything! He paired many of the looks with chunky white athletic shoes. Impressively Instagrammable, this was exactly the kind of juxtaposition that makes heads turn and is sure to launch trends.