Haute Couture Fall 2017 Luxury Fashion Trends PART 5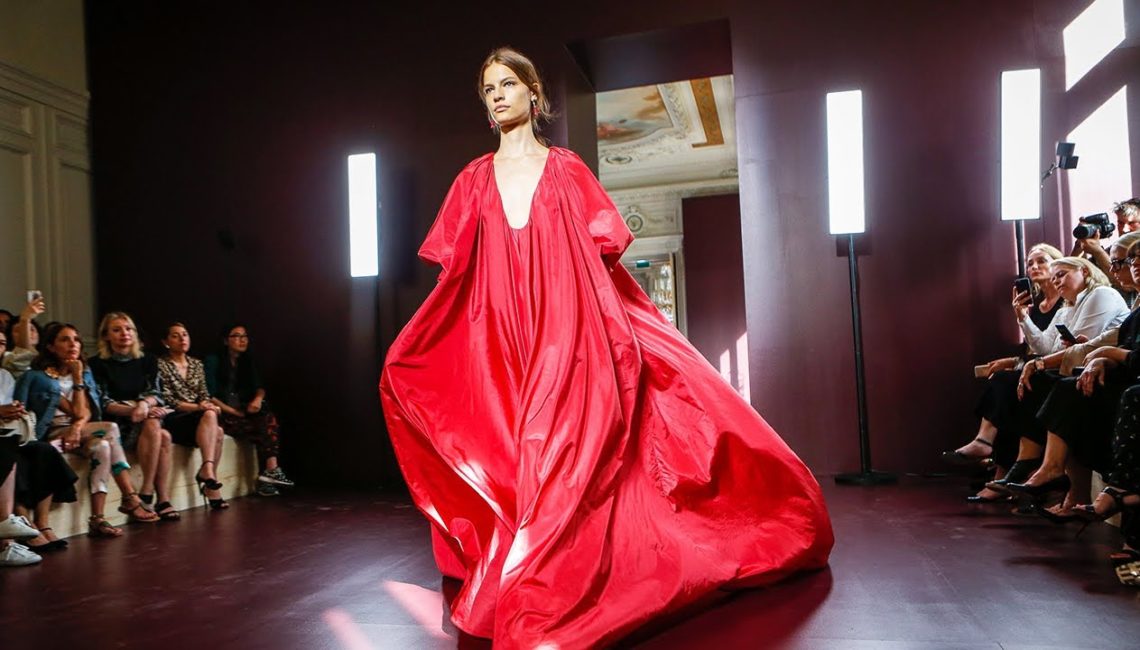 Haute Couture Fall 2017
Though haute couture is rooted in heritage and tradition, it also serves as an experimental playground for designers. Playing with technology, tailoring and detail work they can redefine the fashion vocabulary. This season John Galliano seems to be the king of that playground. Unexpected fabric pairings, innovative treatments, avante-garde constructions and inventive embellishments marked his haute couture fall 2017 collection for Maison Margiela. The deconstruction of a trench coat-cum-dress showcased Mr. Galliano's extraordinary tailoring skills. A drawstring hem may not be breakthrough, but on an organza skirt is thoroughly original. The workmanship of a trench coat made of organza formed to simulate corrugated cardboard was nothing short of astounding. Dissecting the details this collection was chock full of exciting and ingenious ideas that we hope will trickle down to RTW.
Decadence is part of Elie Saab's DNA. His clients relish the artistry of his lavish trims and embellishments and there was plenty of gold and jewels, velvet ,feathers and fur here to keep them happy. The medieval fantasy of "Game of Thornes" seemed to inspire some of the silhouettes, with capes and bandeaus driving the message home. But under Mr. Saab's capable hands, the collection never veered to costume. It was a collection of elegant, opulent eveningwear bound to grace the red carpets of the coming social and awards season.
With mascot heads and exaggerated, padded silhouettes the opening of the Viktor & Rolf show may have been too cartoony for some, but we appreciated the skilled handiwork that went into the padding, pleating and layering of tech fabrics that created these original shapes. Presented a second time as models reappeared without the huge heads, the message became clearer. Opened to reveal cool daywear options the adaptability and wearability of these looks became clear. Highlights of the collection included clever patchwork designs and new fabric treatments that gave denim a refreshing and welcome twist. The designers showed that the age- old art of quilting could be quite effectively employed to create fresh, modern looks. Haute couture has a place for fun, exciting originality and Viktor & Rolf delivered.
There's a reason celebrities turn to Zuhair Murad for red-carpet dressing. With intricate embroideries, opulent beading and lavish trims he delivers drama and glamour. Super sheer fabrics and plunging necklines create looks that are sensual and elegant at the same time. His women rely on his keen sartorial aesthetics to earn them best-dressed accolades. Mr. Murad is the master of the nude effect, adroitly adapting it to even the more classic silhouettes to show that sexy can be subtle and ever so tasteful. A bit of beading in just the right places certainly does the trick! His fall 2017 haute couture collection was a bit restrained in comparison to his more recent efforts, but with the light dazzling off of the beading and embroideries of gown after gown as they came down the runway there was no shortage of high-wattage fashion pageantry.
Don't be misled by the apparent simplicity of Pierpaolo Piccioli's haute couture fall 2017 collection for Valentino. Though outwardly lacking in the tricks and embellishments that one expects in haute couture, there is a mastery of tailoring and cuts that sets this collection apart. Part of the challenge, it seems, is how to make couture relevant for the lifestyle of an up-and-coming generation. For Mr. Piccioli the answer came in the precise cuts and sharp tailoring of his daywear separates, layered and presented in bold colors for a clean, modern effect. A black silk-satin gown under a bronze cropped cape reflected an of-the-moment classicism, unaffected and very current. But Mr. Piccioli demonstrated his reverence for the other side of couture craftsmanship with his elegant rust brocade evening dress and the delicate embroideries that lent a romantic air to several other gowns. And the piece-de-resistance? A richly appliquéd gown with a mink hem that took our breath away.
Related articles