Haute Couture Fall 2017 Luxury Fashion Trends PART 4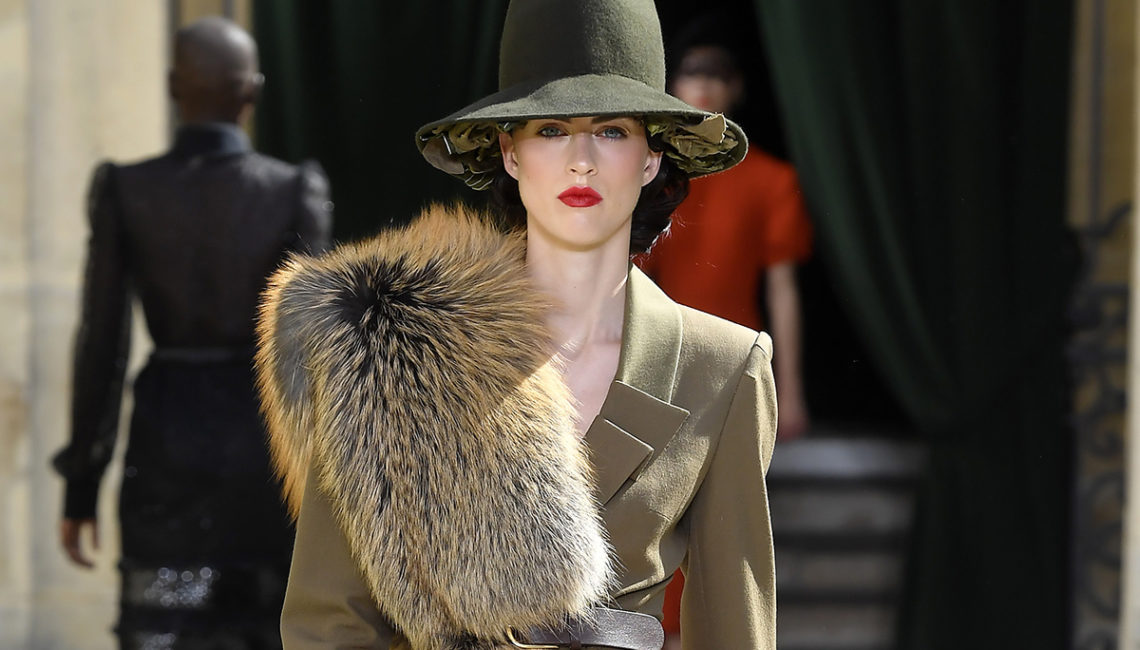 Haute Couture is the ultimate design lab. The usual rules and cost constraints of fashion do not apply here and designers are expected to deliver the ultimate in quality, design and craftsmanship. Often, as you might expect, the inspiration begins with plush furs, luxury fabrics and exquisite beading or embroideries. But inspiration can come from more democratic sources as well, with designers redefining denim, fair-isle and cable knit to reflect new levels of artistic potential. After all, it may be only the very wealthy who can afford haute couture, but the rest of us need something to dream about.
Since presenting her first haute couture collection in 2012 Ulyana Sergeenko has been recognized for her sartorial elegance. Her meticulous attention to details and quality are reflected in the luxury fabrics she chooses, the skilled craftsmanship of the artisans she works with and even the vintage details that she often finds at antique markets. Her fall 2017 haute couture collection, heavy on 1940's references, was dripping with elegant sophistication. A belted, tailored suit with a fox boa and tall fedora would have perfectly suited one of the glamazons in any of Billy Wilder's film noirs. The tailoring excelled with a pinched waist, and strong shoulders that flattered the figure. Other looks featured high-waisted pants and pleated jackets, also reminiscent of the era. We loved the pearl-drop appliqués adorning a long pin-striped jacket and the jeweled buttons and bow appliqués decorating an ivory coat with a plush mink collar. Delicate lace showed up as collars or accents to heighten the gracefulness of her looks. A plush mink and fox belted coat and an ultra-luxurious blush mink coat with a strong 1940's silhouette showcased Ms. Sergeenko's deft hand at fur design.
The opulent embroideries,elaborate designs and historical references appearing on forms in gilded rooms made Alexis Mabille's fall 2017 haute couture presentation feel more like a museum showing. Certainly there were plenty of chic, modern looks including a hot red bustier dress with ostrich feather trim and a flirty purple pleated strapless dress with a broad velvet hem. A pink pleated gown with satin crisscross neckline was fresh and young. The jacket of gold flowers and mink was extraordinary. With tulle constructions, embroideries and intricate pleating he showcased his haute couture skills. But a shimmering gold pleated dress with huge ruffled sleeves was overwrought, even bordering on costume.
Liquid metal, plunging necklines and huge shoulder bows were just some of the nods to the glitz and glam of the 1980's in Alexandre Vauthier's fall 2017 haute couture collection. Full admission, we are big fans of the excitement and glamour that marked the heavy-duty party days when Studio 54 was at its peak. So when the fashion vibe is brought back, particularly when it is done as well as Mr. Vauthier has done, we couldn't be happier. From the tailored and powerful look of a tuxedo jacket to the fanciful polka dot mini-dress or the ultra-sexy metallic purple dress with asymmetrical hemline he's captured all the attitudes of the era. Throw on a plush fox bolero and you're ready to head to the disco!
Jean Paul Gaultier gave us the over-the-top creativity, innovation and excess that we've been waiting for this haute couture season. With pearls and beads, velvets and fur, and some of the most exciting and unexpected tailoring we've seen he delivered the stop-you-in-your-tracks looks that reminded us of the fun and awe of fashion. Channeling the jet-set snow bunnies of Gstaad and Aspen he presented après ski and evening looks that would make any woman queen of the mountain. A deconstructed camel coat was pure brilliance. The winged feather puffer vest was the coolest look we've seen for the season. We were awestruck by the handiwork of a cardigan sweater dress made of mousseline ribbon. For cool and easy chic, we'll take his version of the leather moto, mink lined with a top-stitch and a big ¾ bell sleeve. From the first look to the last, JPG took fashion to new altitudes.
Some of our favorite looks from Azzedine Alaia's fall 2017 haute couture collection were the simpler looks: a lush red floral print A-line dress with pleated skirt or a black and red striped crocheted long tank dress. But we had to give kudos to the panther print jacket over the black and silver pleated leather skirt as well. Textural and visual vibrancy are Mr. Alia's calling cards and he uses them to great effect to create distinctive and noteworthy looks. Shearling seems to be his fabric of choice this season and his embroidered shearling coats with toggles will surely be one of the strongest outerwear statements of the season.
Related articles