Haute Couture Fall 2017 Luxury Fashion Trends PART 3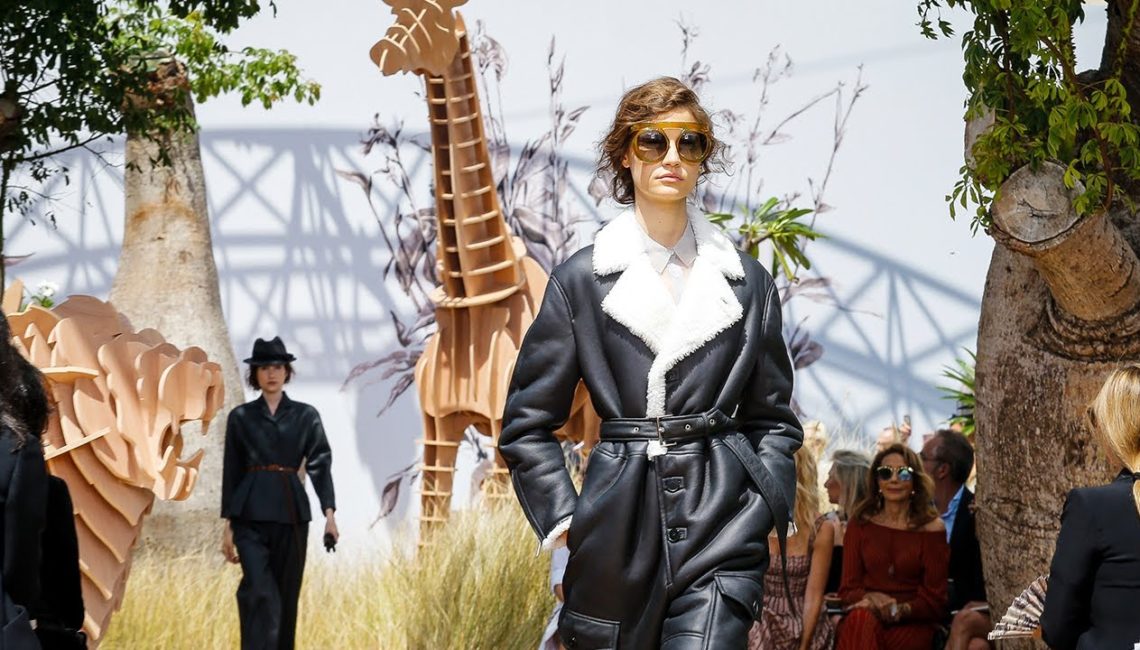 By definition, haute couture is an expensive undertaking for any label but Maria Grazia Chiuri 's haute couture fall 2017 collection for Dior was almost shocking in its expansiveness. The brand must have dug deep into their pockets to create the 65+ looks that marched down the runway. This was a mash-up of rather distinct style storylines. Sturdy jumpsuits, dresses and coats reflected masculine tailoring and 1940's references. Volume and practicality was the story here, with deep pockets and easy, comfortable fits. I was instantly reminded of Katherine Hepburn and her strong, iconoclastic sense of style. At the very far end of this strong run was a shearling jump suit….a look Amelia Earhart would have worn proudly. These were clothes for strong, confident women with a purpose. They shared the stage with softer, prettier, romantic looks that featured diaphanous fabrics, ruffles and layers, plissé pleating, floral prints and embroideries. These dresses were for flirting, and their charm was easy to see. A tulle gown with velvet floral embroidery showcased the artistry and detail that defines haute couture. The third story line had an arts-and-crafts, boho vibe. A gold brocade coat was made of independent panels, each seemingly telling its own story. Prints depicted maps. And then there was the velvet patchwork coat shown over the feather tulle gown, an homage to that side of a woman where her worlds collide.
Giambattista Valli goes where few other designers have gone with haute couture this season. He provided statement-making fashion for the younger set who lives the life and has the money to spend as well as the mothers-and-daughters who share their glamorous lifestyles. Smart! From flirty little floral print dresses to princess poufs to the super sophistication of elegantly draped and pleated evening gowns, Valli covered all the bases. And oh the craftsmanship! Opulent detailing featured crystal embroideries, delicate floral appliqués, macramé and intricate pattern cutting. There were ruffles and pleats and poufs. Ms. Valli's awe-inspiring sartorial skills were demonstrated in his exquisite tailoring and draping. There was some serious skill and workmanship on display here. Pleated tulle gowns with dramatic trains in sweet hues of pink closed the show sending every princess out eager for the ball.
Hyun Nielsen's collection of edgy, downtown looks is not the stuff we most often associated with haute couture, but her innovation and bold creativity justifiably earned her a spot in the fall 2017 haute couture line-up. Look closely and you can see the artistry in a patchwork denim dress, each section cut and sewn precisely to great effect. Layers of black and white tulle form a herringbone pattern in a coat so frothy it looks like fur. Imagine the complexity and time involved in creating the cropped white pants made entirely of strips of ruffled fabric sewn together. Ms. Nielsen has a unique point of view and we're glad to see it honored here.
Stepané Rolland delivered a welcome air of modernity to the fall 2017 haute couture line-up. No stranger to sculptural looks, he excelled this season with hard-to-believe suspensions including the black gazar sculpture on a white sweater dress or the dramatic white gazar coat shown over a black cone dress. Who wouldn't feel beautiful with their face framed by white gazar petals suspended on a white top? Sculpture took other forms, too, as in a breathtaking black cape dress adorned with gold branches. Perhaps our favorite ode to the arts was his white crepe and black organza dress with the facial profile cut-outs. Mr. Rolland combines the vision of an artist with the skills of a master tailor to create truly extraordinary fashion.
Karl Lagerfeld once said "Everything has to be the top of refinement. If not, couture has no reason to exist." Refinement is what he delivered for Chanel's fall 2017 couture collection. The focus was on shapes, silhouettes and tailoring. A run of coats and suits in his trademark textured fabrics led off the show. The colors were somber – navy, grey and black – any further decoration was absent. Shapes ranged from exaggerated round-shouldered jackets (we're not fans..they have a bit of a funhouse effect) to slimmer, more classic shapes. Boater hats in matching fabrics topped every look, sure to be a key accessory of the season. Decorative detailing was on the menu for evening , however, and Mr. Lagerfeld's subtle, artistic treatments gave even the simpler silhouettes a remarkable sophistication. A black dress was transformed with oversleeves of metal beading. Feathers were formed to look like bold, plush flowers trimming dresses and coats. Jewels and beading created a captivating elegance.
This was haute couture as it should be.
Related articles