Haute Couture Fall 2016 Collection Reviews Part 4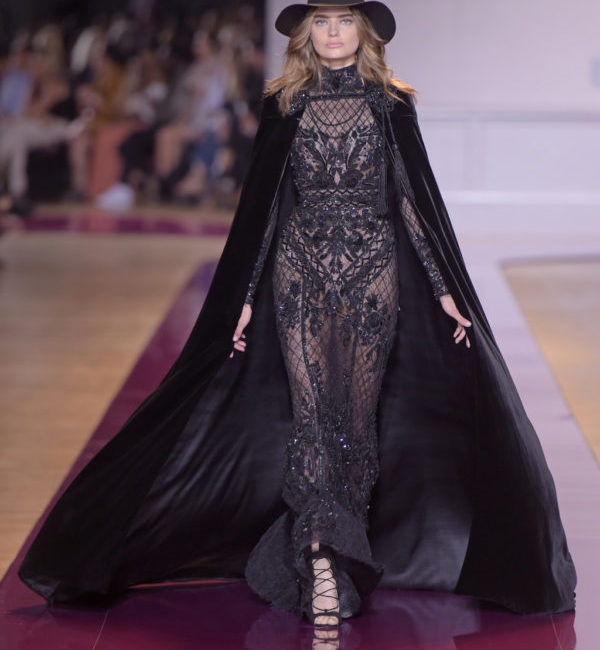 Zuhair Murad's haute couture fall 2016 collection almost seemed like two distinct streams of consciousness…one full of soft, ethereal, and sexy angelic dresses and the second group reflecting a strong gypsy dreamer with a rock-glam edge. With lots of skin peeking through tulle, the requisite couture touches of beading, embroidery, luxe embellishments, and lush fabrications covered just the right places. Murad is known for his delicate and fragile designs but this season he added felt hats and capes to give the clothes an edgy 70's power. Across mostly monochromatic looks, Murad adds the most enticing, rich jewel tones because he knows men sometimes like their women in color as opposed to black all the time.
Old world glam combined with a New York state of mind defines the Elie Saab fall couture collection for 2016. Models strolled down the runway with a cool, confident vibe and an attitude that says I know I look gooooood. This is a kind of "smell me, I'm made of money" type of pulchritude that the Hollywood elite clambers for to stay ahead of the pack. Honestly, who the hell cares if Saab has become predictable in his style?….it is luxury of epic proportion and, like ordering your favorite meal, you'll never be disappointed. The way he shapes a woman's body is nothing short of genius. The pieces were in large part black and sparkly with low, low necklines, high, high slit skirts and plenty of the trademark Saab opulent detailing. A black cape with a fox collar would be a lovey addition to anyone's couture gown collection and Saab included some matching mommy and me dresses just in case the need arises.
There's nothing more sentimental or creatively inspirational for design team Viktor Horsting and Rolf Snoeren than to repurpose, recycle, and reuse scraps of fabric and jewels from previous collections to create something altogether new. That's just what they did for their namesake brand, Viktor and Rolf, in their fall couture collection for 2016. Featuring a rag tag mix of looks made up of old workroom fabric remnants, the clothes were more on par of RTW, with jeans and blouses taking center stage. Colorful basket weaving was a technique used to maximize the overstock of leftovers. At times it worked, as on a denim vest with organa sleeve ruffles, while other times it looked like grandma's old woven oven mitts. You find yourself asking WTF? But you have to appreciate the innovation, thought, and time that went into creating these garments. After all, that is what haute couture is all about!
You can almost smell the autumn air, feel the cool, shady breeze and hear the animals ferreting about when looking at the Jean Paul Gaultier fall 2016 haute couture collection. Using silk fabrics painted to look like wood grain, he adds fox fur as if it were a squirrel running up its trunk. Mink, coyote, broadtail and other furs are on the menu too. Necklaces of polished tiger eye, quartz, and wood pulled the theme through. Mossy green chiffon fabric floated like verdure dangling from branches. This was a collection which was incredibly creative and deep in vision including rich, textural looks. A patch work fur walking coat was just that way. Gaultier demonstrates the extraordinary creativity and workmanship that reflects his premiere couture skills. With dramatic and unexpected shapes and silhouettes, Gaultier clearly commands a keen understanding of garment construction.
Our final Haute Couture reviews still to come….