Haute Couture Fall 2016 Collection Reviews Part 2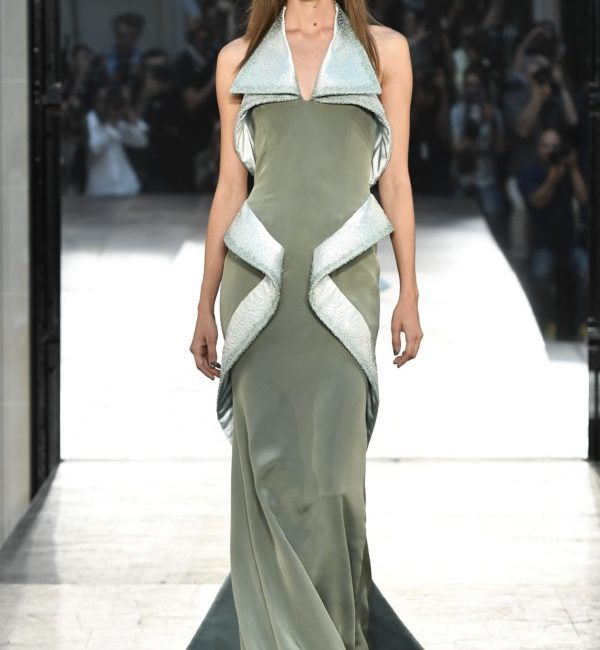 Haute couture doesn't mean that the clothes all have to be spectacular red-carpet gowns, but when they are it makes us oh so happy! The Alexis Mabille 2016 fall couture collection was chock full of special occasion dresses that made us anxious for black tie season to begin. Using fine fabrics of silk faille, radzimir, lace, and taffeta, the 80's Dynasty opulence would possess even sweet Krystle Carrington to claw out Alexis' eyes for first dibs. Sweeping skirts with layers upon layers of crinoline or, just the opposite, pencil straight sheaths, Mabille used muted colors to convey a modern sophistication. Dramatic and unexpected shapes made for unique statement pieces.
Fall has never been such a wanted returning friend as it will be this year. With all the beautiful bouclé knit ensembles presented by the grand artiste of fashion design, Karl Lagerfeld, the Chanel haute couture collection for 2016 is exactly what will put you in the mood. As has become the custom, Lagerfeld stages a runway presentation as captivating as the garments themselves. This year he featured the premières (seamstress) from the atelier working their magic on stage while the fashion show paraded about. Three recurring design details were noteworthy: broad shoulders, gaucho pants, and peek-a-boo hemlines. The intensity of the collection built on itself – très belle details like wide ribbon stripes, feather shoulders, rouching, and long sleeve gauntlets came about as détails spéciaux.
Call us a hopeless lover of the underdog but since the abrupt departure of lead designer Raf Simons last fall, understudies Lucie Meier and Serge Ruffieux have stepped up to lead Dior in a big way. Their fall 2016 haute couture collection was well within the classic, tried and true tradition of the Dior woman but the pair also dressed the young elite here too. A sum total of black and white separates, the hem lines were modest tea length and there were lots of Christian Dior's 1947 New Look Bar jacket offerings. Touched with gold embellishments, the clothes felt special but not fussy.
Bertrand Guyon, Schiaparelli's recently arrived creative director, offered a sense of bold fun and whimsy while still remaining sophisticated and elegant with his 2016 fall couture presentation. Sharp cuts, bold prints, luxe details and the trademark hot pink color lent a sense of energy, youth and optimism. Guyon explored Elsa Schiaparelli's summer 1938 circus show, using animal motifs and dancing clowns. Guyon is not afraid of jumping first and then looking when it comes to taking chances. Last spring's collection was a "food to table" theme with plates and lobster appliqués. This season, he used some Picasso-like surreal cubist motifs on dresses that could make their way into a collector's closet. His intarsia mink designs showed a true artisan's hand.
After previewing the Givenchy haute couture collection for fall 2016, it left a less than favorable impression. But we know better than to take things at face value. We did a little investigating to understand and appreciate the complex constructions, artful pleats and draping put forth. The gowns were mannish at times and the looks were not altogether flattering across the collection but master designer Riccardo Tisci has earned the respect of all us in the fashion industry and, as a result, we tend to look a bit more closely into his work. For example, a long, optic white column dress with a silk tie may have been a bit pedestrian at first glance but, made from trompe l'œil pleated silk lace fishnet with dégradé overstitch, micro tassel embroidery and hand-applied tone-on-tone silk chiffon, you know these pieces are more than meets the eye and not just something that was easily whipped up.
There may be lots of fish in the sea but not all of them are wearing Brioni. In their 2016 fall couture collection, unisex suited styles for men and woman charged down the runway rendering all in attendance speechless and wanting more. High-cut crotch pants showed who wore the pants for sure, accentuating the family jewels. Mink and chinchilla trimmed coats added an air of big money. A 3/4 croc coat with white tee and slim fit, cropped pants was A-list attire. Opening the show with a full length chinchilla men's coat reminded everyone these weren't clothes for just anyone. Looking to the future trend of "see now, buy now", these items were set to hit e-commerce, flagship stores and select retailers immediately following the show. Go fish!
Haute Couture marches on….stay tuned!