Haute Couture Fall 2016 Collection Reviews Finale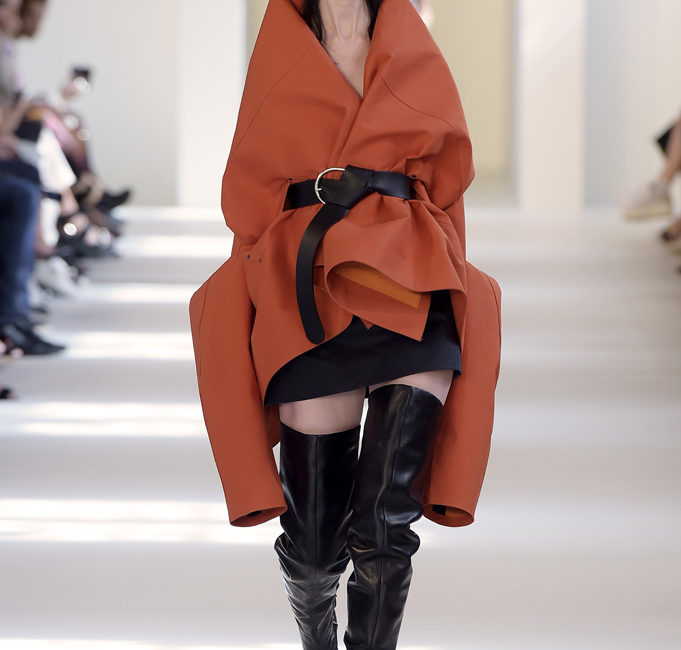 Once you get over the shock you'll put your tongue back in your mouth and laud the intrinsic value of the Maison Margiela fall couture collection for 2016 because it's just really cool! While the clothes on face value seem somewhat thrown together, you realize this stuff just doesn't just happen. It takes a brilliant mind to bring calm and creativity to chaos. The fashion is in-your-face, risk-taking rowdy and only a guy like the eccentric genius, John Galliano, could put it together with such calculated impact. Heavy wool fabric knotted into perfect bows, or better yet, cinch belted at the waist, the thick fabric behaves like a well mannered child with the potential to go rogue at any moment. Tibetan lamb was used as trim that looked like a ruffled shirt collar. We love the way Galliano makes our minds spin—always pushing the boundaries of the possible.
For all you frustrated, wanna-be princesses, dressing in the Valentino fall 2016 collection will remind your "people" of your imaginary place in the blood line. With Elizabethan looks like high neck ruffled collars, black clerical robes, brocade fabrics and crested jewels, the royal references were clear, but it was the ermine fur replicas that sealed the deal. Who can deny her highness in a white mink cape with a black feather flecked pattern that looks like a ceremonial robe? In all kingdoms, power and proper pedigree is everything. The royal couple of fashion, Pierpaolo Piccioli and Maria Grazia Chiuri, who have worked side by side at Valentino, are "divorcing". Chiuri is headed north to Paris, the capital of present day couture. This leaves Piccioli to handle things in Rome where the true power and history lie. Should be an interesting battle for the crown.
Imagine this: a fashion show set IN the Trevi Fountain in Rome, a dress made from a rose-colored Persian lamb skin with 5,000 hand-cut holes that made it look like lace, or a fur coat that took 1,200 hours to piece together to create. Well imagine no more. At the Fendi fall 2016 couture show there was that and oh SO, SO much more. This show hit every couture high-note with extraordinary creativity, use of luxe fabrics and embellishments and unparalleled craftsmanship and technique in fur. Picture a pink dyed lynx. You say, "OH NO, impossible." The Fendi people say, "dare me" and then they do. With the famed Fendi ateliers at the direction of Karl Lagerfeld he says, "This is what Fendi is all about. No other fur house in the world does it, or could do it." Well, damn right on that!