Fur Trends Galore at the 2017 ILOE Show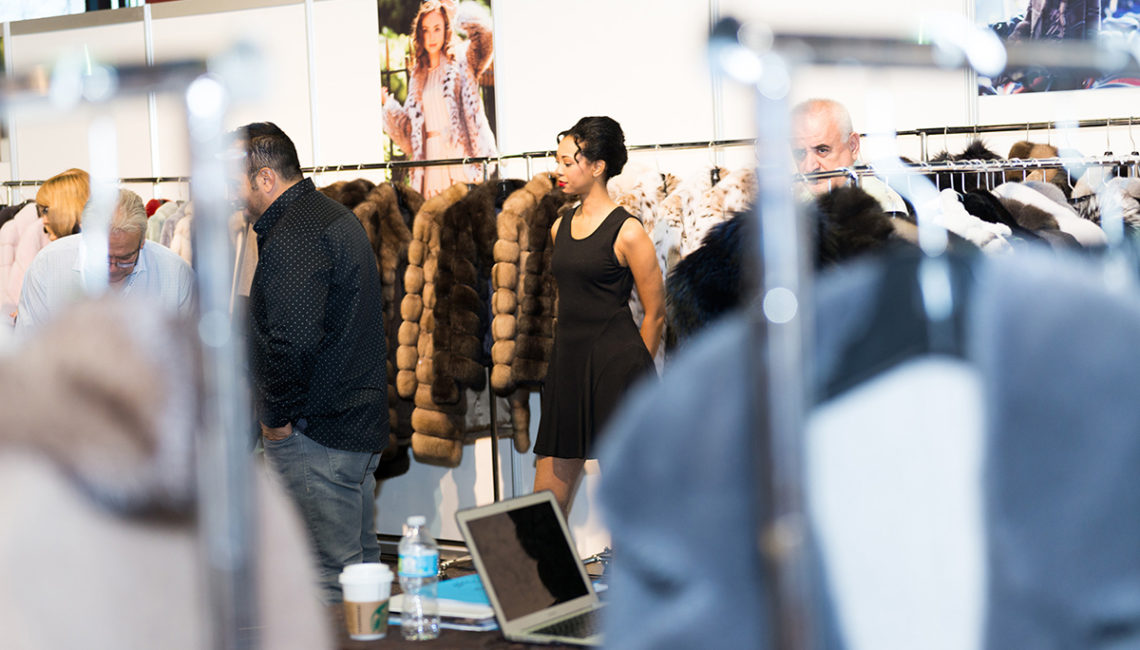 If you've been following us on Facebook for the past few days then you know we've been working it  at the 2017 ILOE Show, the International Luxury Outerwear Expo in Chicago.  The key trends that were established on the runways of New York, London, Paris and Milan provide the inspiration for the exhibitors here as they add their own creative twists along with their in-depth understanding of the current dynamics of the market to create innovative new fur fashions for the upcoming fall/winter season.
Fur Fashion Trends as Seen at the 2017 ILOE Show
As we walked the show floor reviewing the collections of the 85 exhibitors on hand the story for this year quickly became clear.  When it comes to fur fashion for fall 2017 it's all in the details.
A bold, multi-colored feathered fox jacket or mink camouflage jacket reflect the intricate artistry of intarsia design.  Sections of dyed furs are sewn together to create bold and complex patterns best understood when examined closely.
Woven leather is a key detail trend for the season, seamlessly integrated with fur to create a fresh textural story.  Multiple fur types are integrated within a garment to create depth and visual intensity. Innovative new cuts and shapes, bold color blocking and a mash-up of textures are driving the development of shearling.  We thought we'd seen it all on the runways, where shearling emerged as one of the most significant trends for fall 2017, but throughout the aisles of ILOE we were continually amazed by the fresh new approaches.
Metallized dying provides an unexpected shot of glamour.  This technique, first introduced by Fendi, allows fur to pick up on the metallic trend so strong in RWT and leathers.
Color is key, from bright pinks and blues to rich jewel tones to soft pastels and natural tones.  When displayed together, the veritable rainbow of fur creates an exciting and stimulating message.
Beading and crystals add romance and drama to a range of fur fashions.  But if you want to take bold one step further and insure you will make an unforgettable entrance why not embellish fur with creative designs of inset colored lights?  The result is statement outerwear they won't soon forget.
When it comes to accessories, there is an explosion of creativity this season.  In hats, scarves, bags and footwear, there is something furry for everyone this season.  And it is all just so much fun!!!   Looking to make an easy statement?  A cable knit hat with a fox pom-pom or a furry bag accessory is just the ticket.  Fingerless gloves are the perfect solution to fight the cold in style while still giving you the freedom to text that you are on your way.  Who ever said that fur wasn't practical too?  And a lush fur scarf is the perfect, easy luxe addition to any look.
It is the exclusivity of fur that defines it as one of the ultimate luxury items.  It is an exclusivity derived from handcrafted production at every step of the process, from the ranchers who apply their mastery of breeding and care to produce the desired fur textures and mutations to the processors who apply their creative and innovative dying and processing skills to the master furriers who cut and stretch the skins, lay them out and sew them together completely by hand to bring the designer's vision to life.  This is the only way to create a fur garment and, as a result, no two garments are exactly alike.  This is why fur needs to be seen up close and personal to be fully appreciated.  And this is why the details count.
While the tulips blooming outside announced the arrival of spring in Chicago, our thoughts happily turned towards fall with the promise of the exciting fur fashion options on display at the 2017 ILOE Show.
Related articles