FASHION FANTASY | Fall 2014-Winter 2015 Campaigns – Loewe, Moschino, Dior, Balenciaga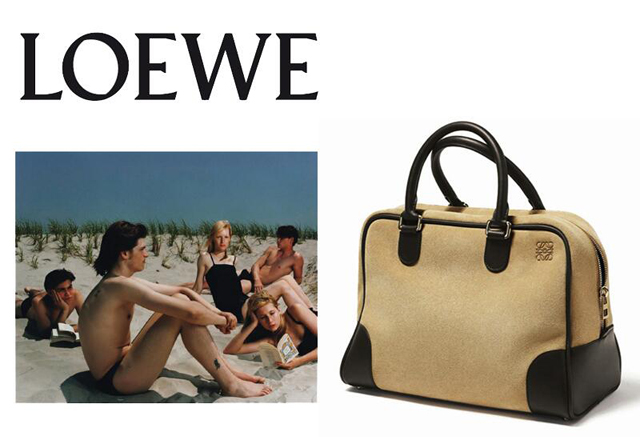 The fall 2014 designer advertising campaigns suggest that fashion is transitioning into a new direction. An introspective vibe referencing earlier designs, even moods, is taking over. There is also something couture-like, something substantially studied. The best example of the latter is Loewe's choice to bring back Steven Meisel images from a 1997 Vogue Italia editorial. This odd concept couldn't look anymore current or chic. Loewe's identity has been at a bit of a loss for a few years; let's hope this is the beginning of a beautiful transformation.
Moschino is a label with a sense of humor, one that adroitly references and equally pokes fun at the latest trends or established fashion stereotypes. The black and white campaign, with its reworked Irvin Penn Vogue style by Steven Meisel, reintroduces iconic supermodel Linda Evangelista and other big names as pop culture bourgeoises adorned with chic cartoon flair. This haute "high and low" spoof brings back late 1980's-early 1990's chic and extravagance while imposing a demure politeness that makes the irony shine intensely. It is brilliant.
Christian Dior (Dior for its ready-to-wear) has blossomed and graduated into an official directional label. Not only does a mid-century modern spirit guide the fashion, it is now reforming its presence. Thanks to Raf Simons' direction, and now chronicled by the lens of Willy Vanderperre, the unfathomable happened: classic cuts and studied applications are now defining the label. The campaign is really an arresting study full of historical nods that are made current. The footwear alone will create hordes of Prada and Balenciaga defectors.
Balanciaga – just like Loewe and Moschino – is introducing a new vision this season (in case you didn't know all these labels changed designers this past year). The hard-edged campaign and its clever photomontage (Gisele's Photoshop hair is another model's) are shaking up the image of this iconic label, suggesting a promising new direction. Steven Klein's shots are impactful and should gather enough buzz for the season. We will see next Spring if this campaign is part of a greater direction or merely a launching pad. This campaign is HOT and will generate big buzz for Balenciaga.
Related articles