Emily Oldroyd: Evolution Of A Collection
Emily Oldroyd is an up-and-coming designer to watch!
A recent fashion design graduate from Northumbria, UK, Emily has recently begun the process of creating a fur collection. Despite the fact that Emily lives in a small, seaside town in part of the UK where fur design is extremely uncommon, she decided to take the plunge into the fur industry after she was a finalist in a BFTA contest during her final university year. Since then, Emily has been sponsored by the International Fur Federation to display garments in Milan and is a member of Fur Futures. Emily hopes to involve herself more in this extremely welcoming industry and help its growth, as well as developing her signature style in exciting upcoming collections. Emily is particularly energized by the international interaction in this category of luxury fashion and her vision includes bringing more commercial fur menswear to the table.
1. Why do you like working with fur?
Texturally, it's fantastic. I enjoy the fact that it's possible to create so many effects not just in cutting the leather side, but also in changing the look of the hair side with shearing, laser etching, colour dying and more. You can't do these things with any other material, but with this must come respect for the origins of fur design and an inclination to develop knowledge of a traditional and highly skilled craft.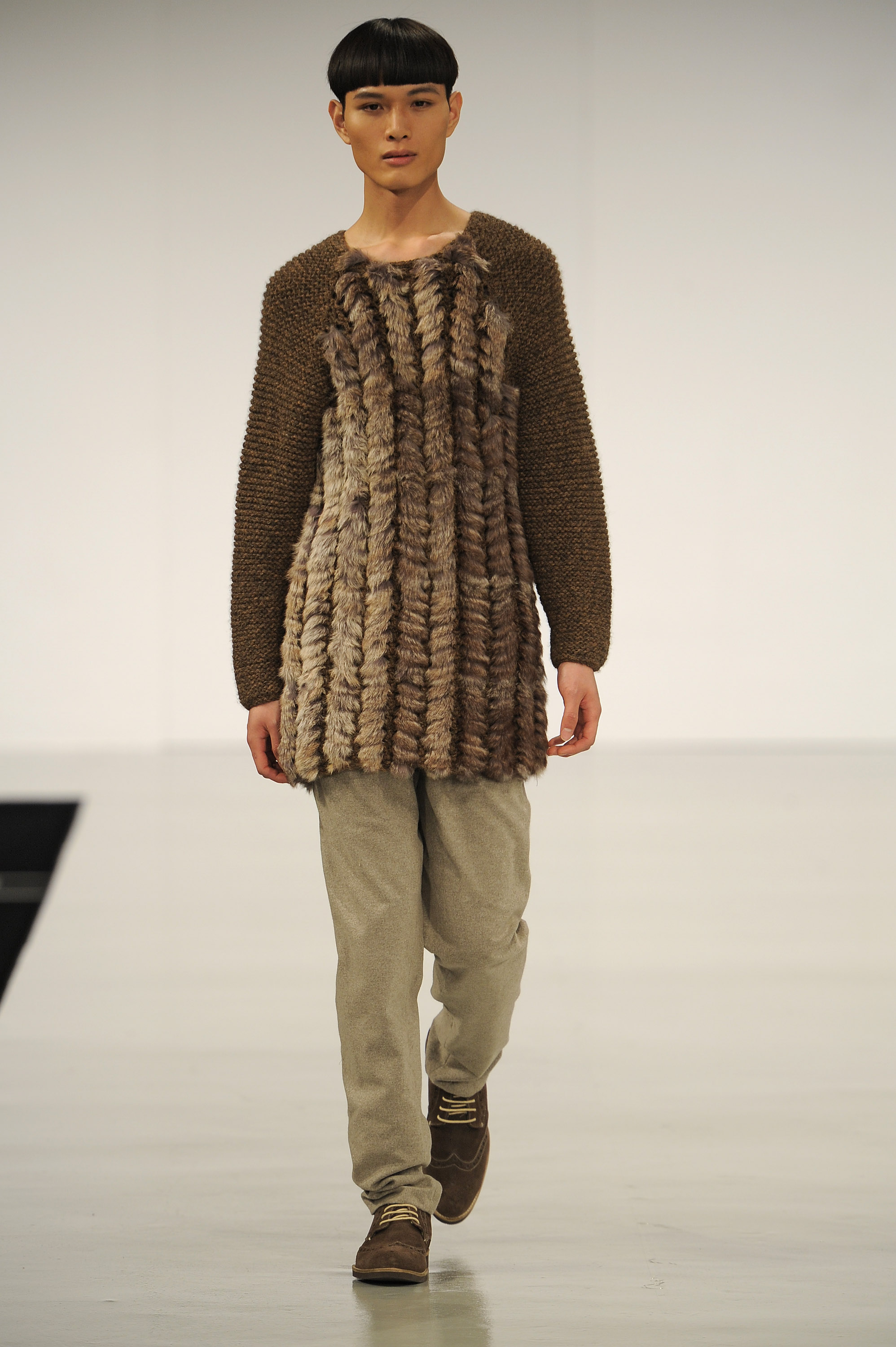 2. What is your first memory of working with fur?
It was a gradual process starting with leather, then progressing to shearling and beyond. I remember making a shearling coat in my second year at university and looking longingly (and with some trepidation) at the rabbit skins in my local leather shop. If memory serves, I eventually bought a few. At that point, I had no idea what I was going to do with them or that I would end up as an aspiring fur designer!
3. How do you think fur fashion has evolved in the past couple years?
I think that designers and other figures in the industry have realized the need to appeal to a broader range of customers. It's now desirable to make furs that are very lightweight and approachable for the consumer. I saw a beautiful feather-weight fox gilet at MiFur, created using an air gallon technique. There was only one pelt in that jacket–much more cost-effective. I have some rare, old (1940s and 1980s) fur craftsmanship books that contain some dated designs, really emphasizing this contemporary shift in aesthetics. Regardless, these books have been extremely relevant to my learning (in the northeast of England, there aren't many fur workshops!) Techniques have improved, but a solid understanding of traditional fur manufacturing will always be required.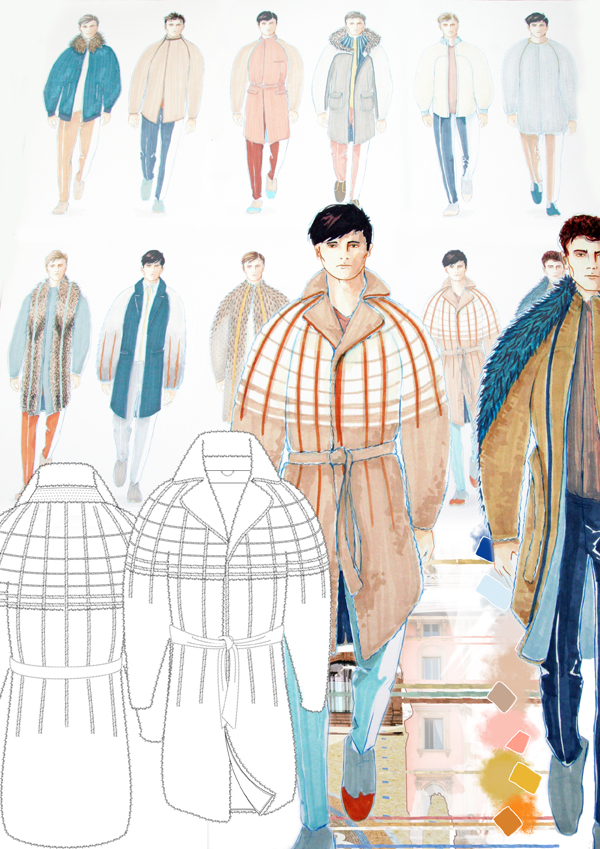 4. What/who inspired you to work with fur?
While I dabbled in shearling for a few years at university, it wasn't until my final year that one of my tutors suggested that I would be a good candidate for the British Fur Trade Association design contest. I balked at the idea at first, actually. I spent many months researching the ethics behind it (I still do this.) Eventually, I entered the contest and ended up being a finalist and attending a workshop in London. From that point, I was pretty well hooked and half of my final collection also ended up being fur. I suppose it's an addiction!
5. Who is the fur fashion customer and what are they looking for?
I think there's more than one type of fur customer. Some people still like the giant fur coats of yesteryear. However, a lot of new fur consumers are looking for those lightweight, easy-to-wear pieces that take fur from a formal affair to a casual, everyday garment. Look at how many fur bags and accessories there are (Karlito keychain, anyone?) I generally prefer fur used in a more practical fashion, but I can't deny that the market is looking for fun colours, easily accessible accessories and trims and exciting techniques that transform the look of fur. Buyers in different countries will all have different preferred aesthetics, too.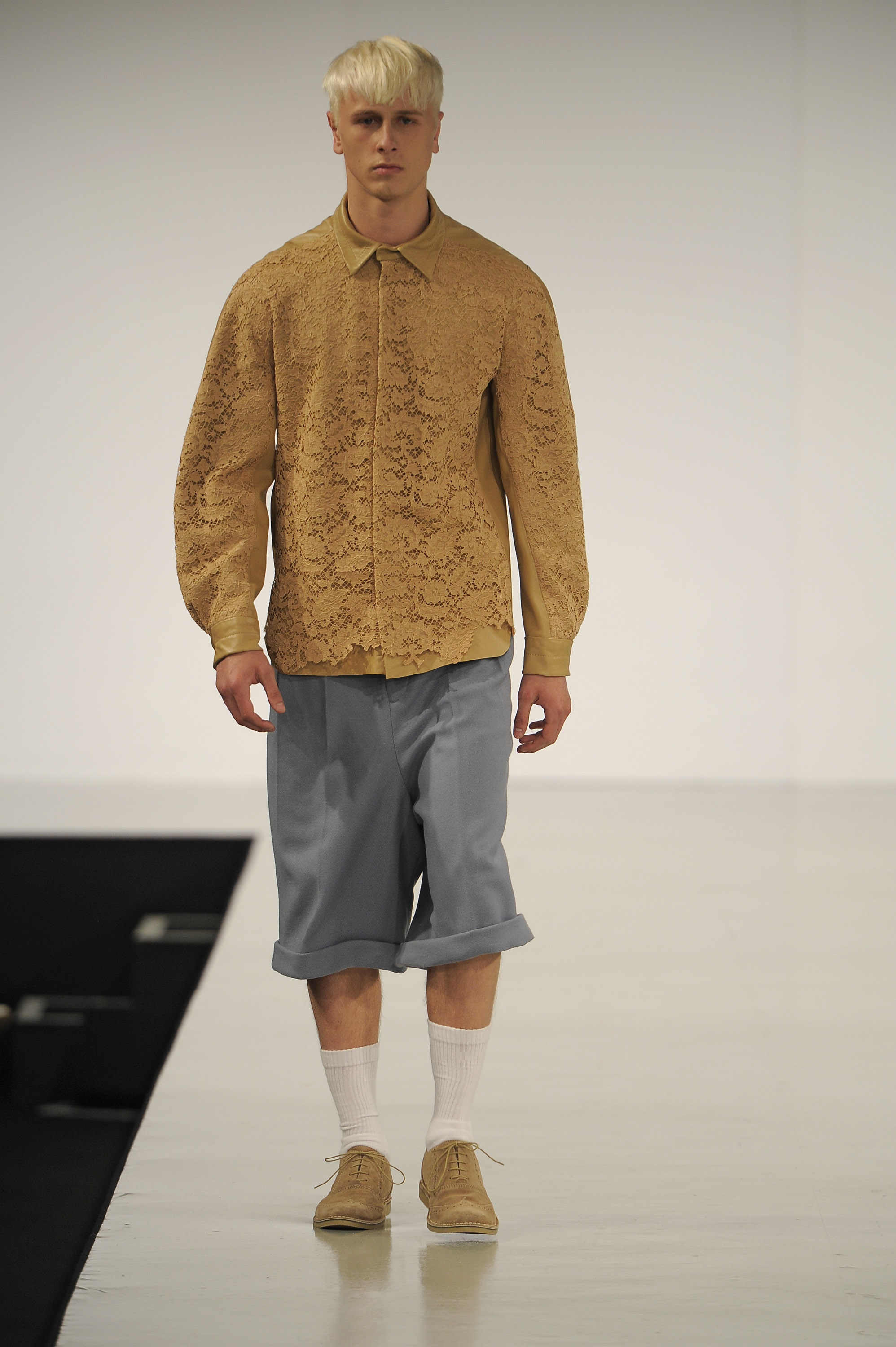 6. Who do you envision wearing your collection?
I design furs for men currently, though I'm hoping to branch into womenswear at a later date. While it's easy to consider a glamorous fur coat for a woman, I think the options for men at the moment are limited in terms of fur. I've focused on commercial shapes and I think a few different customers would enjoy the garments. I envision a sporty consumer (particularly somewhere where there is an upsurge of people with luxury buying power such as China) wearing my pale blue, perforated, and sheared bomber jacket. Then there are a couple of parkas and long overcoats, a little more rugged, for a lover of the outdoors.
7. What item would you suggest for a first time fur buyer?
My "gateway fur" was a rabbit fur scarf (then a rabbit fur coat, then a fox fur coat.) I think a fairly classic scarf or hat is a good option, or some trimmed gloves. You'll feel the benefit of the warm fur, and it'll be an item you can get a lot of use out of (i.e it's not going to be like a formal stole stuck in your closet most of the time.) Buy something from a reputable company, so you can ensure the fur is sourced with care.
8. Who are your favorite fashion icons today?
Honestly, I'm much more interested in seeing everyday people out on the street wearing great clothes, rather than a prescribed style for a photo shoot or the paparazzi. This is why I loved Milan so much–women wearing fur in the airport, taxi drivers with fringed silk scarves instead of ties–I keep a better mental catalogue of people I see out and about wearing great things than I do of any particular celebrity style.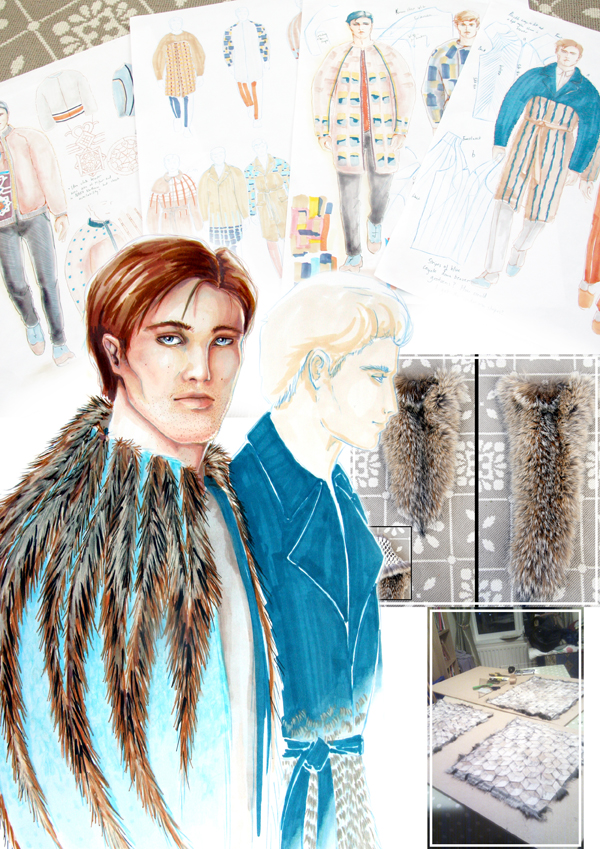 9. What colors/prints/themes do you see becoming a trend in fur fashion?
I think we'll be seeing a lot of beautiful pale colours: pastels, dusty neutrals, brilliant brights. I remember one stockist at MiFur proudly showing a beaver pelt, brightened to a perfect white. There are some designers using dyes that still display the darker fur patterns–I've seen some dusty pink mink jackets, with the greys and browns still shining through. Personally I will always love the natural fur colours as they are, but the popularity of "fun fur" can't be denied. The other thing I've seen is a lot of leopard print–even some manic zebra print–and some really beautiful print effects at Hockley with a galaxy or cosmic look.
10. For you personally, what is the starting point of each collection?
I think about shape, and what kind of pattern can make that shape. However, almost immediately I have to think what kind of garment that silhouette can apply to, and who can wear it. Actually, the shape I'm currently in love with is usually used as a women's coat style, so I then decided how to suggest this as a concept for menswear. It's difficult to suggest my starting point because at the same time I'll be thinking about colour, materials, and more. I suppose I tend to have a formula in which I pick an unusual concept and decide how I can make it work for a new customer. Basically, it involves a lot of mood boards and doodling for a while!
11. In your opinion, what is the hardest challenge of the design process?
For me, it's when I have pages and pages of design ideas and I know what look I want to achieve, but there's something that needs refining. Sometimes it can take a while (and more drawings) to pinpoint exactly what that is. I feel like there's always a fine line between "over the top" and "just enough" when one is designing menswear. It really helps to imagine the consumer.
12. What is your favorite type of fur to design and work with?
I can't possibly pick one. My current project is based on NAFA furs: coyote, raccoon, and beaver. The idea is to make use of furs that are perhaps a little less popular, and prevent waste from culls. I really like that as a target. They're rugged and practical fur types too, which is great for menswear. I find most fur types very exciting, though.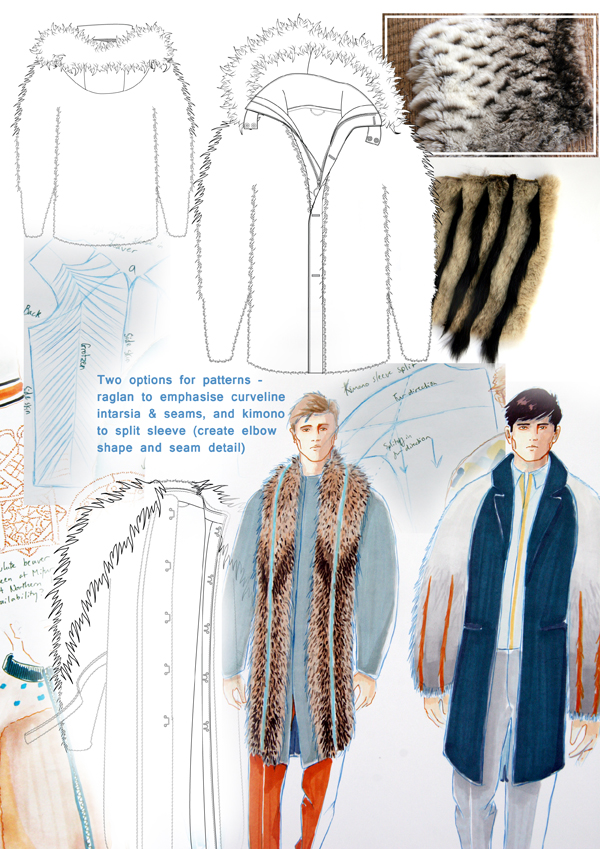 13. How is designing fur different than designing other collections?
It's a completely different skill set. Contrary to some people's beliefs, it's nothing like working with faux fur and there is so much more to consider, even in the equipment alone (for my grad collection, I purchased a 1940s fur machine, with no motor–I love it now but learning to use it at first was a nightmare!) It also demands a great deal of respect. I don't think it's something to treat as casually as one might treat any other material. It also allows you to do things that you'd never be able to do with another material–can you imagine making a coat by sewing together hundreds of tiny wool or cotton shapes? I think not. In fur you can do anything!
14. How do you describe your design aesthetic in three words?
You might have guessed that I'm not very good at summaries, given how wordy my previous responses have been. I'm trying to do something unexpected, but at the same time commercial–it's a weird one. I'll give it a go:
REBELLIOUS, FUNCTIONAL, AND EXPLORATION.
15. What are your future plans?
It would be really exciting to see the fur industry develop where I live in northeast England. My university has had success with BFTA fur contests for the past couple of years, and a lot of tutors are excited about the prospect of fur, so I'm really hoping that because I'm doing some student support work on the course this year, I might get a chance to help out a few enthusiastic students on the subject. It would be great to improve the industry in my locality, but I'm also keen to connect with key industry contacts internationally and start my own brand. Right now I am considering the prospect of bringing fur to new (or untapped) target markets in menswear, but I'm keen to produce highly commercial womenswear in the near future, too. I really can't imagine myself having any other sort of career, and while it will be important for me to develop my skills as a designer, I'm also keen to develop my voice as an industry promoter.
Related articles