CULTURE LENS: FERRAGAMO Museum – Art in Fashion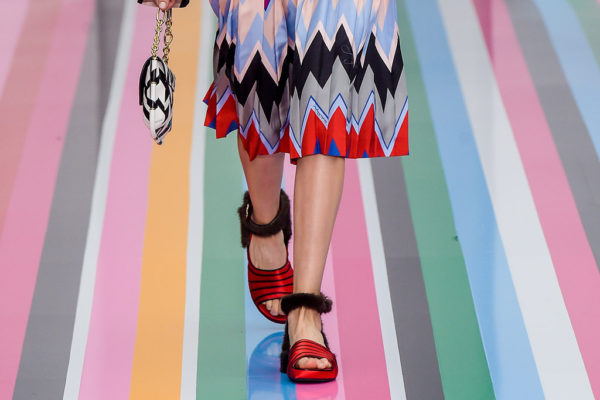 We have often discussed the artistry of the House of Ferragamo here at Furinsider. The epitome of Italian luxury, Salvatore Ferragamo is revered for its legacy of beautiful handcrafted shoes, boots, handbags, belts and accessories. And more recently, under the creative direction of Massimiliano Giornetti their ready-to-wear collections, including some great fur looks, have been well worthy of the positive buzz they have received.
Now the Ferragamo Foundation and the Salvatore Ferragamo Museum will celebrate the artistic interests and talents of the company founder with a new exhibition titled "Across Art and Fashion."
The exhibition explores the relationship and influence of two creative realms — art and fashion – and features an impressive archive of clothes, accessories, fabrics and photographs including a Salvatore Ferragamo pump inspired by the Fifties' work of American artist Kenneth Noland, an Elsa Schiaparelli dress designed in collaboration with Salvador Dalí in the 30's, a Piet Mondrian-inspired Yves Saint Laurent dress and a wooden corset by Hussein Chalayan. Visitors will also find a photograph installation of Andy Warhol's "Altered Images" and Keith Haring's "Fertility".
Salvatore Ferragamo (June 5, 1898 –August 7, 1960) was quite an interesting character whose career path was anything but ordinary. Driven by his extraordinary intelligence, curiosity and a passion for art, he proved himself to be an innovator, constantly evolving throughout his life. He learned the art of shoemaking quickly, studying the craft in Naples for only a year before opening a small store based in his parent's home. But he soon sought broader horizons moving to Boston where one of his brothers worked in a cowboy boot factory. Bored after just a brief stint at the factory, Ferragamo convinced his brothers to move to California, first Santa Barbara then Hollywood where his shoe designs quickly earned a following among celebrities of the day and lead to a long period of designing footwear for the newly developing film industry. Still he was not satisfied. He questioned how his shoes, considered so beautiful, could hurt the foot. So, he enrolled at the University of Southern California to study anatomy. His scientific and creative approach to shoes spawned many innovations such as the wedge heel and cage heel.
Mr. Ferragamo also showed a keen interest in art and recognized the integration of art and fashion. Throughout his career his designs reflected his fascination with the avant-garde art movements of the 20th century with references to the realist works of the Pre-Raphaelites, the dynamism of the Futurists and the complex expressions of Surrealism.
"Across Art and Fashion" will be open to the public from May 18, 2016 through April 7, 2017 at the Museo Salvatore Ferragamo, Piazza Santa Trinita 5/R, 50123 Florence. The museum dedicated to the designer's life and work opened in the Palazzo Spini Feroni in 1995. The palazzo had been bought by Ferragamo in the 1930s.t
To purchase tickets or for more information visit www.ferragamo.com/museo/en/usa/visit/information.
Related articles