2017 Resort Collections Review Part 3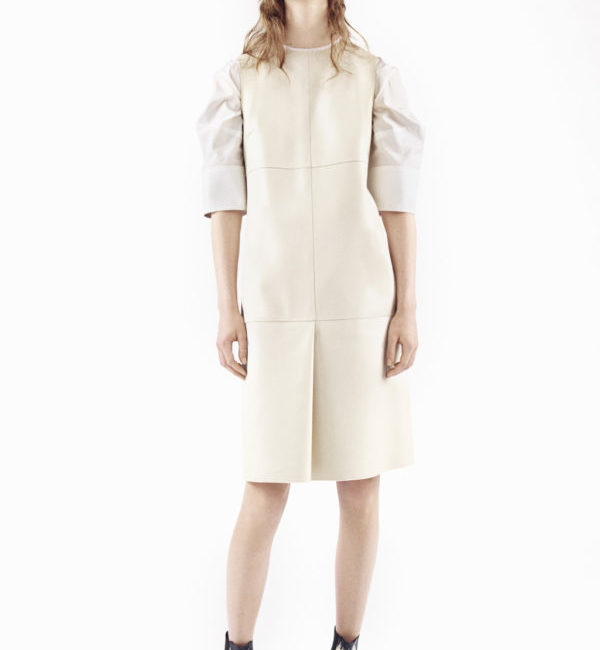 If your travel plans next year take you to Dusseldorf or the bordering Norwegian countries, the Jil Sander 2017 resort collection will help you fit right in. Clean lines, contemporary style, and a bit of unisex dressing, Rodolfo Paglialunga, who took the creative helm in 2014, has managed to marry the disciplined designs that Frau Sander himself adhered to and soften the aesthetic a bit. Choosing an unemotional, gentle color palette of nudes, pastels, and earth, what was especially exciting were the fabrics used to create the collection. Natural fibers like cotton with a sheen, crinkled duchess silk, and butter soft leather all helped soften the rigid edges the label is so well known for.
Without being able to put a finger on it, the Veda resort collection for 2017 hits a sweet spot. Very basic pieces that are perfect for mixing, matching, and layering versatility, but each one has that something's just so right about it understanding. A variety of necklines play with proportions and adds an element of endless creativity. A scoop neck, peach satin slip dress was just one of the many mind-blowing key pieces. Coordinated with a long sleeve turtleneck and espadrilles, it was über relaxed cas-u-al! But take off the layers and you've got one, hot, sexual tension creating dress. The pièce de résistance was a travel-everywhere lamb/leather car coat in a perfect color combination of mahogany and dove grey. Calling all globe trotters!
It was a mixed bag of RTW layering options from the Dior resort 2017 collection. The design team Lucie Meier and Serge Ruffieux stayed true to the brand's image of tailored, sophisticated men's wear styling. The expected blazers and coat dresses made an appearance but were modernized with tunic tops and mini skirts over trousers. What was unmistakable was the craftsmanship and attention to detail painstakingly worked to create the garments. Ruching created by pulling cords and subtly flared cropped pants were among the finishing touches that made an impression. Soft, butter colored leather was incorporated as a nice contrast to the merino wools and cottons. The house of Dior certainly knows how to make a handbag too. A key accessory that adds to any outfit and is a conversation starter.
For those of you who have a tough time making a decision, shopping the Rochas resort 2017 collection is going to leave you biting your nails, twitching in a cold sweat, and cross eyed. Why? Well, it's almost like four small collections in one and each will totally blow your mind. Bold colored, wide stripped swing coats and a baby doll dress were festive, fun, and gave a sense of occasion. Moving to the neutral palette, creative director Alessandro dell'Acqua used the prettiest salmon color for a super sexy dress and paired it with a cream cashmere coat that was sophistication on steroids. He had a whole themed eyelet lace capsule that included mix and match coordinates and sweet dresses. Without warning, dell'Acqua introduced floral silk and chiffon dresses, skirts, and tops. They were elegant and creative as he mixed fabrics and prints for an über interesting aesthetic. The common denominator to Rochas resort is that it was all sweetly seductive and left us in a cold sweat….. in ecstasy! We'll take it all!