10 Best 2017 Billboard Music Awards Looks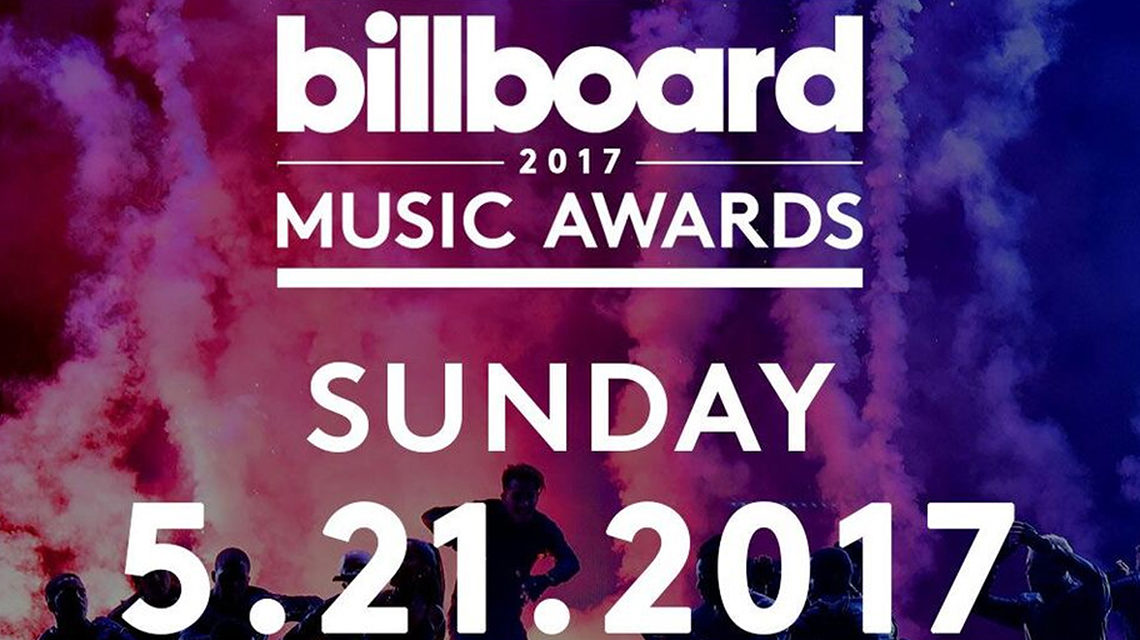 We can't all be Cher. Just remember that before you scroll down to the pictures.  Last night's 2017 Billboard Music Awards (BBMAs) was a night of honoring the greats, and celebrating the magic of music that has transformed and created a soundtrack to life itself. The auditory treats of the evening were only set off by the visual spectacular of the edgy, glitzy styles that the stars of the music industry displayed on the shocking pink carpet. It was hard to narrow down the list, but here's our pick of the top ten best looks:
Pink Carpet Stunners at the 2017 Billboard Music Awards
#10 Vanessa Hudgens
The night's co-host, actress Vanessa Hudgens, makes our list for her collective efforts throughout the evening. With eight total dress changes, some better than others, Vanessa showed that she was having fun with her fashion.
#9 Lea Michele
Understated, yet memorable. Lea Michele looks like she's exploring her dark side in this daring dress.
#8 Hailee Steinfeld
Hailee Steinfeld made burn out look beautiful. Youthful, with a dash of daring, this metallic David Koma dress played a little peek a boo with fans of the young actress, but left her covered just enough to keep her still "respectable" in the morning light. No walk of shame here.
#7 Olivia Munn
Olivia Munn in a sexy, sheer "naked-inspired" Redemption dress never needs to ask anyone for forgiveness looking this good!
#6 Sibley Scoles
Who you ask? Usually just reporting the news, Sibley Scoles is an E! News host who killed the futuristic cloaked  Glamazon look on last night's carpet. Keep this up Sibley and you'll be front and center as the star of a show.
#5 Kate Beckinsale
Stars, stripes and fireworks. That's how we'd describe this TNT packed Zuhair Murad gown worn by Kate Beckinsale. Kate definitively brought a little flash to the night and we're not mad at her for it.
#4 Jesse James Decker
This country gal sure knows how to wear a jumpsuit! Fitted perfectly in all the right places, if you're going to bare some skin this is how you do it tastefully and with just the right edge.
#3 Rita Ora
Business in the front and a party in the back, Rita Ora's combo from last night drew mixed reviews from us.
#2 Céline Dion
When you have the voice of an angel you deserve to dress like one. In a dress by  designer Stephane Rolland that seemed to go on, singer Céline Dion tearfully sang her hit song "My Heart Will Go On".  The song from James Cameron's iconic movie Titanic celebrates its 20th anniversary this year. Shut it down diva, your legacy will go on!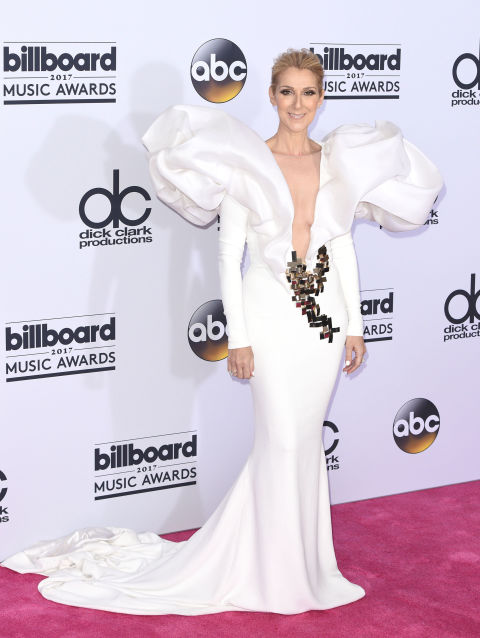 #1 Cher
Very few entertainers get to the heights of fame whereby they can be recognized worldwide by just one name. Age defying, timeless and awe-inspiring are just some of the words that come to the imagination when digesting Cher's performance last night at the 2017 Billboard Music Awards. She definitely shut down the show and moved the marker on what it means to be called a true icon. We bow down to our number one best dressed… 2017 Icon Award recipient Cher! And now for the biggest bombshell, this is what she looks like at 71…. frankly we need to see birth papers before we believe it.
A complete list of the evening's winners:
Top Artist:
Adele
Beyonce
Justin Bieber
The Chainsmokers
Drake — WINNER
Ariana Grande
Shawn Mendes
Rihanna
Twenty One Pilots
The Weeknd
Top New Artist:
Alessia Cara
Desiigner
Lil Uzi Vert
Lukas Graham
Zayn — WINNER
Billboard Chart Achievement Award Presented by Xfinity:
Luke Bryan
Nicki Minaj
The Chainsmokers
The Weeknd
Twenty One Pilots — WINNER
Top Male Artist:
Justin Bieber
Drake — WINNER
Future
Shawn Mendes
The Weeknd
Top Female Artist:
Adele
Beyonce — WINNER
Ariana Grande
Rihanna
Sia
Top Duo/Group:
The Chainsmokers
Coldplay
Florida Georgia Line
Guns N' Roses
Twenty One Pilots — WINNER
Top Billboard 200 Artist:
Beyonce
Drake — WINNER
Prince
Twenty One Pilots
The Weeknd
Top Hot 100 Artist:
The Chainsmokers
Drake — WINNER
Rihanna
Twenty One Pilots
The Weeknd
Top Song Sales Artist:
The Chainsmokers
Drake — WINNER
Prince
Justin Timberlake
Twenty One Pilots
Top Radio Songs Artist:
Justin Bieber
The Chainsmokers
Drake
Rihanna
Twenty One Pilots — WINNER
Top Streaming Songs Artist:
The Chainsmokers
Desiigner
Drake — WINNER
Rihanna
Twenty One Pilots
Top Social Artist:
Justin Bieber
BTS — WINNER
Selena Gomez
Ariana Grande
Shawn Mendes
Top Touring Artist:
Justin Bieber
Beyonce — WINNER
Coldplay
Guns N' Roses
Bruce Springsteen & The E Street Band
Top R&B Artist:
Beyonce — WINNER
Bruno Mars
Frank Ocean
Rihanna
The Weeknd
Top R&B Tour:
Beyonce — WINNER
Lionel Richie
Rihanna
Top Rap Artist:
J. Cole
Desiigner
Drake — WINNER
Future
Rae Sremmurd
Top Rap Tour
Drake — WINNER
Future
Kanye West
Top Country Artist:
Florida Georgia Line
Blake Shelton — WINNER
Keith Urban
Chris Stapleton
Jason Aldean
Top Country Tour:
Luke Bryan
Kenny Chesney — WINNER
Dixie Chicks
Top Rock Artist:
Coldplay
The Lumineers
Metallica
Twenty One Pilots — WINNER
X Ambassadors
Top Rock Tour:
Coldplay — WINNER
Guns N' Roses
Bruce Springsteen & The E Street Band
Top Latin Artist:
J Balvin
Juan Gabriel — WINNER
Los Plebes Del Rancho De Ariel Camacho
Maluma
Nicky Jam
Top Dance/Electronic Artist:
The Chainsmokers — WINNER
Calvin Harris
Major Lazer
DJ Snake
Lindsey Stirling
Top Christian Artist:
Lauren Daigle — WINNER
Hillsong Worship
Hillary Scott & the Family
Skillet
Chris Tomlin
Top Gospel Artist:
Jekalyn Carr
Kirk Franklin — WINNER
Travis Greene
Tamela Mann
Hezekiah Walker
Top Billboard 200 Album:
Beyonce, Lemonade
Drake, Views — WINNER
Rihanna, Anti
Twenty One Pilots, Blurryface
The Weeknd, Starboy
Top Soundtrack/Cast Album:
Hamilton: An American Musical — WINNER
Moana
Purple Rain
Suicide Squad: The Album
Trolls
Top R&B Album:
Beyonce, Lemonade — WINNER
Bruno Mars, 24K Magic
Frank Ocean, Blonde
Rihanna, Anti
The Weeknd, Starboy
Top Rap Album:
J. Cole, 4 Your Eyez Only
Drake, Views — WINNER
Kevin Gates, Isla
DJ Khaled, Major Key
A Tribe Called Quest, We Got It From Here…Thank You For Your Service
Top Country Album:
Jason Aldean, They Don't Know
Florida Georgia Line, Dig Your Roots
Blake Shelton, If I'm Honest
Chris Stapleton, Traveller — WINNER
Keith Urban, Ripcord
Top Rock Album:
The Lumineers, Cleopatra
Metallica, Hardwired…To Self Destruct — WINNER
Radiohead, A Moon Shaped Pool
Red Hot Chili Peppers, The Getaway
Twenty One Pilots, Blurryface
Top Latin Album:
J Balvin, Energia
CNCO, Primera Cita
Juan Gabriel, Los Duo 2 — WINNER
Juan Gabriel, Vestido De Etiqueta: Por Eduardo Magallanes
Los Plebes del Rancho de Ariel Camacho, Recuerden Mi Estilo
Top Dance/Electronic Album:
The Chainsmokers, Bouquet
The Chainsmokers, Collage 
Flume, Skin
Kygo, Cloud Nine
Lindsey Stirling, Brave Enough — WINNER
Top Christian Album:
Casting Crowns, The Very Next Thing
Lauren Daigle, How Can It Be — WINNER
Joey + Rory, Hymns
Hillary Scott & The Family, Love Remains
Skillet, Unleashed
Top Gospel Album:
Tamela Mann, One Way — WINNER
Kirk Franklin, Losing My Religion
Travis Greene, The Hill
Tasha Cobbs, One Place: Live
Hezekiah Walker, Better: Azusa – The Next Generation 2
Top Hot 100 Song:
The Chainsmokers Featuring Halsey, "Closer" — WINNER
The Chainsmokers Featuring Daya, "Don't Let Me Down"
Drake Featuring WizKid & Kyla, "One Dance"
Justin Timberlake, "Can't Stop The Feeling!"
Twenty One Pilots, "Heathens"
Top Selling Song:
The Chainsmokers Featuring Halsey, "Closer"
The Chainsmokers Featuring Daya, "Don't Let Me Down"
Drake Featuring, WizKid & Kyla "One Dance"
Justin Timberlake, "Can't Stop The Feeling!" — WINNER
Twenty One Pilots, "Heathens"
Top Radio Song:
The Chainsmokers Featuring Halsey, "Closer"
The Chainsmokers Featuring Daya, "Don't Let Me Down"
Drake Featuring WizKid & Kyla, "One Dance"
Sia Featuring Sean Paul, "Cheap Thrills"
Justin Timberlake, "Can't Stop The Feeling!" — WINNER
Top Streaming Song (Audio):
The Chainsmokers Featuring Halsey, "Closer"
Drake Featuring WizKid & Kyla, "One Dance" — WINNER
D.R.A.M. Featuring Lil Yachty, "Broccoli"
Rihanna, "Needed Me"
The Weeknd Featuring Daft Punk, "Starboy"
Top Streaming Song (Video):
The Chainsmokers Featuring Halsey, "Closer"
Desiigner, "Panda" — WINNER
Zay Hilfigerr & Zayion McCall, "JuJu On That Beat (TZ Anthem)
Rae Sremmurd Featuring Gucci Mane, "Black Beatles"
Twenty One Pilots, "Heathens"
Top Collaboration:
The Chainsmokers Featuring Halsey, "Closer" — WINNER
The Chainsmokers Featuring Daya, "Don't Let Me Down"
Drake Featuring WizKid & Kyla, "One Dance"
Sia Featuring Sean Paul, "Cheap Thrills"
The Weeknd Featuring Daft Punk, "Starboy"
Top R&B Song:
Drake Featuring WizKid & Kyla, "One Dance" — WINNER
Bruno Mars, "24K Magic"
Rihanna, "Needed Me"
Rihanna Featuring Drake, "Work"
The Weeknd Featuring Daft Punk, "Starboy"
Top R&B Collaboration:
Drake Featuring WizKid & Kyla, "One Dance" — WINNER
PARTYNEXTDOOR Featuring Drake, "Come And See Me"
Rihanna Featuring Drake, "Work"
The Weeknd Featuring Daft Punk "I Feel It Coming"
The Weeknd Featuring Daft Punk, "Starboy"
Top Rap Song:
Desiigner, "Panda" — WINNER
Drake, "Fake Love"
D.R.A.M. Featuring Lil Yachty, "Broccoli"
Migos Featuring Lil Uzi Vert, "Bad And Boujee"
Rae Sremmurd Featuring Gucci Mane, "Black Beatles"
Top Rap Collaboration:
D.R.A.M. Featuring Lil Yachty, "Broccoli"
Zay Hilfigerr & Zayion McCall, "JuJu On That Beat (TZ Anthem)
Machine Gun Kelly & Camila Cabello, "Bad Things"
Migos Featuring Lil Uzi Vert, "Bad and Boujee"
Rae Sremmurd Featuring Gucci Mane, "Black Beatles" — WINNER
Top Country Song:
Kenny Chesney Featuring Pink, "Setting The World On Fire"
Florida Georgia Line, "H.O.L.Y." — WINNER
Florida Georgia Line Featuring Tim McGraw, "May We All"
Little Big Town, "Better Man"
Keith Urban, "Blue Ain't Your Color"
Top Country Collaboration:
Dierks Bentley Featuring Elle King, "Different For Girls"
Kenny Chesney Featuring Pink, "Setting The World On Fire" — WINNER
Eric Church Featuring Rhiannon Giddens, "Kill A Word"
Florida Georgia Line Featuring Tim McGraw, "May We All"
Chris Young Featuring Vince Gill, "Sober Saturday Night"
Top Rock Song:
Lil Wayne, Wiz Khalifa & Imagine Dragons with Logic & Ty Dolla $ign Featuring X Ambassadors, "Sucker For Pain"
Twenty One Pilots, "Heathens" — WINNER
Twenty One Pilots, "Ride"
Twenty One Pilots, "Stressed Out"
X Ambassadors, "Unsteady"
Top Latin Song:
Daddy Yankee, "Shaky Shaky"
Enrique Iglesias Featuring Wisin, "Duele El Corazon"
Nicky Jam, "Hasta El Amanecer" — WINNER
Shakira Featuring Maluma, "Chantaje"
Carlos Vives & Shakira, "La Bicicleta"
Top Dance/Electronic Song:
The Chainsmokers Featuring Halsey, "Closer" — WINNER
The Chainsmokers Featuring Daya, "Don't Let Me Down"
Calvin Harris Featuring Rihanna, "This Is What You Came For"
Major Lazer Featuring Justin Bieber & MO, "Cold Water"
DJ Snake Featuring Justin Bieber, "Let Me Love You"
Top Christian Song:
Lauren Daigle, "Trust In You"
Hillary Scott & The Family, "Thy Will" — WINNER
Skillet, "Feel Invincible"
Ryan Stevenson Featuring GabeReal, "Eye Of The Storm"
Zach Williams, "Chain Breaker"
Top Gospel Song:
Jekalyn Carr, "You're Bigger"
Tasha Cobbs, Featuring Kierra Sheard "Put A Praise On It"
Kirk Franklin, "Wanna Be Happy??"
Travis Greene, "Made A Way" — WINNER
Hezekiah Walker, "Better"
Related articles