PARIS Spring Summer 2018 Collection Reviews PART 5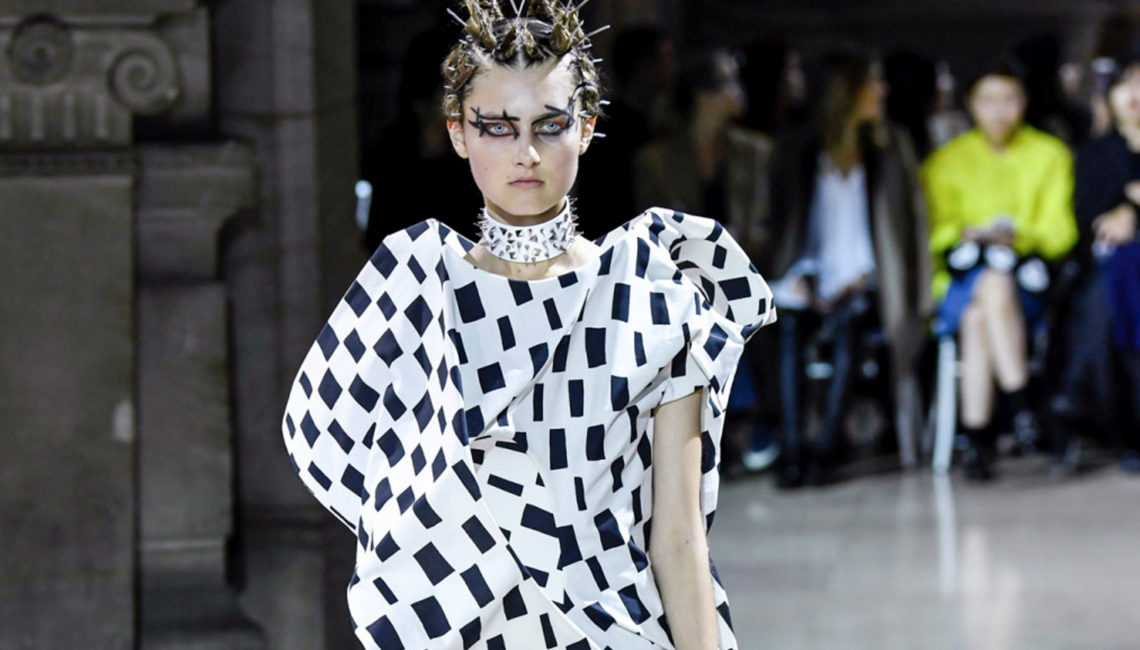 The Paris Spring Summer 2018 collections are reflecting the kind of innovation, extraordinary craftsmanship, skilled tailoring and artistic detailing that has us in sartorial heaven.  Luxury fashion is alive and well!
Paris Spring Summer 2018 Creativity on Display
Junya Watanabe's spring/summer RTW collection for 2018 was black and white and right all over! It was all about shapes and structure with draping, wrapping, cut-outs and plays on volume. These pieces were like modern wall art with legs! Reaching into the Marimekko archives, Watanabe reprised popular prints from the historical designer.   While largely skewed to a punk edge, these looks also had an easy, casual vibe that will fit into a broad range of wardrobes.
Haider Ackermann's spring/summer 2018 RTW collection featured tailoring and craftsmanship like the best face lift we've ever seen. Pliable, soft fabrics were taught and tucked to create sleek suits with precision cut outs. While much of today's pieces are mass produced, churned and burned, Ackermann remains loyal and committed to old world craftsmanship. The details made for a polished, sexy elegance.  Mr. Ackermann's elevated sartorial sense presents a refreshing reminder of what true fashion looks like and how beautifully clothes can be made.
You can certainly tell when a designer has delved deep into their imagination – it comes through in every piece as a "wow" kind of reaction. Lutz Huelle's spring/summer RTW collection for 2018 was just that kind of show. This was the kind of show that demanded close attention to fully appreciate the creativity and craftsmanship that went into each look. He carefully cut cross body fabrics, juxtaposed textures, and did just the right kind of cut outs. While he created a distinctive point-of-view throughout the collection, these clothes may not be for everyone. Take a pair of jeans with ladder cut-outs up the leg- they were eye catching and modern, but they may appeal to a narrower audience.  His unique take on the bell sleeve reflected his modern couture sensibility.  And his architectural approach to shapes and silhouettes helped Huelle to take this collection from the ordinary to the extraordinary.
Tiny details, major impact! While Paris Fashion Week is mostly about the clothes, Kym Ellery, for her name sake brand Ellery, gave us accessories to die for with her spring/summer 2018 collection. Ellery devoted an entire room to display her baubles. Her new cosmic jewelry included golden earrings and brooches that were impossible not to notice and love. The fashion was full of 60's references –  a favorite of the designer- with lots of bell bottoms and white patent boots. She emphasized the bell sleeve, highlighting a trend that continues for spring.
Leave it to Mugler to design the perfect RTW for girls whose measurements  are 38-23-32. For the rest of us, well, we can dream. Their spring/summer 2018 collection was classic Mugler. Corsets and futuristic treatments held true to the label's DNA. With dark colors, skimpy skirts, and push up tops, there was no shortage of sex appeal. On the opposite spectrum of sharp shoulders and cinched waistlines, a variety of billowy chiffons lightened the mood. An off white pirate blouse was far and away a practical favorite and one that won't require us to diet.
What has happened to the House of Emanuel Ungaro? It's been almost a decade long decline of cheap eighties renderings, old lady fabrics, and ill-fitting suits…. and it continues. Marco Colagrossi took the reins for the first time with this spring/summer 2018 RTW collection and he didn't do justice  to the fabrics or the fashion. In an attempt to be relevant, puffy sleeves made a weak appearance. Micro minis were neither sexy nor new. We don't mean to be overly dramatic about it,  but this is a code blue. Send the crash cart. Stat!
Combining  a New York edge and modernity with the easy chic and effortless style that defines Parisienne fashion, Joseph Altuzarra has once again pierced the hearts of his many fans and we have fallen in love all over again. For the Altuzarra spring/summer RTW 2018 collection, he delivered luxury ready to wear on steroids. Body con dresses with mesh overlays were an eighties revival trend with just the right twist. Generous use of curly lamb for trims on jackets and chokers elevated the pieces to a luxe level. Try on a silver leather jacket with Mongolian lamb collar or a long patchwork vest with bold Mongolian lamb trim for ultimate street chic. He wrapped up the show with a handful of glitzy gowns that would happily keep you up all night and looking your finest.