Milan Fashion Week Spring-Summer 2015 – Day 1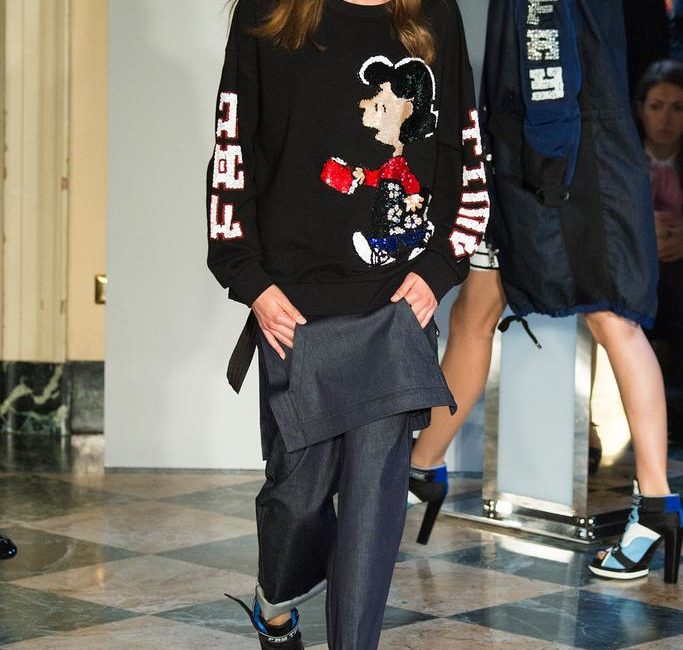 Hello Milan! Yes, folks, we are reaching the mid-mark of the Spring-Summer 2015 fashion decathlon. Being the first day of the collections here we can't really identify any concise direction; still, we can start absorbing the vibe, the mood, etc.
Just like New York and London, a greater formality within a casual style (aka, "Dressed-up Basics") is indeed coming through within the first runway presentations. A focus on wardrobe building blocks, or separates, is a welcome change. This includes statement fur pieces and suede garments that are already making the rounds this first day. We expect suede skirts to be around for a while as they fit well within the 1970's and early 1980's stories that seem to have taken hold of many designers.
We saw sheer treatments and négligée references in both New York and London, but Milan is taking that budding trend to new levels as it is starting to reintroduce pajama references. One outcome? The palazzo pants/ensembles so popular in the 1960's and 1970's. Here, staple pieces are getting a glam X-ray finish with a 'popular' twist.
Of course, the moment we reach continental Europe, draping becomes de rigueur. Here we are starting to see a somewhat 1990's approach recalling goddess lines and sportier applications. This is a global trend; expect more for Fall-Winter 2015-2016.
A big surprise on this first day was lamé (this metallic finish). We're not sure how influential this will be for the long haul; we need to wait until Paris to discover if it will become influential. If so, it may likely become a bigger hit with teenagers more than adults.
More in Milan next…
Related articles